Slaatto, Brynhild
Textile
I prefer a sensible approach to materials as paper and yarn. I often work with multi-layered threads to increase depth and increase light and shadow to the surfaces. I build layered-like collages of papers with different structures and patterns.
My work is influenced by Nordic and international architecture, as well as the landscape and colours that change with the seasons.
I'm interested in changing processes that happen with yarn / rope materials outdoors in weather and wind. The projects: Outdoor I, II and III has been exhibited at The Oslo School of Architecture and Design, on the barn wall of Dagali, Hallingdal museum, at Vevring Exhibition, at Galleri Rundetaarn in Copenhagen and at Tveten and Nordre Lindeberg farm in Oslo.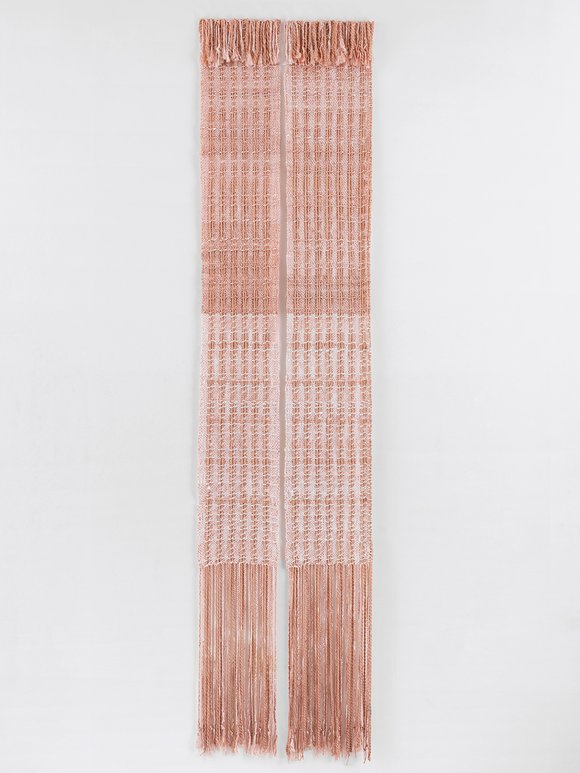 Utendørs IV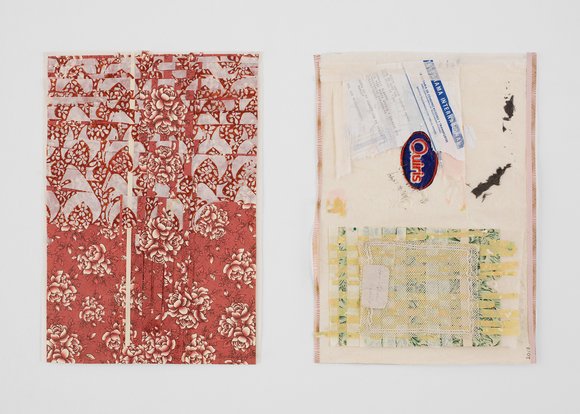 Quiris og Draperi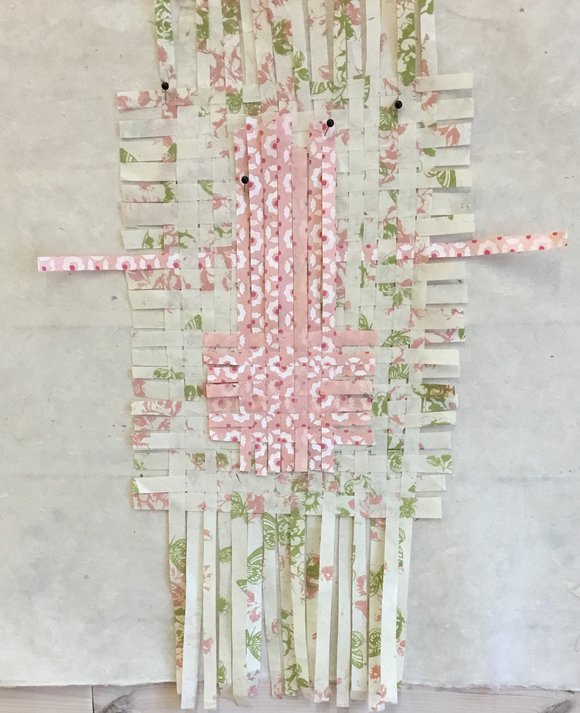 Sprinter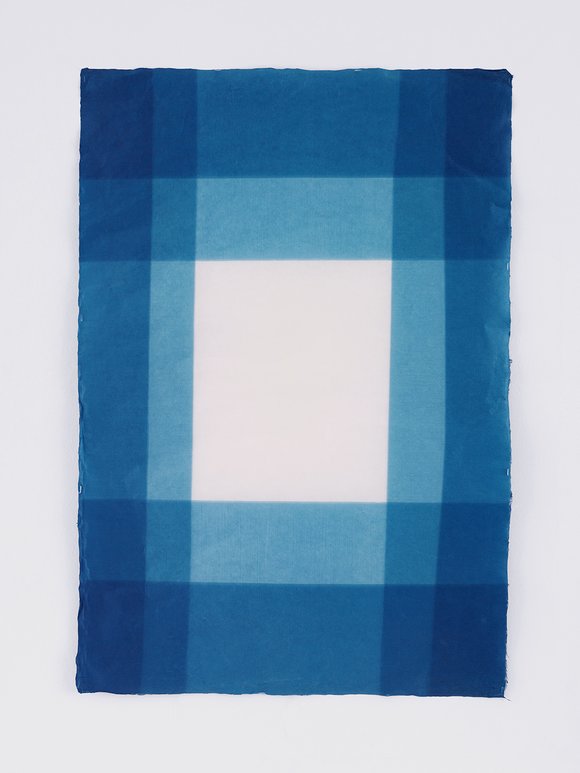 Indigo
Planned projects and exhibitions
Outdoor II, III and IV will be exhibited at Hallingdal Museum, Nesbyen summer 2019
Outdoor IV and V will be exhibited at Geitmyra Food and Culture Center for Children, Oslo summer / autumn 2019
CV
Homepage
www.brynhildslaatto.no
Education
National Academy of the Arts, Oslo, Norway, Diploma in Textile Arts 1982-1986
Apprenticeship with Synnøve Anker Aurdal 1981
Assistant to Else Marie Jakobsen 1987
Certificate Program in Teaching Art, Notodden 1987-1988
Examen philosophicum, UiO 2008
Grants
Artist residency at Leveld kunstnartun, Hallingdal 2018
Artist residency at Residency Green AIR 2018
Sasakawa Fund Travel Grant 2017
Chunichi-Inadomi Fund Grant 2017
Arts Council of Norway, Exhibition Grant 2015
Specialization grants from the Norwegian Association for Arts and Crafts 2015
Travel grants from the Norwegian Association for Arts and Crafts 2007
Arts and Crafts Project Travel grant 2005
Work Grant for Artists from the Norwegian Association for Arts and Crafts, 3 years 2004-2007
Norwegian Ministry of Foreign Affairs, Exhibition Grant 2002
National Travel and Study Grant for Artists 2002
Government grant for materials 2000
Arts Council of Norway, Exhibition Grant 2000
Norwegian-Finnish Culture Fund 1999
Nordic Institute for Contemporary Art Residency Program 1997-1998
Arts Council of Norway, Exhibition Grant 1996
National Travel and Study Grant for Artists 1995
Chunichi-Inadomi Fund Grant 1993
National Grant to Establish Young Artists 1992
Sasakawa Fund Travel Grant 1990
Projects
"Outdoors II and III" at Nordre Lindeberg gård, Oslo 2018
"Outdoors III" at Tveten gård, Oslo 2017
Poster and cards for the 40th anniversary to Oslo Teatersenter 2015
"Outdoors III" at a short visit at Palmehuset in Botanical garden 2013
"House project", Nida, Lithuania 2010
"Outdoors III" at Oslo School of Architecture 2009
"Outdoors II" at Oslo School of Architecture 2007
"Outdoors I" at Oslo School of Architecture 2005
Individual Exhibitions (Excerpt)
Boat rugs og paper collages, Costal museum, Florø 2016
Textile and paper, Dagali, Hallingdal Museum 2016
Boat rugs og paper collages, Sunnfjord Museum, Movika 2016
Liudvikas Reza Cultural Centre, Litauen 2007
Window Exhibition, Norwegian Association of Textile Artists, Oslo 2004
UNESCO Gallery, Vilnius, Lithuania 2002
Telemark Regional Art Center, Porsgrunn, Norway 2001
National Museum of Decorative Arts, Trondheim, Norway 1998
Gallery Villvin, Risør, Norway 1996
Group or Collective Exhibitions (Excerpt)
"Det store mjuke øyeblikk på Finnskogen", Soft Moments 2017
Oslo Open 2014-18
The Vevring Exhibition 2009
"55° north – modern nordic crafts" exhibition in Rundetaarn, Copenhagen 2008
Norwegian Church Cultural Centre, Cardiff Bay, Wales 2006
International Textile Exhibition, Lithuania 2003
Sandefjord Art League, Norway 2002
International Tekstile Exhibition, National Museum in Kaunas, Lithuania 2001
Bærum Art League, Bærum, Norway 1999
Arts and Crafts on Kongensgate, Oslo, Norway 1998
The Vevring Exhibition 1998
Eikaas Gallery, Jølster, Norway 1998
"Høstutstillingens utvalgte", Sandefjord Kunstforening, Norway 1996
North Trøndelag Regional Gallery, Namsos, Norway 1996
"ReBella 15 years", The Norwegian Theater, Oslo, Norway 1994
International Art Festival, Frankenberg Eder, Germany 1994
"New Members", Hordaland Regional Art Center, Bergen, Norway 1991
"Jewelry, jewelry", Galleri ReBella, Oslo, Norway 1990
Annual and National Exhibitions
Eastern Norwegian Regional Exhibition 2003
Fall Exhibition 1995
Annual Arts and Crafts Exhibition, Textile and Fiber 1991
Collections (Excerpt)
Sandefjord Community, Norway
Eksport Finans, Oslo, Norway
The Art Museum of Northern Norway, Tromsø, Norway
Public Commissions (Excerpt)
Orelund Chapel, Sandefjord, Norway 2000
Artistic Consultations
Vinderen Health Center, Oslo, Norway 2001-2003
Teaching
National Museum of Art, Architecture and Design, Oslo, Norway 1995-2001
Additional
Events management of National exhibition "Svingninger", 1999
"Room in a Room", art project at Dingemoen school, Dale, Sunnfjord, Norway, 1998
"Sensorial observation of the city", workshop, Oslo, 1998
"Room and landscap", course in Kjærringøy, Norway, 1997
"The Thinking Eye", researcher for 18 program on Norwegian arts and crafts, NRK (National Norwegian Television Company) , 1997
Events management and lecturer of arts and crafts for National Touring Exhibitions, 1995-1997
Consultant for Norwegian Association for Arts and Crafts exhibition department, 1990-1997
Exhibition educator for "Us Flowers": National Museum of Art, Architecture and Design's drawing competition for several kindergartens in Oslo, Norway 1994
Artist Workshop in Textile, Frankenberg Eder, Germany, 1994
Freelance educator and studio consultant for children's studio at the National Museum of Art, Architecture and Design, Oslo, Norway, from 2001
Museum Educator, National Museum of Art, Architecture and Design, Oslo, Norway, from 2003
Guide at the Norwegian Opera and Ballet, 2008-16
Memberships
Norwegian Association for Arts and Crafts, Oslo Regional Branch
Norwegian Association for Arts and Crafts
Norwegian Association of Fine Arts
Norwegian Textile Artists