Vatne, Ingebjørg
Acrylic painting/textile, graphics, installation
Human relationship with nature has always been important to me. I have several approaches to the field, with nature images concerning more than nature's intrinsic value. Increasingly my work concerns the recognition of nature's vulnerability and fate with threats from human activities. Concerning our unwise attacks on the conditions of the Earth to be habitable, with serious consequences such as global warming and more frequent natural disasters. I have investigated these problems in a number of series. Works on deforestation, spread of undesirable species, melting of glaciers/sea rise, and drought represent the most important consequences.
Member of CAN (Concerned Artists Norway)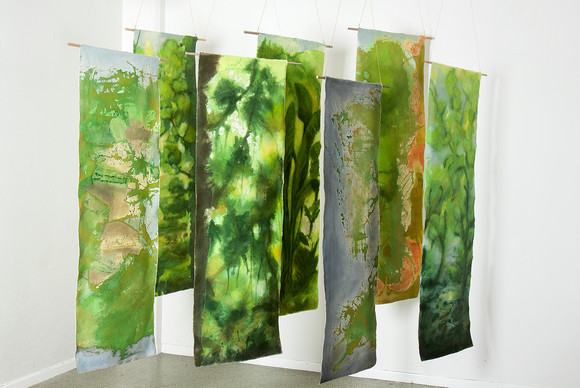 Amazonas installation I

Amazonas I

Amazonas V - Red Sludge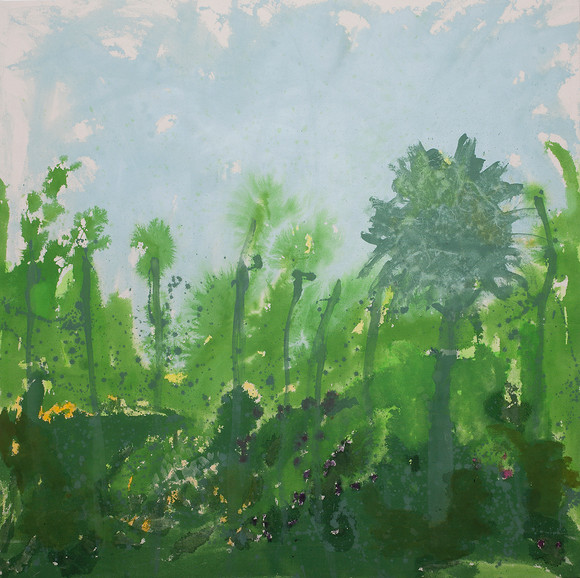 Growing wild
Planned projects and exhibitions
The title of my main project is "Climate Change", having investigated these issues in a number of series. The latest works deals with deforestation, focusing on the Rainforest. The series "Amazonas" consists of 7 textile panels of unprepared cotton canvas, sized approximately 149 × 49 cm. There are 4 motifs covering the fertile rainforest – the lungs and heart of the earth. And 3 motifs covering increasing plantations, pollution (like Hydro Alunorte's red sludge) and the sea rise. The works are painted with water-thinned acrylic in many layers, and will be mounted as a spatial installation. The project is in continuous development, and will be displayed in different combinations.
CV
CV – Ingebjørg Vatne – www.VatneArt.no *Mobil: 992 71 716 *E-mail: vatnakke@online.no
Raised in Voss, lives in Oslo. Studios at Sagene Art Studios and Nakkerud, Ringerike.
Member of CAN (Concerned Artists Norway)
Education / supervision:
2015—2017 KHIO, lectures in Art history and Art theory, 5 semesters for MA- and BA-students
2012 Student of artist Markus Brendmoe, later workshops/supervision
2011—2012 Supervision by artist Heidi Øiseth
2008—2011 Supervision by artist Anne Biringvad
2004—2008 Nydalen School of Art, 4,5 years of studies: 1 year Personal artistic development, 2 years Fine Art studies, 1,5 year Drawing and painting courses. Supervisors Anne Biringvad, Janine Magelssen, Heidi Øiseth and Kari Mette Wik
Formerly Social worker educated at the NKSH. Supplementary: Drama and literature as a pedagogic method at Hamar Teachers Training College. Human Resources, Management and organizational development, Finance, at BI.
Work Experience:
2008 – cont. Fine Art practice
2008—2013 Punkt Ø (Gallery F15, Alby and Momentum Art hall, Moss), art communicator with guided tours, workshops for children and developing new products, as establishing a creative "holiday club" for children. Guided tours at six exhibitions per year, and twice at the Momentum Biennale. Target groups: Kindergartens, Primary and Secondary schools, High schools and Colleges. Including projects organized by the Cultural Rucksack. As well, a wide range and large number of guided tours for various groups.
2011—2012 Establishing an Art Gallery with three collegues in the collective studio Galleriverkstedet/H12
2007—2008 Nydalen School of Art, part-time, organizing the Academic library, Educational assessment, Profiling
Formerly Human Resources, as well as various positions in training, management and organizational development, insurance and social work
Art seminars:
Since 2004 I have participated in several Art courses in acrylic- and watercolor painting, graphics , drawings, natural textile colouring and Art and expression pedagogics, all facilitated by professional artists.
Duties:
2018—cont. Sagene Art Studios, member of the Gallery committee. The Gallery is established with financial support from Arts Council Norway
2015—2017 Sagene Art Studios, Board member of studio community for 75 professional visual artists, musicians etc.
2013—cont. Rygge Art Association, Board member and member of the Exhibition committee, including mounting exhibitions
Solo exhibitions:
2017 Valdres Art Association, Gallery Perrongen, Fagernes
2016 Rælingen Art Association, Kirkestua, Rælingen
2016 Modum, Art Association, Gallery Old Town Hall, Vikersund
2012 Rygge Art Association, Gallery Hadeland, Moss
2010 Gallery Albin Art, Oslo / Wilh. Wilhelmsen ASA, Oslo
2008 – 2009 Gallery View, Oslo / Café Stredet, Oslo / Café Petit Paris, Moss
Collective and group exhibitions, selected :
2018 Moss Art Association, Christmas exhibition, invited artists
2018 Gallery Sagene kunstsmie, Christmas exhibition
2018 Buskerud Artcenter, Scholarship exhibition
2018 Artists Open Climate-microphone, Climate festival 2018. Concerned Artists Norway (CAN) cooperating with Deichmanske Main library, Oslo
2017 Kunst rett vest, juried. Collective exhibition at Fossekleiva Cultural Centre and open studio 2 weekends, view www.VatneArt.no Exhibitions, Photos
2017 HardingarT, Utne in Hardanger, (owner curator Kjell Erik Ruud), summer exhibition
2016 – 2017 Gallery Seilduken, KHIO, Open Call students and employees, " Vol. 02" og «Vol. 03»
2015 – 2018 OsloOpen, open studio and collective exhibition at Sagene kunstsmie, 4 times juried
2015 Nes Art Association, «Først til mølla», Auli mill at Årnes, invited artists
2014 Buskerud Bildende Kunstnere, November exhibition at Drammen Museum, juried. Reviewed in Drammens Tidende, view www.VatneArt.no, Exhibitions, Photos
2014 October Open, Hydrogenfabrikken Arthall, Fredrikstad
2014 Limfjordscenteret Arts and Crafts, Doverodde, Danmark
2013 – 2016 Hamar Art Association, 4 times members exhibitions
2013 Moss Art Association, Christmas exhibition, invited artists
2013 Hamar Art Association, Autumn exhibition «Home is where the Art is", invited artists
2013 Voss, Art Association, summer exhibition
2011 – 2012 Galleriverkstedet/H12, Oslo, 3 exhibitions in the collective studios gallery
2011 Voss Art Association, curated Christmas exhibition / Voss Art Association, summer exhibition
2011 Midtnordisk Art festival, Innherred
2011 – 2014 OsloOpen, 3 times (Galleriverkstedet/H12 / showroom BOA / Own studio)
2009 – 2010 Kreativ runddans, 2 times, artists at Adamstuen, Oslo (Galleri Gjøken / Café Sosta)
2009 Gallery View, Oslo
2007 400meters of Art, Voss / St. Hanshaugen center gallery, Oslo
2004 – 2008 Nydalen School of Art, Oslo, open exhibitions every semester
Purchasing, Decoration etc.:
2018 Decoration at NORBOHUS MODUM AS, headquarters
2016 Purchased by the Art Association at Oslo University Hospital, Radium Hospital
2016 Purchased by Modum Art Association
2016 AKFO (Akershus Association of Art Associations), 2 fullpage paintings in Annual Report 2016 «Tri-X», 3 images x 3 multimedia shows, The Literature House / the Grotto, Fredrikstad
2006 – cont. Purchased by private collectors
Commission:
2011 – cont. FineArt web gallery, paintings and Graphics
2010 – 2017 Gallery F 15 gallery store, Jeløy, Graphics
2013 – 2017 Artifix Arts & Design, Sagene, Oslo, Graphics
2012 – 2014 Voss Art association, Banksmidja, painting
2010 – 2011 Gallery View, Oslo, Giclee print
2007 – 2008 Kjedlaren Art shop, Voss, painting