Kurioka, Setsuko
Papirarbeid
For the past twenty years I have worked within an extended drawing term.
I challenge the term and will find other expressions in this field.
I have found that using needle and thread is one of the easiest ways to express my message. Later, I have developed in this area using drawing sewing thread and collage. I make an item of paper. The whole shows an object that is built up of plain paper. I have shown these workers at a series of exhibitions and group exhibitions from 2012 to 2018.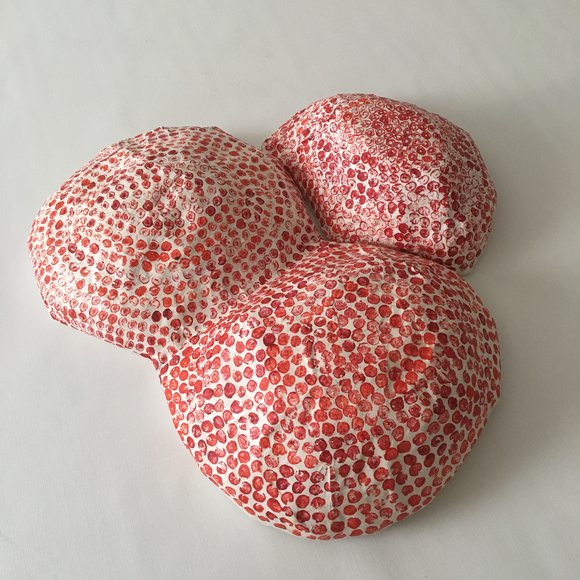 Fremling I
Planned projects and exhibitions
PAPERWORK
I create a basic shapes with cardboard and paper structures and paste this together and create a new shapes. The shape is not complete, like a torso.
I therefore also call the new series for "Torso: an incomplete form.»
Gluing is a method and technique that I'm working on now. I want to show the paper's ability and the quality of paper as softness and fragility in my work.
CV
Setsuko Kurioka Born: March 22, 1950 in Japan
SEPARATE EXHIBITIONS
2017 County Gallery at Akershus Art Center 2017 Vigdis Hoen Gallery in Karlstad2017 Gallery The Yellow House in Asker2015 TRAFO Kunsthall I Asker 2012 Trondheims Kunstforening 2009 Gallery Labro2008 Arendal Kunstforening. 2007 Haugesund Art Society. 2007 Blakstad Gallery. 2005 The Gallery The Yellow House, Asker. 2004 Dranerforbundet in Oslo. 2002 Trondheims Kunstforening. 2002 Heimdals Kunstforening. 2000 Sogn og Fjordane Arts Center. 1999 Trøndelag Center for Contemporary Art. 1999 Lørenskog Art Society.
YEAR AND COUNTRY EXPORTS
2003,02,01,00,99,97,94,93 Trøndelags exhibit. 2002.98 The National Autumn Exhibition in Oslo. 1999,86,85 Christmas exhibition, Trondheims Kunstforening. 1975 Genbiten (Modern Art Exhibition), Tokyo.
GROUP AND COLLECTIVE SETTINGS
2018 Kunstforbundbundet Christmas exhibition 2017 Sørum Kunstforening 2017 Gallery 69 In Oslo2016 Lørenskog Kunstforening2013 Gallery Schaeffersgate 5: 2012 Gallery Trafo: Art right Vest2011 Art exhibition in Chengdn 2011 Gallery Blakstad: together with Aarberg and Nicholas 2011 Sundland in Drammen: Art right West 2009 Gallery Blakstad 2009 Gallery Trafo: Art right West2008 Lørenskog Art Society: International Chrysations2008 Government Gallery / Ministry of Culture and Church: International Chrysations 2007 Asker Kunstforening2006 Drawing Association (Member) 2005 Trøndelag Center for Contemporary Art (Member) 2005 Hå gamle prestegard Rogaland: NEW HORIZONS2005 Manx National Heritage, Isle of Man: NEW HORIZONS,
Education
1980-1984 Art Academy in Trondheim. 1975-1977 Kyoto Nishizin textile school.
scholarships
2015 Images artist's help fund Permanent support. 2015 Images Artists 'Help Fund Project Support2015 Visual Artists' Fund of Funds Project Support2003 Billedkunstnernes Vederlagsfondet2003 Børre Skasliens Minnesfond2002 Billedkunstnernes Vederlagsfondet2002 Project Support, Japan 2002 Lykketre2002 Material Support, Japan 2002 Osmosis. for a separate exhibition 2000 Norwegian Church Council Equipment support1999 Norskkulturrådes Exhibition Grant1999 Trondheim City's Cultural Grant1998 Norwegian Cultural Council Exhibition Grant1998 Norwegian Cultural Council Debutant Support