Jingsue, Eva
Mix/installation
An artist who is interested in nature and the universe.
I travelled through the arch-shaped semicircle, rowed across the coloured ocean of yellow and blue, and stepped into the wide nature and universe. To understand yourself is to understand the world. Listen to your own heart that pulsates with the whole universe…
Leaving their own cultural sphere gives unique experiences and insights about oneself.
Through the installation "Another world" I want to create an image of a reverse world, different from the one we know of, where nature and spirituality is emphasized.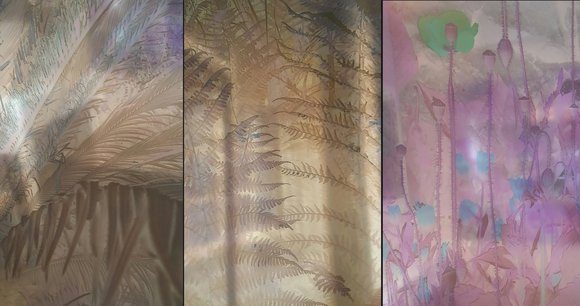 «Another World» blandede teknikker/installasjon, 2018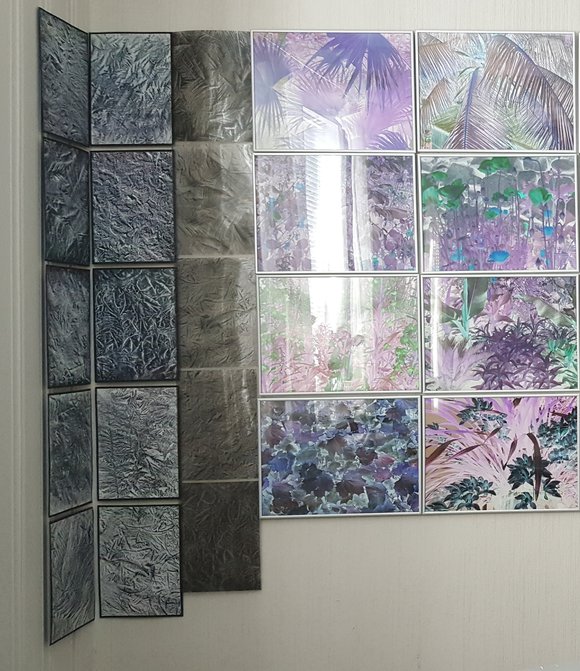 «Another World» blandede teknikker/installasjon, 2018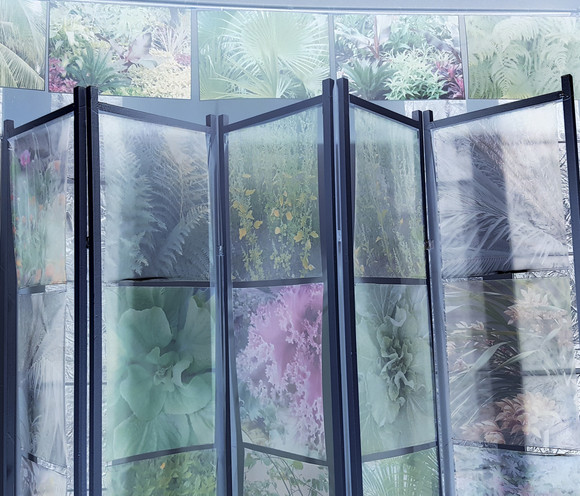 «Another World» blandede teknikker/installasjon, 2018
Planned projects and exhibitions
Art projects: Portraits of wood, Ice-crystal in the Sun, Time and Space
Installation: «Another World»
Group exhibition theme: "Where do I really come from?"
Norway, Sweden
CV
Born in Beijing, 1990 travelled to Norway with train and boat for 10 days and nights
EDUCATION
99-00 National Academy of Fine Arts, Oslo/KHIO-5. year studium
90-93, 95-96 National Academy of Fine Arts Trondheim, NTNU
93-94 Oslo University (Norwegian)
93 Faculty of Art & Design, L. J. M. University, UK-exchange student
80-83 Shanghai Theatre Academy, China
ART SCHOLARSHIPS/AWARDS
2009 Studio in Paris, Ingrid Lindback Langaards Stiftelse
07/99 Projects/exhibition support, Visual Artists Commission Fund
2005 Culture scholar 1 year, China, The Research Council of Norway
03/99 Lørenskog Culture Scholarship, Norwegian Council for Cultural
2001 Equipment support, Norwegian Culture Foundation
2000 Norwegian Print Artist Foundation
97/96 Art material scholarship, Visual Artists Help Foundation
SOLOEXHIBITIONS
2009 Cite Internationale des Arts, Paris
2013 Kultursalen Åmotfors, Sweden
2003 Gallery BOA, Oslo
2001 Norwegian Forestmuseum
2000 Fossum Culture House, Oslo
1999 Bærum Art Association Gallery
1996 Faculty of Art & Design L. J. M. University, UK
COLLECTIVE EXHIBITIONS
2018 Melahuset Oslo, Migrating Identities 2
2017 Sørum Art Association, Forsøplende Renhet-NWA
2016 Oslo Gallery 69, Lørenskog Art Associatnion, Migrating Identities1
15/14 Eda Open Art, Akershus art Centre, Gallery BOA
2013 Galleri Norske Grafikere, Lørenskog Art Association/kuturhus
2011 China-Norway Art Exhibition, Sichuan
10/09/04 Romerike Exhibition, Gallery Skårer/Jessheim
2009 Norwegian Forest Museum, Elverum
2008 International Crossing Gallery R5, Oslo, Lørenskog gallery
2006 Tragic Beauty, Dakar, Senegal, Gallery BOA
2005 Mongolia National Moderen Art Gallery, Beijing Jian Art Centre
2004 Romeriksutstiillingen, Gallery Skårer, Jessheim
04/02 Oslo City Hall Gallery, Guangzhou Art Museum, China
02/94 Gallery Norwegian Print Artists, Oslo
98-00 Bærum Art Association, BKiB-Autumn exhibitions
97 Gallery K. Helsinki, Impermanent International exhibition
96/97 Bærum-exhibition, Bærum Art Association
96/95 Trondheim Art Museum /Association
96/95 Kryssinger International travelling exhibitions, Sør-Trøndelag
96/94 Henie-Onstad Art Centre at Høvikodden
92/93 December-exhibition, Trondheim Association
COLLECTION
2002 Norwegian Forest Museum, Elverum
2001 Guangzhou Art Museum, China
1999 Bærum kommune og Samfunnshus
MEMBERSHIPS
Association of Norwegian Visual Artists
of Norwegian Print Artists
of Oslo, Akershus Visual Artists
Committee member
04/05 Oslo, Akershus Visual Artists
97-00 Visual Artists in Bærum
04 jury of 4th. Romerike Exhibition