Jacobsson, Sabina
Photo and drawing
Sabina Jacobsson is a film, photo, drawing and installation artist. She graduated from the Academy of Fine Arts in Trondheim in 2000 and has had several exhibitions and film shows in Norway and abroad. Jacobsson also works with video design for dance and theatre and is lecturer at various art schools in Oslo. Through several projects of artistic collaboration, she has been given the opportunity to work on different expressions in theatre as well as in the gallery space and in the cinema, which has contributed to her multifaceted expression.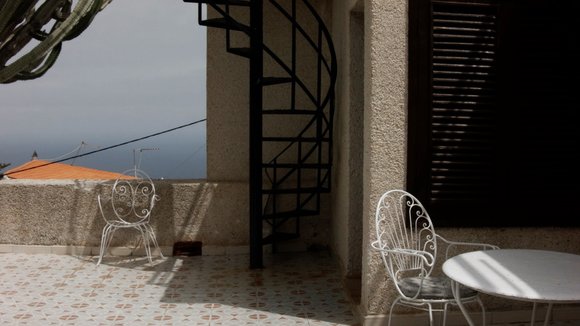 Sabina Jacobsson, Casa Randi, kortfilm. Galleri B OA 2018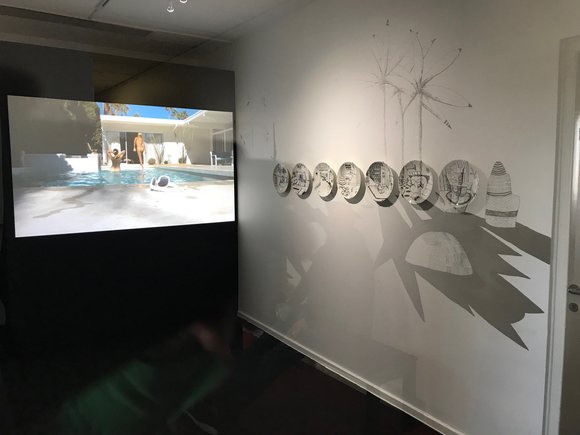 Sabina Jacobsson, The Collectors, Digitaliseum Malmö 2018.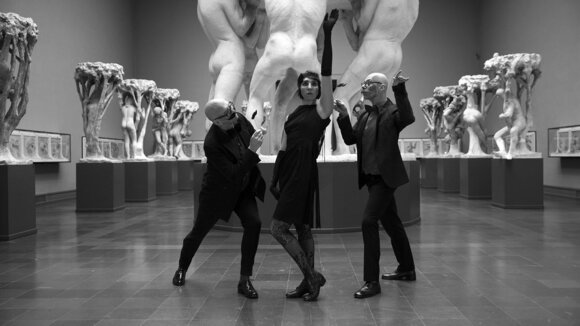 Sabina Jacobsson, The Aloof, kortfilm fra Vigelandsmuseet 2017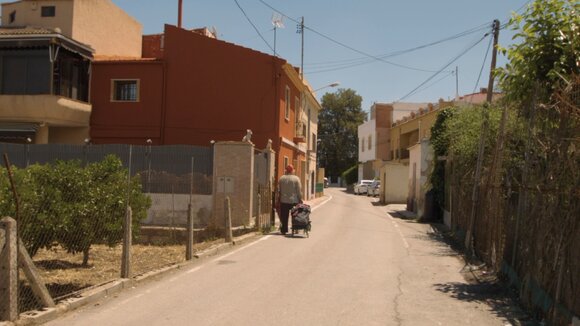 Sabina Jacobsson, En Nuestro Presente, kortfilm. Galleri B OA 2018
Planned projects and exhibitions
USF Bergen 2020
CV
EDUCATION:
2008 Apple Certified Trainer, Munich
1996-2000 Academy of Fine Arts inTrondheim, Norway
1998 Royal Academy of Fine Arts in Copenhagen, Denmark
1994-1996 Atelier 17, Paris, France
1992-1994 Hovedskou Art School, Gothenburg, Sweden
SOLOSHOWS:
2020 USF Verftet, Bergen
2018 Gallery B OA, Oslo
2017 Digitaliseum, Malmö Sweden
2016 Gallery 54, Gothenburg Sweden
2016 Tenthaus Oslo "Living in Colour", with Tammo Rist and Kristin Nordhøy.
2015 ANX Oslo
2014 Bryne Kunstforening, Bryne
2013 RAM GALLERI, Oslo
2011 Kunstnersenteret Møre & Romsdal
2010 Kunstnersenteret i Buskerud
2010 Galleri IKM, Oslo
2010 Museet for Fotokunst, Brandts Odense Denmark
2009 Sogn og Fjordane Kunstmuseum, Kunstsenteret
2009 Luleå konsthall, Luleå
2008 Nordnorsk Kunstnersenter
2006 Galleri F15
2006 Galleri Barbara Hansen, Oslo
2005 Nordic Art Info, Oslo
2004 Trøndelag senter for samtidskunst
2002 Arendal Kunstforening
1996 Galleri September, Gothenburg, Sweden
GROUPSHOWS:
2018 Nordic Light 2018, Uncertain States/Scandinavia
2018 Spring Depot II, Tenthaus Oslo
2017 FOKUS 2017, Nikolaj Kunsthall Copenhagen
2016 Buronale Filmzeitkaufbeuren, Germany
2016 Videomedeja, Museum of Contemporary Art of Vojvodina, in Novi Sad, Serbia.
2016 Bomuldsfabriken, Arendal Norway
2016 Artmuseum Nord-Trøndelag, Namsos. Trøndelagsutstillingen, Norway
2016 Gallery KIT, Trøndelagsutstillingen, Norway
2015 Incubarte 7, Galleri Tossal "Found Translations" Valencia Spain
2013 Ekely Kunstnerne i Munchs Ateljé i samband med Munchs jubilums år
2012 Parallax Views: Multiculturalism – Epic Fail or Not, curated by Koan Jeff Baysa --NO. New York
2009 Galleri Maria Veie, Rural Branch, Veie Østre
2009 Raulandsutstillinga
2008 "The Green Room", Circulations Centralen, Malmö The G.U.N. Ladies project
2008 ICEBREAKER FESTIVAL, Kabelvåg
2007 The White Tube, "At Home, At Work, At Play", Oslo
2007 Gil&Moti Home Gallery , Rotterdam 2007
2007 Et annet sted, en annen tid, TWT Oslo, The G.U.N. Ladies project
2007 33 BASEMENT group exhibition Schweigaardsgt.33 Oslo Open
2006 Rom for Kunst, The G.U.N. Ladies
2006 Jubileums utstilling Galleri F15, Moss, Norway The G.U.N. Ladies
2005 Østlandsutstillingen
2004 Høstutstillingen, The G.U.N. Ladies project
2004 Lofoten International Theatre Festival, "Kunst fra folket", The G.U.N. Ladies project
2003 Galleri IKM, Oslo, Norway, "Privat Park I" (in collaboration with Jan Steinum)
2003 Høstutstillingen
2003 Gallery F15 Prosjektrummet, Moss, The G.U.N. Ladies project
2002 Gallery G.U.N, Oslo, Norway
2000 Edsvik Art and Culture museum, Stockholm, Sweden
2000 Moss Kunstforeningen/Momentum, Norway, "Crisis Management"
1999 SIMON, co-operation project with students from Edinburgh School of Art, Skottland, Trondheim biennalen, NORWAY
STAGEART/VIDEODESIGN:
2019 StemmeStammen, Karstein Solli Production
2019 Larsen Versus Munch Dir. Lene Therese Teigen
2019 Darkness Dir. Paul Castagno North Carolina US.
2018 Sykle i Snøstorm, Hålogaland Theatre Tromsø Dir. Petter Næss Text: Liv Heløe
2018 Den Velsignede Dir.: Trond Petter Stamsø Munch Text: Tale Næss
2018 SVIKER, Haugesund Teater. Dir: Elsa Aanensen Text: Marius Leknes Snekkevåg
2018 Min Dans Med Strenger, Frode Alnæs. Dir. Ivar Tindberg.
2017 Sound of Music, Hålogaland Theatre Tromsø Dir. Ivar Tindberg
2016 Be-Longing, Dansens Hus Oslo, Ulf Nilseng Production
2016 Drammen Obscura, Brage Teatret Production Dir. Jon Tombre Text: Liv Heløe
2016 Dark Mountain, Ossavy/Kolbenstvedt Production
2016 Basic Stuff, Steffi Lund Production
2015 Ses i min nästa pjäs, Pia Maria Roll Prod. Black Box Oslo
2014 Handle with Care, Karstein Solli Prod.. Bærum Kulturhus Oslo
2014 Still in Silence, Ossavy/Kolbenstvedt Prod., Black Box, Oslo
2014 Ikke Forlat Meg, Skonseng Naudeer Prod., Brage Teatret Drammen
2013 Vi Forlot Den Stille Skogen, Steffi Lund Prod., Dramatikken Hus
2013 Ned i Mosen Med Deg Menneske, Marianne Skjeldal Prod. Dansens Hus Oslo
2013 "En KampPoets Bekjennelser" with Hannah Wozene Kvam Ram Galleri
2012 "Ship O'Hoi Pia M. Roll Prod. Black Box Oslo, Trøndelag Teater, Rådstua Tromsø
2011 "KLAUS NOMI Angel of Surburbia" Øystein Elle Produksjon Dramatikkens Hus Oslo
2010 "Ned i mosen med deg menneske" Marianne Skjeldal Produksjon Hvalstrand Bad Oslo
2010 "Rubinhjerte" Kari Anne Bjerkestrand Produksjon (video)
2010 "Smellroom", Hedmark turnéorganisasjon (performance)
2010 "Smellroom" Pilotgalleriet Akershus (performance)
2008 "Smellroom", Hedmark turnéorganisasjon (performance)
2007 "Tahirih", Panter Tanter Production, Trondheim(video/scenography)
2007 "Politics of Bodies", Karstein Solli Production, Oslo, Norway (video/scenography)
2006 "Odors_Memories_Emotions", Kunstbanken Hamar
2006 "Odors_Memories_Emotions", Intimate Spaces, Schwules Museum Berlin
2004-2005 "Visuoauditory" – Atelier Nord, Galleri Texas, Margareta kyrkan, Henie Onstad kunstsenter.
2004 "Love-in Lounge", Oslo, Norway, in collaboration with Jan Steinum and Clare Thornton
2004 "Politics of objects"Karstein Solli Prod, Oslo, Norway
2002 "Politics of singing" Karstein Solli Prod, Oslo, Norway
1999 "Kombinasjoner" Trøndelag senter for samtidskunst, Norway
1998 "Fisk" Munchs Ateljé, Asgardstrand, Norway
1997 "Hav" Galleri Thomas Angell, Trondheim, Norway
1997 "Psykomobile" Theatre Avant Garde, Trondheim, Norway
SCREENINGS:
2019 Bærum Kunsthall, filmprogram Curator: Margarida Paiva
2019 Tjörnedala Konsthall Konstfilmfestival
2019 Bærum Kunsthall, filmprogram Curator: Margarida Paiva
2018 SaisonVideo, web project
2018 6×6project, web project
2018 Madatac, Spain
2017 6th Mumbai Shorts Int. Festival
2017 6th Delhi Shorts Int. Filmfestival
2017 5th Indian Cine Filmfestival
2017 6th Kolkata Int. Shorts Filmfestival
2017 6th Bangalore Shorts Filmfestival
2017 FILMIDEO, Index Artcenter Newark NJ
2017 Minimalen, Trondheim Norway
2016 MixBrasil, Sao Paolo Brazile
2016 Shorts On Tap, London
2016 Goa Shortfilm Festival, India
2016 Oslo Fusion International Film Festival, Oslo Norway
2016 Norwegian Shortfilm Festival Grimstad Norway
2015 Madrid International Shortfilm Festival
2015 Norwegian Shortfilm Festival Grimstad Norway
2014 Norwegian Cultural Fortnight in La Laguna Teneriffe
2013 Public Art Screens
2011 4th International Video Art Festival Camagüey, Cuba
2011 CologneOFF, Riga
2011 NEW SCREEN NEWCASTLE
2011 FESTIVAL MIDEN, Kalamata, Greece,
2011 CologneOFF 2011 Baltic Sea Szczecin, Poland , St. Petersburg, Riga
2011 FONLAD, Portugal, May 2011
2011 CologneOFF, Goethe Institute Kiev --PDF
2011 Magmart Festival, Naples Italy
2011 SMALL PROJECT GALLERY, Tromsø
2010 Delhi International Arts Festival, India
2010 Örebro Video Art Festival, Sweden
2010 Videochannel
2010 Visual Container
2010 FIFVC, Beirut
2010 Oslo Screen Festival, Oslo
2009 V.I.P. Art Gallery, Serbia, Belgrade
2009 Naturally Bergen Naturhistorisk Museum, Bergen
2009 Paralelas y Meridianos, Buenos Aires
2008 FIFVC, Beirut
2008 Supermarket Art Fair Stockholm. Curator: Tor Jørgen van Eijk
2008 Bridge Art Fair N.Y. Curator: Tor Jørgen van Eijk
2007 OUTVIDEO Artpolitica, Russia
2007 Animus/Wilderness, BARBÈS Brooklyn
2006 Next Festival, Vilnius
2005 Beyond Media, Florence, Italy
2005 "18th Instants Video Festival", France
2005 "Loop Pool", "kunstverein wolfsburg, Germany
2005 "Norwydeo" San Francisco, US
2005 "FIVU O5", Montevideo Uruguay.
2005 "Exis 2005" Seoul, Korea
2005 "Choreocinema" festival, Oslo, Norway
2005 "Lange nacht der museen" Schwules Museum, Berlin, Germany
2005 "Glass Eye", Barbès, Brooklyn, N.Y,
2005 "Artificial life", Aspex Gallery UK
2005 "Hands free series", UK
2005 "Loop Pool", Oberhausen, Germany
2005 UKS, Oslo NORWAY
2005 NY MUSIKK Parkteatret , Oslo NORWAY
2002 "To Play and the monkey business", Portugal
2001 "Video Puls", Haugesund, Norway
2001 Umeå Filmfestival, SWEDEN
2001 "EKP-Forum", Gothenburg, Sweden
2000 International Art Film Festival Trencianske Teplice, Bratislava/SLOVAKIA
2000 Minimalen, Trondheim, NORWAY
1999 "Magnetic North", young norveigan and brittish video art, Artmuseum, Trondhem , The National Film Theatre, South Bank Center, London och The Laing Gallery, Newcastle etc.
1999 International Short Film Festival Uppsala, SWEDEN
1999 Shortfilmfestival, Grimstad, SWEDEN
1999 D i a l o g u e, The Matthew Gallery sound/video festival Edinburgh, SCOTLAND
1999 International Art Film Festival Trencianske Teplice, Bratislava, SLOVAKIA
1999 Minimalen, Trondheim, SWEDEN
1998 Festival Bandits-Mages, FRANCE
RESIDENCY:
2019 The Bergman Estate on Fårö
2018 Casa Randi, Tenerife Spain
2011 Montemor-o-Velho Portugal
GRANTS:
2012 (GI) Guaranteed income for artists from the Norwegian Goverment
2000 – 2018 Numerous grants
PRICES:
2018 Musikkteaterprisen – Nominert til beste musikkteaterforestilling 2017 med Sound of Music, Hålogaland Teater Tromsø
2017 Honorable Jury Mention at 6th Mumbai Shorts Int. Festival
2017 Honorable Jury Mention at 6th Delhi Shorts Int. Festival
2017 Honorable Jury Mention at the 5th Indian Cine Film Festival
2017 Special Festival Mention at the 6th Kolkata Int. Shorts Filmfestival
2017 Special Festival Mention at the 6th Bangalore Shorts Film Festival
2016 NTNU artist (2016 – 2017)
2015 Best Cinematography "The Confrontation", LAIFF Awards Los Angeles
2015 Honorable Mention "The Confrontation", IIFA Encino California
2013 Heddaprisen – Nominert til Beste Forestilling (2012 SHIP O'HOI Pia Maria Roll & CO)
2013 Torshovsteatrets Venners Pris for Beste Forestilling (2012 SHIP O'HOI Pia Maria Roll & CO)
2010 Oslo Screen Festival (honourable mention)
2006 Next Festival award (best concept)
ACQUIRED BY:
Kunst i Skolen
Norsk Kulturråd/Norwegian Art Counci
Telenor
Gothenburg Art Councils
TEACHING: Høyskolen Kristiania, Strykejernet, Einar Granum
MEMBER OF: NBK, NBF, FFF
BOARD COMITTEE: 2009- Kunst i Skolen, Oslo