Krogh, Marit
Sculpture
As a sculptor I am an observer of the surroundings. I capture in my memory the urban life, people and situations I see, and try to recreate these when working in my atelier. I am particularly interested in all the electronics people carry around everywhere, and the way many are so engulfed in these, while they are hardly aware they are in a public space. Short moments of peoples lives are highlighted when they pass through the slow process of modelling before they are cast in bronse and replaced out into public space.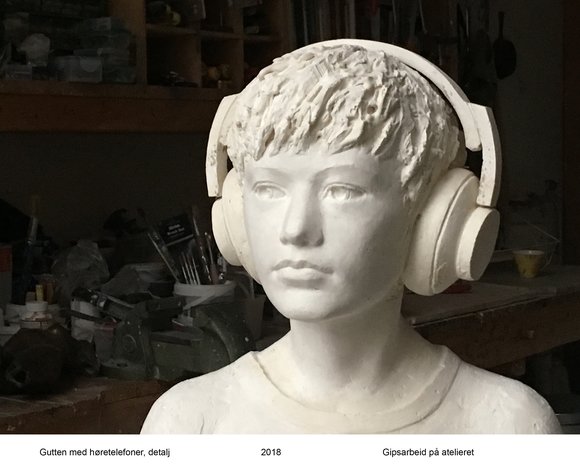 Gutten med høretelefoner, detalj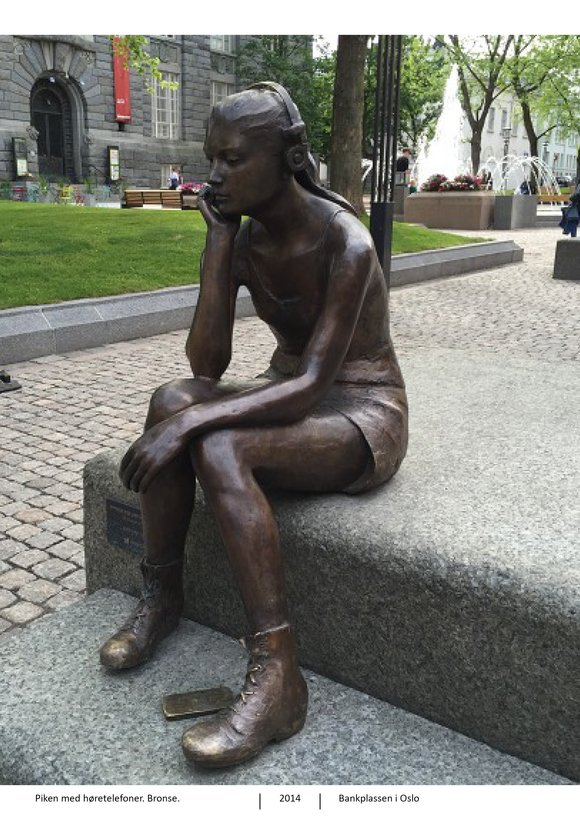 Piken med høretelefoner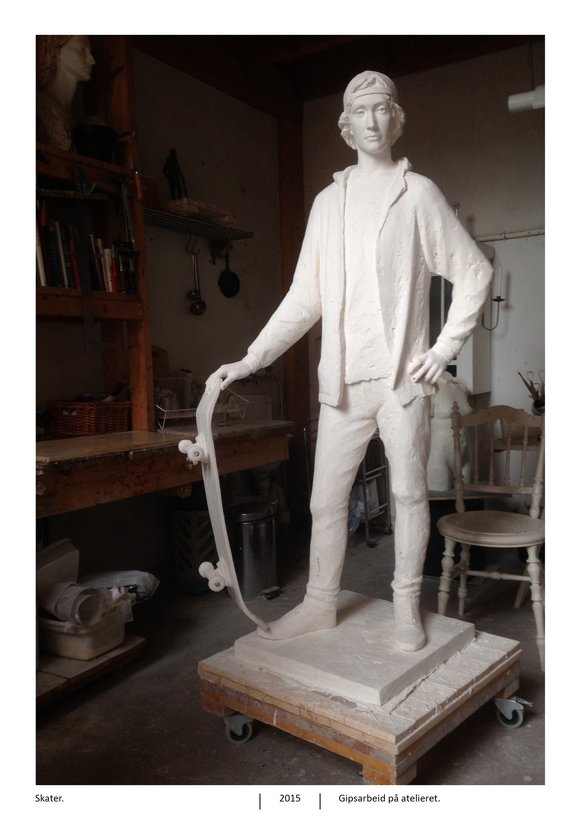 Skater, (gipsmodell på atelier)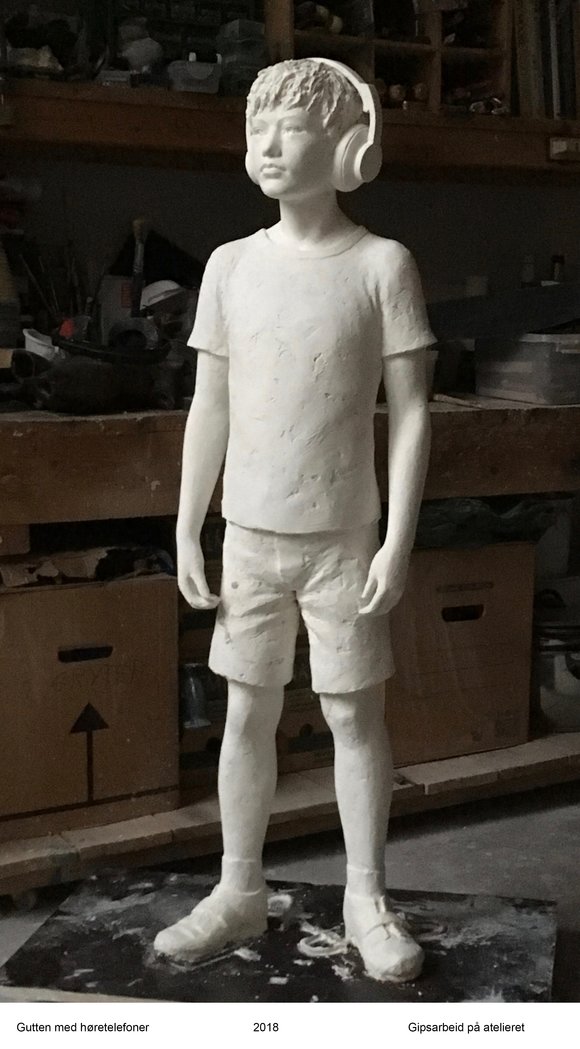 Gutten med høretelefoner, gipsmodell på atelier
Planned projects and exhibitions
I work on a group of sculptures intended for public spaces. The working title is: "Moments from our time." The scuplture "Girl with headphones" at Bankplassen in Oslo is the first in this series.
CV
Born: 25.01.48, Oslo.
Atelier: Hovinveien 1, 0576 Oslo.
Phone: 41 21 71 28.
e-mail: post@maritkrogh.no
Education
1974 The Academy of Art, Zagreb, Croatia
1971 – 1974 The Royal College of Art, Stockholm, Sweden
1969 – 1971 The National Academy of Art, Oslo, Norway
1967 – 1969 The National College of Arts and Crafts, Oslo, Norway
Commissioned public art (selection)
2018 Portrait of Birgitta Andersson, Mariestad Sweden
2014 Piken med høretelefoner, Norges Bank,
Bankplassen i Oslo
2012 Portrait of Renée Fleming, Teatr Wielki, Warsawa
2012 Portrait of Nina Brodersen, Hartvig Nissen Skole
2004 Portrait of Nilz Hertzberg, Ullensvang Hotell
1992 Anemone, Befalskolen Karljohansvern, Horten
1990 Vekst, Regionsykehuset i Tromsø (Hovedinngang)
1989 Delfinen, Næringslivets Hovedorganisasjon (NHO), Oslo
1985 Organisk form, Borregården, Sola rådhus
1983 Tre lyn, Televerket, Oslo
1981 Organisk form, Reitgjerdet sykehus, Trondheim
Represented in art collections (selection)r
Nasjonalmuseet Museet for samtidskunst, Norges Bank,
Kulturrådet, Den norske ambassaden i Nairobi, Kenya, Ås
kommune, Oslo kommune, Oppegård kommune, Galleri Roenland
Participation in invited art competitions
Birgitta Andersson for Mariestads kommun 2017
2011 Jubileum coin for the King and Queens 75th anniversary, The Norwegian Bank, Norway, Monument over Olav Selvaag
2005 Narvik Centrum, Narvik, Norway
2001 Bragernes Pier, Drammen, Norway
2001 Risør Hospital, Risør, Norway
1996 Christiania square, Oslo, Norway
1992 Befalskolen Karljohansvern i Horten
1989 Næringslivets Hovedorganisasjon
1984 Sola rådhus
Selected Solo Exhibitions
1992 Galleri Kampen, Oslo
1978 Galleri Tanum, Oslo
Selected Group Exhibitions
2013 Kvinnelige billedhuggere, Bærums verk (NBF)
2010 "Godesses" Nasjonalmuseet, Museet for samtidskunst
2006 Galleri Roenland
2005 Kunstbiennalen i Tolfa, Italia, Galleri Roenland
2004 Kunstforeningen Verdens Ende
2003 Galleri Buene
1998 Galleri Kilen, Hvasser. Tønsberg bibliotek.
1997 "Norske bilder", Oslo arr. Galleri Brandstrup
1995 Galleri Osebro, Porsgrunn
1994 Galleri Roenland, Jevnaker
1993 Galleri Kilen, Hvasser
1992 Galleri Skårer, Lørenskog
1985 Internationales Plastik-Symposium, Lindau
1982 Galleri Acanthus, Oslo
1980 Kunsthalle, Rostock. "Skulptur underveis",
Kunstnernes Hus, Oslo. Skulpturbiennalen i
Danmark.
1979, 1978, 1977 Festspillene i Bergen
1979 Kommunehuset i Alta. Svelvik Kunstforening.
Sommerutstilling i Seljord. Sarpsborg Kunst
utstilling. Aalesunds Kunstforening
Års- og landsdelsutstillinger
2018, 1991, 1982, 1976, 1975, 1973 Høstutstillingen, Kunstnernes Hus
2008, 1988, 1983, 1982, 1979 Østlandsutstillingen
Grants/Fellowships (Awards/Honors, etc.)
2008- The Relief Fund for Visual Artists, grant, Norway
2000 Residency, The Scandinavian Association, Circolo Scandinavo, in Rome, Italy,
2000, 1995, 1994 Ingrid Linbäck Langaard Foundation, Norway
1988 The National Government grant, 3 year working scholarship, Norway
1987, 1984 The Relief Fund for Visual Artists, grant, Norway
1982 The National Scholarship for travel or study, Norway
1976 The City of Oslo's cultural grant, Norway
Teaching
2003 – 2018 Courses in portrait modelling, (independent) Oslo, Norway
2002 – 2009 Risør Art forum, classes in portrait modelling, Norway
2002 – 2003 Mosebæk Drawing and Painting School, Norway
1998-2000 KHiO; Oslo National Academy of the Arts, Faculty of Visual Art, Norway
1997 NISS, visuell arts, Oslo, Norway
1979 – 1981 Academy of Fine Arts, Trondheim, Norway
Membership
Norsk Billedhuggerforening (NBF) and NBK