Johannessen, Kjersti
Gallery and glassjewlery
I have been working with glass for over 20 years and the joy of shaping this hot material is still fascinating.
I have my education from The Glass School at Kosta Glascenter, Sweden, and The Glass and Ceramic School on Bornholm in Denmark. I have studied at Pilchuck glass school and Haystack Mountain School of crafts, USA.
I have participated in many group shows around the world and have had several solo shows in Norway. Kunstnerforbundet and Galleri Fromat in Oslo is among some.
My background comes from several years in art school before perusing with glass as my main material. Glass as a material fascinates me, its quality, its diversity; it can be both transparent and opaque, it movements and the dance in the hot shop, the teamwork. And that it gives me a choice, if you want to fight it or let it flow. I get my inspiration from the nature in North Norway where I grow up and it often results in work filled with contrasts. I have been working a lot with transparent glass and cutting it in to different forms.
My work is represented at the largest museums in Norway and HM Queen Sonja has pursed my glass at several occasions.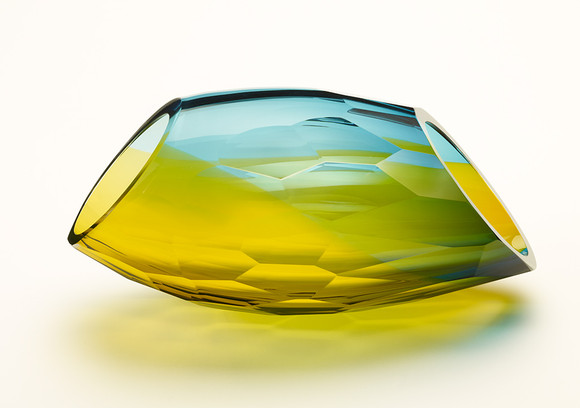 Diffraction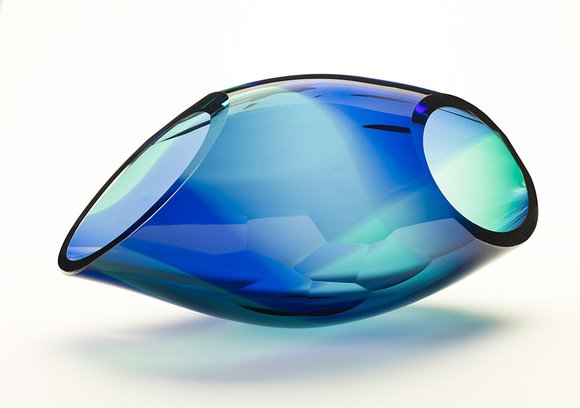 Floating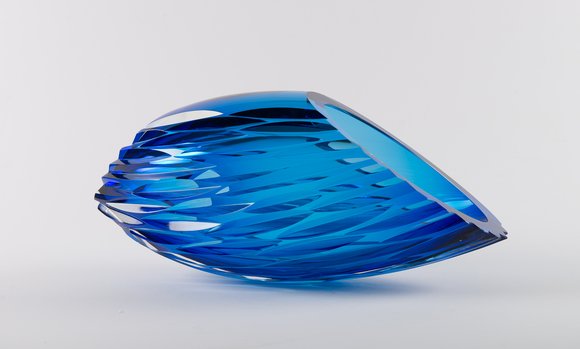 Perpetual light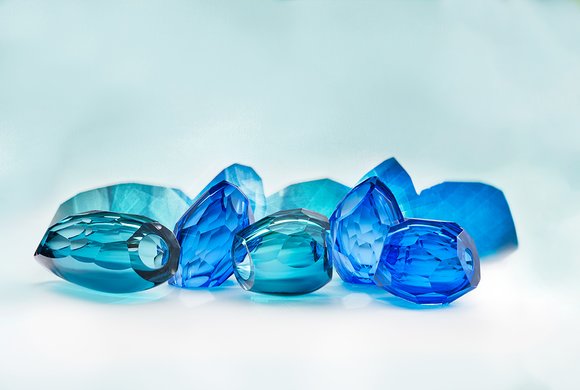 8000 Bodø
Planned projects and exhibitions
Currently I'm building a gallery and small work space at Kirkeristen in Oslo. And this is the space that I want to show at Oslo Open. I'm also working on a solo exhibition at Tranøy Galleri in North of Norway summer of 2019. I had a solo exhibition at this galley this summer together with Kenneth Blom, and it was a huge success. I have applied for solo exhibitions in 2020 at Kunstnerforbundet and KRAFT in Bergen.
CV
Kjersti Johannessen
kjersti@kjerstijohannessen.com
www.kjerstijohannessen.com
www.dynamoglass.org
Place and date of birth: 19.091977 Bodø, Norway
Member of Norwegian association of Arts and Crafts
Member of the Art association BRUDD and Dynamo Glass
EDUCATION:
2000-2003 Glass & Ceramics School on Bornholm, Denmark
1997-2000 Kosta Glass Centre, Sweden
1996-1997 PLUS-School in Fredrikstad, 3D Design, Norway
PROFESSIONAL EXPERIENCE:
2011 Haystack Mountain School of Crafts, USA, Mark Zirple
2003 Haystack Mountain School of Crafts, USA, Benjamin Moore
2003 Pilchuck Glasschool, Seattle, USA, Teatching assistant Preston Singlertary and Katherine Gray
2002 Pilchuck Glasschool, Seattle, USA, Teatching assistant Sonja Blomdahl
2002 Apprenticeing with Sonja Blomdahl, Seattle, USA
2002 Apprenticeing with Paul Cunningham, Seattle, USA
RELATED EXPERIENCE:
2015: Karen Willenbrink_Johnsen & Jasen Johnsen, workshop, Klart Glass, Norway
2012: European Glass Context, Glasseminar, Bornholm, Denmark
2012 TGK 2.prize "All you need is glass" , Germany
2011: Haystack Conference, Architecture and Design.
2011 Dynamo workshop in Gothenburg, Sweden
2009 Dynamo Workshop at Kosta Glass Centre, Sweden
2009/2011/2013/2015/2017 Glassfestival and exhibition in Luxembourg
2008 Dynamo Workshop on furniture factory "Møbelfabrikken" on Bornholm, Denmark
2008 European Glass Context, Bornholm, Denmark
2007 "New Norwegian Glass" workshop on Hurdals Verk, Norway
2005 Jack Wax, Workshop, Egenart AS, Norway
2002 Orrefors Workshop, visiting designer, Global Art Glass, Sweden
2001 Venezia, Murano, Italy, Studytrip
2000 Nordic Glass Conference, Holmegaard, Denmark
SOLO EXHIBITIONS:
2018 Tranøy Galleri, Hamarøy, Norway
2017 " Treasure within" Galleri Bergslien, Eidfjord Kommune, Norway
2016 "Refleksjoner" Det Gule Huset, Asker; Norway
2016 "#Bodø_8000" Bodø Kunstforening, Norway
2015 "Refractions" Buskerud Kunstsenter, Drammen, Norway
2010 "Glass" Galleri Hamarøy, Norway
2009 "Softcore" Kunstnerforbundet, Oslo, Norway
2005 "Av og til; hver-dag" (Sometimes; every-day) Galleri Format, Oslo, Norway
2002 "Debutant of the year" Bodø Kunstforening, Norway
GROUP EXHIBITIONS:
2018 Norway Designs Vol 5, Identitet, Norway
2018 Nyksund Art Gallery, Norway
2018 Borøy Kunsthandel, Norway
2018 Støa, Hurum Kunstlag, Norway
2017 "Glass Festival" Exhibition and sympoisium, Luxembourg
2017 "Refleksjoner" with Anne Leger and Toril Bonsaksen, Galleri Osebro, Norway
2016 "Mästerna bakom glaset", Skåne, Sweden
2016 "Zwiesel Glass days", Germany
2016 "Glasplastik und Garten", Germany
2015 "Vevringutstillinga", Norway
2015 "Glass festival" biennale, symposium Luxembourg
2014 "Norwegian Glass Now" Galleri Format, Oslo, Norway
2014 "Flasketuten peker på" with Dynamo at Spriten Kunsthall i Skien, Norway
2014 "Mästerne bakom glaset" Skåne, Sweden
2014 "Optical outlook" Vitrum Balticum, Lithuania
2014 "Mästerne bakom glaset" Skåne, Sweden
2013 Maison & Objet, Paris, France
2012 Dynamo "I spy with my little I" Berlin Glass e.V. Germany
2012/ 2014/2016 "Zwiesel Glass Days", Germany
2011 Gjøvik Art Association, Norway
2011 Dynamo "Øye Blikk" Gallery S12, Bergen Norway
2010/2013/2016 "Glasplastik und Garten" juried exhibition in Munster, Germany
2010 Dynamo "Carry On -0:3" Gallery Format, Oslo, Norway
2010 100% Norway, Stockholm Furniture Fair, Sweden
2010 Dynamo "Carry On – 0:2", Nadania Idriss New Glass Art & Photography, Berlin, Germany
2009 100 % Norway, Earls Court, London, UK
2009, 2011, 2013 and 2015 Glass Festival and Exhibition in Luxembourg
PURCHASED:
2016 Kode, Bergen, Norway
2015 Nordenfjeldske Kunstindustrimuseum, Trondheim, Norway
2014 Museet for Samtidskunst "Promesse de bonheur" cooperation with Marianne Heier
2009 Wall decoration for Union of education, Oslo, Norway
2009 Nasjonal museum, Oslo, Norway
2009 Bergen Municipal , wall decoration City Hall, Bergen, Norway
2008 Ministry of foreign affairs Norway, residency in Zagreb
2007 Ministry of foreign affairs Norway, Embassy in Abu Dhabi
2006 Nordea Bank, Oslo, Norway
2006 Ministry of Deffence, Norway
2006 Kode, Bergen, Norway
2006 National Library, Oslo, Norway
2005 Bergen Internasjonale Filmfestival, price to Arne Skouen, Norway
2005 Ministry of foreign affairs Norway, New York
2005 Art council, Norway
2005 The Royal Court, Norway
2004 Ministry of foreign affairs, Norway
2003 Sørlandske Kunstmuseum, Kristiansand, Norway
2003 Nordenfjeldske Kunstindustrimuseum, Trondheim, Norway
SCHOLARSHIPS AND GRANTS:
2018-2020 Government grants for artists
2017 Norwegian arts council, exhibition grant for solo exhibition at Tranøy Galleri
2017 Norwegian Government grant for artists, Diversestipend
2014 Norwegian arts council, exhibition grant for solo exhibition at Buskerud Kunstsenter
2012: TGK "All you need is glass" glasspris, 2. Place.
2014, 2012 og 2011: Stikk-midler, Ministry of foreign affers grant
2011: The American-Scandinavian foundation, class at Haystack, USA
2010 The Norwegian association for arts and crafts, grant for exhibition with Dynamo at Galleri Format
2009 Nordic culture point, for Dynamo, workshop in Kosta and exhibition in Berlin.
2008 Norwegian Government grant for artists, emerging artist
2008 The Finnish-Norwegian cultural institute, grant for exhibition in 2009 at Galleri Norsu, Helsinki
2008-2009 The Norwegian association for arts and crafts, grant for workshop "with Dynamo"
2008 Government grants for artists, Diversestipend and 2005, Materialstipend
2007 Norwegian arts council, exhibition grant for solo show at Kunstnerforbundet 2009
2006-2007 Norwegian Government grant for artists, emerging artist
2005 Norwegian arts council, exhibition grant for emerging artist, solo show
2004 NIFCA, Sleipnir travel grant