Myrstad, Miriam
text, video, action and objects
My work turns on two axes; language and action, which in turn revolve around each other, like moon and earth. Language acts and actions speak. Through text, actions and objects I reflect on topics of sociality and selfness, obedience and usefulness.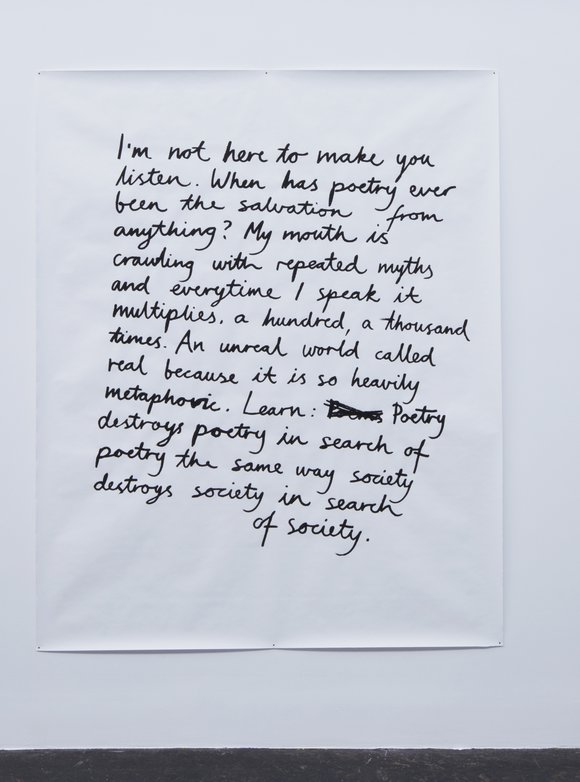 Preliminary Statements (2017) 188 x 150 cm, acrylic marker on paper, one of three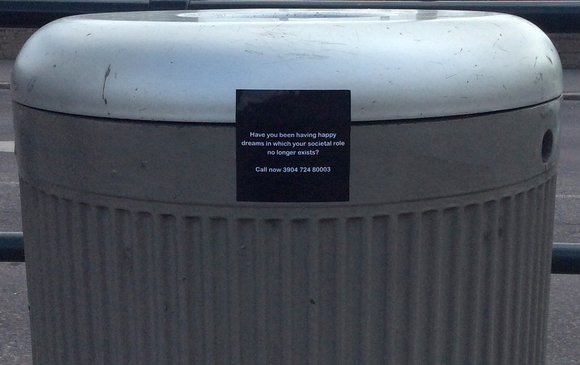 Stickers (2016-), 8 x 8 cm, Self-adhesive stickers with questions and phone number
Les Valeurs Personelles (2017) I asked a man to do something for me. If he ever was in SF, go to MOMA, find "Les Valeurs Personelles» by Rene Magritte, and touch it. He claimed abilities in psychometry. I asked him to get me one of Magrittes dreams.
Emel (2016) The last time I saw her Emel handed me a text by Patrick ffrench titled FRIENDSHIP, ASYMMETRY, SACRIFICE: BATAILLE AND BLANCHOT. "Read this, and then you will be ready for your next assignment", she said, quite simply.
Planned projects and exhibitions
2019 Moral – Palmera, Bergen
CV
Solo and duo presentations
2018 Anticipatory Lyre, invited by Palmera (Tatiana Lozano), Dream Works Art Fair, Bergen
2017 Mennesker vi har tenkt på i det siste, Spriten Kunsthall, Skien
2016 Dreams and Fictions, Akademirommet, Kunstnernes Hus, Oslo
2015 One Night Only, Kunstnernes Hus, Oslo
Selected group exhibitions
2018 Group Hug, Low Expectations, Oslo *
2018 Works on Books, Trondheim Kunsthall, Trondheim
2017 Works on Books, Grafill, Oslo
2017 Archipelago Mixtape vol. 2, HKS, Bergen
2017 "Preliminary Statements" at MFA Graduation Show, Kunstnernes Hus, Oslo
2016 Lunedi, Podium, Oslo
2016 Throwing Balls in the Air, Franzensfeste fortress, South Tyrol
2015 Which is a way of saying: a word was removed, Kunstnerforbundet, Oslo
Selected bibliography
2018 "Perfect Communication" in Oslo Pilot Artist Writings, Oslo Pilot / Mousse Publishing
2017 "T minus 1 dag, 6 timer", in Ren Sommer, Cappelen Damm (anthology)
2016 Throwing Balls In The Air – ACADEMIAE 2016, Mousse Publishing (catalogue)
Education
2015-17 MFA – Oslo National Academy of the Arts, Dep. Kunstakademiet
2014-15 Warsaw Academy of Fine Arts, Faculty of Sculpture
2012-15 BFA – Bergen Academy of Art and Design