Klim, Karen
Blown unika glass, cut and sandblasted
Glass is and spontaneous, yielding and pliable material-
when it is warm. It is important for me to retain some of these qualities
in the finished work.
Water, ice and nature that has been transfigured by frost are elements that
often inspire my works.
What I wish to capture, is the form's sensuality and character.
Through the colors and contrasts in the form, I wish to tell stories and create
moods that touch the viewer and elicit wonder.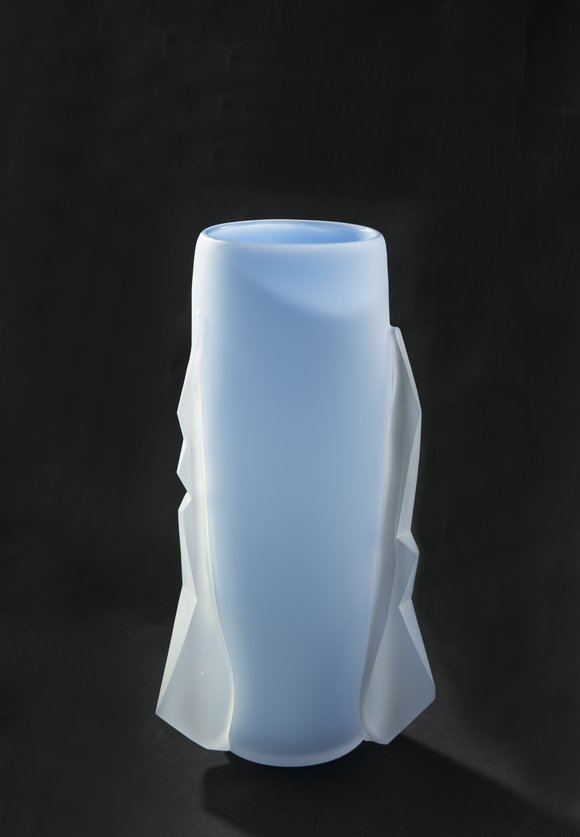 Fortelling fra isen / A tale from the Ice / 2015 / H: 37 cm / Karen Klim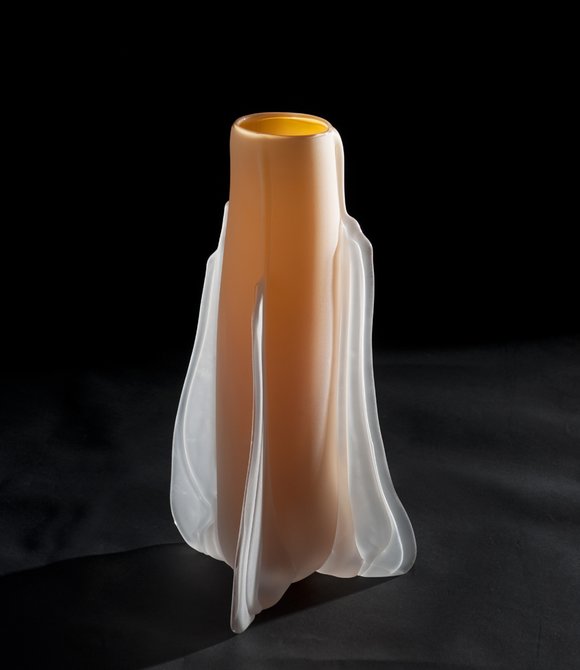 Lyden av frost / Sense of Frost / 2012 / H: 45 cm / Karen Klim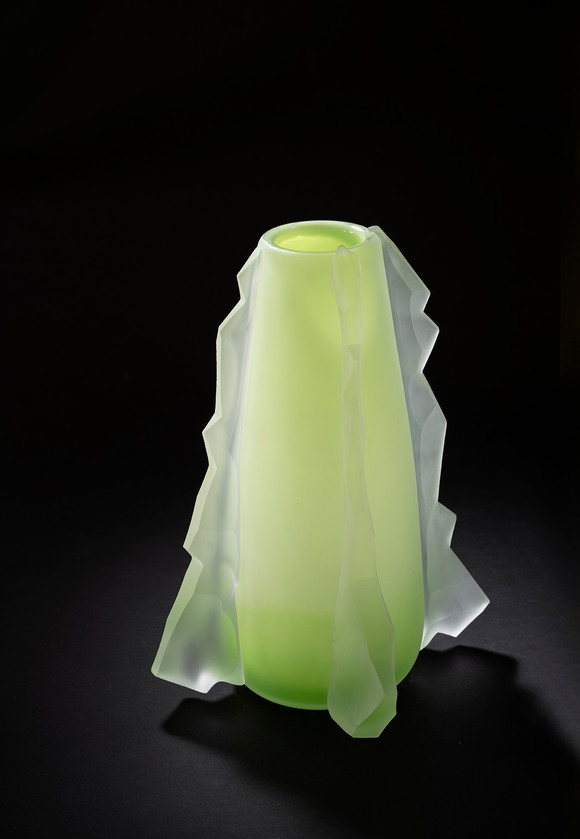 Frostskog / Frozen Woodland / 2018 / H: 29 cm / Karen Klim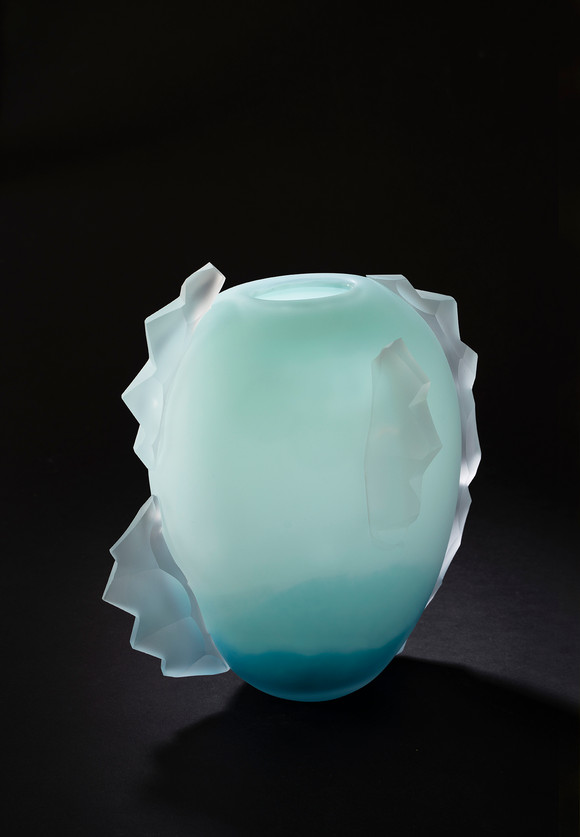 Turkist Landskap / Turquoise Landscape / 2018 / H: 29 cm / Karen Klim
Planned projects and exhibitions
Exhibition in Oslo
Kunsthåndverkerne i Kongensgate
Kongensgate 2, 0153 Oslo
2.May- 9.June 2019
CV
KAREN KLIM
Født 1951, København
Adresse: Kjelsåsveien 143 a
0491 Oslo, Norge
Mob: 0047 91575025
E-post: k.klim@online.no
Utdanning / Education
1970-1975 Kunsthåndverkerskolen i København
1975-1976 Glasskolen i Orrefors, Sverige
1976-1978 Assistent på glasshytter i England og Danmark
1978- Etablerte egen glasshytte på Frysja i Oslo
Separatutstillingar / Solo Exibithions
2017 Søgne gamle prestegård
2016 Galleri Blås&Knåda, Stockholm
2015 Kunstbanken, Hedemark Kunstsenter
2014 Galleri Svalbard, Longyearbyen Svalbard
2012 Kunstnerforbundet, Oslo
2012 Sandnes Kunstforening
2011 Galleri Falkum, Skien
2011 Nøstetangen Glass Museum
2010 Galleri Kunst1, Sandvika
2008 Galleri Bodøgård, Bodø
2007 Galleri Brevik, Tromsø
2006 Galleri Rosendal, Rosendal
2004, 1997, 1992, 1987, 1980 Kunstnerforbundet, Oslo
2003 Vestfold Kunstnersenter Haugar, Tønsberg
2002, 1998,1994, 1988 Galleri Langegaarden, Bergen
2001 Galleri Embla, Tromsø
2000 Galleri Format, Oslo
2000 Galleri Lerverk, Gøteborg, Sverige
1999, 1991 Molde Jazzfestival, Molde Kunstforening
1997 Festspillene i Nord Norge, Harstad
1996 Kunstindustrimuseet i København, Danmark
1995 Sandnes Kunstforening
1993 Galleri Cassandra, Drøbak
1983 Kunsthåndverkerne i Bodø
Kollektiv Utstillingar, utvalg /
Group Exhibitions, Selection
2018 Peder Balke-senteret, Kapp
2014 Soli Brug Galleri, Greåker
2014 SOFA in Chicago, Objects &Functional Art
2012 Utstillingen Kunsthåndverk 2012 Kunstindustrimuseet Oslo
2011,2014 Collect Saatchi Galleri, London
2009 Utstillingen Kunsthåndverk 09 Kunstindustrimuseet Oslo
2009 Vevringutstillinga 30års jubileum
2009 "Tama" Domkirkeruinene på Harmar
2008 "Vel blåst" Henie Onstad Kunstsenter, Høvikodden
2008 " Collect" Victoria and Albert Museum, London
2007 Ålesund Kunstforening,
2005 Sandefjord Kunstforening
2002, 1998 Steninge Slott, Sverige
2000 "Orfevs og Eurydike" Sørlandets Kunstmuseum
1999-1979 Årsutstillingen Norsk Kunsthåndverk
1997 "Jeanne d'Arc" Sørlandets Kunstmuseum
1997 "Glas ljus" Design Center Malmø, Sverige
1996 "Dekadense" Trondheim Kunstforening
1996 "Stilleben" Trondheim Kunstnersenter
1995 "Glass from Norway" Folkets Kulturpalass, Beijing, Kina
1995 "Glass from Norway" Jakarta, Indonesia
1994 " In Touch" Maihaugen Lillehammer
1993 " Norwegische Kulturtage" Wiesbaden, Tyskland
1992 " Krysspunkt" Høvikodden Kunstsenter, Oslo
1991 Galleri 88, Nordland Musikkfestuke, Bodø
1990 " Scandinavian Ceramic and Glass" Victoria and Albert Museum,London
1990 Oslo Kunstforening
1989, 1985, 1981 " Tendenser" Galleri F15, Moss
1989 Sogn og Fjordane Kunstsenter, Førde
1987 Nordenfjeldske Kunstindustrimuseum, Trondheim
1986 " International Exhibition Glass Craft" Kanazawa, Japan
1985 " Norway Now" Coburg Kunstsamlung, Tyskland
1985 Nordisk Glass, Island; 1983 Finland; 1981 Norge; 1979 Sverige; 1978 Danmark
1981 Contemporary Glass Europe and Japan, Kyoto, Japan
1980 " Med hilsen fra Norge" vandreutstilling i Danmark
Offentlige utsmykninger / Public art commisions
2006 Tromsøya sykehjem, Tromsø
1999 Heer skole, Drøbak
1997 Gardermoen Lufthavn
1988 SAS-Hotellet, Oslo
1987 Norgespavilongen, Epcotsenteret, Florida, USA
1982 Sanitetsbygget, Lahaugmoen
Offentlige innkjøp / Public Art Collections
2014 Høgskolen Oslo Akershus, Kjeller
2010 Nøstetangen museum, Hokksund
2009 Vestlandske Kunstindustrimuseum, Bergen
2007, 2001, 1996 Nordnorsk Kunstmuseum, Tromsø
2000 Sørlandets Kunstmuseum, Kristiansand
2004, 2003, 2000, 1997, 1994, 1992,1991, 1989, 1983 Vestlandske Kunstindustrimuseum
2015, 2012,2010, 2004, 2003, 1997, 1992, 1987, 1986, 1985, 1983 Kunstindustrimuseet, Oslo
2010, 2004, 1997, 1991, 1988, 1985, 1983 Nordenfjelske Kunstindustrimuseum, Trondheim
1996 Kunstindustrimuseet, København
1991 Historisk Museum, Oslo
1991 Bornholms Museum, Danmark
1989 Victoria and Albert Museum, London, England
2007, 1988 Glasmuseet i Ebeltoft, Danmark
1988, 1985, 1982 Norsk Kulturråd
1987, 1982 Riksgalleriet
Stipend, Priser / Scholarships
2002,2011, 2015 Utstillingsstipend
1997 Statens garantiintekt for kunstnere
1996 Fordypningsstipend
1996 Kunsthåndværkerprisen af 1879, København
1995 Statens reise- og studiestipend
1985 Statens 3-årige arbeidsstipend
1983 Statens reise- og studiestipend
1980 Oslo Bys stipend