Rasmussen, Inger Johanne
Inlayd textil
I am artist working with textile, and gallerist.
I work preferably with textile pictures in monumental sice, using my own developed technique of inlayed textile. I embrace stripes, polka dots, flowers and curiosities from the textile history. I distort and rearranges the well known patterns to fit my stories. From 1.mars I also became gallerist for "Hovedøya Kunstsal" in Lavetthuset på Hovedøya. During Oslo Open I present works both in atelier and gallery.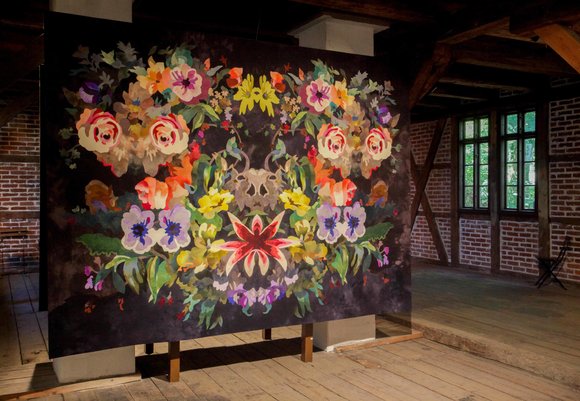 Noe / Something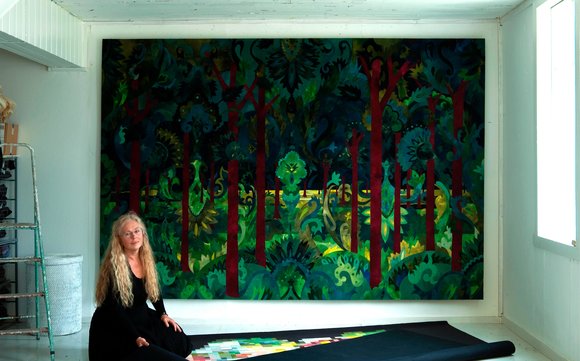 Skogen / The Forest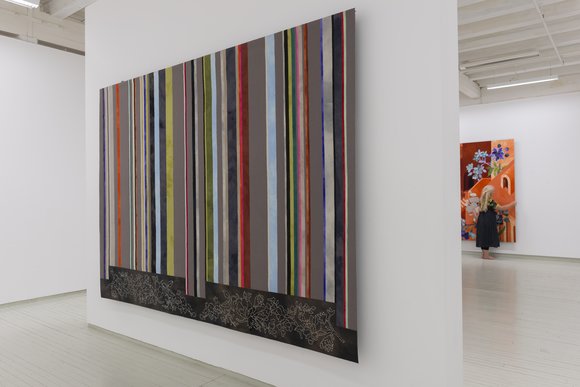 Hundreogelleve / One hundred and eleven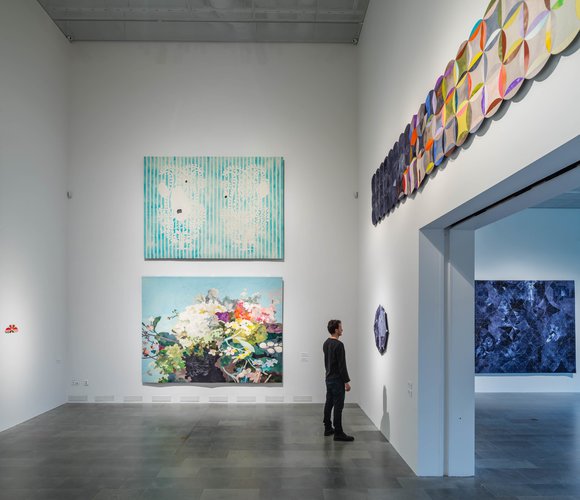 Exhibition installasjon Sven-Harris Museum Stockholm
Planned projects and exhibitions
I am curating exhibition in Hovedøya Kunstsal summer of 2019. I am working tourds solo exhibition in Rättvik Konsthall, Dalerna Sweden in 2020
CV
Education:
Norwegian National College of Applied Art and Design, BergenUniversity College of Arts, Crafts and Design, 5 years
Grants (a selection)
Guaranteed Minimum Artist Income, awarded by NBK, on behalf of the Norwegian state from 2005, NBK 3-year work grant , NK 3-year work grant
Selected Solo Exhibitions:
Blåfargeverket, Modum 2018. Sven-Harrys Konstmuseum Stockholm 2015, Telemarksgalleriet Notodden 2015. Bomuldsfabriken kunsthall, Arendal 2013, St.Marie Aux Mines, Alsass Frankrike 2013, Spiral Garden Gallery, Tokyo 2012, Museum of Armed Forces, Akershus Oslo 2012, Kabuso Gallery, Hardanger 201, Nordenfjeldske Art and craft Museum, Trondheim 2011,Kunstbanken Gallery Hamar 2011, Kunstnerforbundet, Oslo 2008, Drammen Art Museum 2008, Sørlandet's Art Museum 2006/7, Kunstnerforbundet, Oslo 2002 Hordaland Art Centre, Bergen (in conjunction with Bergen International Arts Festival) 1989, Galleri Karl-Johan, Oslo 1989, Sogn og Fjordane Art Centre, Førde 1989, Mandal Art Society 1987
Museum Collections (a selection)
Nordenfjeldske Kunstindustrimuseum, NKIM Trondheim 4 works
Samtidskunstmuseet in Oslo, Nasjonalmuseet,
Kunstindustrimuseet in Oslo, Nasjonalmuseet 3 works
KODE Bergen 3 works
Sørlandets Kunstmuseum,SKMU Kristiansand 5 works
The Norwegian Foreign minestery UD 4 Embassys
Drammen Museum
Oslo Kommune
North-Trøndelag Art Museum
Private collections:
Guttorm Guttormsgaards Arcive, Petter Olsens collection, 7 works
48 Publick commissions
The autor of twoo books about weaving.
Publiched the artist book "Å sy mellom drager og paradistrær" with text of Terje Nordby.
"Retelling, old stories for a new world " book of Hiroko Wakai Presentation av IJR artistic works, publiched in Japan by Seigensa .