Steihaug, Kari
Textile, installation
I work with installations, found materials and remnants, often based on clothes and textiles related to everyday life. And with themes like time and history, attention and displacement. I repair and unravel, and look for the relationship between remembrance and expectation, memory and oblivion, and the private and the collective. The backside, worn out and imperfect are areas that interest me. The backs, the worn out, and the imperfect are areas that interest me, in the materials and in society in general.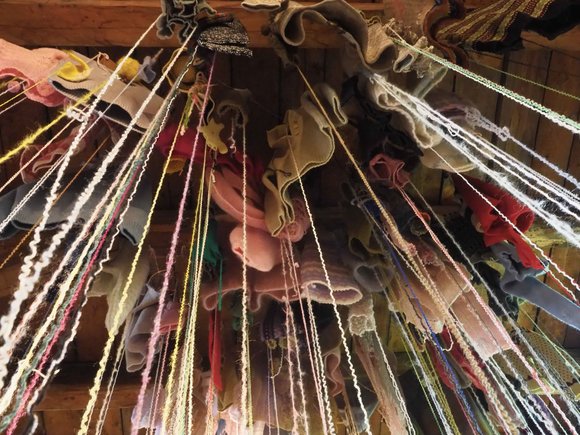 Protected Area, 2017, installasjon, variabel str.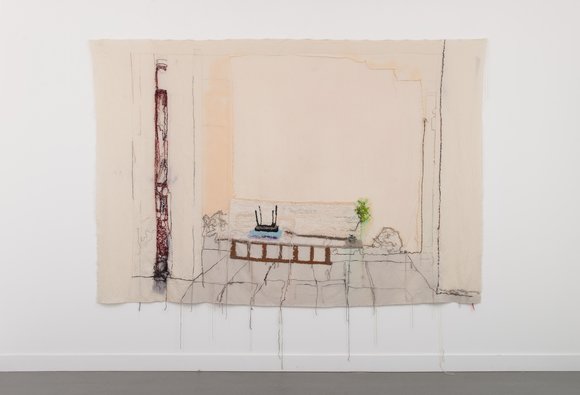 Rue de Fourcy, 2018, handtufting (290x200 cm)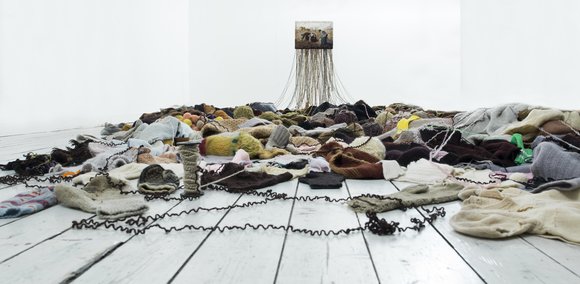 After The Market, 2009, Installation; unravelled wool clothes / knitted image after the painting The Gleaners  (1857) Jean-Francois Millet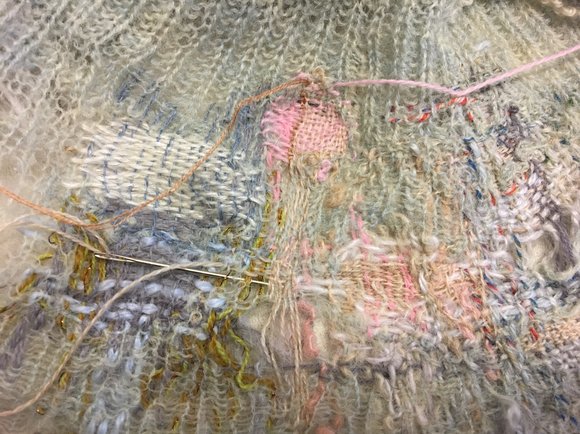 Repair, 2017, mended sweather.
Planned projects and exhibitions
Artist Recidency Nordic Artists' Centre Dale
CV
Kari Steihaug is educated at Bergen / Oslo National Academy of the Arts and Manchester Metropolitan University. She has exhibited nationally and internationally, in solo shows at Henie Onstad Art Center, Kunstnerforbundet, KODE Bergen, Haugar Art Museum. Luleå Arthal, Fiberspace Gallery, and group exhibitions: Tegnebiennalen, Galleri ROM for Art and Architecture, Oslo. Contemporary Arts Center, Cincinnati, US 2016. International Fashion Art Exhibition, China 2015. Rijswijk Museum, 2015. Lillehammer Art Museum. NOoSphere gallery, New York 2012
Art in public spaces, including: Kongsvinger Library, Helse Stavanger, Mysen school.
She received the Government guaranteed income in 2006.
In 2011 she released the book Archives: De Ufullendte.
Awards: Audience award, The Spring exhibition 2012, Arthall Charlottenborg, for Archive: The Unfinished Ones. FineArt award, The Annual exhibition 2011 for the installation After The Market. Bronze award on the 12th International Triennial of Tapestry, Polen 2007
Steihaug is represented in the National Museum of Art, Architecture and Design, Sørlandets Kunstmuseum, CODE Bergen, Oslo City Art Collection, Copenhagen Art Museum, Nordenfjeldske Kunstindustrimuseum, and more.
For complete CV – www.karisteihaug.no