Bobrikova & de Carmen, Martinka, Oscar
sculpture, installation, sound art, performance
Martinka Bobrikova & Oscar de Carmen have been working together as an artistic duo since 2005.
They develop their work in relation to the collaborative practices though research, sharing knowledge, unlearning and learning again using contextual (as opposed to purely conceptual) way of thinking and acting. They work around the idea of an open interaction with the art world beyond the dialogue of what can be considered institutional or not, to see their artistic practice as a single space of coexistence and confluence. They believe that this context is emerging as one of the only exchanging environments to promote social transformation.
This approach allows them to critically investigate our roots and social habits, questioning the mechanisms and contexts which creates powerful current systems of values.
Since 2012 they run Nomad AiR, a Nomadic artist-in-residence program focuses on the notion of hospitality and the social relations between "host" and "guest" and in 2017 they co- funded the project / residency program Future Utopia Community Key which is dedicated to the activities in the rural village of Uddebo and the area. The project is a collaborative agency, dedicated to new social bonding and community building.
Member of NBK, UKS, BOA, PAO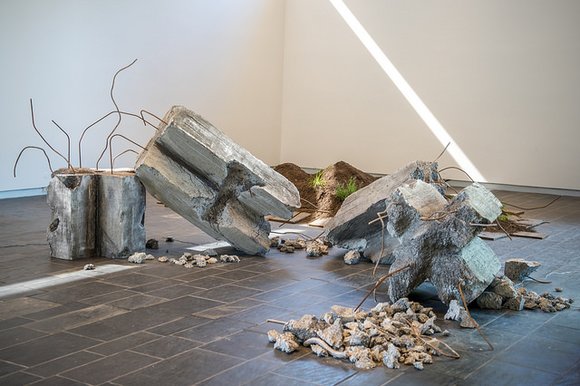 LIVING IN THE BEGINNING OF TIMES/ installation / 2017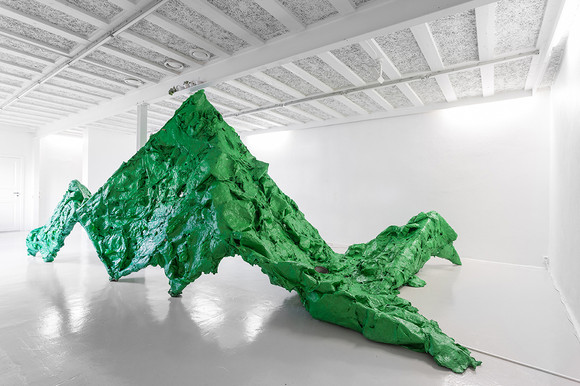 Photogeny of a contextualization for a new revolution / sculpture / 2017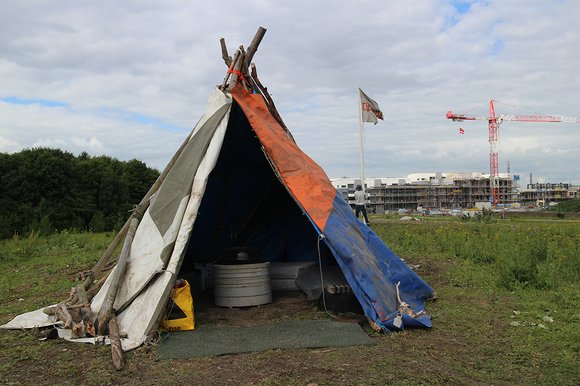 Outsider / installation / 2017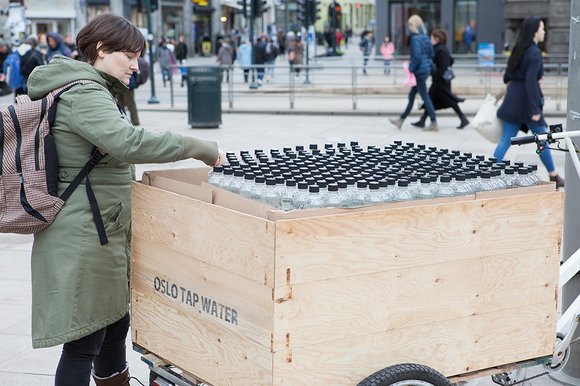 1000 bottles of tap water / intervention in the public space / 2016
Planned projects and exhibitions
2019/2020 reshapers at reshape.network
2019/2020 Side-Show / Distancio, Småland, Sweden (curator: Anna Viola Hallberg)
2019 Tenthaus_Sessions, Tenthaus, Oslo, Norway
2019 EARTH, Galerie Emila Filly, Usti Nad Labem, Czech Republic (curator: Tereza Zachova)
2019 Collection Collective, various locations (curator: Judit Angel, Raluca Voinea, Vlad Morariu)
2019 Turiec Gallery, Martin, Slovakia (curator: Adam Galko)
2019 Anti-symposium, Future Utopia Community key, Uddebo, Sweden (curator: bobrikova & de carmen)
2019 ENTKUNSTUNG, Austrian Cultural Forum, Berlin, Germany (curator: Felipe Duque & Maximilian Mauracher)
air
2019 Jatiwangi Art Factory, Jatiwangi, Indonesia
2019 Gudskul / Ruangrupa, Jakarta, Indonesia
book
2019 Kitchen Dialogues (tranzit.sk publisher)
CV
Martinka Bobrikova
2010-2012 NORDIC SOUND ART, Joint Study Programme, Scandinavia, MA
2010-2012 MALMÖ ART ACADEMY, Lund University, Malmö, Sweden. MFA
2005-2008 UNIVERSIDAD DE LA LAGUNA, Facultad de Bellas Artes, Tenerife, Spain. BA 2001-2006 ACCADEMIA DI BELLE ARTI, Stage design department, Rome, Italy
Oscar de Carmen
2010-2012 NORDIC SOUND ART, Joint Study Programme, Scandinavia, MA
2010-2012 MALMÖ ART ACADEMY, Lund University, Malmö, Sweden. MFA
2004-2009 UNIVERSIDAD DE LA LAGUNA, Faculty of Fine Art. Santa Cruz de Tenerife. Spain. BA
______
from 2017 co-funder & co-director FUCK, Future Utopia Community Key, Uddebo, SE
from 2012 co-funder & co-director Nomad A-I-R, nomad artist-in-residency program
2014-2016 co-funder & co-director Vandaler Forening, Oslo, NO
2012-2015 co-funder & board member PAO, performance art Oslo (only Bobrikova)
SELECTED SOLO EXHIBITIONS
2018 Insubordination of bodies, HotDock, Bratislava, SK
2018 YA-MAE, Galerie 35M2, Praha, CZ
2018 A SKETCH OF AN OPERA, OKSASENKATU 11, HELSINKI, FI
2018 A SKETCH OF AN OPERA, BOA, Oslo, NO
2017 LIVING IN THE BEGINNING OF TIMES, 59.923885, 10.758991 / 10.17, RAM GALLERI, Oslo, NO
2017 YA-MAE, NORDIC ANTOLOGY #9, FOTOGALERIET, Oslo, NO
2017 LIVING IN THE BEGINNING OF TIMES, GREENLIGHT DISTRICT, Skien Kunstforening, Skien, NO
2015 AFTERLIFE, Projektrom Carl Berner, Oslo, NO
2015 SUPERFLUOUS IDENTITY IV, BABEL, Trondheim, NO
2015 SUPERFLUOUS IDENTITY III, ENTRANCE GALLERY, Prague, CZ
2014 PDP/AV1, BLUNK GALERI, Trondheim, NO
2014 PDP/AV1, ANX ATELIER NORD, Oslo, NO
2013 IN PROCESS, AREA 60, TEA- ESPACIO DE LAS ARTES, Tenerife, ES
2013 URBAN HUNTER, NITRA GALLERY, Nitra, SK
2011 YOU HAVE TO GO RIGHT NOW!, Rotor 2, Gothenburg, SE
2010 ZERO BUDGET, Space Gallery, Bratislava, SK
SELECTED GROUP EXHIBITIONS
2018 Arctic Art Forum, Arkhangelsk, RU
2018 (X)Sites, Halmstad, SE
2018 Oslo Open, Atelier Nord /ANX, Oslo, NO
2017 TURBULENCE AREA, 5th ODESSA BIENNALE, Odessa, UA
2017 AGRIKULTURA TRIENNAL, Malmo, SE
2017 STRUCTURAL DISPARITIES, SEOUL ART SPACE GEUMCHEON, Seoul, KR
2017 MICRO-POLITICS: a strange frame of view, SPACE XX, Seoul, KR
2016 ENVISIONING THE FUTURE, SAITAMA TRIENNALE, SAITAMA, JP
2016 NEWROPE, NITRA GALLERY, Nitra, SK
2016 CROSS_CUTS, Alt_CPH, FABRIKKEN, Copenhagen, DK
2016 APORIAS, FRIDY EXIT, Wien, AT
2016 SMALL/BIG WORLD, TRANZIT, Bratislava, SK
2016 FEED, Kunst Vardo, Oslo, NO
2015 S.O.S, 2nd TBILISI TRIENNIALE, Tbilisi, GE
2015 PRAGUE QUADRIENNAL, MeetFactory, Prague, CZ
2014 salonvideo_SUBmissions, MAGMA Contemporary Medium, Sf. Gheorghe, RO
2014 HØSTUTSTILLINGEN, KUNSTNERNES HUS, Oslo, NO
2014 DOUBLE YOU, Skånes konstförening, Malmö, SE
2014 More than [show] business – Post-PopUp at CCA, Centre Contemporary Art Singapore, SG
2014 BIOPOLITICS OF THE SOUTH SIDE, Junefirst Gallery, Berlin, DE
2014 FOOD WE HAVE PREPARED, GMB- City Gallery Bratislava, SK
2013 METTERS OF METHOD-SALON VIDEO, Tranzit, Iasi, RO
2013 ALWAYS ON THE MOVE, NINETEENTHIRTEEN, Glasgow, UK
2013 CONSTANT. DECAY. RAKE, Trondheim, NO
2013 HUNKY DORY, KARLIN STUDIOS, Prague, CZ
2012 URBAN OBSERVATORY, Galeria Sztuki Wozownia, Torun, PL
2012 TELEVISION, TACTIC, Cork, IR
2012 MONOCHROMES AND OTHER CHROMES, KURANT, Tromso, NO
2012 SOUNDINGS II, Roskilde Contemporary Art Museum, Roskilde, DK
2012 WHY ART NOW, Open ShowStudio, Athens, GR
2011 RAINFOREST IV, SINGUHR SOUND GALLERY, Berlin, DE
2010 TRANSIT, Center of Contemporary Art – Tbilisi, Tbilisi, GE
2010 DATACITY. AMBER'10. Sanat Limani, Istanbul. TR
2010 AN INSTRUMENTAL, Molesworth Gallery, Dublin, IR
2010 CLOWDS OF WITHNES, Röda Sten, Gothenburg, SE
2010 TRUST + MISTAKE, City Museum, Gothenburg, SE
SELECTED AIR
2018 AIR KREMS, Krems am der Donau, AT
2018 Home Sweet Home, Hablar en Arte / Curatorial Network, Madrid, ES
2018 Arctic Art Institute, Arkhangelsk, RU
2017 Seoul Art Space Geumcheon, Seoul, KR
2016 HomeBase Project, Saitama Triennale, Saitama, JP
2016 Råderum, Fabrikken, Copenhagen, DK
2016 KulturKontakt Austria, Wien, AT
2015 LKV- Lademoen Kunstnerverksteder, Trondheim, NO
2015 MeetFactory, Prague, CZ
2014 LATENT SPACES, Singapore, SG
2014 TECHNO-ECOLOGY, NIDA ART COLONY, LT
2014 MeetFactory, Prague, CZ