Weston, Stig Marlon
Photography
I am interested in how our senses perceive reality before our unconscious interpretation clouds the subjective experience. My work explores ways in which photography can visualize thought processes and systems of markedly different ways of seeing the world and it´s landscapes.
Working with cameraless photography I rediscover the intimate connection between the material and it´s subject matter. With these techniques the photograph can become a sampler of physical proof and impressions in a way that minimizes the importance of depiction and instead draws out the act of interpretation as a motif.
Earlier and ongoing projects deal with themes as the primal world seen through the eyes of the wild animal mind, the visual search for religious or spiritual meaning in the surroundings, or the scientific systematic outlook on nature.
The images encourages the viewer to examine their own personal visual process by forcing a personal interpretation to make meaning of a photographic image.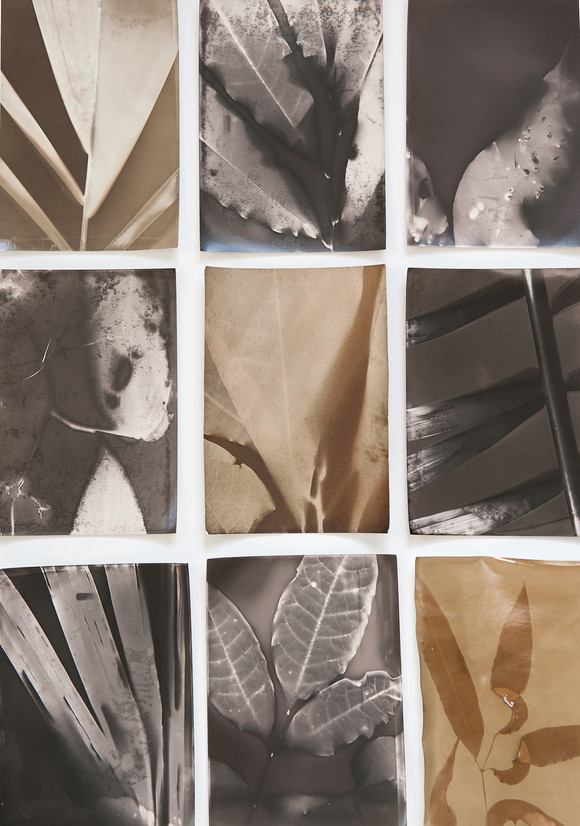 "6 Elevations Flora Spread" - luminogram- 60 x 13cmx18cm - 2018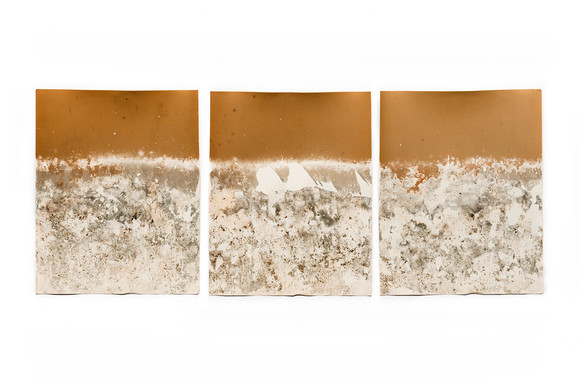 "Soil Elevation #6" - luminogram - 18 x 24cmx30cm - 2018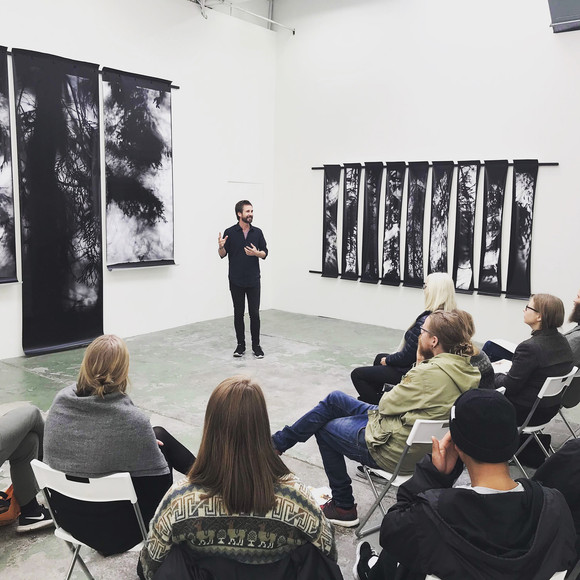 "Grove" - installasjon - fotogram - 2013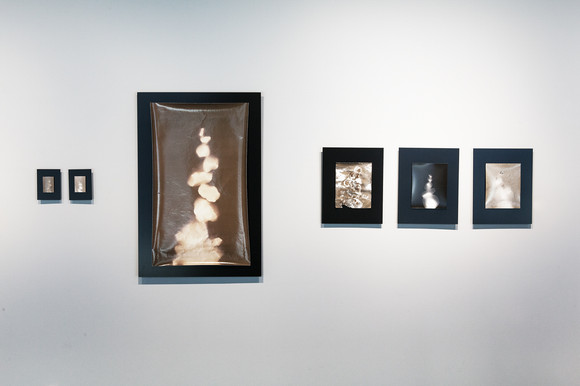 "Cent Cims" - installasjon - luminogram - 7cmx9cm til 60cm x 90cm - 2016/17
Planned projects and exhibitions
Ongoing project
Working title "Empirical"
Grows out of my 2018 Artist Residency at a scientific station in the Amazon rainforest organized by the Brazilian Labverde – Manifesta ARteCultura.
By utilizing mixed techniques of cameraless photography I use lightsensitive photographic material to collect visual samples from crucial parts of the rainforest landscape.The image series are made through scientifically chosen random and specially selected test areas. The project is both a documentation of and in itself a collection of soil, water and growth samples made on visual material. Ending up a display of the unknown unknowns that can be discovered through the use of an unfamiliar point of view of the world.
Ongoing exhibition
Title "The Norwegian Suitcase – Croisière au Cercle Polaire. Eté 2919"
A collaboration with teh artist Claire Ducéne exhibited at the Foundation Maison Losseau in Mons, Belgium until June 2019.
An exploration into archival narrative based on the expedition of Léon Losseau to the Polar circle in Norway in 1929, and his archives. My contribution is a created archive of his lost negatives and photographic prints of the Norwegian landscape, made from material found in my own archives of photographs. Looking into the use of presentation and curation I test the ways such material can be given a false history of creation.
Planned Artist Residency
Whakatane Museum Volcanic AiR, New Zealand.
Planned Artist Residency as part of a group of artists all working with themes concerning landscape and environment. The residency will be by at a volcanic island in New Zealand, organized by the art museum there. It will consist of ample time for personal work and exploration, organizing a group show, workshops and talks. I will focus on developing my cameraless photography as a medium to communicate subconscious viewpoints driving our interpretations of landscape and evironments.
CV
Stig Marlon Weston b. 1974
adr: Jens Bjelkes gate 13
0562 Oslo
Norway
email: stig@weston.no
phone: (+47) 91181588
1995-present// freelance photographer and artist.
2014// workshop in daguerrotype with Jens Gold – Preus National museum of photography
2002// Participant at the artist collective 'Dostoprimetschastelnosti in Berlin,
an independent course by the department of art at the Berlin-Weissensee university
1996// workshop with artist photographer Lavasir Nordrum
1993-1995// College of photography, Strommen/Stokmarknes -Norway
///// SELECTED EXHIBITIONS
2018// ´Croisière au Cercle Polaire. Eté 1929´, Mons – Belgia
2018// ´Grove´, Baerum Kunsthall, Akershus
2018// ´Divinations´, Shoot Gallery, Oslo
2018// Ǵrove´, Lorenskog Art Society, Akershus
2016// ´Moments´, Hole Artcenter
2015// ´Followers´, CYAN galleri, Oslo
2013 // Grove, Baerum House of Culture, Baerum – Norway
2013 // Opening exhibition, SAGA gallery & photography centre, Trondelag-Norway
2011 // Sampling Nature, A un V gallerie, Leipzig – Germany
2005 // To make land,Gallery Pontoppidan, Oslo
2004 // Summer reminiscence, Gallery Elenor, Oslo
2002 // If these walls could talk, Dostopriemtschjastelnosti, Berlin – Germany
///// SELECTED GROUP and COLLECTIVE SHOWS
2018// ´Nordic Village´, Helsinki Fotofestival – Finland
2018// ´Uncertain States Scandinavia Annual´, Nordic Light Festival, Møre og Romsdal
2017// ´Inside the shadow´, Arthouse1, London
2017// ´#BliHus´, City hall gallery, Oslo
2017// APDA, Kyoto – Japan
2016// Society of Scottish Artists Annual, Royal Scottish Academy, Edinburgh- Scotland
2015// ´December Salon´, Shoot Gallery, Oslo
2015// ´Sommerøya´ festival, Oslo
2015// ´Scientificious´, Manifest Gallery, Cincinnati – USA
2014// ´Stipendutstillingen´, Galleri Ramfjord, Oslo
2013// ´Playground/District 12´, Vulkan gallery, Oslo
2012// ´Using photography´, Dortmund Kunstlerhaus, Germany
2012// ´1:1´-Magnetic truths, Artist Wanted, New York, USA
2012// ´Høstutstillingen´, Kunstnernes hus, Oslo
2011// ´Day of Photography´-festival, invited, Preus Museum of Photography, Norway
2011// ´Rituals of Recreation´, Travelling exhibition by The Photographic Angle, England
2009// ´Limbo´, Maria Veie Gallery, Trondelag
1998// Østlandsutstillingen
///// SELECTED COMMISIONS, PURCHASES, GRANTS, AWARDS and AiR
2018// AiR – Labverde – Brasil
2018// Grant- travelsupport, – UD/Embassy in Belgium
2018// Purchase – FERD Art collection, Oslo
2018// Grant – Norwegian Photographers Fund, Oslo
2017// Commisions – Association of Nurses of Norway, office headquarters, Oslo
2017// AiR – Can Serrat, Catalonia – Spain
2015// Award – Working Artist Photography Awar – USA
2015// Grant – Norwegian Photographers Fund, Oslo
2014// Award – Galleri Ramfjord Awardexhibition, Winner, Oslo
2014// Commisions – ICART, cruiseliner – Germany
2014// Grant – Oslo City Culture – cultural innovation, Oslo
2013// Grant – State Art Support – Misc. Grant, Oslo
2013// Commisions – hotel, Art Consult Germany – Germany
2011// Grant: Norsk Fotografisk Fond – prosjektstøtte
2011// Award – Grand Prize Winner, The Focus Project/Artist Wanted – USA
2004// Commisions – hotel, Radisson SAS Berlin – Germany