Strøm, Mette
Ceramics
Tracks, remnants and pattern engage me. Remains, withered plants and beach fund inspires me. The tactile is just as important as the visual. I'm fascinated by changes both in nature and in culture.
My projects usually consists of series, planned and not as planned. I like repetition, but it must be with slight variations in size, shape, patterns and surfaces. I like to let myself be surprised by the result in the uncontrollable by using different clays, layers of glazes and many firings.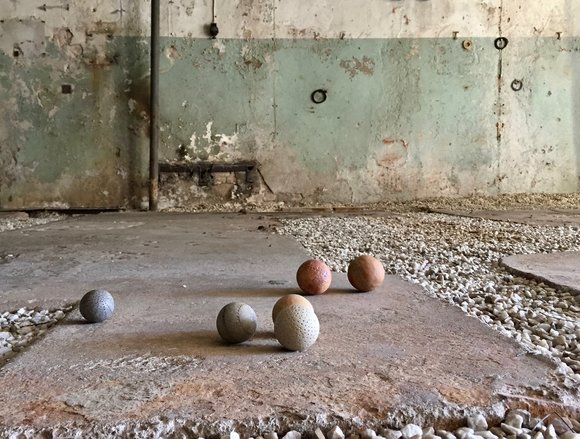 Skulle vi ikke spille Boule? 2018, Not Quite, Fengersfors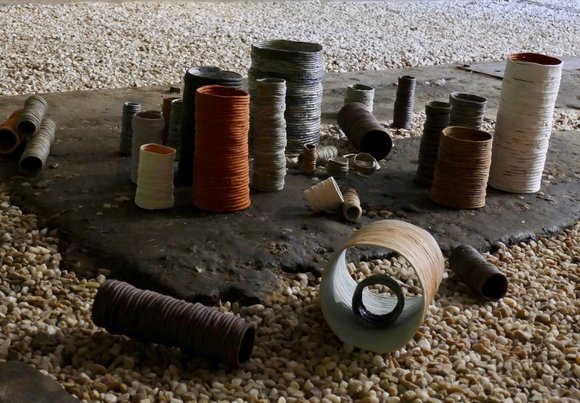 Bare rør. 2018, Not Quite Fengersfors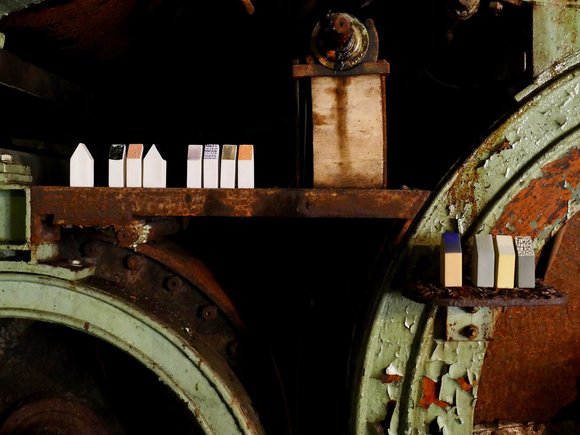 Å bygge en by. 2017/18, Not Quite Fengersfors
Planned projects and exhibitions
2019 "Black ceramics", Quart, Giona and Barcelona, Catalonia, Spain
2019 "Onda", Sala San Giuseppe, Tolfa, Italia
2021 "From Pottery to Nature", Kvenna, Surnadal.
CV
Utdanning, utvalg:
2014 Exsperimental glaze, Christina Shou Christensen, University of Gothenburg, Academy of Design and Craft.
2011-12 Kyrkerud Folk high school, Sverige, Ceramics and Glas.
2009 Ceramics theory 2, Prof. Arne Aase, Oslo Academy of the Arts.
2005 Holbæk Folk Art School, Danmark, (screen print, gravure and ceramics).
1997 Hovedfag i Barnehagepedagogikk, Oslo University collage (now Oslo Metropolitan university)
Kurs og workshops, utvalg:
2018 International ceramic symposium on black ceramics. Quart, Catalonia, Spain
2017 Paperclay, Rebecca S. Hutchinson, Trondheim, Norway
2016 Ceramics and food, med bl.a Brit Dyrnes og Pirjo Eronen, Tolfa, Italiy
2014 Materiality – Body as a tool – Ceramics heritage as matter. Master class, med Alexandra Engelfried, Bornholm, Denmark.
2008 Print on clay, Paul Scott, Guldagergaard, Denmark.
2006 Exsperimental ceramics, Karen Harsbo, Guldagergaard, Denmark.
2004-5 Crafting paper different courses with Gabrielle Görranson, Alison Leggat og Hanne Houlberg.
2000 Shelter, Land art med Alfio Bonnani, Målselv, Norway
Gruppeutstillinger:
2014 -18 Oslo Open, Oslo
2017 Art is food, Sala San Guiseppe, Tolfa, Italy
2017 Argilla e fuoco, Museo Communale,Tolfa, Italy
2016 Birthday and commerce no 18, Christmas show, Galleri Giga, Stord
2016 From Pottery to visual Art, Teijon masuuna, Teijo, Finland
2015 Il sapore della ceramica, Museo Communale, Tolfa, Italy
2014 Ovale, Sala San Giuseppe, Tolfa og Il Granarone, Calcata, Italy
2013 From Pottery to Plastic, Museo Communale, Tolfa, Italy
2013 Fragile, Kunsten, Copenhage, Denmark (duo utstilling)
2008 Meltwater, Akureyri, Iceland
2008 One night in Marocco, Tolfa, Italy
2008 Meltwater, Greve kunstforening, Copenhagen, Denmark
Soloutstillinger:
2018 The disorder of things, Not Quite, Fengersfors, Sweden
2016 Snipp, snapp, snute, Galleri 1b, Oslo, Norway
2015 Undergrouth?, Window 107, København, Danmark
2010 Trials, Galleri PP33 Oslo
Reiseprosjekter:
2018/19 My Chinese diary III. China resting chair – foto
2017 My Chinese diary II. Mops – foto
2014/15 My Chinese diary I. Avtrykk på porselen
2011-16 Research: porcelain sticks, sand og tide – installation, photo
Fukuoka, Japan 15. Denspasar, Bali 13. Paphos, Cyprus 12. Busan,
South Korea 12. Essouira, Marocco 11, 16
Økonomisk støtte:
2018 Exhibition support, Not Quite, Sweden
2016, 17, 18 NK, Travel support. Italy, Finland, Sweden
2013, 16 UD/Norwegian Craft, Travel support. Italy, Finland
2008 Nordisk kulturfond. Iceland
Assistant teacher
2006-13, 15-18 Summer course ceramics, Holbæk Folk Art School
2007, 9, 10 Summer course screen print, Holbæk Folk Art School
Assistant/conversation partner
to Christin Johansson, related to following exhibitions:
2013 Augustine is moving. 2013 Thales of Another Identity, 2012 Her alter Ego Universe
2008 Sanitation Showroom,,
Longer journeys/study tours
2018 Thailand
2018, 16, 15, 07 Japan
2016, 12 South Korea
2018, 17, 16, 15,14 China
2004 – dd Marocco
Artist in Residence
2017 The Pottery Workshop, Jingdezhen, China
2015 The Pottery Workshop, Shanghai, China
Collection:
Turnéorganisasjonen, Hedmark County Council, Norway
Member:
Norwegian Association for Arts and Crafts – NK
NK Oslo og Akershus