Halvorsen, Elisabeth Seeger
Textile printing, perforation and translucency
Textile, perforation and translucency
For many years I have been working with translucent, perforated and transparent textile patterns. I have always been keenly interested in how visual experience is in a constant state of change. As the sun travels across the sky, the light and angles of its rays change, ever altering our perception of the space we occupy, outside as well as indoors. Everything is impermanent and we experience something new all the time.
I create both smaller blinds and folding screens with one textile layer and larger works (screens) with two layers. My works depend to some extent on sunlight or artificial illumination. Using artificial lighting, varying the latter in terms of intensity, color and angle, different projections, moods and expressions appear in and around my works. I am particularly interested in recurring ornaments and patterns, using positive and negative forms to create large surfaces.
Member of Norske Kunsthåndverkere and Bærum Kunsthåndverk.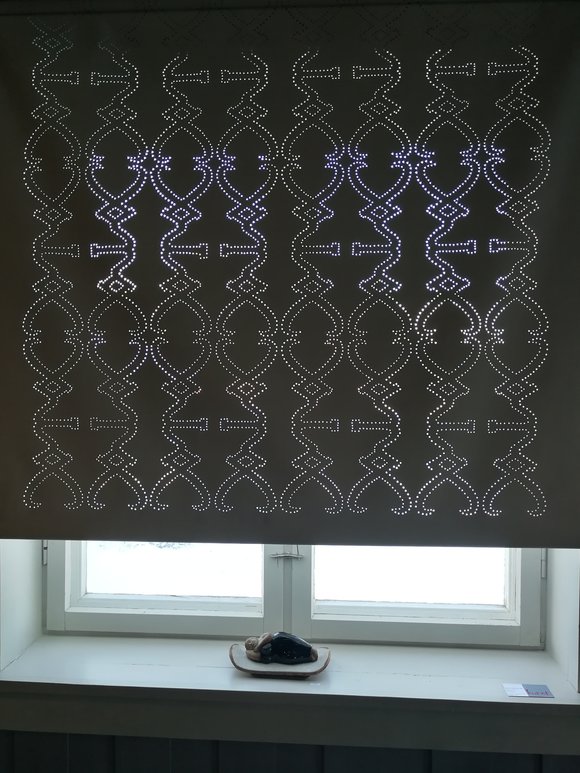 Tømmersaks.Aurskog-Høland.2020.H175xB120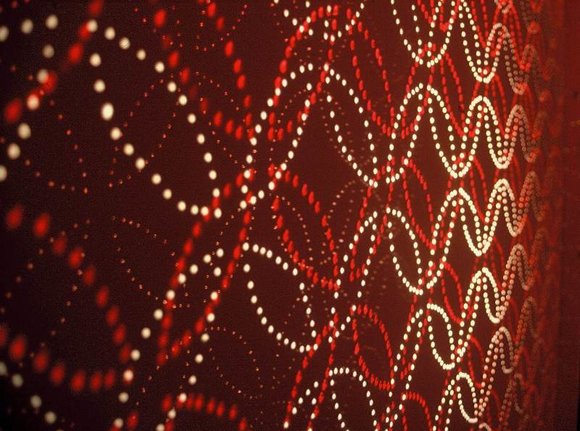 "Skillevegg 1", 180x 200cm, Stofftrykk, perforeing og lys, 1998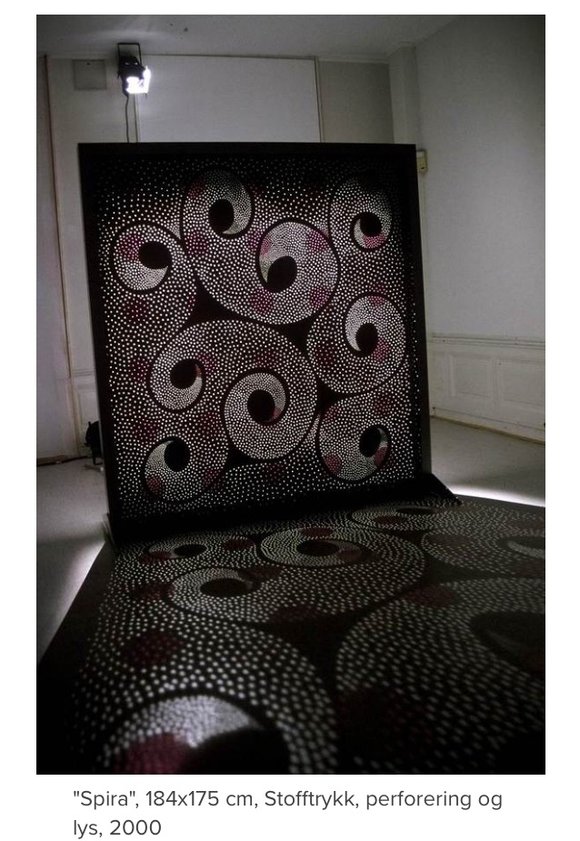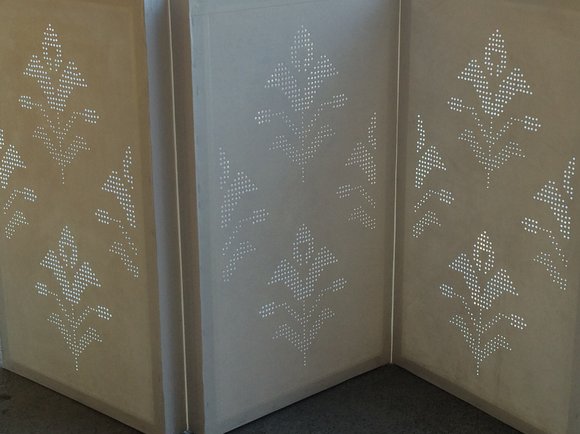 Hvit åklesmett.skisse.
Planned projects and exhibitions
Exhibitions and projects
I have been assigned to create a folding screen for a window in a house owned by Tanum parish (Tanum Menighetshus), Oslo. The room has a large window and the parish council wanted something that would limit the view from the outside while at the same time allow for some light to penetrate. This room is used for different forms of counseling and dialogue. The screen is also intended to be used for other purposes in other rooms in the same house. It will be a two-layer work (all panels): one white, transparent textile layer and a second layer of perforated, white cotton canvas. The cotton canvas will not be entirely opaque. I have chosen the crucifix adorning the front of the parish house as an element of decor in this work, the motif being present in all panels of the screen, creating new "flowery" forms between the individual crosses. The panel frames will be wood. The walls and the roof in the room are plywood covered.
A joint exhibition (2019) with Bærum Kunsthåndverk is currently being planned.
CV
Utdanning
2011/2012 Entreprenørskap i undervisning og ledelse for estetiske fag,
10 vekt-tall, NMH
2006/2007 PPU for estetiske fag, HIO, Høyskolen i Oslo
2003/2005 LSU, NISS, Nordisk Institutt for lys og scene
1995/97 Kunstfagskandidat med hovedfag ved institutt for tekstil, SHKS,
Statens Håndverks- og Kunstindustrihøgskole
1991/95 Høgskolekandidat ved institutt for tekstil, SHKS
1990/91 Årstudium i Kunstfag, Risør Kunstskole
1989/90 Keramikkskolen ved Friundervisningen
Vår 1989 Grunnkurs, tegning, form og farge, Elisenberg vid. Skole
Høst 1988 Examen Philosoficum, UIO
Høst 1987 Grunnkurs i tekstilforming, Elisenberg vid. Skole
Utstilling
2018 "Kunsthåndverk i vinterfrost", Aur Prestegård
2017 Multiply, Gamle Hå prestegard og Kraft, Bergen
2002 Kongsvinger Kunstforening
2002 Atelier Lofoten
2000 Østfold Kunstnersenter
1999 Kunstnerforbundet
1998 Kunstbanken, Hedmark Kunstsenter
1998 Norsk Form
Stipend Arbeidsstipend for yngre kunstnere, 1. år
Medlemskap Norske Kunsthåndverkere og Bærum Kunsthåndverk