Erichsen, Jan Hakon
Sculpture, video
I work primarily with sculpture and video art. My inspiration comes from everyday struggles and oddities, which I processes through dark humour, slapstick and a dash of aggression. I have spent several years perfecting a D.I.Y aesthetic with found objects being the main source of work material. My work has been exhibited widely in Norwegian and international galleries and partaken in numerous international video festivals after I finished my education at the National Academy of Arts in Oslo in 2004.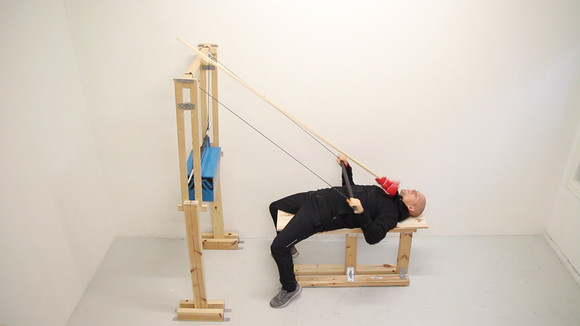 Fight Song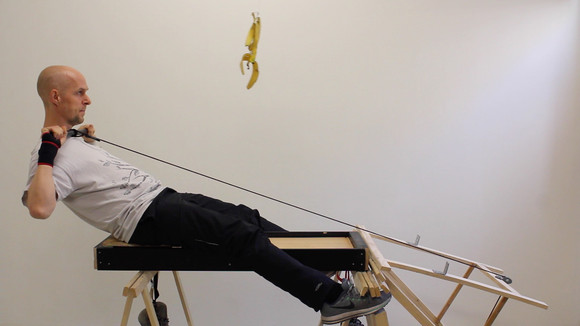 Fight Song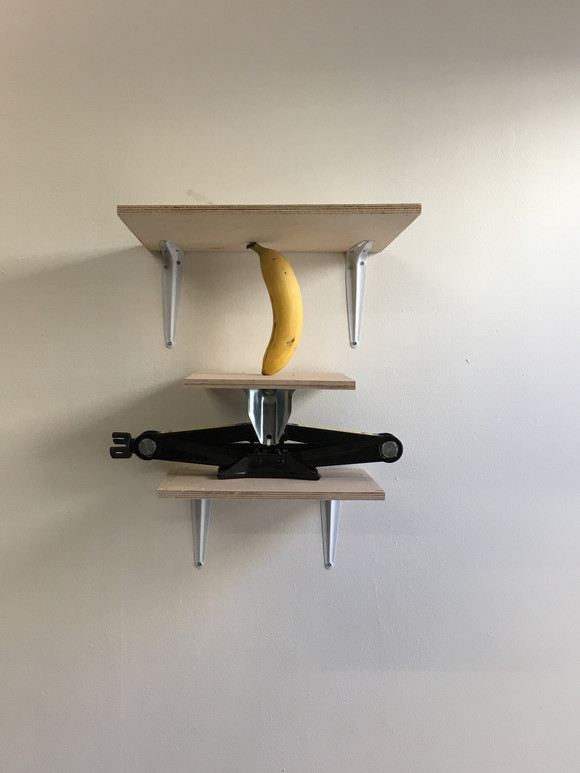 Sketches for Destruction (stillbilde)
Planned projects and exhibitions
At the moment I´m focusing on making a series of short destruction videos which I post online almost every day at https://www.instagram.com/janerichsen/. A selection of these videos are now being shown as part of "March at Sawtooth" at Sawtooth ARI gallery in Tasmania, Australia.
CV
CV
Jan Hakon Erichsen Born: 23.06.78, Oslo
E-mail: janerichsen@gmail.com Web: www.janhakon.com
Education:
2000-2004 Statens Kunstakademi (National Academy of Arts)
1998-2000 Asker Kunstskole
Solo and two person exhibitions (selection):
2016 Bow and Arrow, Arrow and Bow, Studio 17 (Stavanger), with Bjørn Erik Haugen
2015 (bergsdikt), Oslo Utmark (Oslo), together with Robert Johansson
2013 Swarm, Nordnorsk Kunstnersenter (Svolvær), together with Robert Johansson
2012 I Thought I Would be More Than This, CirkulationsCentralen (Malmö), solo
2012 Dirty Origami, Kunstplass 5 (Oslo), solo
2010 Kunstnersenteret Møre og Romsdal (Molde), together with Robert Johansson
2010 Trøndelag Senter for Samtidskunst (Trondheim), together with Robert Johansson
2009 Tromsø Kunstforening (Tromsø), together with Robert Johansson
2006 Fury, Kunstbanken (Hamar) solo
2002 One Day Stands, Galleri ID:I (Stockholm) together with Robert Johansson
2002 Enda flere triks, Galleri Kuben (Stockholm) together with Robert Johansson
2002 Løsvekt, Galleri 21:25 (Oslo) solo
Group exhibitions (selection):
2018 March at Sawtoohers, Sawtooth Ari Gallery, (Tasmania)
2017 Aukan-Erichsen-Haugen, Norske Grafikere (Oslo)
2016 Visions in the Nunnery (London)
2016 Furniture Show, Postcrypt Art Galley (New York)
2016 Global Village (Zaandam, Landshut, København)
2015 Strategies, Tritongatan 5 (Gothenburg)
2015 Loop, Gallery CC (Malmö)
2015 Performance Voyage, Muu Galleria (Helsinki)
2015 Modern Panic, Guerilla Zoo (London)
2015, 13,11,10 ,08 Winter Invitational, Telephonebooth Gallery (Kansas City)
2012 Flat Out Project, Ac Institute, (New York)
2012 Create, Observe, Perform, Alkovi Gallery (Helsinki)
2011 The Tomorrow People, Elevator Gallery, (London)
2011 Utan Titel (Video), Skånes Konstförening (Malmø)
2010 Spring Exhibition, Fotogalleriet (Oslo)
2009 Domestic, AC Chapel (New York)
2009 Stay in the Light/ Vampire Dreams, Vegas Gallery (London)
2008 Hidden Identity, Bomuldsfabriken Kunsthall (Arendal)
2008 Visions in the Nunnery, Bow Arts Trust (London)
2008 Lights On, Astrup Fearnley Museum of Modern Art (Oslo) group show
2008 All About Him!(Sofia) Open air exhibition initiated by the Goethe Institute Bulgaria
2008 Vestlands Utstillingen, touring exhibition (Norway)
2008 Drifter Video (Halifax, Canada)
2007 Demolition!, Site Gallery (Liverpool)
2004 Avgangsutstillingen, Stenersen museet (Oslo)
2004 Fra kaos til kosmos, Bomuldsfabrikken (Arendal)
Video screenings and performance (selection):
2018 L'Œil d'Oodaaq Festival (Rennes)
2018 Fokus Videofestival (Copenhagen)
2017 Sanfest (Madrid)
2017 Filmideo, The Newark Museum (New Jersey)
2017 IVAHM (Madrid)
2017 The Video Show, RVVC (New Jersey)
2016 [.BOX] Videoart Project Space (Milano)
2016 Fonlad Videofestival (Coimbra)
2016 Proyector Video Festival (Madrid)
2016 Experiments In Cinema (Albuquerque)
2016 Jacket Video Art, Crisp-Ellert Art Museum (Florida)
¬2015 Cairo Video Festival, Medrar Contemporary Art (Cairo)
2015 Videomedeja, Museum of Contempary Art Vojvodina (Novi Sad)
2015 Mem Experimental Arts Festival (Bilbao)
2015 Trailer Gallery, touring program (Gävle, Gravendal, Malmö)
2015 First Bite, Lviv Media Arts Festival (Lviv)
2015 Figment, (Geelong West, Australia)
2014 Façade Video Festival (Bulgaria)
2014 Laissez-moi faire mon travail, Espaco de Artes (Coimbra)
2014 Milgi Lounge (Cardiff)
2014 Human, all too human, 1646 (Ostrawa)
2013 Trajectory Intermezzo, Trajectory Art Fair (Brüssel)
2013 Channels Film Festival, (Melbourne)
2013 One Minute Film & Video Festival, (Aarau)
2013 Espaço de Artes Performance Multimédia, (Coimbra)
2012 Imagem Contato Festival (Sao Paulo)
2011 Tenderflix, Rushes Soho Shorts Festival (London)
2011 Performance Voyage, PERFORMANSSI 2011 (Turku,Helsinki,Riga,Tromsø)
2011 Twoscore, Chapter Cinema (Wales)
2011 Exquisite Corpse Project, Museo de Arte Moderno (Buenos Aires)
2010 Transit Station (Copenhagen) together with Robert Johansson
2009 Crash-Crush, Todays Art Festival (Haag)
2009 1646, Alfred State College, (Alfred, New York)
2009 Exquisite Corpse Project, Supermarket Art Fair (Stockholm)
2008 PAM Nordic 1, Still / Crash / Flow, Utsikten Kunstsenter (Kvinsedal)
2008 Optica (Gijón, Madrid, Paris)
2008 ATA film and video festival (San Francisco)
2008, 07 Mivicio, touring festival (Spain)
2008 Videoholica, August in Art Biennial Varna
2008, 2007 Videorats Festival, Celje
2008 Nuit Blanche, Optica Festival in Paris
2008 Urban Jealousy, Roaming Biennial Tehran (Istanbul)
2007, 2006 Art Tech Media (Bilbao, Madrid, Barcelona etc.)
2007 20th Instants Video (France)
2007 Visual Deflections (London)
2007 International Short Film Festival Munich BUNTER HUND
2007 Bandits-Mages (France)
2007 Athens Video Art Festival
2007 Performance Night, Ballhaus Ost (Berlin) together with Robert Johansson
2007 Entre la Piedra y la Flor, Circa07 (Puerto Rico)
2007 Cosmic Zoom (Copenhagen)
2006 Darklight (Dublin)
2006 Lukzus Filmfestival (Slovenia)
2006 16. Internationales Videofestival Bochum
Grants and prizes:
2017 Diverse stipend, Arts Council
2015 Project support, Art and technology, Arts Council
2015,13,11,08 Project support, Billedkunstnernes Vederlagsfond
2010 3 year work grant, National Art Grant
2010, 2009 Exhibition support, Arts Council
2009 1st prize Egoart Art Prize
2009 BKH, one year work grant
2007, 2008 1st prize, one minute video section ,Videorats Festival, Slovenia
2007 Installation grant, National Art Grant
2006 Exhibition grant for young artists, Arts Council
2006,2005 Billedkunstnernes Vederlagsfond