Austeen, Siri
sound art
Siri Austeen (born 1961) is concerned with connections between sound, place and identity, and through this explores space, sensation and situations for focused / unfocused listening. In one of her ongoing projects, "Sonic propagations", transducer technology and the use of materials such as glass, cardboard and wood are explored as membranes or acoustic mediums for concrete sound.
Her artistic practice focuses on sound, both as medium and phenomenon. She works with sound installations, performance, participating art projects and public art.
Austeen studied at the Academy of Fine Arts in Trondheim 1981-85. She has held solo exhibitions at Trøndelag center for Contemporary Art, Gallery F15 Moss, Stormen Bodø, North Norwegian Art Centre and Tenthaus Oslo among others. She has participated in a number of group shows in Norway and abroad and is also active in several musical collaborative projects. Austeen is a member of NBK, UKS, CAN (Concerned Artists Norway).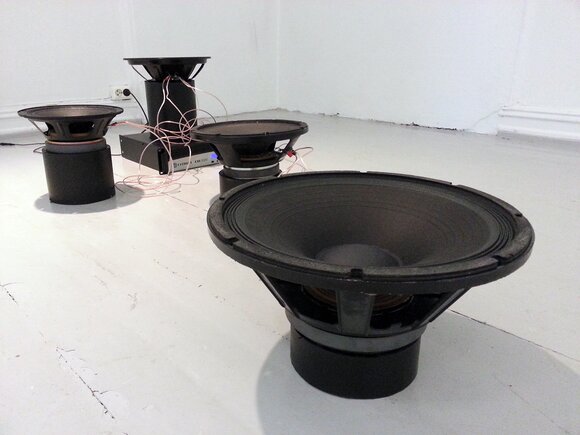 Siri Austeen - Kronebreen kalver, sound installation 2018 documentation from the exhibition Silent sounding at BOA, Oslo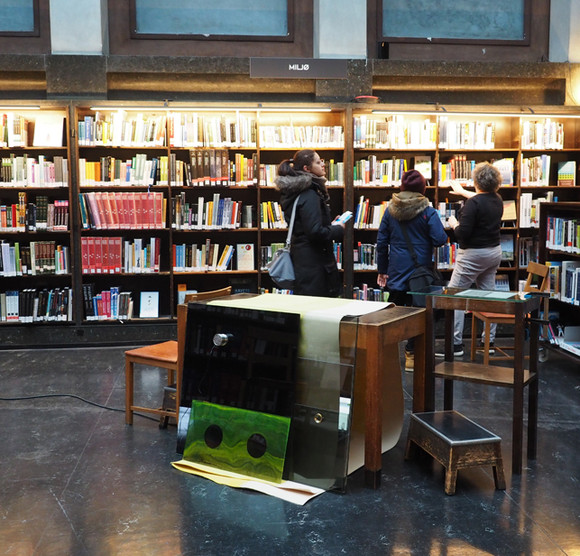 Siri Austeen - Common home, sound installation 2018 documentation of the one-day-show KåK (Kunstnerenes åpne Klimamikk) a collaboration between Deichman Oslo Public Library and Concerned Artists Norway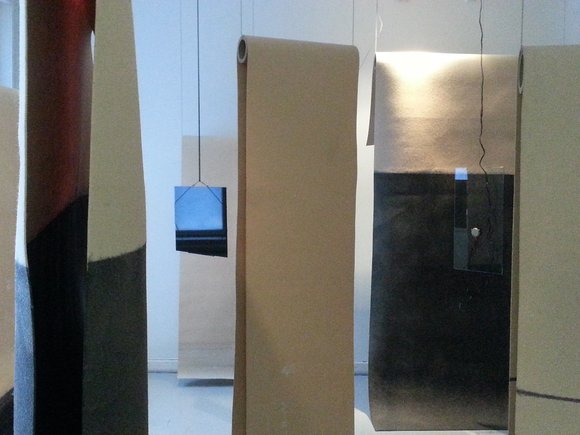 S. Austeen /J. Magelssen - Silent sounding, installation 2018 - documentation (detail) from the exhibition Silent sounding at BOA, Oslo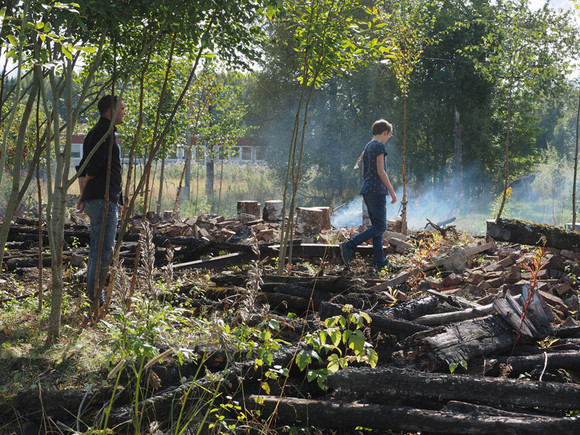 Siri Austeen - Future Diamonds in movments and rest - in flames and ashes, outdoor sound installation 2017 at Sted søker Kunst Art festival, Ski
Planned projects and exhibitions
2018
- "Spring Depot" group group show at Tenthaus Oslo.
- "Kronebreen Kalver" exhibition at Kunsthall 13,4 Bergen.
- "Revisiting possible places" Drive-in sound art, Galleri Ruth, Nordens Hus, Island.
- "NåDa" ongoing art project in collaboration with pupils at Tistedal primary school
and Halden Art Association inc. exhibition at Kunsthalden, Tistedal.
- "Waterway's" record release with the band Tsarsten & the Freudian Slippers.
2019
- "Utopian paradise / Sublim nature" group show at Bærum Kunsthall.
- "Mitt landskap" group show touring Troms – Finnmark.
CV
CV – Siri Austeen f 1961 Professor Dahlsgt 7a 0355 Oslo – Norway mob 99489417 mail siri@austeen.no
Aktuelle og kommende prosjekt:
- NåDa – kunstprosjekt i samarbeid med Tistedal skole og Halden kunstforening.
Utstilling i Kunsthalden, Tistedal, vår 2018
- Waterways – plateslipp, Tsarsten & the Freudian Slippers, høst 2018
- Revisiting possible places, Drive-in lydkunst, Galleri Ruth, Nordens Hus Island, 2018
- Utopian paradise – Sublim nature, gruppeutstilling, Bærum kunsthall 2019
- Mitt landskap – gruppeutstilling Nordland, Troms, Finnmark 2019
Utdannelse
1981-85 Kunstakademiet i Trondheim.
1984 Accademie de Belle Arte, Bologna, Italia.
1992-93 Academy of Fine Arts, Praha, Tsjekkia.
Mottok Statens Garantiinntekt for kunstnere i 2011
Separatutstillinger (de siste 15 år)
2018 Silent Sounding i samarbeid m. J. Magelssen, BOA, Oslo
2018 Kronebreen Kalver – utstilling Kunsthall 13,4 Bergen
2017 Future diamonds in movments and rest – in flames and ashes,
Sted søker kunst, Kunstfestival, Ski
Langøra potetkule lydhode – Stormen kulturhus, Bodø
2013 Hallo Hallo – Gerlijahagen, lydinstallsjon i skog, Fabrikk1, Tistedal
2011 Ears of the field, Tenthaus, Oslo
2009 Hum of the tram, Ultimafestivalen, Oslo
Ears of the field, Falstadsenteret, Nord Trøndelag
2008 Atoms undo into Fu (rhapsody in mu), Sound of Mu, Oslo
Exchange Display Moabit2. m S. Schröder, Kurt-Kurt, Berlin
Heard life ll, Trøndelag senter for samtidskunst, Trondheim
2007 Heard life l, Nordnorsk kunstnersenter, Svolvær
2004 Songs from Misuk, Prosjektrommet F15, Jeløya
2000 I out of U , Akershus Kunstnersenter
1995 Galleri Nebb X, Oslo
1993 Revier, Trønderlag Kunstnersenter, Trondheim
1984 Galleri Adad, Helsingborg, Sverige
Gruppeutstillinger – (siste 15 år)
2018 Spring Depot – gruppeutstilling, Tenthaus Oslo,
2017 Kunstnernes åpne Klimamikk, Deichmanske Hovedbiblioteket, Oslo
Drive-in lydkunst, Galleri Ruth, Kartfjord, Lofoten
Mitt Landskap, Alstadhaug Kunstforening og Rana Museum
Oslofjord Ecologies Experience, Galleri RAM, Oslo
We are Earth others! Kunstnerners åpne klimamikk,Deichmanske bibliotek
2016 Drive-in lydkunst, Galleri Ruth, Rebildt, Danmark
2016 Mitt Landskap, Stormen Kulturhus, Bodø kunstforening, Sortland Kulturhus
2015 Spring Depot – Tenthaus, Oslo
Improvement of Market Facilities, / Mobile Kultur Byrå, Kirkenes
2014 Quick Response-Slow Response, Austeen/Medbø/SørensenTøyen T-bane, Oslo
2014 In Public Time – Statens Høstutstilling, Kunstnernes Hus, Oslo
2014 1 1/2 – Kunsthalden, Fabrikk1 -Tistedal.
2011 Packed!! Tenthaus Oslo
2010 Se og hør – lydkunst. KINOKINO / Sandnes Kunstforening
2010 Blodig alvor – Norsk kunst på 80-tallet, Bergen Kunstmuseum, Sørlandets
Kunstmuseum, Vestfold og Trondheim Kunstmuseum
2008 Absorpsjon og Resonans, NOTAM,Henie Onstad Kunstsenter, Oslo
2007 Playback, Musée d'Art moderne de la Ville de Paris /ARC – Buckle Bunnies 2007 Statens Høstutstilling, Oslo/Trondheim
2007 Oslo Open – Cinemateket videoprogram
2007 Land, installasjon m. Bea Otto, Art Cologne, Tyskland
2006 Land, installasjon m Bea Otto, Bahnhof Eller, Dusseldorf
2006 P-ART1, kunst og næring, Rondetunet, Sollia
2006 Prosjektrommet 93-06, Moss Bryggeri utstillingshall, Moss
2005 The Idea of North, Galleri F15, Moss
2003 Buckle Bunnies lydfeltstudio, Kunstbanken, Hamar
Offentlige kunstoppdrag (siste 15 år)
2015 Forbedring av markedsfasiliteter, Kirkens, Mobilt Kulturbyrå /KORO
2009 Sivilt rosignal for Fredrikstad festning, – Nasjonale Festningsverker
2009 Ears of the field, Falstadsenteret Ekne, Falstadsenteret / KORO
2006 Homebound on a stoneground, m. Buckle Bunnnies, Vinstra Vgs
Performance – utvalg
2011-18 konserter m. Tsarsten & The Freudian Slippers i Oslo, Tr.heim,
Harstad, Kirkenes;
2015 Ekko, solo performance Galleri Ruth, Drive in Lydgalleri
2015 Honning Spa, Østlandsutstillingen, performance m E. Mathisen
2014 In public Time, Statens Høstutstilling m. Tsarsten & The Freudian Slippers, Oslo
2013 Kvinner på kanten, Litterær Kunstfestival – Henningsvær
2013 Buckle Bunnies & TMCYC performanceforedrag Mir Oslo
2010 Jeg fant det du forlot, m. Inghild Karlsen/Cecilie Løveid, Dramatikkens Hus, Oslo
Lyd publikasjoner – utvalg
2018 Tsarsten & the Freudian Slippers – LP Waterways
2015 Tsarsten & the Freudian Slippers – LP Caravan Serai
2014 Tsarsten & the Freudian Slippers – singel; In the land of me
2010 Manual for the construction of a sound as a device to elaborate social connection. Red. Brandon LaBelle, Errant Bodies Press, Berlin. CD
2010 MUU for EARS 2 CD, Galleri Muu, Finnland / Supermarket Art Fair Stockholm
1991 Tremulators, CD – D´but records
Performance m. Buckle Bunnies (Søssa Jørgensen & Siri Austeen)
2013 La Oja Ligg! BB & the Mapmakers of Countries yet to come, Sørfinnset skole
2004 Pajechali! Sapoljarny, Murmansk, Lovosero, arr.Pikene på Broen
2004 Off the record, Musée d'Art modern de la Ville de Paris/ARC
2003 Mycelium Melody, Flere steder for alltid, Lillehammer
2003 Kunstbanken, Hamar
2000 Blue Loft, Galleri 1%, Breda, Holland
2000 Stand Art Performancefestival, Nefertiti, Gøteborg
Tremulators
startet som prosjekt på Kunstakademiet i Trondheim 1983 med Tron Kittelsen,Håkon Gøthesen og Siri Austeen. De utviklet et performativt, eksperimentelt band med omfattende produksjon av video, konsert- og performance bl.a. presentert v. Henie Onstad Kunstsenter, Sardins og Blitz i Oslo, USF Bergen, Uffa og TMV Trondheim, Karl Johanskyrkan og Kulturhuset i Stockholm, KOB, Cafe Swing og Kino Eiszeit, Berlin, Osnabruck og Arnheim filmfestival i Nederland, Warsawa Gasownja Polen.
Tremulators CD ble lansert på D´but records 1992.
Nettkunstprosjekt
2015 LYDER SOM NORDLAND – Siri Austeen/ Elin Øyen Mar Vister
2006 FUORA-GRENEN, Digitale Fortelllinger, PNEK/ NRK.Ulyd
Arkiv
LARM arkiv for kvinnelige lydkunstnere med base i Norden