Kysilkova, Barbora "Barbar"
oil painting; drawing
Oil painting is my main medium. I am aiming for skill development, mastering the technique into the level where I feel able and free to express what I want.
With art I describe my observation and experience of reality. For the most part I portray people. Or rather; one person – the vast majority of my paintings concentrate on one character. The viewer is invited to enter the dialogue with the painted one, to be in its' intimacy, to listen to silence together, experience the beauty and grotesque of the other.
As an artist I feel obliged to grasps such aspects of life that we, as society, tend to surpress. At a time when "figurative art" is not mainstream, I experience this as an expression form where there is a lot of freedom – there is less struggle defining power over aesthetics.
It gives a space to search for moments that are difficult to portray in other art forms, moments of seemingly insignificant, but which, when caught, can gather the essence of an entire life, the paradox of humanity.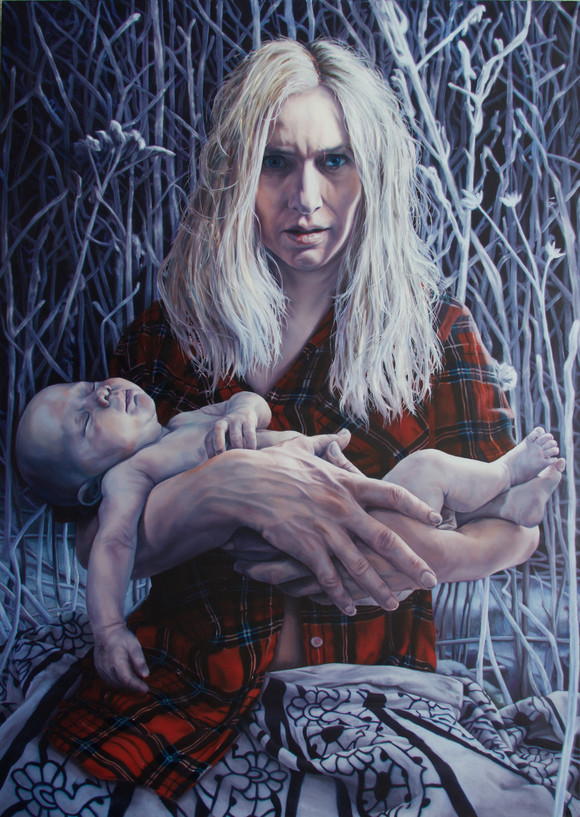 "Madonna Pruina"; artist: Barbar; oil on canvas; 140 x 100 cm; 2015/16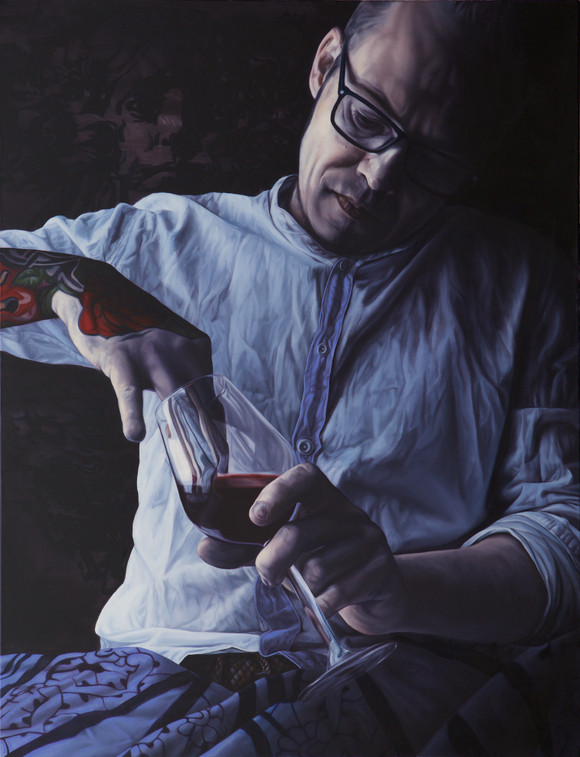 "The Pussy In You"; artist: Barbar; oil on canvas; 130 x 100 cm; 2017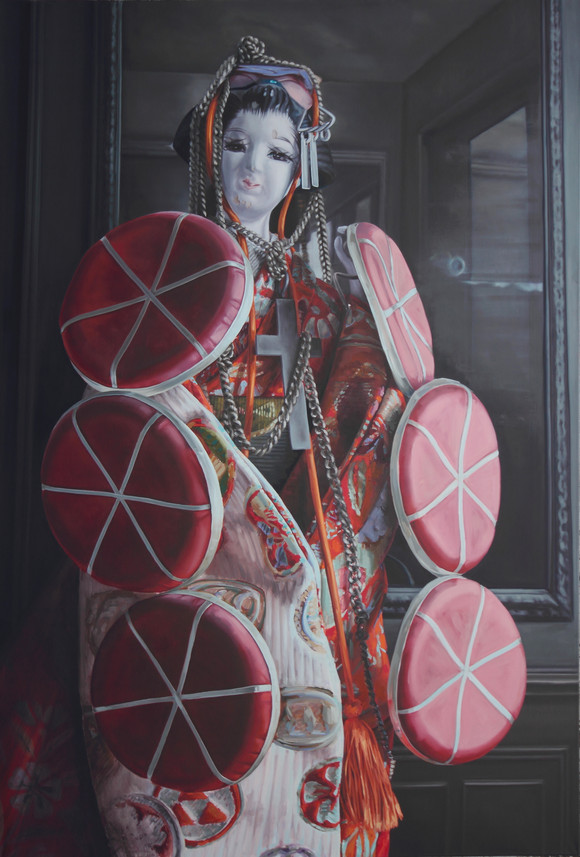 "(I'll Never Be) Maria Magdalena"; artist: Barbar; oil on canvas; 180 x 140 cm; 2017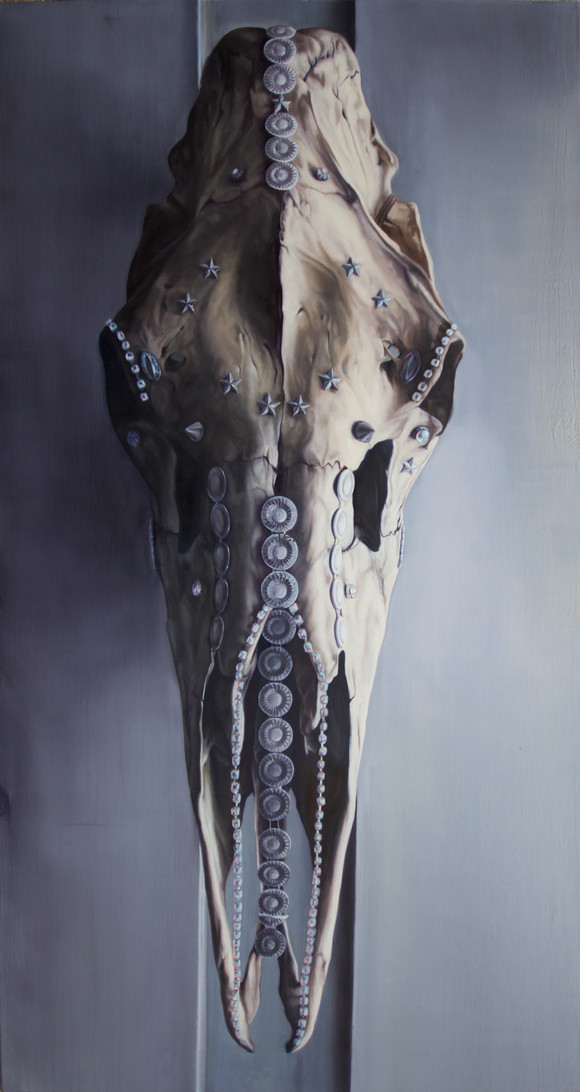 "Death Is Not The End"; artist: Barbar; oil on canvas; 130 x 70 cm; 2016
Planned projects and exhibitions
"Stigma"
Paintings where I challenge the term "stigma" in all its means.
The exhibition will be presented in Oslo and Praha (CZ) during 2018.
"Art in Halden prison"
Starting in 2018 I am going to lead long-term art workshop in Halden prison. The workshop will be introduced by a small exhibition and a talk given by me and the man who stole my paintings two yars ago.
"Manikarnika"
Paintings describing and documenting Hindu cremation ceremony that I experienced in India's holy city Varanasi by Ganga river, at Manikarnika ghat. The exhibition will be presented in Oslo, Praha (CZ) and India during 2018/2019.
CV
Barbora BARBAR Kysilkova
Born in Prague 01.02.1983
Lived in Oxford 2004-2005
Lived in Berlin 2007-2014
Living in Oslo since 2014
Member of Norske Biledkunstnere and Unge Kunstneres Samfunn
Exhibitions:
2017
"Všichni svatí" ("All Saints") , Nova galerie, group exhibition, Prague, Czech Republic
2016
"Fragments Of Broken Season", Hilbert Raum, group exhibition, Berlin, Germany
2015
"20 års Jubileumsutstilling", group show, Galleri Nobel, Oslo, Norway
"Pushwagner 75", solo show, Window Box Galleri by Galleri Pushwagner, Oslo, Norway
2014
"RITE", solo show, Kongens gate show space, Oslo, Norway
Article at the Norwegian art magazine KUNST nr. 5/2014
2013
"Dream and Reality", group show, Michael Haas Galerie at Art Basel, Basel, Switzerland
"22:22", group show, Chemistry Gallery, Prague, Czech Republic
"On-Looking", group show, Kunsthalle Galapagos, New York, USA
2012
"Club of Queer Trades", group show, Batagianni Gallery, Athens, Greece
2011
"Thou art", solo show, Miro Gallery, Prague
"Bulbus Oculi-My Precious", group show, Kunstruimte deWillem3, Vlissingen, Netherlands
"Tape Modern #23; Curators Choice", group show, Tape Art Space, Berlin, Germany
"Existenzen", group show, Vierter Stock Galerie, Berlin, Germany
2010
"Waking the Dead", group show, Autocenter Art Space, Berlin, Germany
"Dream and Reality", group show, Miro Gallery, Prague, Czech Republic
2009
"Lavoratore", solo show, Vierter Stock Galerie, Berlin, Germany