Aasheim, Elin
Ceramics
I cannot let go of the figure, as it has always occupied my mind.
The emotions a figure can arouse, the desire to own it, and the desire to display it in the livingroom. I cannot exactly pinpoint what it is, but it has something to do with its ability to communicate, what it radiates and symbolizes; a childhood memory coming to life, or a dream about something.
I am interested in the figure as a storyteller and how you project emotions into it.
In my figures, I always try to combine the funny and humorous with the sad and pensive, because that´s how life is.
"After having suffered a traumatic head injury, Aasheim became unable to find pleasure in working. The time-consuming and precise appearance of her sculptures produced enormous pressure, and she found it difficult to even go into her studio. In reaction, she began to experiment with making ugly forms, deliberately rejecting the aim of perfection embodied in her previous work. Inspired by a child´s intuitive approach to working with clay, she started to make one or two sculptures a day, with a five minute time limit on each. No censorship, no expectations – only spontaneous creation"
- Curator Alexandra Cunningham Cameron, the exhibition "Free Play" at The Museum of Contemporary Art Santa Barbara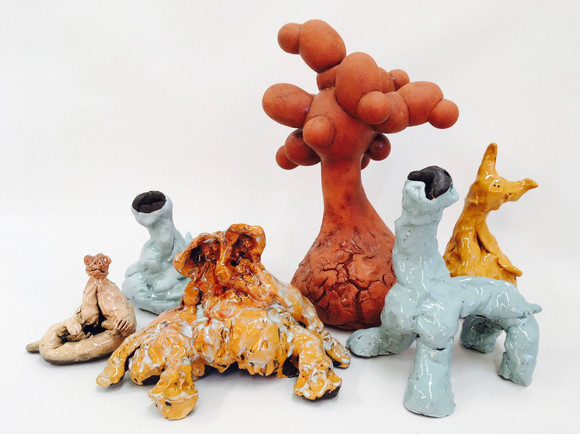 Detalj, "All You Zombies" 2017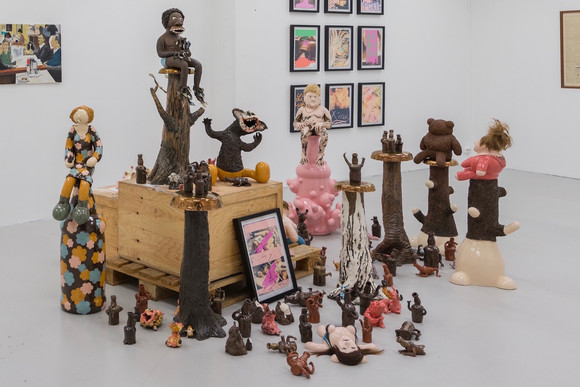 "Forever Young" på Defaced, Prosjektrom Normanns i Stavanger 2016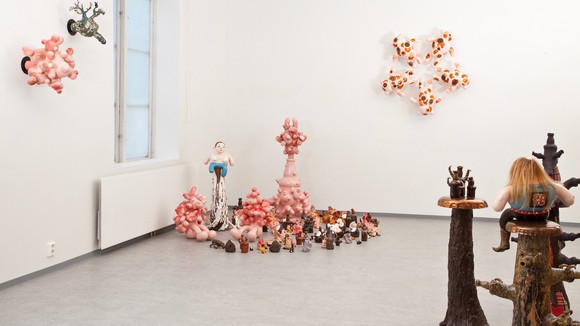 "Forever Young (I Want To Know What Love Is..)" Østfold Kunstsenter, 2016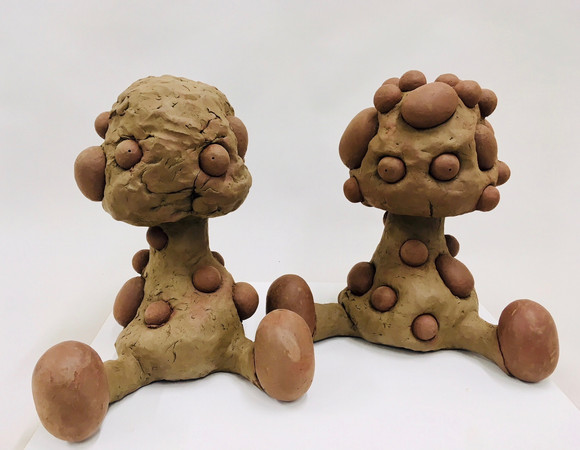 Zombietwins, work in progress 2017
CV
Elin Aasheim
Born in Trondheim, 1971
Etterstadsletta 99a, 0660 Oslo
Mob: +47 93008954, Mail to: elinaas@yahoo.com
Studio: Trafo Kunstnerhus, Hovinveien 1
Education
1997 – 2002 Master at the Ceramic department, Oslo National Academy of the Arts
1995 – 1997 Oslo University College of Applied Sciences, Dep. of Art, Design and
Drama
Group- and collective exhibitions
2017 «Free play» Museum of Contemporary Art Santa Barbara, USA
2016 «Defaced» Prosjektrom Normanns, Stavanger
2015 The Jubilee exhibition, Galleri 69, Oslo
2013 «Relational Aesthetics» DogA, Oslo
2010 «Interception» Bir Nokta Gallery, Istanbul, Turkey
2010 «European Ceramic Context 2010» Bornholm Art Museum, Denmark
2009 «Utstillingen09» The National Museum of Decorative Arts and Design
2005 Lier Kunstforening
2005 «Keramisk kunst – 3 unge» Kunstnerforbundet, Oslo
2004 «Julestunt» Kunstnerforbundet, Oslo
2004 – 2009 «Made in Scandinavia» travelling exhibition, National Exhibitions
2004 – 2006 «Trolls – Figures in Norwegian contemporary ceramics» travelling exhibition,
Norwegian Ministry of Foreign Affairs, among others Poland, China, Korea,
USA
2004 «Norwegen heute – Keramisch» Hetjens Museum, Düsseldorf, Germany
2003 Triennalen 2003 – Ceramic and glass – the Vigeland Museum, Oslo
2003 «…it figures» Drøbak Kunstforening, OICS
2003 «Staff and Student Exhibition» Blomqvist, OICS Oslo
2003 «Talente 2003» Münic, Germany
2002 «Made in Scandinavia» Galleri Temp/Hordaland Kunstsenter, Bergen
2002 «B + O» Hå Gamle Prestegaard, Jære
2002 «Underveis» Vulcan, Oslo
2001 «Trilleverk» Jubileé exhibition for Norwegian Crafts, Oslo Central Station
2001 «Vårutstillingen» Galleri Steen, Oslo
2000 «Nabovarsel» Seilduksfabrikken, Oslo
Solo Exhibitions
2016 «Forever Young (I Want To Know What Love Is..)» m. Ingrid Askeland,
Årsutstillinga, Østfold Kunstsenter
2015 «Forever Young» m. Ingrid Askeland, KRAFT, Bergen
2015 «Partners in Crime and Ceramics» m. Ingrid Askeland, Galleri 69, Oslo
2008 «Trofeer» Galleri Format, Oslo
2005 Hordaland Kunstsenter, Bergen
Purchases
2016 Innkjøpsfondet, National Museum of Decorative Arts in Trondheim
2012 Akershus Kunstsenter to Den Kulturelle Spaserstokken
2008 Innkjøpsfondet, The West Norway Museum of Decorative Arts and
National Museum of Decorative Arts in Trondheim
2006 Haugaland District Psychiatric, Haugesund
2005 The West Norway Museum of Decorative Arts
2003 The Norwegian Ministry of Foreign Affairs «Trolls – Figures in Norwegian
contemporary ceramics»
Public commitions
2015 Ladesletta Kindergarden, Trondheim
2012 SUB-lugar, Stokkøya Sjøsenter
2011 Klukhagan kindergarden, Hamar
2009 Nes children's school, Ringsaker
2008 Skotbu kindergarden and school, Ski
Grants
2017 Work grant, Kunsthåndtverkernes Fond, 3 years
2016 Exhibition grant, Norwegian Crafts («Free play»)
2016 Exhibition grant, Arts Council Norway («I Want To Know…»)
2012 Work Grant from Arts Council Norway, 3 years
2010 Travel Grant, Norwegian Crafts
2009 Material Grant, Arts Council Norway
200 Etablering
2005 Exhibition Grant, Arts Council Norway
2005 Work Grant for younger artists, Arts Council Norway, 1 year
2003 Work Grant for younger artists , Arts Council Norway, 2 years
Other
2016 Firing-Up pilot
2015-2018 «Rart er fint!» a sculptural animation workshop, Den Kulturelle Skolesekken
2014-2015 «Si det!» a sculptural animation workshop, Den Kulturelle Skolesekken
2012-2013 Invited guest artist at the ceramic department, Oslo National Academy of the Arts
2007 External censor Bachelor Ceramics, Oslo National Academy of the Arts
2007 Guest teacher Ceramic Art, Oslo National Academy of the Arts
2005 Workshop for children, The National Museum of Decorative Arts and Design