Aagaard, Hilde
post photography
Aktuelt:
Jeg ønsker å presentere en videre utvikling av tidligere arbeider. I tidligere og nåværende arbeidsprosesser har jeg tatt utgangspunkt i fotografiet, der jeg venter inntil motivet innviterer meg inn til en aktiv handling i papirflaten, der jeg gjør inngrep med kniv og eller omformer billedflaten til en tredimensjonal form. Jeg tøyer mulighetene som ligger i fotografiets egenskaper til sitt ytterste, der prosessen like mye styres av ugjenkallelige handlinger utført med kniv, papiret revner m.fl., som mine egne forestillinger om hvordan det endelige bildet eller objekt skal se ut. Jeg arbeider med gjentatte fysiske bearbeidelser av ett sett motiv.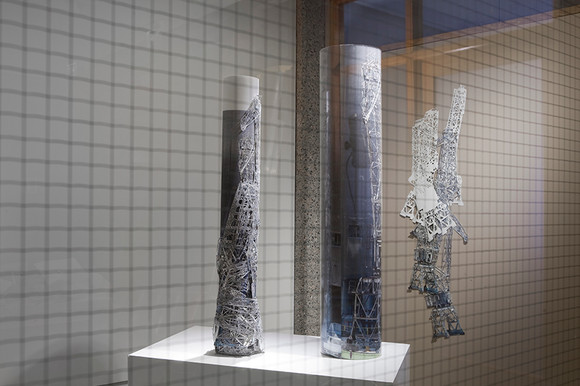 the port of pireus, installasjon,utsnitt, Oppland Kunstsenter, 2016. Arbeidene viser karakteristisk teknikk men avviker fra Jotunheim tematikk. Se bilde 4 for Jotunheimen tematikk.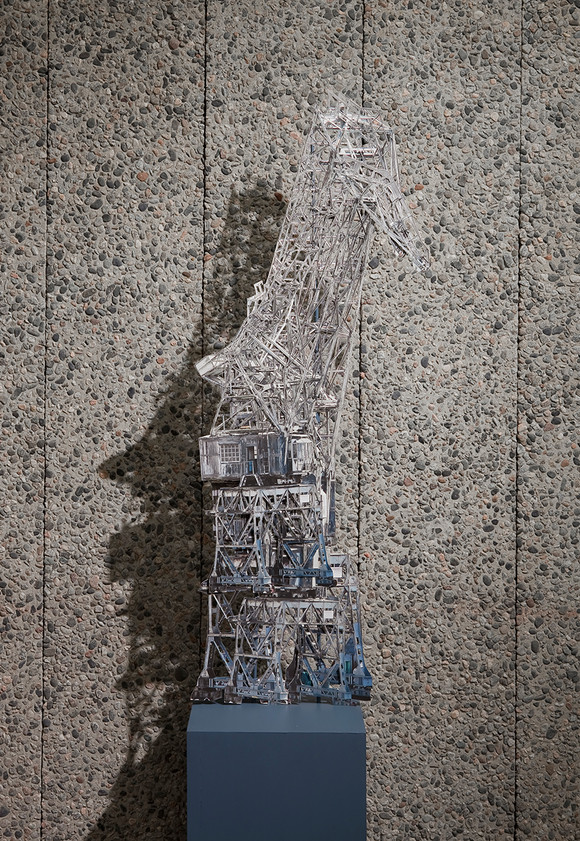 the port of pireus, 2016, installasjon,utsnitt, Hilde Aagaard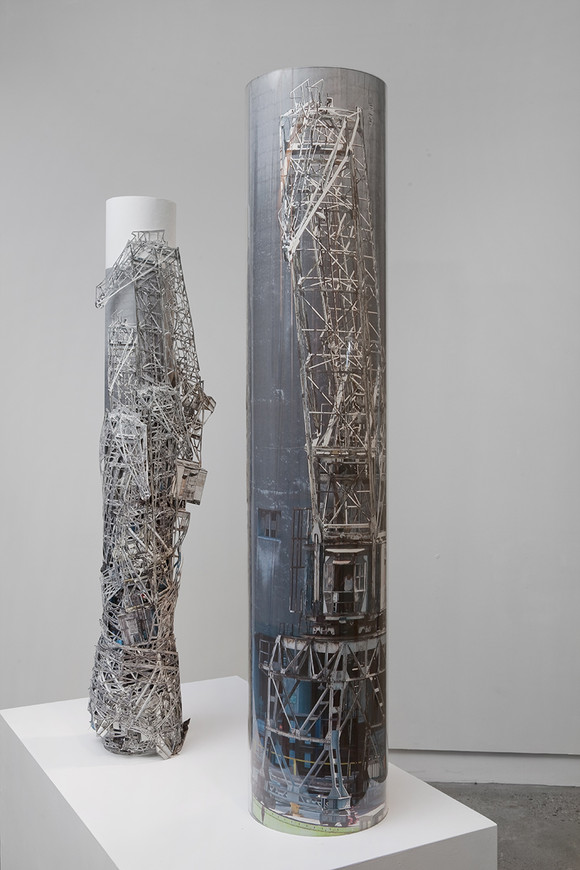 the port of pireus, 2016, installasjon, utsnitt, Hilde Aagaard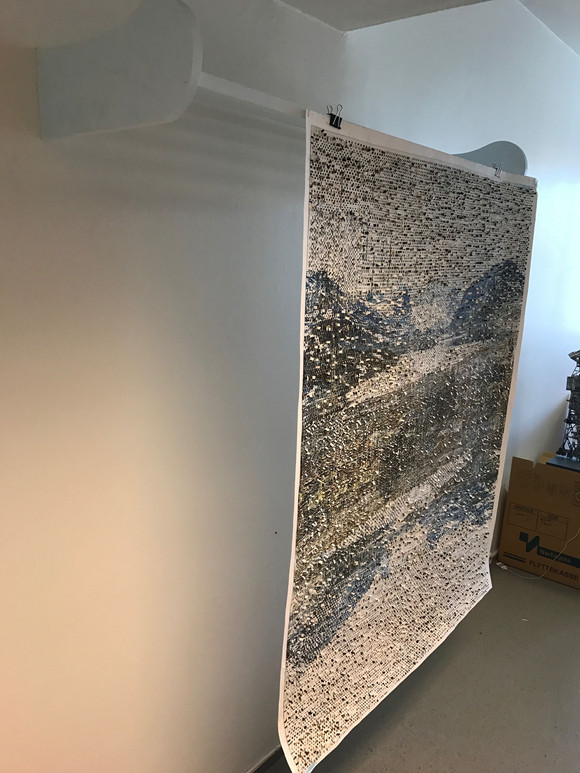 Fjellhylle, Hilde Aagaard, post fotografi, 2017, treverk, inkjetprints,
Planned projects and exhibitions
Sunnfjord Kunstlag, 2018
Moss Kunstforening 2018
Galleri Zink, jubileums utstilling, 2018
Mjøsa -et kunstprosjekt, Hornsodden, Helgøya, kurator Per Boym, 2018
CV
Hilde Aagaard
lives and works in Lillehammer webside: hildeaagaard.com
CV i utvalg
Education
1998-99 Master degree, Chelsea College of Arts and Design, combined media, London
1995-96 The School of Fine Arts, 5th year sculpture department, Oslo
1993-95 Research Grant, NAVF, The School of Fine Arts, Athens
1989-93 Bachelor degree, The School of Fine Arts, Oslo
Coming events
2018 Mjøsa, an art project, curator Per Boym, supported by Oppland and Hedmark County.
Participating artists; Line Løkken, Johannes Espedal, Wenche Kvalstad Echkoff, Markus Stensrud, Ansgar Olsen,
Marianne Stranger, Hedda Roterud Amundsen, Jana Winderen, Tina Jonsrud, Anna Østerberg
2018 Jølstraskulen, Sunnfjord Kunstlag, Førde medbl.a Astrid Løvaas, Nils Olav Bøe, Anne Lise Stenseth, Bjørn Tufta m.fl
2018 Moss Kunstforening med Jan Egge og Ragnhild Enge.
Public Sculpture
2016 Artproject in public space, The Norwegian Public Road Administration,
National Road E6, Gudbrandsdalen Valley, Mellomsdokka, The Blue Line
2016 Primary Sitting III OOM, Rommensletta skulpturpark, Haugenstua
2015 Primary Sitting III OOOM, Oslo Domkirke, Sofienbergparken
2014 Primary Sitting III OOOM, Sukkerbiten, Temporary Art Project, Oslo
Municipality
2011 Sit in Sight, Drammen Municipality
2010 The Wall of Sorrow/ The Wall of Joy, The Norwegian Litterature Festival,
Lillehammer Muniicipality
Solo exhibitions
2016 Vouvosa Festival, Greece, organised by The Norwegian Embassy
2016 The Port of Pireus, Oppland Artcenter, Lillehammer
2015 Ishavsgast, Galler Zink, LIllehammer
2013 The Mountain , Galleri BOA ,Billedkunstnerne Oslo Akershus, Oslo
2009 Blind Mountain, Ileana Tounta Contemporary Art Center, Athens
2009 to sit sitting seated, galleri Zink, Lillehammer
2008 Paper Reports. Gjøvik Kunstforening
2008 Paper Reports, Kunstnersenteret Oppland, Lillehammer
2008 interior (e)motional, mobile container, Oppland County
2006 uttur, Gjendesheim, Jotunheimen
2003 HomeComing, Tromsø Kunstforening *
2003 Wall of Sorrow/ Wall of Joy, More Places for Ever, Kunstnersenteret Oppland,
Lillehammer
2002 L(ea)ving Room, Ileana Tounta Center of Contemporary Arts, Athens
2000 Small Connections, Ileana Tounta, Center of Contemporary Arts, Athens
1999 Sensemotion, The Apartment, London
1998 Extra Virgin Olive Oil, Photosynkria, 10th International meeting, Zefxis gallery,
Tessaloniki
1998 Dog to Dog, Ileana Tounta Center of Contemporay Arts, Athens
1997 Dog to Dog, Galleri Riis, Oslo
1996 Project, Photographers Gallery, Oslo
1995 Vesterisen 1952, Norsk Sjøfartsmuseum, Oslo *
Selected groupexhibition
2017 Ishavsgast , Cube Editions, MISS READ, Berlin, artistbook exhibition
2016 Oslo National Academy of Arts; Kaleid 2016, artists book exhibition
2016 Vovousa Festival, Greece
2016 OpplandÅpen, Oppland Artcenter, 30 years anniversary, Lillehammer
2015- 16 Kaleid 2015 program for Artist who do books, London
2015 Kaleid 2015, book exhibition, Art Academy, London, London Art Book Fair,
Whitechapel Gallery, MoMa Library, New York,…
2014 Oppland Nå. Oppland Artcenter, Lillehammer
2014 Ishavsgast, Athens Art Fair, Cube Editions
2014 Østlandsutstillingen, Kunstbanken Hedmark*
2014 Oslo Open, The Norwegian Association of Fine Art Photographers,*
2013 The Presence of the Sea everywhere, Kystmuseet, Florø
2012 Photographiers Annual Exhibition, Photographers Gallery, Oslo*
2012 Artists for Athens Pride IV, The Breeder Gallery, Athens
2011 Østlandsutstillingen, Akershus Kunstnersenter, Larvik Kunstnersenter,
Kunstbanken Hamar *
2010 Presence Past, UT 22, Polish-Norwegian Art Event, Centre of Polish Sculpture,
Oronsko, Poland*
2009 Summershow, Ileana Tounta Center of Contemporary Arts, Athens
2009 re-MAP2, Athens
2009 Athens Art Fair, Cube Editions
2008 Østlandsutstillingen, Gjøvik Kunstforening, Gjøvik, Lubeck, Germany
2007 Kunstnersenteret Oppland
2007 Cashbox, Gallery Box, Guthenburg, Sweden
2007 Emergancy Room by Thierry, Ileana Tounta Center of Contemporary Arts,
Athens
2007 Kings ARI, Melbourne, Australia
2006 Kunstnersenteret i Oppland
2005 Summershow Ileana Tounta Center of Contemporary Arts
2005 Mysteries and Miracles, Macedonian Museum of Contemporary Arts
Tessaloniki *
2005 PrintROOM, Witte de With, Center of Contemporary Arts, Rotterdam
2004 Domestic Alien, curator Kostis Velonis, Ileana Tounta Center of Contemporary
Arts, Athens *
2003 Brave New World, Ileana Tounta Center of Contemporary Arts, Athens
2003 Apokreata Skyros, Zakynthos Town Hall, Greece
2003 Kunstnersenteret i Oppland
2003 Independence, a project by Christian Boltansky, South London Gallery, London
2002 Sleepmatters, curator Kostis Velonis, Cheap Art, Athens
2002 Export, Kamiyama Artist in Residence, curator; Niimi Ryu, Yokohama Portside
Gallery, Tokyo
2002 Summershow, Ileana Tounta Center of Contemporary Arts, Athens
2001 Ileana Tounta Center of Contemporary Arts, Athens Art Fair *
2001 KAIR, Kamiyama Artists in Residence, Shikoku, Japan *
2000 Ileana Tounta Center of Contemporary Arts, Artissimo, Art Fair, Turin, Italy *
2000 Ileana Tounta Center of Contemporary Arts, MiArt, Milan Art Fair *
2000 Motion of Time, Mafuji Gallery, London
2000 Summershow Ileana Tounta Center of Contemporary Arts, Athens
1999 Summershow Ileana Tounta Center of Contemporary Arts, Athens
1999 Mobile Art Space Kleiderkorpfer, Open Art Galleries, Munich, Germany
1999 MA degree show, Chelsea College of Art and Design, London
1998 Trans Europe Halles, Independendt Cultural Centres, Barcelona
1998 Sensemotion, House of Cyprus, Athens
1997 Summershow, Ileana Tounta Center of Contemporary Arts, Athens
1997 The Other Art, Young Artists Association/ UKS, Oslo
1995 VIA FOTO, Photograpåhers Gallery, Oslo
1995 Høstutstillingen, Kunstnernes Hus, Oslo
1993 Photograpers Annual Exhibition, Photographer Gallery, Oslo
1993 Christi Prudi gallery, Moschow, Russia
1992 Poetry and Subject, School of Fine Arts Oslo
1992 Place and Thought, Gallery Oslo
1992 Crossover, Gallery Rotor, Guthenburg, Sweden
1992 Crossover, Oslo Kunstforening
Performance Videoperformance/ Sound
2009 to sit sitting seated, Gallery Zink, Lillehammer
2008 interior (e)motional, Kunstnersenteret i Oppland, Lillehammer
2007 Point Tokyo, site spesific performance, Harajuki Tempel, Tolkyo
2006 Sit Point Sight Point Knutshø, site spesific performance, Gjendesheim,
Jotunheimen
2005 Sit Point Echo, site spesific performance, Philopappos Hill, Athens
2003 Birds, Aristofanes, Drees Theater Group, Olympia, Greece
2002 Bacchae, Euripides, Drees Theater Group, Old University, Athens
2001 from the House within, teaceremony with master, KAIR, Kamiyama, Shikoku,
Japan
2001 Bacchae, Drees Theater Group, Lepreon, Greece
2000 Motion of Time, NOW, E. og S. Solbakken speaks about motion of Time, sound, Mafuji Gallery, London.
2000 Fle- Fleete__________, VHS
2000 Bacchae, Drees Theater Group, Athens
2000 Make Your Dream Come Through, Hydra Port, Greece
2000 Nobukoyoko, VHS
1999 Animated (e)motions, VHS
1997 Performance, Tønsberg Kunstforening, Moss
1996 Run Away Train, Oslo-Bodø,18 hours, VHS
1996 Marie Ceciel and the Frog, The Factory, Athens
1995 All You Need is Love and Greek, VHS, 40 min.
1995 Das Ding an sich, Die Orange an mich, VHS, 25 min
1995 Performance, Photographers Gallery, Oslo
Artistbook
2014 Ishavsgast, Cube Editions, ISBN 97861880384-4-8
2005 HomeComing, Cube Editions, ISBN 960-87354-4-0
1996 Home is where my dog is, Hilde Aagaard
1995 Vesterisen 1952, Hilde Aagaard, ISBN 82-993655-0-3
Commisions
2011-16 Norwegian Public Road, E6, Mellomsdokka, Gudbrandsdalen Valley
2009 Skårsetlia Eldresenter, Lillehammer
Collections
Artistbook Ishavsgast, represented in MoMa Library, New York, SAIC Joan Flasch Artists Book Collection, Oslo National Academy for the Arts Library.
Kaleid 2015, London
The Otzi Archive, Nancy Campell
KAIR Kamiyama Artists in Residence, Shikoku, Japan
Perna Collections, Milan, Italy
Papademitriou Collection, Athens
Antonoiu Collection, Athens
Ileana Tounta Contemporary Art Center, Athens
Lillehammer Municipality
Oslo Municipality, Kunstsamlingen
Drammen Municipality
Den Norske Turistforening
Oppland County Collection
Lillehammer Hospital Collection
Producer
2015 Alene Sammen, idea, producer for workshop, realising model chair of Asa Arnarsson,
supported by Sparebankstiftelsen, Oppland County and Lillehammer County situated at Lillehammer Library.
2014 Stol med Hilde og Cecilie, Nasjonal ressursbank, DKS, Nasjonalmuseet
2012 Stilig, a cooperation with Søre Ål primary School, winner Gullsekken
2009 Make Your Dream Come Through, Oppland County
2006 HomeComing, Oppland County
2006 Interioe (e)motional,Oppland County
Member of Board
2011- Lillehammer Art Museum
2011- 2015 Østlandsutstillingen
Grants/ economical support
2015 Billedkunstnernes Vederlagsfond
2016 Billedkunstnernes Vederlagsfond
2013 Norwegian Photographic Foundation
2012 Diversestipend, Statens Kunstnerstipend
2009 2-years working grant, Statens Kunstnerstipend
2008 Statens Kunstnerstipend.
2009 Lillehammer County, support exhibition.
2008 The Norwegian Cultural Board, exhibition grant,
2008 Lillehammer Count, project for developing public sculpture strandpromenaden
2008 Photographic Foundation, www.fffotografer.no
2007 The Norwegian Cultural Board, exhibition grant
2006 Support of Project: Point Tokyo, NBK
2006 Oppland County, Ileana Tounta, Nasjonalparkriket, Den Norske Turistforening,
Vågå Kommune for Site Specific Performance Sit Point Sight Point Knutshø
2006 Sasakawafoundation. Education. Study Japanese art with emphasis on the
minimal expression.
2005 The Norwegian Cultural Board, exhibition grant Interior (e)Motional
2005 International Support, OCA, Office for Contemporary Arts, www.oca.no
2005 Ministry of Foreign Affairs , The Royal Norwegian Embassy, Greece
2004 Support Project 12 days Christmas, NBK
2004 Educational Grant, photoshop
2004 Educational Grant, creative writing
2004 Educational Grant for induvidual project, Norway
2003 Support Project, 12 days Christmas, Greece, NBK, Norway
2003 Grant for Artists, Oppland Region, Norway
2003 "Billedkunstnernes Vederlagsfond", Norway
2003 Educational Grant for individual project, Norway
2003 Photographic Foundation, artistbook HomeComing, Norway
2002 Norwegian Cultural Board, artistbook HomeComing
2002 Soloshow, HomeComing, Tromsø Kunstforening, Norwegian Cultural Board
2002 Foreign Ministry, Norway, Art Project Abroad, Yokohama Portside Gallery,
Japan
2002 Ministry of Foreign Affairs, Cultural Department, Royal Norwegian Embassy,
Greece
2001 Educational Grant, individual project, workshop New World Performance,
2001 Travel/working grant, the Norwegian State
2001 Ministry of Foreign Affairs, The Royal Norwegian Embassy, Athens, exhibition,
Small Connections
2001 KAIR, artists in residence, Kamiyama, Japan
1998 Photographic Foundation, Norway
1998 Greek Ministry of Culture, Photosynkria 98, Tessaloniki, Greece
1998 Ministry of Foreign Affairs, The Royal Norwegian Embassy, Athens
1997 Norwegian Artists Association, Vederlagsfondet
1996 Norwegian Artists Association, Utstyrsstøtte
1996 Project, Fotogalleriet, Oslo
1995 Norwegian Artists Association, Vederlagsfondet
1995 The Norwegian Cultural Board, exhibition; Vesterisen 1952
1995 The Norwegian Cultural Board, artistbook, Vesterisen 1952
1995 The Maritime Museum, Oslo, Vesterisen 1952
1995 The Norwegian Polar Institute, Oslo, artistbook Vesterisen 1952
1994 Greek Goverment Scholarship, School of Fine Arts, Athens
1993 The Norwegian Artists Association
1992 Thorvald Erichsens grant
1991 Greek Goverment Scholarship, School of Fine Arts, Athens