Neseblod, Grete Johanne
Textile
Along with being a visual artist, Neseblod owns Neseblod Records, a specialist shop for metal music. Located in Old-Town Oslo (Gamlebyen), the shop is a meeting place for black metal enthusiasts. Neseblod is also a mother, and it is at the intersection between these spheres of life that her art emerges. By laying hold of and mixing together stereotypes of the black-metal environment and the mother's role, she develops new models of identity at the same time as she challenges prejudice.
"There are obvious contrasts between being a mother of three children, an artist and running Neseblod Records. I recognise and understand these three cultures from both the inside and the outside, and I work to deconstruct the different roles", says Neseblod.
The artist combines forms of expression in textiles, printing and installation art.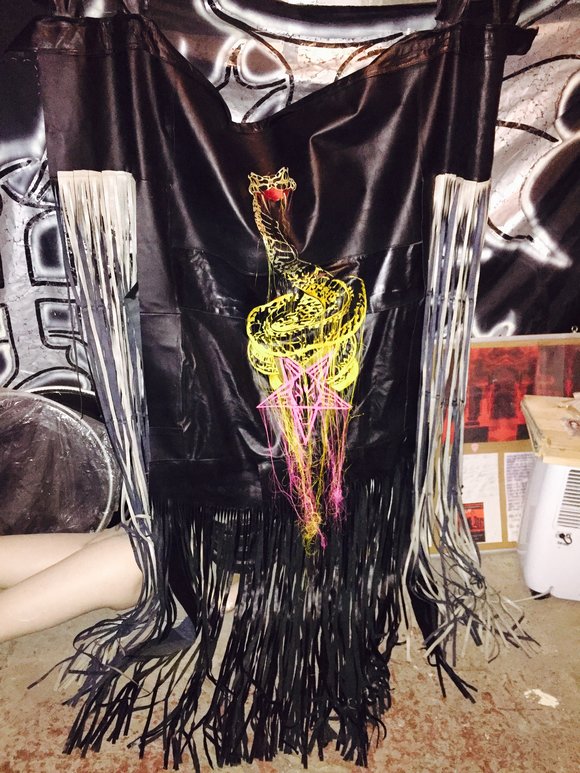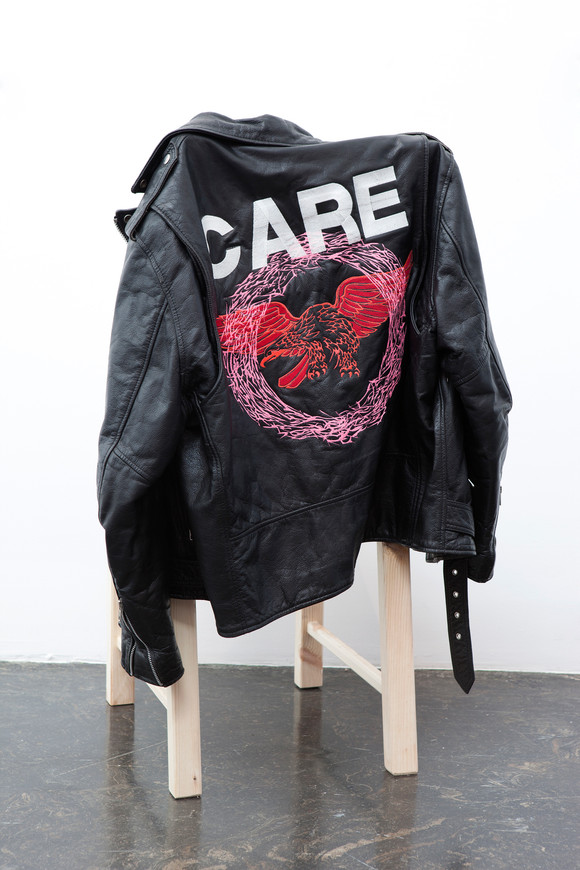 Care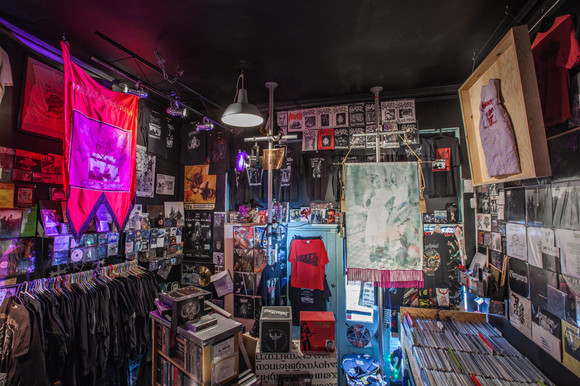 Care/Demon Entrails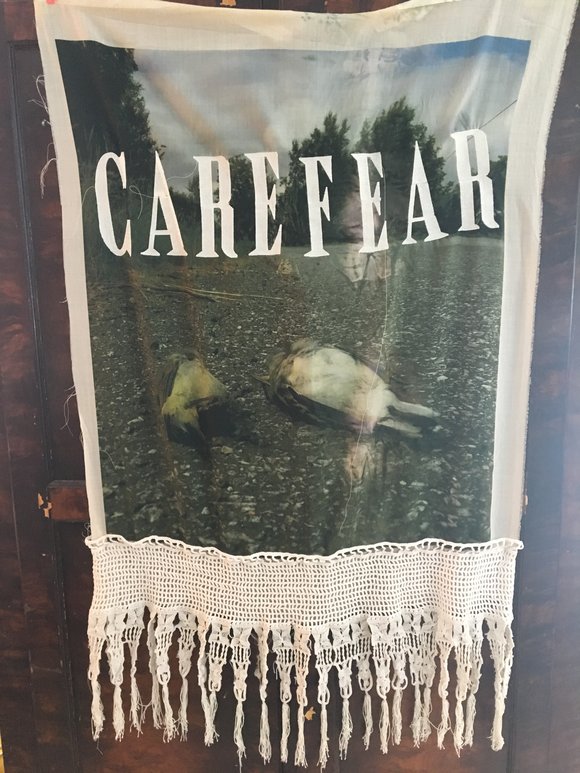 Planned projects and exhibitions
2018
Januar: Galleri Onomatopee,Eindhoven/Nederland(solo)
Mars: Telemarksgalleriet, Notodden
April: Bodø kunstforening, Bodø
August/sept: Akershuskunstsenter, Lillestrøm
CV
Exhibitions:
2018
January: Galleri Onomatopee,Eindhoven/Nederland(solo)
March: Telemarksgalleriet, Notodden, Norway
April: Bodø kunstforening, Bodø, Norway
August/sept: Akershuskunstsenter, Lillestrøm, Norway
2017
Levanger Kunstforening,Norway: (Solo) 14.1-05.2
SOFT galleri/NTK, Norway: (Solo) 11.5-11.6
Galleri Blokk, Norway, (duo), September
2016
Kunstplass 10, Norway (Solo)«Heart-Shaped Box»
2015
Art Fair Suomi- Video og tekstilarbeid
Statens Kunstutstilling, Høstutstillingen- Installasjonen «Habitiss og Labituss»
2014
Norsk billedhoggerforening «Knock knock», Video. w artistcollaboration Penetrators Statens Kunstutstilling, Høstutstillingen. -Video
Kunstplass 5«Å paradis Strategies on the Nordic Queer»,. Video/Textile.
2013
Akershus kunstsenter«It`s a girl»,. -Video
Galleri 69 Grunerløkka Lufthavn«Oslo Apartment II» , -Video, Skulpturs. w artistcollaboration: Art As Agency.
Galleri Seilduken,Norway «Oslo Apartment»,
-Video,skulptur. med kunstnergruppen Art As Agency.
2012
Avgangsutstillingen KhiO – videoperformance
2011
Galleri Seilduken, Norway:«I don´t know if they´re real or if they´re pseudo – They are moments in the dark» – Sculptur, video, photo, prints.
2010
Trondheim Projectroom, – paintings
2008
GalleriO, HiOA, Norway– paintings
2007
Galleri Impromptu – photo series

2006
DogA «Mirror», Norway – "Arts and Designs 75 years" – paintings
Other
2016 Atelier Felix,Kunstnernes Hus, Norway. "Scenes around a table" Performance by artist Linn Cecilie Ulvin w invited participators.
Fundings:
2018 Exhibition fundings
2017 Bkh 1. y scolarship,
Exhibition fundings Kulturrådet
2016 Bkh 1. y scolarship,
Exhibition fundings kulturrådet
2015 Statens Diversestipend
2011 Natt og Dag: 50 000 nkr. (for Neseblod Records)