Fagerli, Ingvild
Akvarell, akryl. tekstil
"I am guided by a wish to understand beauty, sorrow and guilt. Experienced from the edge of the cliff in the most wealthy country in the world"
"Empowerment is often translated from English to Norwegian into the word "myndiggjøring", which has to do with gaining access to Power. Maybe the right word would be "repowerment"? To take something back, or find our way back to something we already carry inside us. An urge to use the strength which is both in Nature and inside every human being, something that bursts out.
Embedded within the Christian heritage lies an idea that Humanity has been given the power to rule over Nature. And that we have a brain that is superior to Nature. As if we are not a part of Nature. I find it absurd. What we are doing to ourselves and to Nature will strike back at us. It ́s a natural law. With this as a starting point I work with fear and the joy of life as my guideline. No underlying plan, only repetitions and reactions in a circle. There is a tension between studies of nature and reaction-based impulses. chaos and a cleanup. A form of maximism which zeroes itself out.
In the Empowerment project I dwell with my experience of a force of nature that is impossible to stop. Like when our fitness improves with running and playing, and that a baby will try to stand up when becoming a toddler, there is an urge towards movement and change in everything around us. A force we cannot stop finds it way out.
I use water colors on paper because I like to see that the colour withdraws into the paper. When I pass the limit for what the paper, colour and esthetics may endure, I may chose to continue with acrylic colours, charcoal, wool and rubber"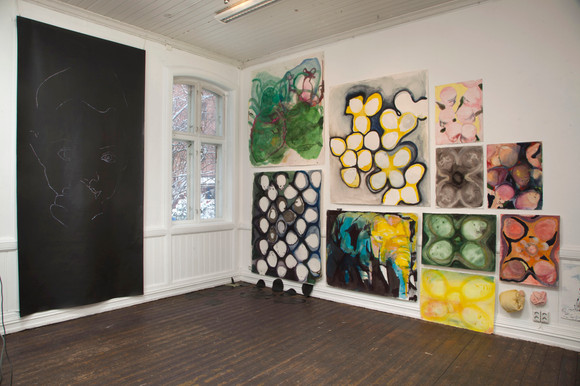 Empowerment. Galleri 69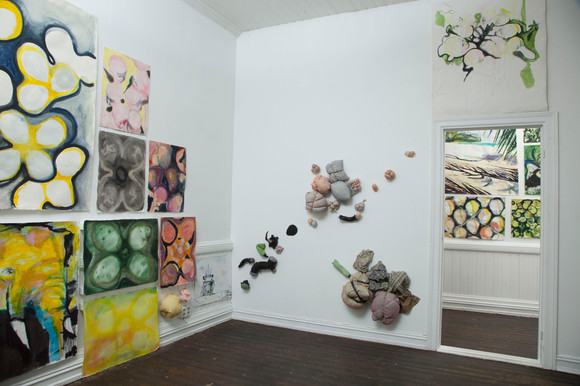 Empowerment. Galleri 69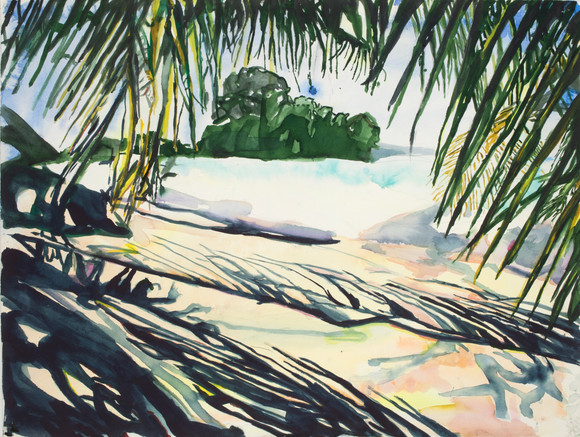 Strand (del av Empowerment)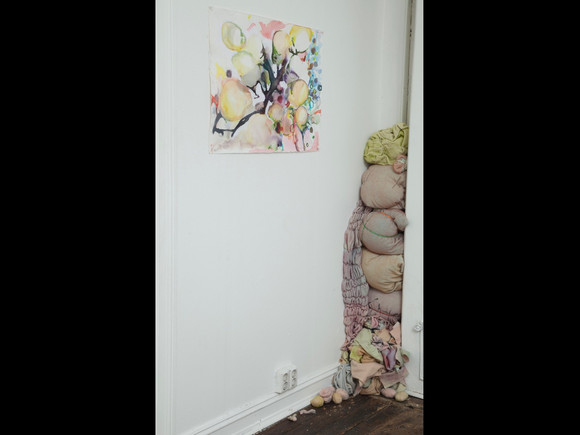 Detalj Empowerment. Galleri 69
CV
Ingvild Fagerli has a Master in Textile form the Acaademy of Art in Oslo (2000) and a Master in Psychology from the university of Oslo (2010). She has, among many places, had exhibitions at Varmbadet in Drøbak, Vestfold kunstnersenter, Ålesund kunstforening, Rådhusgalleriet in Oslo, Galleri Vartai in Vilnius, and Artists space in Berlin. She has been a member in the board and Kunstnerisk råd at the art centre in Møre og Romsdal and a board member in Stiftelsen Ålesund Kunstskole.