Mack, Elin
Collage, painting, photography, graphics
Mitt billeduttrykk ligger mellom det monumentale og det intime. Enten jeg jobber med en monumental installasjon av kroppstrykk i full størrelse, som i mitt siste prosjekt, eller jeg maler, fotograferer eller lager collage, jobber jeg intuitivt og taktilt med et sterkt grafisk uttrykk. Jeg er opptatt av det strukturelle i overflatene, men også av at arbeidene skal fortelle historier, og av å utfordrer mulighetene i det formale billedspråket. Jeg har bakgrunn som kunsthåndverker (det taktile) og som grafisk designer (flate, farge, komposisjon, det formale), og kunnskapen fra begge disse praksisene informerer hvordan jeg jobber som billedkunstner.
Member of NBK, BOA, The International Society of Assemblage and Collage Artists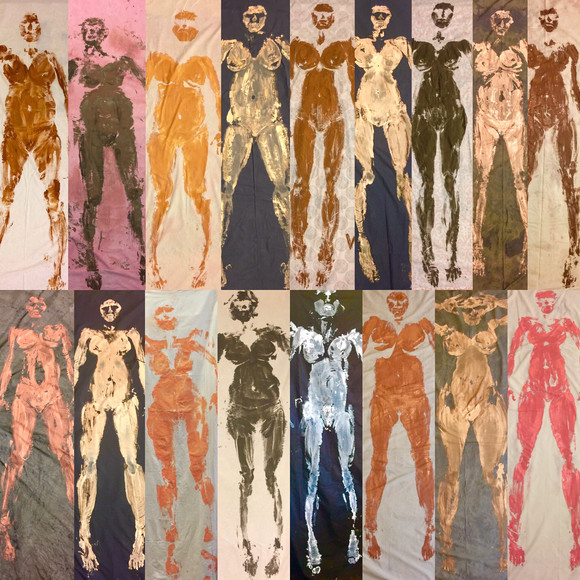 Prosjekt Subjekt 17 Kroppstrykk á 225 x 140cm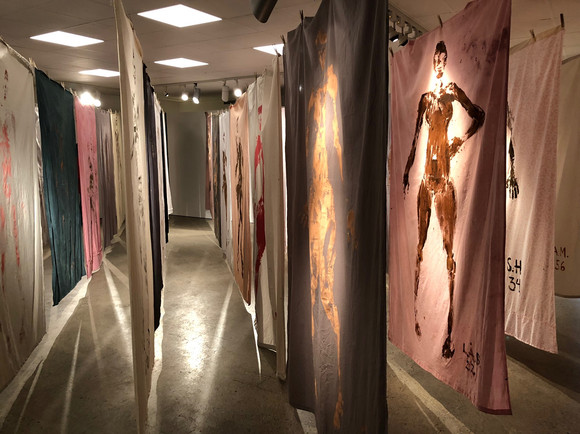 Prosjekt Subjekt Installasjon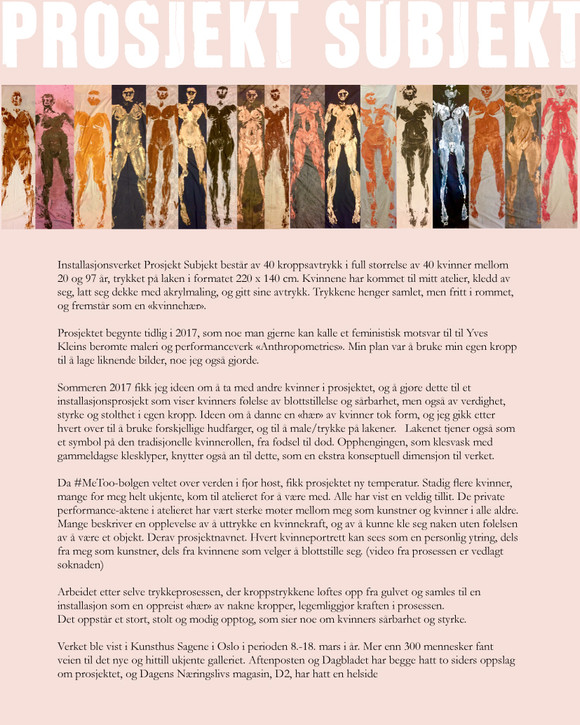 Prosjekt Subjekt Plakat m. tekst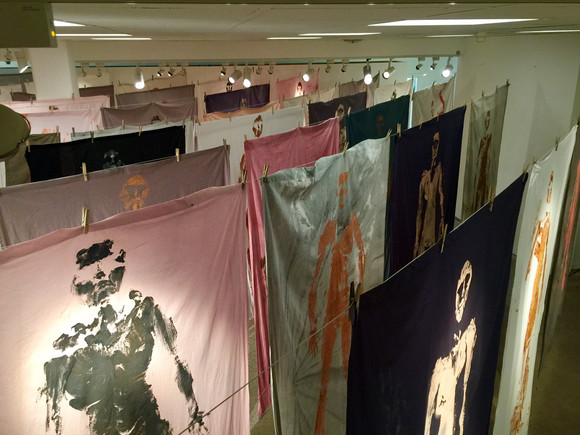 Prosjekt Subjekt, bilder av prosess
CV
SOLO SHOWS
2018: "Prosjekt Subjekt" Kunsthus Sagene, Oslo
2016: "Papirminner" Galleri Il Vero, Oslo
2016: "Collage og Fotografi" Galleri Laszka, Oslo
2015: "Mack møter veggen" CYAN photogallery, Oslo
2013: "Decollage" Galleri POINT, Oslo
2011: "Macks manus" Smia Galleri, Oslo
Elin har også hatt flere utstillinger som kunsthåndverker.
GROUP EXHIBITIONS
2017:
Galleri De3Rom, Bærum
Oslo Open, gruppeutstilling, Sagene, Oslo
Galleri Rusticana, Oslo
2016:
"Mirages", XXIV Brazilian Congress of Poetry, Brasil
"LA POESIA VISIVA IN EUROPA ", Imago Mundi, Italia
"SEA(S)" Ionion Center for the Arts and Culture, Hellas
Oslo Open, gruppeutstilling, Sagene, Oslo
2015:
Exposição Internacional de Poesia Visual de Mato Grosso" Rio de Janeiro, Brasil
Galleri Ramfjord, Oslo
Galleri Rusticana, Oslo
Galleri Asbjørn, Kongsvinger
Galleri BOA, Oslo
Galleriverkstedet, Oslo
2014:
Galleri Ramfjord, Oslo
2013:
Galleri A, Oslo 2012
Galleri Ramfjord, Oslo
Bærum Kunsthåndverk, Sandvika
2012:
Galleri A, Oslo
RESIDENCIES
2016: Hangar, Lisboa, Portugal
BOOKS
2013 Assemblage-box, Redfoxpress, Irland.
2014 "Cést-mon-dada" Elin Mack, Redfoxpress, Irland,
2015 "Collage Annual 2015", Collage Collective Co, Australia
2016 "Visual Poetry in Europe", Imago Mundi, Italia
SCHOLARSHIPS
Grafills reisestipend 2009
Grafills prosjektstipend 2002
Statens etableringsstipend (1983)
Kulturrådets utstyrsstøtte(1985)
INNKJØP / UTSMYKKING
Brooklyn Hotel, New York, USA
Hotel Radisson Blue, Minneapolis, USA
Sheraton Hotel, (The Presidential suite) Denver, USA
MEMBERSHIPS
Norske Bildende Kunstnere NBK,
Billedkunstnere Oslo Akershus BOA,
The International Society of Assemblage and Collage Artists
EDUCATION
1990: Master, Grafisk design, Oslo National Academy of the Arts (KHiO)
1986 1989 BA, Grafisk design, Oslo National Academy of the Arts (KHiO)
1973 – 1976 Diplom (BA) Keramikk, SHKS, Oslo National Academy of the Arts
1972 – 1973 Keramikk, Myndlista og Handidaskoli, Reykjavik, Island (Håndtverksfag – Fagskole/svennebrev)
1971 – 1972 Einar Granum Kunstskole
1970 – 1971 Tegne maleskole, Chantry school of Art, England (Kunst – Videregående skole)