Mæhlum, Hilde
Sculptor
I am both a modern and a traditional sculptor,
who experiments with many different forms of expression combined with the naturalistic:
- negative versus positive
- Bronze strips that draw profiles of faces where the spectator can fill in the rest himself,
- lines engraved into the form
I work mostly in bronze and stone and the size can vary from matchbox size, up to several meters and many tons.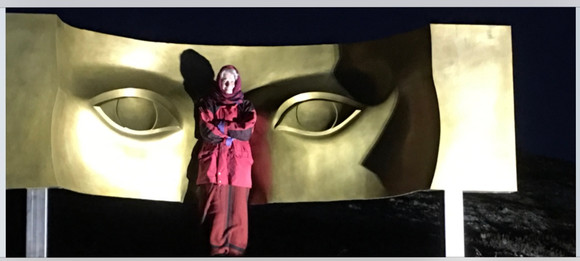 Vidsyn, bronse, bredde 4,50 m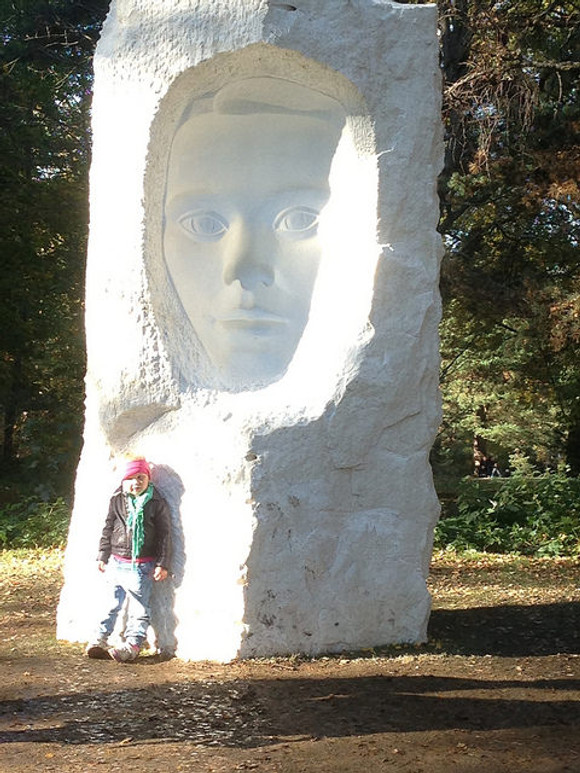 Konkavt ansikt, marmor, 3,06m høy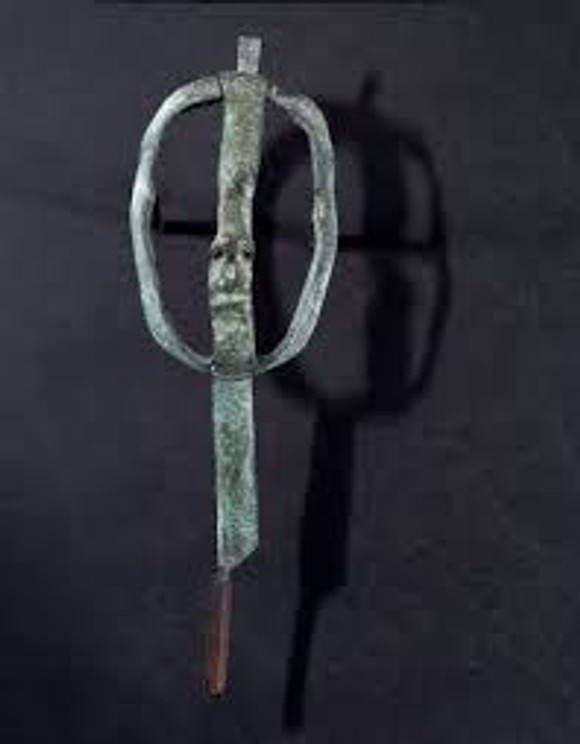 Speil, bronse, h. 35cm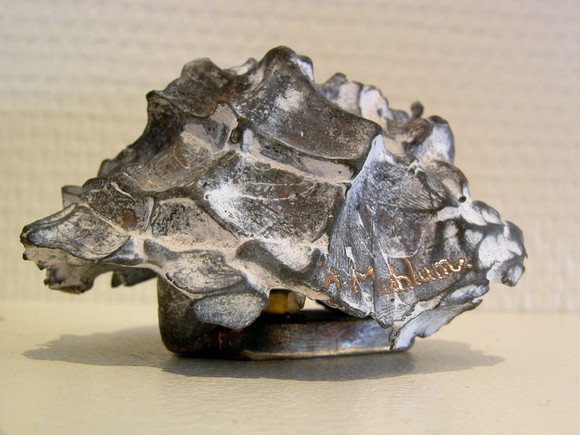 Håndtrykk, bronse, ca 12 cm bred
Planned projects and exhibitions
I will exhibit at the Skinnarland Collection in Rauland summer 2018.
Currently working on two portraits.
Working periode at a stone carwing Center
in DaNang in March- April.
CV
Curriculum Vitae for Hilde Mæhlum.
Education:
State School of Art and Craft, Oslo. 1965-68
National Academy of Art,Oslo. 1968-75
Dublin College of Art and Design. 1976
State University of New York 1989-90
Chinese calligraphy education
at the University of Oslo 1996-2003
Scolarships:
Houens legat 1974 Lorch-Schives legat 1975,78,80 3%-fondets stipend 1978 Oslo bys kulturstipend 1982 Statens treårige arbeidsstipend 1984-86 I.L. Langårds store reisestipend 1988 Statens reise- og studiestipend 1992 Vederlagsfondets stipend 1993 -
Statens garantiinntekt for kunstnere fra 1995-2012
Awards:
Oslo kommunes kunstnerpris 1989 Norske Bilders stipend 1996 Notodden kommunes kulturpris 1998 Ulrik Hendriksens minnestipend 2002
Solo exhibitions:
Kunstnerenes Hus,Oslo 1981
Notodden Kunstforening 1981
Storsalen,Romsås senter 1981
Vikerødegården 1983
Kunstnerforbundet,Oslo 1987, 94
Festspillene i Nord-Norge,Harstad 1987.
Tromsø Kunstforening 1993
Alta Kunstforening 1993
Svolvær Kunstforening 1994
Kunstnerforbundet ,Storsalen ,Oslo 1994
Fossekleiva galleri 1996
Haa gamle prestegard 1998
Risør Kunstforening 2004
Haugesund Kunstforening 2005
Galleri Falkum, Skien 2005
Trondhjem Kunstforening 2005
Solli Brug, Greåker 2005
Åsgårdstrand 2013
Selected Group Exhibitions:
Frysja opening exhibition 1970
Kafe Mejan, Stocholm 1970
Norways "Autumn Exhibition" 1975-77,82,83, 91,99
Trøndelag Exhibition 1978
Østland Exhibition 1979,81
UKS Spring Exhibition,
Kunstnerenes Hus 1974,81
Seljord Exhibition 1978,81
Festival Exhibition,Bergen 1981
Baltic Sea Biennale,Rostock 1984
Willebadessen ,Germany 1985
Bulgaria with Riksgalleriet 1985
P.P.Storms Students,
på Nationalgalleriet 1986
Heimdal Exhibition 1987,1992
Kunstsalon Wolfsberg,Zurich 1987
Skulptur ute,Kontraskjæret,Oslo 1988
Oslo Kunstforening 1989
Thorshavn,Faeroe Islands 1989
State University of New York 1990
Tønsberg billedgalleri 1991
Norsk Folkemuseum 1991
Asker Kunstforening 1992
Rothenburg,Germany 1993
Berlin 1993
Norske Bilder 93 1993
Telemark Kunstsenter 1993
Den Nordiske Copenhagen 1994
Modum Kunstforening 1995
Larvik Kunstforening 1995
Eiker Kunstforening 1996
Raulandsutstillingen 1997
Bærums Verk 1997
Bluesfestivalutstilling ,Notodden 1997
Skaugumåsen 1997
Vinje 1998
Galleri Falkum,Skien 1998
Galleri AG. Stange 1999
Galleri Heer 1999
Sandefjord Kunstforening 2000
Galleri Svalbard 2000
Gammel Kleppe 2000
Telemark Fylkesgalleri 2000
Det Gule Huset, Asker 2001
IKM,Oslo 2002
Asker Kunstforening 2003
Galleri Skaarer 2006
Bærums Verk 2006
Vinjeutstillinga 2007
Sommerutstillingen i Stavern 2007
Bærums Verk 2007-8-9
Galleri Falkum, Skien 2009
Gjøvik 2009
Elverum Kunstgalleri 2010
Lier Kommune 2010-2011
Kristiania torv 2010
Bekkestua Torg 2010-11
Småbildeutstillingen, Kunstnerforbundet 1995-2011
Kunstnerforeningen 2011
Kunstnerforbundet "Hundre" 2011
Åsnes kunstforening 2012
100års jubileumsutstilling, Notodden 2013
Frysjautstilling på BOA, Oslo 2017
Embellishments:
Mosvannspark,Stavanger 1981
Norsk Hydro,Notodden 1981
Nesodden Videregående Skole 1981
Husebyleiren,Oslo 1981
Nordstrand Skole 1983
Moelven Aldersenter 1985
Gravdal skole,Leknes 1986
Saltdal,-portrait of Erling Engan 1986
Telemark Politikammer,Porsgrunn 1986
Notodden market place 1988
City Hall of Sandvika 1992
FIR in Røyken 1992
The House for Culture in Harstad 1992
The faculty of Law University of Oslo 1995
The gouvernment building R5 1996
Sandvika Theater 1996
Straumen Kommune,
portrait ofE.Tverbak 1997
Bærums Verk 1997
Uldal vidaregåande skule 1998
Stange sentrum 2000
Eiksmarka skole,Bærum 2000
Rikshospitalet 2000
Residency of the world 2002
Relieff av Olav Kaste,Heddal 2002
Knut Hamsun videregående skole,Hamarøy 2002
Hurtigruta "Midnatsol" 2003
Jewel of the Seas 2004
Rica Ishavshotel, Tromsø 2006
Aker Brygge 2007
Skien 2009
Bærums Verk 2009
Lier Kommune 2011
Ekebergparken 2013
Eidfjord Kommune 2014
'Vidsyn', Vierli i Vinje Kommune 2017
Represented in:
Norsk Kulturråd
Nasjonalgalleriet
Riksgalleriet
Oslo kommunale kunstsamlinger
Stavanger Kommunes samlinger
Notodden Kommunes samlinger
Seljord Kunstforenings samlingar
Troms Fylkeskommune
Nordnorsk Kunstmuseum
Administrative Activities:
Co-founder of Frysja Art Center, Oslo 1968-71
Board Member of UKS 1973-75
Board Member of NBFO 1974-75
Board Member of International Association
of Arts (IAA) 1979-86
President of IAA 1983-86
Honorary President of IAA from 1986
Board Member of Oslo Kunstforening 1988-91
Member of Norsk Kulturråd 1989-92
(-leader of the section for visual art and craft
-leader of the section for visual environment)
Member of LOOCs Cultural Board (Olympic) 1989-91
Member of BONO's interim board 1992-93
President of BONO 1993-94
Member of the Division for
the Visual Environment in Norsk Kulturråd 1993-96
President of CIAGP 1994-95
Board member in The Norwegian Assosiation for legal rigts 1995-2002
Board member in The County Gallery of Telemark 1999-2003
Board member of Ingeborg andPer P. Storm's legacy 2000-2002
Leader of Atelier Nord 2006-2009
Board member of NORCODE 2009-2010
(UKS: Society of Young Artists,
NBFO: The Professional Union of Norwegian Visual Artists
Norsk Kulturråd: Norwegian Council of Culture
Kommune: Municipality
Samling: Collection,
Skole: School)