Christensen, Jeannette
Since the early 90's, Christensen has been working on installations, sculpture and photography, where a discussion about the concept of sculpture, time and materiality has been continuous. Quoting, appropriating and combining aspects from art history with the contemporary, arts place and presence in society are recurring interest. She works idea-based and not limited to specific media, but in a wide range of materials and techniques.
"I often find that although I am working on an idea without knowing exactly what it is I think, I am engaged in thinking an idea struggling to have me think it" (Chistopher Bollas, 1987 The Shadow of the Object: Psychoanalysis of the Unthought Known.)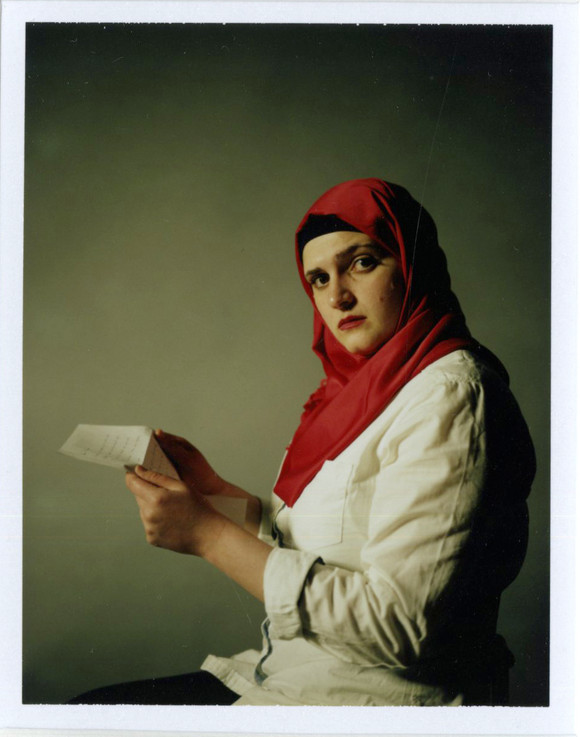 Woman Interrupted, polaroid 2017, Kunstplass 10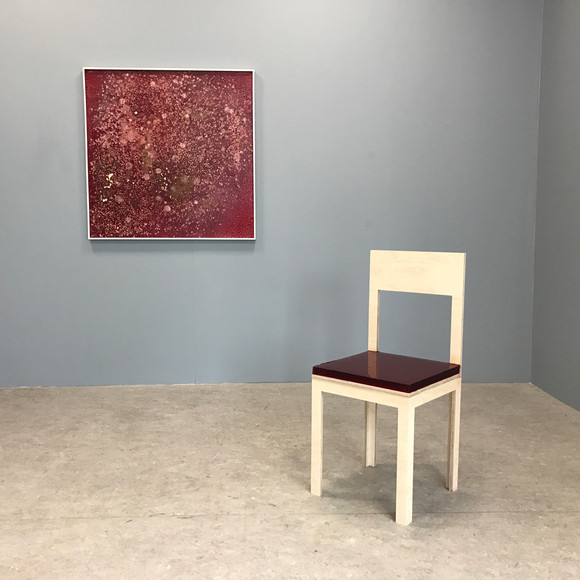 Woman Interrupted, Stol, gelé, "monokrom" av gelé med mugg. Kunstplass 10, 2017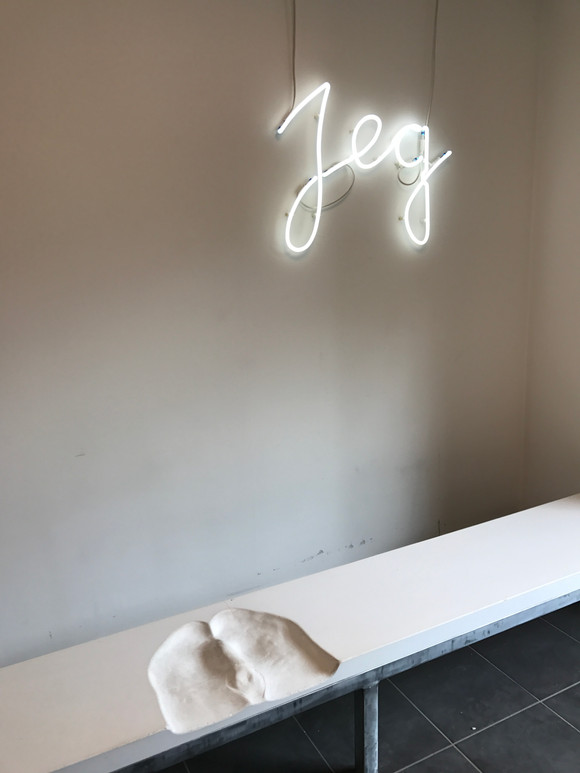 Jeg- er en variabel størrelse/ I- is a figure of varable scale. Statped, Huseby kompetansesenter, 2017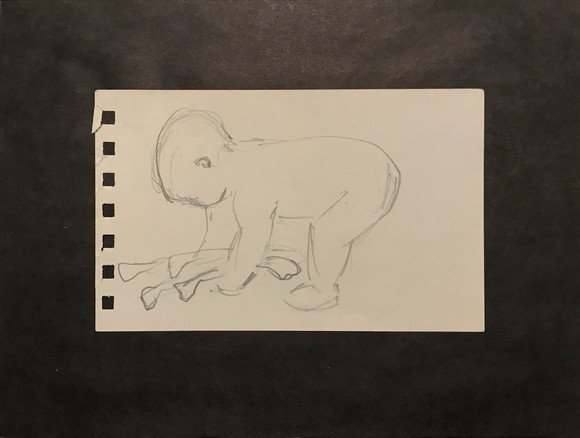 Etter Vigeland, Ephemerality - A Permanent Collection, Fakultet for kunst, musikk og design/UiB, 2017
Planned projects and exhibitions
The Commonly Owned. The Art Collection of Oslo Municipality
Guided tour Sunday 29th of April. I will be presenting The Scupture Garden I made for Granstangen skole at Furuset.
http://www.kunstnerneshus.no/det-felles-eide-i-offentlige-rom-guidete-kunstturer/
Neon, Argon, Krypton, Bærum Kunsthall (upcoming Oct.-Nov.-18)
CV
CURRICULUM VITAE
Jeannette Christensen
jeannettechristensen.no
Education
1978-79 Bergen Kunst- og håndverksskole, Graphic Design
1979-82 Vestlandets Kunstakademi, Bergen
1982-83 École Nationale Supérieure des Beaux-Arts, Paris
1984-85 Vestlandets Kunstakademi, Bergen
Solo exhibitions
2017
Woman Interrupted, Kunstplass 10, Oslo
2014
Holding Balance, Kunstnerforbundet, Oslo
2009
Liquid Archive, Kunstnerforbundet, Oslo
2008
I – is a figure of variable scale, Kunsthallen, Galleri Trafo, Asker
2006
Dead man talking, Vigelandmuseet, Oslo
2002
Christensen / Tomren, The Museum of Contemporary Art, The National Museum, Oslo
1999
Burning down the house, Project room, Kunstnernes Hus, Oslo
1998
White Lies, c/o-Atle Gerhardsen, Oslo
1996
Tiden lager alle sår, c/o-Atle Gerhardsen, Oslo
Live and let Die, Sommertid, c/o-Atle Gerhardsen, Oslo
1995
Waiting for Columbus, ROOM, New York
Helsingfors konsthall, the studio
Ostentatio, Galleri UKS, Oslo
1994
The Passing of Time, Galleri F15, Moss
Group exhibitions
2018
Neon, Argon, Krypton, Bærum Kunsthall (upcoming Oct-Nov.)
Between the Lines, Reception Gallery, KHiO
2016
Chanting Chirping (Chiroptera) All Clamoring Elevator Dings, The Munch museum, Tøyen
Drawing for Freedom, Akershus kunstsenter, Lillestrøm
2015
The Annual Spring Exhibition (Vårutstillingen) Forbundet Frie Fotografer and Fotogalleriet, Oslo
Poor Art- Rich Legacy. Arte Povera and Parallel Practices 1968-2015
The Museum of Contemporary Art, The National Museum, Oslo
To Ramallah and back, again, Academy Room, Kunstnernes Hus
2014
Hold steinhardt fast på greia di, Kunsthall Stavanger
The influence of feminist ideas on Norwegian art, 1968-89
2013
Proximity and Distance. 22 July reflected in Art. Deichman Main Library, Oslo
Hold steinhardt fast på greia di, Kunsthall Oslo.
The influence of feminist ideas on Norwegian art, 1968-89
To Ramallah and back, Søylegalleriet, Kunsthøgskolen i Oslo
2012
Learning for Life, Henie Onstad Kunstsenter, Høvikodden
2010
Goddesses, Part II of "Women Who Influence Art"
The Museum of Contemporary Art, The National Museum, Oslo
God natt da du…, Surrealism in Norwegian Art 1930-2010, The Stenersen museum, Oslo
2009
Lessons in the Art of Falling- Photographs of Norweigan Performance and Process Art 1966-2009,
Preus Museum, Horten
2008
Rykk tilbake til start, 0047 OSLO
2006
Beauty for Ashes, Henie Onstad kunstsenter, Høvikodden
Project Room 93-06, Galleri F15 Moss, Jubileumsutstilling i Moss bryggerihaller
2005
Alle snakker om museet, Kunst II, Nasjonalmuseet for kunst, arkitektur og design, Oslo
2004
Fortapelsens kronologier, Sørlandets Kunstmuseum, Kristiansand
Helvetestind, Nittedal kunstforening
2003
In residence, Norwegische botschaft Berlin
Min Gud, min Gud… Kulturkirken Jakob, Oslo
Women 2003, billboardprosjekt, København
2001
Yokohama International Triennale for Contemporary Art, Japan
7 Ambivalent Stories about Gender and Identity, Trondheim Kunstmuseum
2000
7 AmbivalentStories about Gender and Identity, Lillehammer Kunstmuseum
Looking Back, Bard College, New York
The Glass Millenium, Kulturtorget Sølvberget, Stavanger
Overgaden, Kulturministeriets utstillingshus for Nutidigkunst, København
1999
Kunsthalle Feldbach, Steierischer Herbst, Østerrike
Bill Maynes Gallery, New York
Munchhaus, Warnemünde, Germany
c/o-Atle Gerhardsen, Oslo
Kunstnerforbundet, Oslo
Not just for fun, Living Arts Museum, Reykjavik, Island
1998
Patterns of intention, Gallery OSMOS, Berlin
Misplaced mentalities, Oulo City Art Museum, Finland
Attrå, Virserum Konsthall, Sverige
1997
10, Lunds Konsthall, Sverige
Trade Routes, 2nd Johannesburg Bienniale 1997, South Africa
Two to two, Bergens kunstforening, Bergen
nor.a.way, Stadtgalerie Kiel, Germany
1996
ROOM, New York
Brudd, Bergens kunstforening, Bergen
Carl von.., Borås Konstmuseum, Sverige
Container 96, Art Across Oceans, Copenhagen
1995
Stockholm Art Hotel
Port of Art, Ars Baltica, Kotka, Finland
Steen og Strøm, storefront window exhibition, Oslo
1994
UKS vårutstilling
Prosjekt i Gamlebyen and Galleri Rom for Arkitektur
Hommage à Gertrud, Galleri F15, Moss
Die Augen Essen mit, Schloss Neuhausen, Tyskland
1993
In their own Image, P.S.1 Museum, New York
1992
Visningsrommet USF, Bergen
Pori Art Museum, Pori, Finland
1991
Billedrom, UKS vårutstilling
1990
Sommeratelier, Young Art from Europe, Hannover, Tyskland
Mellom rommene, Bergen
Public Commissions/ Competitions
2017 Ephemerality – A Permanent Collection, Fakultet for kunst, musikk og design/UiB, Bergen
2017 Statsped, Huseby kompetansesenter, Innkjøp, KORO
2015/16 Ullerntunet bo- og behandlingssenter, lukket konkurranse, Oslo kommune, kulturetaten
2015 Granstangen skole, Oslo. Vinner av lukket konkurranse.
2010 Gulating Lagmannsrett, Bergen, lukket konkurranse.
2008 Sentrum videregående skole, Kongsvinger. Direkte oppdrag.
2007 Gjøvik videregående skole, Gjøvik. Vinner av lukket konkurranse
2003 Østgård skole, Romerike. Direkte oppdrag
1985 Fusa sjukeheim, Fusa. Innkjøp
Collections
Nasjonalmuseet for kunst, arkitektur og design, Oslo
Sørlandets kunstmuseum
Trondheim kunstmuseum
Museet for samtidskunst, Oslo
Norsk kulturråd
Høyskolen i Agder, Gimlemoen, Kristiansand
Clarion Hotel, Stockholm
Statoil
Christian Michelsens Institutt, Bergen
Boards and Committees
2015-2018 Varamedlem Program for kunstnerisk utviklingsarbeid
2010-2014 Styremedlem Program for kunstnerisk utviklingsarbeid
2001-2009 Norsk kulturråds faglige utvalg for billedkunst
2001-2002 Norsk kulturråds faglige utvalg Rom for kunst
2001-2004 Styremedlem OCA, Office for Contemporary Art
1996-1999 Jury, P.S.1, New York og Bethanien, Berlin
1995-1996 Styremedlem UKS, Unge kunstneres Samfunn
1994-1995 Styreleder UKS, Unge kunstneres Samfunn
Consultant for public commisions
2008 Senter for utviklingssamarbeid, NORAD, KORO
2007 Den Kgl norske ambassade's residens i Kbh, KORO
2002-2004 Innkjøpskomiteen runde III, KORO
2005-2007 Innkjøpskomiteen runde IV, KORO
Teaching
2010- Professor, The Academy of Fine Art, Oslo National Academy of the Arts, KHIO
2009 Professorvikariat skulptur og installasjon, høstsemesteret, Kunstakademiet, KHiO
2000-2007 Professor II, Bergen Academy of Art and Design, Dep. of Fine Art, KHiB
2005, 2006, 2008 veileder, Kunstakademiet, Oslo
1998-2000 Gjesteprofessor, Leder av Skolen for Mur og Rum, Det Kgl. Danske Kunstakademi, København
2000, 2003 Sensor, Keramikk, Kunsthøgskolen i Bergen, KHIB
1999, 2008 Sensor, tekstil, Kunsthøgskolen i Oslo, KHIO
1998 gjestelærer Kunstakademiet, Kunsthøgskolen i Bergen, KHIB
1997 gjestelærer Kunstakademiet, Oslo
1997 Det Kgl. Danske Kunstakademi, Grunduddannelsen, skulptur, høstsemesteret
Grants
2008 Statens diversestipend
2006 Statens Garantiinntekt
2006, 08 Norsk Kulturråd, prosjektstøtte
2003-2005, 1996-1998 Statens 3-årige arbeidsstipend
2002, -01, -99, -95, -93, -92 Vederlagsfondets stipend
2000 Statens reise el. studiestipend
1999, -97 Vederlagsfondets prosjektstøtte
1996, 2001, -02, -05 Kulturdepartementets utstillingsstipend
1992-1993 P.S.1, International Studio Programme, New York
1988 Norsk kulturråds utstyrsstøtte
1986 Anton Chr. Houens legat
1982-83 Fransk statsstipend
Bibliography, one person exhibition catalogues and related publications, monographies and books.
1996 -Jeannette Christensen, Jelly works 1990-1996. Tekst av Jyrki Siukonen, Mieke Bal, Gertrud Sandqvist and Eero Laajo. Engelsk (16 s., ill.)
1997 -Nor.a.way, Young Art from Norway, Stadtgalerie im Kulturviertel/Sophienhof, Kiel. Tekst av Knut Nievers, Claus Friede, Jan Brockmann, Peter Herbstreuth. Engelsk og tysk. Nieswand Verlag (87 s. ill.)
1998 -Bal, Mieke, Jeannette Christensen's Time, Kulturtekster 11, Senter for europeiske kulturstudier, University of Bergen (64 s., ill.)
1999 -Bal, Mieke, Quoting Carravaggio: Contemporary Art, Preposterous History, Chicago/London: The University of Chicago Press (ss. xx-xx, ill.)
1999 -Jeannette Christensen / Kim Soo-ja, Steirischer Herbst 99, Kunsthalle Feldbach. Tekst av Mieke Bal og Kim Airyung. Engelsk og tysk (44 s., ill.)
2000 -Bal, Mieke, "Fantasy and the Mirror of Nature". Særtrykk Imagination und Wirklichkeit. Zum Verhältnis von mentalen und realen Bildern in der Kunst der frühen Neuzeit, Mainz am Rhein: Verlag Philipp Von Zabern. (xx s.)
2000 -Lund, Jørgen, " Jeannette Christensen i samtale med Jørgen Lund", Norsk kunstårbok, Oslo: Bonytt forlag. Norsk og engelsk (s. 20-25, ill.)
2001 -Bal, Mieke, Résurgences Baroques, les trajectoires d'un processus transculturel. Collection essais. Pour une histoire pervertie, Paris: La Lettre volée, (s. 61-87, ill.)
2002 -Jeannette Christensen og Anders Tomren, Museet for samtidskunst, Oslo. Tekst av Anne Karin Jortveit. Norsk og engelsk. Terskel nr. 23 (34 s., ill.)
2002 -Bal, Mieke, Kulturanalyse, Frankfurt a.M: Suhrkamp Verlag Frankfurt am Main 2002 (ill.)
2002 -Bal, Mieke, Travelling Concepts in the Humanities: A Rough Guide, Toronto: University of Toronto Press (s.369, ill.)
2004 -Fortapelsens kronologier (Christensen, Nyborg, Wælgaard), Sørlandets kunstmuseum. Tekst av Erlend G. Høyersten (26 s., ill.)
2005 -Jeannette Christensen, Et eget rom, leporello. Tekst av Jeannette Christensen,engelsk og tysk. Utgitt av Edvard-Munch-Haus, Warnemünde.
2006 -Bal, Mieke, A Mieke Bal Reader, Chicago: University of Chicago Press (s. xx-xx, ill.)
2006 -Bernstein, Jay M., Against Voluptous Bodies, Late Modernism and the Meaning of Painting, Stanford: Stanford University Press (. 117-21 og s. 143)
2006 -Beauty for Ashes (Christensen, Nyborg, Wælgaard), Henie-Onstad kunstsenter, Oslo. Tekst av Benedicte Sunde, forord av Karin Hellandsjø, Norsk og engelsk (64 s., ill.)
2009 -Bal, Mieke og Jeannette Christensen, Fragments of Matter, Kunsthøgskolen i Bergen (s.88., ill.)
2009 -Toft-Eriksen, Lars, God natt da du… Surrealisme i norsk kunst 1930-2010, Stenersenmuseet. Norsk tekst.
2012 -Ustvedt, Øystein, Ny norsk kunst etter 1990, Fagbokforlaget, Norsk med engelsk sammendrag.
2013 -Christensen, Jeannette, Nærhet og Distanse. 22.juli reflektert i kunsten, Kunsthøgskolen i Oslo. Tekst på norsk og engelsk, ill.
2014 -Danbolt, Gunnar, Frå modernisme til det kontemporære: tendensar i norsk samtidskunst etter 1990, Samlaget. Norsk tekst.
2015 -Nasjonalmuseet, Høydepunkter, Kunst fra 1945 til i dag. Tekst på norsk, illustrert. Utgitt av Nasjonalmuseet
2016 -Fanfare #7, Det seksuelle nummeret. Foto, Jeannette Christensen: Me + Mapplethorpe + Munch (Dressed for success)
-Christensen, Jeannette & Austbø, Anne Marit, Drawing for Freedom. Published by the Norwegian Helsinki Committee. Text in English, ill.
2017 -Christensen, Jeannette, The Passing of Time, Oslo National Academy of the Arts. Text in English by Gjesdal, Kristin. Ill.