Mossige, Cecilie
Acrylic paintings, drawings and ceramic objects
Through my work, I seek to establish some sort of fragile thought connections, between man's everyday actions, our daily work, and the overall structure of nature itself. At the same time, I'm inviting the forces of physics, and nature itself, to make the artworks together with me. I may make my artistic choices grounded in natural mathematical systems, or maybe follow the natural lines in the wood I paint on.
This way, I am hoping to remind the viewer about the fact that we all are nature, and that nature is physics. The principles for beauty really includes some elements of magic and mystery.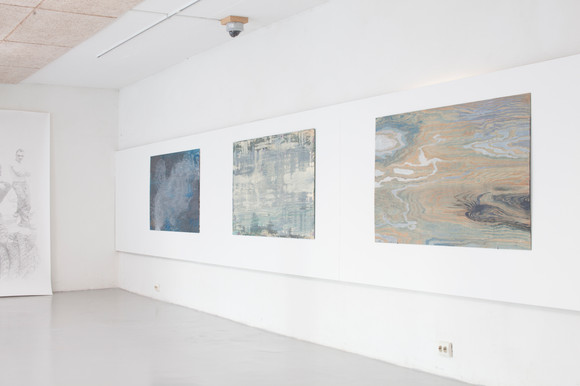 Fra utstillingen HAUD 2016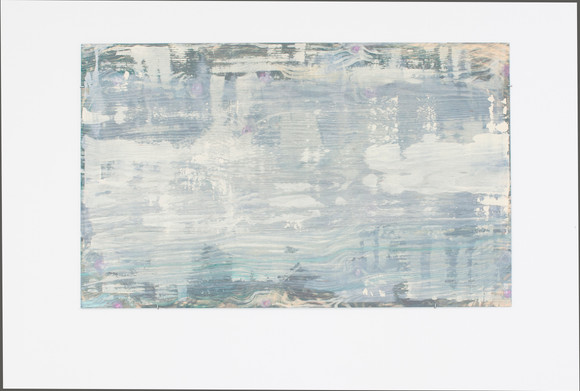 GR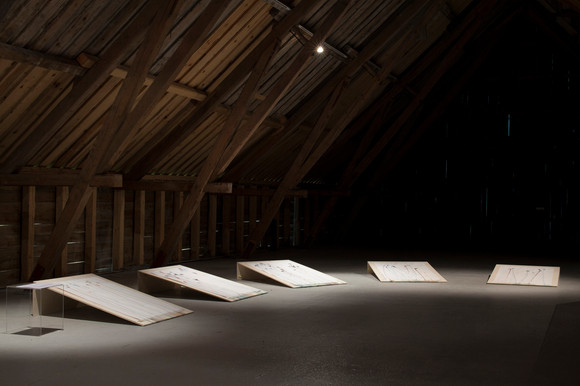 Serien "Obrestad Fyr, vinteren 2015-16". Frossen akvarell. Stedsspesifikt verk, Hå gamle prestegård.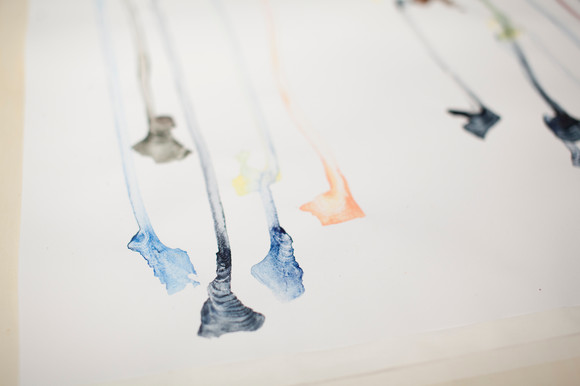 Utsnitt, "Obrestad Fyr, vinteren 2015-16"
Planned projects and exhibitions
Local shows at my studio, Mossige ArtSpace:
2018 May: "Waves". Acrylic paintings on plywood.
2018 August: «Carbon». Ceramics, watercolour, acrylic on plywood.
2018 December: «The Local Universe» Small scale paintings.
2019 February: «Seeds, Crystals» Watercolour, acrylic on plywood, ceramics.
CV
Education:
1997 – 2002 Oslo National Academy of the Arts/ Ceramic dept, MFA
1995 – 1997 Oslo Drawing and Painting School
Groupshows, Norway:
2016 Hå gamle prestegård, w/ Magny Tjelta og Gunn Tjensvold, «HAUD».
2016 Neighbourhood local show, Disen Art Studio Collective
2016 Oslo Open/ Disen
2015 Anarchist Christmas Show, Akershus Kunstsenter
2015 SHINE Trondheim, Works on paper
2014 Summer exhibition, Kemt Oslo, curator Aurora Aspen
2012 The Company Show, Galleri Neo, Stavanger
2008 "A World of Folk", Stavanger, curator Li Edelkoort
2008 New Kjeldaas Gallery, Oslo, Opening exhibition
2007 Molde Art Association, Christmas exhibition
2007 Acanthus Art Park, Risør, "Creative Force"
2005 Kunstnerforbundet, Oslo, "Ceramic Art – 3 young artists"
2005 madeby:, Oslo, "Spring exhibition"
2004 Akershus Art Center – one year travelling exhibition, "I"
2003 Blomquist, Oslo, "Staff & Student"
2002 Hå gamle prestegård, Jæren, "B + O 2002"
2002 Museum of applied arts, Oslo, "Exam Show SHKS"
2001 Vulkan, Oslo, "Underway"
2000 Gallery 21:24, Oslo, "Uuu. Sikker."
Juried shows, Norway:
2007 Museum of applied Arts, Oslo, "Triennale 2007"
2007 Den Gamle Logen, Oslo, "Smykk meg 2007"
2003 Town House Gallery, Oslo, "Norwegian Clay"
Juried shows, global:
2008 Denmark´s Ceramic Museum, Grimmerhus, "Triennale 2007"
2004-5 China -USA, "Norwegian Clay", Travelling exhibition
2003 München, Germany, "TALENTE 2003"
Solo shows:
2017 HAUD, Mossige+Mossige, Oslo
2013 Summer show, Disen Kaffe&Brød, Oslo
2011 Kemt, Oslo
2007 Artist Centre Møre-/Romsdal, "Blank og hard, knuselig og rar"
2003 Drøbak Art Assosiacion, "it figures…"
Public art/ private collection
2008 Invited to closed competition, Vestby School
2001 Integrated artworks in private homes
Stipender
2007 Statens etableringsstipend
2006 Utstillingsstøtte, Norsk Kulturråd
2003 Statens materialstipend
2003 Debutantstøtte, Norsk Kulturråd