Opstad, Kirsten
Painting, drawing, installation
Visual arist graduate of art school in Oslo, the National Art Academy in Oslo, Academy of Fine Arts, Vienna, and Aschehougs author school.
Opstad is a versatile artist who works with painting, drawing, installation and poetry.
She works with processes and series. Over time she has worked with portraits that reflect the many facets of being human. She is fascinated by emptiness and loneliness. The portraits occupy a turmoil, precisely because they convey the immediate and unvarnished.
Opstad is fascinated by everyday life; routines, rhythms and things we own. By zooming in on the details she shows something universal in the objects that surround us.
The memory has invisible roots beneath our feet, like a tree, said Opstad. She is interested in memmories and researching the difference between colletive and private memories: The sum of sensations, smells, sounds and tastes – a seemingly random series of events that have brought us where we are today.
Opstad lives and works in Oslo.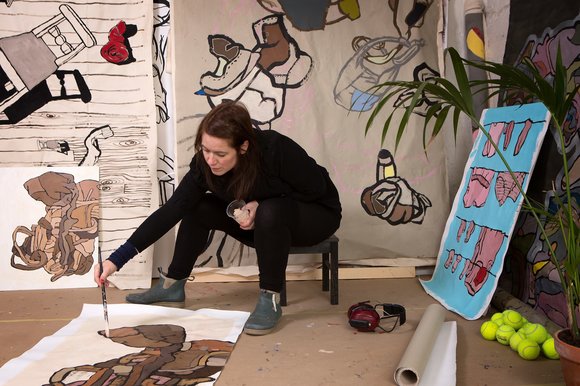 På atelier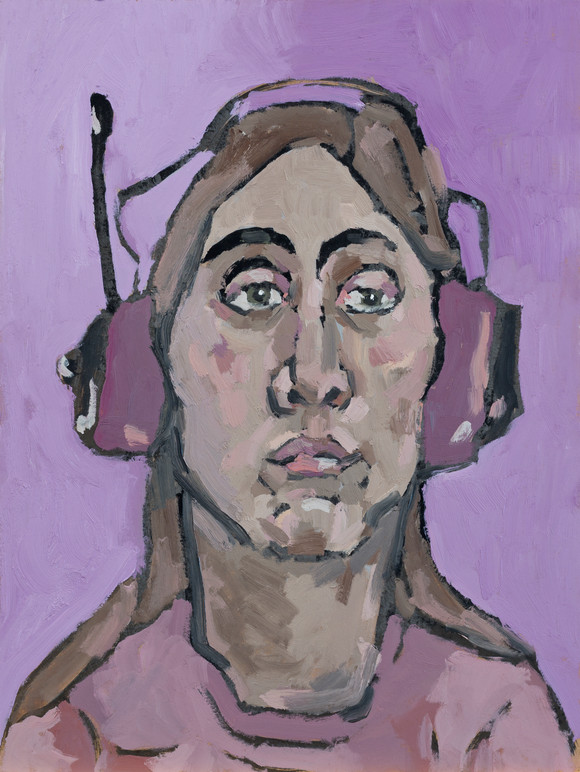 Portrett. 20x30cm. Olje på lerret. 2017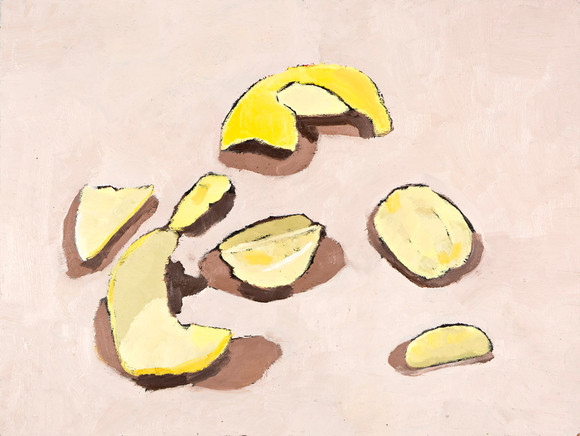 Sitrongult. Olje på tre. 30x40cm.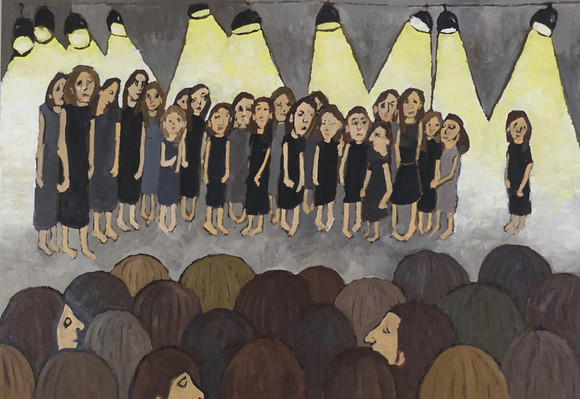 Solisten. Olje på tre. 70 x 100 cm. 2018
Planned projects and exhibitions
2019
Haugesund kunstforening
2018
Ryfylke kunstlag, 40 års-jubileumsutstilling
I BAG you,Kunstraum am Schauplatz, Wien
Tenthouse Spring Depot 2018
Ski kunstforening, Ski rådhus
Kragerø kunstforening
Trosterudvillaen
40 års utstilling/ Trosterudlåven
CV
(2019) Haugesund kunstforening (2018) Kragerø kunstforening, Ski kunstforening, IBAGyou/ Kunstraum am Schauplatz, Wien. Tenthouse Spring Depot 2018, Ryfylket kunstlag (2017)Drøbak kunstforening, Divadlo na cucky/The Czech Republic, Brusfabrikken på Øya/Kragerø, Trosterudlåven, Hagegata 46 (Utsmykning), Bærum kulturhus, Window Box/ Pushwagner Galleri, Furuki/ Mashiko Japan, Sekka Borderless Space/Tokyo (2016) Munchs vinteratelier på Ekely, Klepp Kunstforening, Lynx i Frognerparken i Oslo, Reed Project Gallery i Stavanger (2014) Ryfylkets vandreutstilling, Stavanger Kunstmuseum, (2010) Høstutstillingen, Kunstnernes Hus, Hå gamle prestegård (2009) Cité Internationale des Arts i Paris, (2006) Galleri 21:25 i Oslo, Bomuldsfabriken Kunsthall i Arendal, (2003) Stenersenmuseet. Publikasjoner: (2018) Bøygen. Asfalt (2017) Faceless artist (2016) Uncertain States Scandinavia Vol 3 (2015) Naturen/Det Heslige, Bøygen (2013) Å våga seg ut i ord, Samlaget (2011) Gruppe ti, Kolon