Bunes Widing, Sonja M.
Drawing and painting
Light, life and geometry – darkness, death and chaos.
Two geometrical structures, based on golden section proportions and slightly shifted are the ground for these dawings. The light appears as a consequence of the combination of contrasts between darkness and light, and the gradiations of colour moving between them. Dynamic vibrations are the result of intense drawing on the rock before printing followed by layers of energetic colour pencil lines on the print.
Quivering energy through my body. Atmospheric calm in my mind. Eyes focused. Knees low. A little smile. Vibrating spacious calm. Heavy darkness. Light light. Contrary motion. Simultaneously. Up-down. Heaven-earth. Out-in. Straight-bowed. Fast-slow. Spontaneous-deliberate…
The space outside reflects what is inside.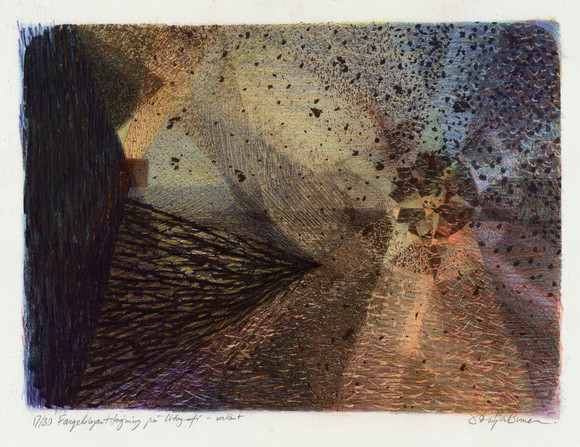 Lys, liv og geometri. Håndkolorert litografi Variasjon 17/30. 2017. 28x38cm.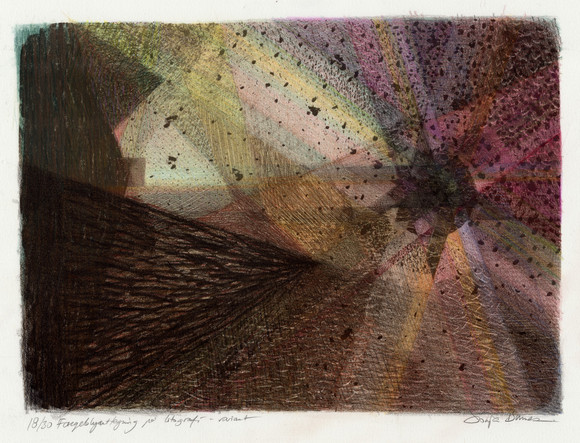 Lys, liv og geometri. Håndkolorert litografi Variasjon 18/30. 2017. 28x38cm.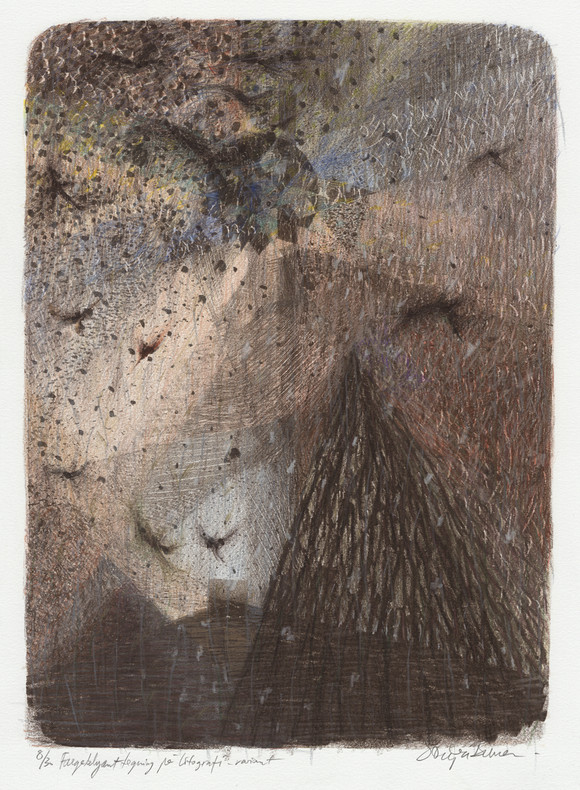 Lys, liv og geometri. Håndkolorert litografi Variasjon 8/30. 2017. 28x38cm.
Planned projects and exhibitions
September 2018: Exhibition at H12 Galleriverkstedet.
December 2018: Group exhibition at Galleri Dalype.
CV
EXHIBITIONS
2017 Borøy Rammeri og Mikrogalleri, Tvedestrand.
2010+11+14 Galleri CUBEN, Oslo.
2010 Pastillen ORK.
2009 BOA/Billedkunstnerne i Oslo og Akershus.
2007+2009 OsloOpen.
2007 Zen Bok & Musikk, Oslo.
2003-2006 Annual exhibitions in Årjäng, Sweden:
The House at Strand og Studio Fridhem.
1999+2001+05 Galleri Passagen, Årjängs Public Library, Sweden.
2005 Kyrkerud Folkhögskola, Årjäng, Sweden.
2001 Konsthallen in Arvika, Sweden.
2000 Galleri Passagen, Sweden. Solo exhibition, arr.: /Kulturnämnden.
2000 EveryBase AB, Årjäng, Sweden.
1996 Galleri Greenwich Village, Oslo. Solo exhibition.
1991 Gallery Alpha, West Vancouver, B.C, Canada. Fertility Rites.
1991 Universal Eating Society Art Gallery, Vancouver, B.C., Canada.
1989-1991 Concourse Gallery, Vancouver, B.C., Canada. (ECCIAD)
1990 Kunstnerforbundet i Oslo. Finnmarkslaget 50 year anniversary.
1989 Galleri Bakkehavn Gård, Oslo.
PUBLICATIONS
2011 Ut Med Det, by Toril Brekke. Various illustrations.
2011 «Ikke Stikka», SMI. Various illustrations.
2005 The China Institute, New York. "Mongolian bow", published in the book
«From Silk to oil: Cross-Cultural Connections Along the Silk Road.»
ADVANCED TRAINING
Advanced training for artists, grants from Kunsthøyskolen i Oslo:
2004 spring Colour, surface, light – perseption and production, at KHiB.
2004 spring Flash MX for art projects 1 and 2, Atelier Nord, Oslo.
2003 Film and narration, a KHiO.
EDUCATION
2010-16 Christiania friAkademi (Christiania Kunstakademi), Private art academy, Oslo. Part time/evening classes. Drawing and painting. Also teaching.
2007-10 Christiania friAkademi, Oslo. Drawing and painting, Teachers assistant.
1998-91 Emily Carr College of Art & Design, Vancouver, B.C., Canada.
Diploma of Fine Art, Studio Major. Drawing, printmaking and painting.
1986-88 Oslo Tegne- og Maleskole. Drawing, painting and sculpture.