First Supper Symposium
Relational and Performative Praxis
FSS is a collaborative art project and grassroots organization based in Oslo that investigates art activism, feminism and critical social issues. We understand ourselves as part of the "social turn" in contemporary art, with a focus on the complex relationship between art and society, activism and politics, democracy and neoliberalism. Our aim is to move the practice and research of contemporary art into public space and life, thus understanding our project as a performative, experimental and flexible platform where discussions and new knowledge is being produced. Democracy is a process, not a static system, and therefore needs to be continually addressed, questioned, dissected, related and reshaped.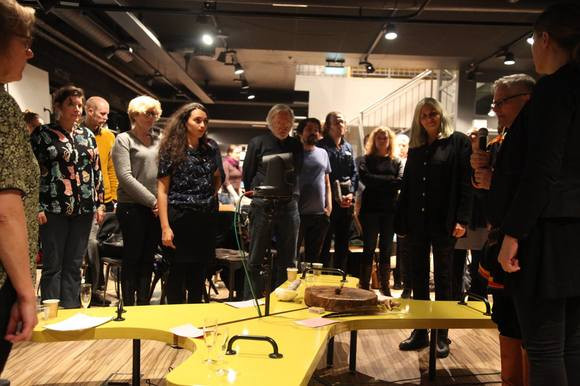 PROLOGUE 2: Art and Media Activism – Strategies for Political Change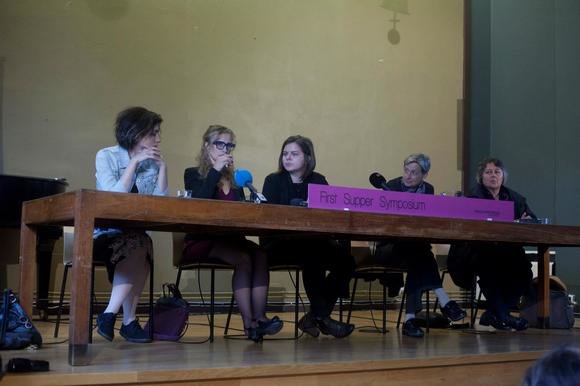 Pussy Riot, Judith Butler, Rosi Braidotti at press conference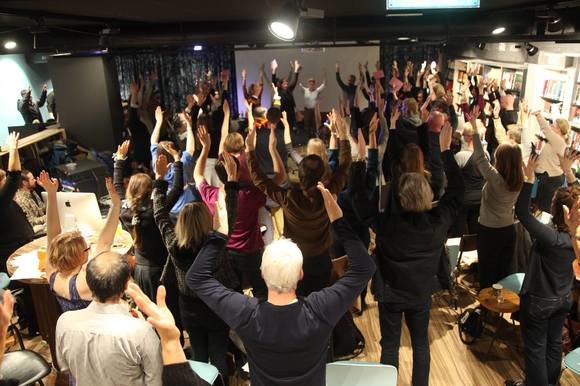 PROLOGUE 2: Art and Media Activism – Strategies for Political Change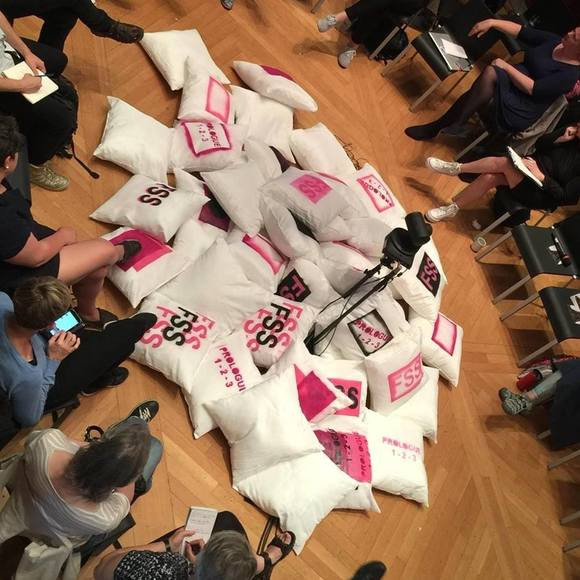 PROLOGUE 1: Art Activism – White Cube vs Public Space
CV
2017
PROLOGUE 3: ART ACTIVISM, FEMINISM, TRANSCULTURAL MOVEMENTS. A conversation about current activist and feminist perspectives in Scandinavia and the Middle East.
With Nefise Özkal Lorentzen, Mohamed Soueid, Fatemeh Ekhtesari and Mehdi Mousavi, Manal AlDowayan, Lamia Abi Azar/Zoukak Company, Javad Parsa, Amina Sahan, Bruce W. Ferguson and Tone Olaf Nielsen. Moderator: Marianne Bøe. Intercultural Museum.
2016
PROLOGUE 1: ART ACTIVISM – WHITE CUBE VS PUBLIC SPACE.
With Juan Puntes,Ted Kerr, Mikkel Bolt, Zanele Muholi, Kate Pendry, Pia Maria Roll and Marius von der Fehr. National Museum of Norway and KORO.
PROLOGUE 2: ART AND MEDIA ACTIVISM – STRATEGIES FOR POLITICAL CHANGE.
With Eirik Myrhaug, Center for Political Beauty, The Yes Men, Ekaterina Sharova, Deep Dish TV, Shannon Jackson, Media Impact Moscow, Pia Maria Roll, Marius von der Fehr and WhiteBox. Tøyen Deichmanske Library
2014
PUSSY RIOT MEETS JUDITH BUTLER AND ROSI BRAIDOTTI – SYMPOSIUM.
With Natalie Hope O'Donnell, Ekaterina Sharova, Viktor Misiano, Rosi Braidotti, Judith Butler, Nadezhda Tolokonnikova and Maria Ajolkhina from Pussy Riot, and several parallel events.
2013
CREATING SPACES FOR FEMALE VOICES IN THE ART WORLD – SYMPOSIUM.
With Judy Chicago, Andrew Perchuk, Dr. Elizabeth Sackler, Xabier Arakistain, Prof. David McCarthy, Lotte Konow Lund, A K Dolven, Wenche Gulbransen, Kate Pendry, Ane Lan, FRANK, Camille Norment, Geir Haraldseth, Natalie Hope O'Donnell, Eline McGeorge, Hannah Helseth and Will Bradley.