Nørsteng, Sofie
Ceramic objects
In my artistic practice I make objects in ceramics.
The occasion for my exploration is a continuing interest in the body,
relationships, transformation and biodiversity.
My project is about how we can understand bodily actions that are not
guided by conceptual thoughts. I work methodically with
improvisation and i am interested in producing objects in which
psyche and bodily experiences meet and recapture as natural elements.
The object of experience is fundamental to my artistic practice. The
treatment of the materials and processes required to transform the
shape and resistance of the raw materials implies a simultaneous
reflexive attachment to the body as a container of human experience,
experiences and memory.
Since 2015 I have explored and worked with different types of clay
and the inherent property and color of the clay. With improvisational
working methods, I exercise ideas about balance and growth
principles. Due to the variation that occurs during the work, I explore
the objects as relationships and how these can be presented
individually and as assemblies.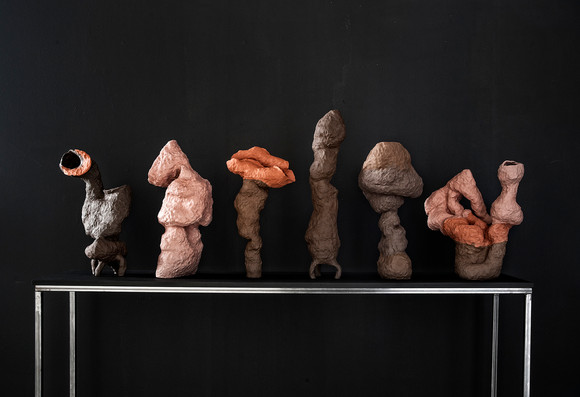 Sofie Nørsteng, Øvelse i poesi 153cmx40cmx153cm, Årsutstillingen 2016,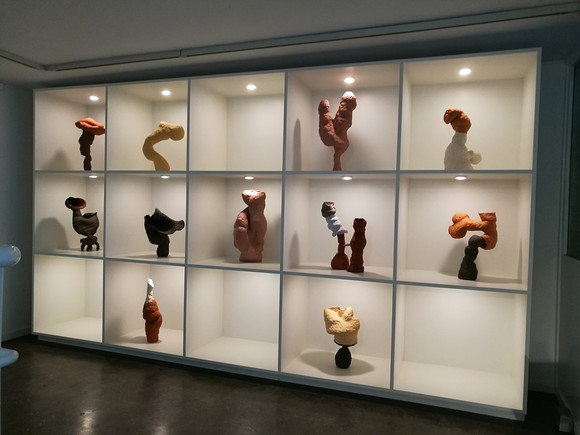 Sofie Nørsteng, Fortelling i utfoldelse, 2mx3m, Kunstnerforbundet Omformulerte forekomster 2017
Planned projects and exhibitions
Exhibition:
Group exhibition with Therese Mathiesen at Galleri Autinom, Oslo. January 2018
Solo Exhibition, Galleri Fjordheim, Biri. May 2018
Group Exhibition with Belinda Blignaut, Oppland Artcenter, Lillehammer. March 2019
CV
Education
2012-2014 Master degree. Oslo National Academy of arts, Ceramics Department
2008-2011 Bachelor degree. Oslo National Academy of arts, Ceramics Department
2006-2007 Fine Art Department, 1BA. Gerrit Rietveld Academie Art. Amsterdam
2002-2006 Artschool, Billedskolen. Copenhagen
Grant and prize
2017 Project support , Exercise in poetry , Art council Norway 2017 Decleration of exellence , Zagreb Clay fest , Croatia 2017 Exhibition grant at Galleri Fjordheim, Norway 2016 Prize for best art work, The relief fund for visual artist (BKH) at The Annual Exhibition of contemporary crafts 2016, Norway, 2015-17 Government grants for artists; 3 years work grant for younger and newly established artists 2014 Scholarship , The relief fund for visual artist (BKH)
Symposium
2015 Gmunden keramik symposium, Austria
Solo exhibition
2018 Galleri Fjordheim , Biri, Norway
Group Exhibition
2019 Oppland Artcenter , Sofie Nørsteng and Belinda Blignaut , Lillehammer, Norway
2018 Galleri Autonom, Sofie Nørsteng and Therese Mathiesen, Oslo, Norway
2017 Volkskundemuseum , Austria
2017 MIKS 17 , Zagreb fair , Croatia
2017 Zagreb Ex-tempore, clay fest , Croatia
2017 Reformulated occurences, Kunstnerforbundet, Oslo, Norway
2017 Deutschvilla Strobl , Austria
2017 Keramion Frechen , Germany
2016 Annual exhibition for contemporary crafts 2016, Hydrogen factory, Norway
2016 MIC The international museum of ceramics in Faenza, Italy
2016 Expo Kunstat Castle , Czech Republic
2015 Ausstelling,Keramiksymposium Gmunden, Kunstwerkstatt der Gmundner
Keramik Manufaktur , Austria
2014 Knock knock 2014, Carl Berner Prosjektrom, Sculpture Arena Öst, Oslo,Norway
2014 Gjøvik kunstforening. Autumn Exhibition, Kauffeldtgården, Gjøvik, Norway
2014 MA Degree show, Oslo National Academy of arts, Norway
2014 Ceramic Object, Søylegalleriet , Oslo, Norway
2013 It`sa girl, Akershus kunstnersenter, Lillestrom, Norway
2011 BA Degree show Kunstfag, Oslo National Academy of arts, Norway
2009 Icing generation, Porsgrunn Porcelain Biennale, Norway
2009 Lactuca, Gallery NB8, Oslo, Norway
2005 Summer Exhibition, Billedskolen, Copenhagen
2010 Book Title: Text Matter; Publication of texts in book form, by students of the Oslo
national Academy of arts. Editor: Nina Skjønsby