Lorentzen, Mette
painting
I work with oilpainting. I am interested in colour and form. I paint what I see and try to make the form and the details visually comprehensible, without working too tedious on the details. I never paint from a photo. I consider the changeable character of the motif as an interesting challenge in the act of painting.
My studio is my garden and I find my motifs among the plants that grow in my garden. I am fascinated by the beauty and extraordinarity of single plants, but also the chaotic structure of interfering plants.
The garden is my world. It represents chaos and order, life and death. The garden is also a protected area for growing selected plants and a comtemplative place for painting.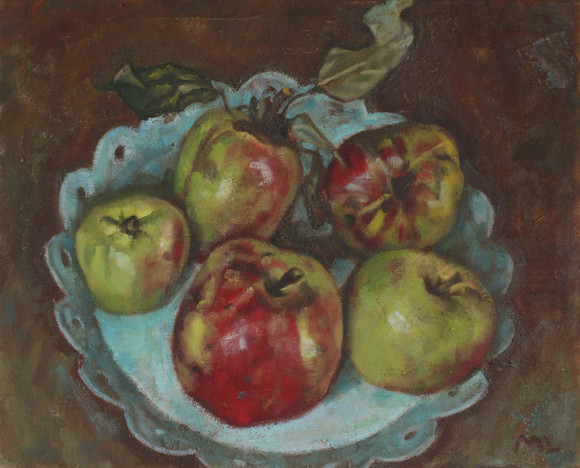 Epler på turkis fat, olje på lerret, 28 x 35 cm, 2017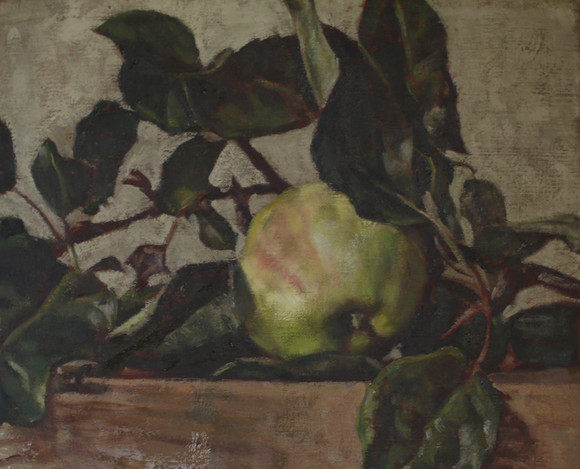 Gul gravensten, olje på lerret, 22x27cm, 2017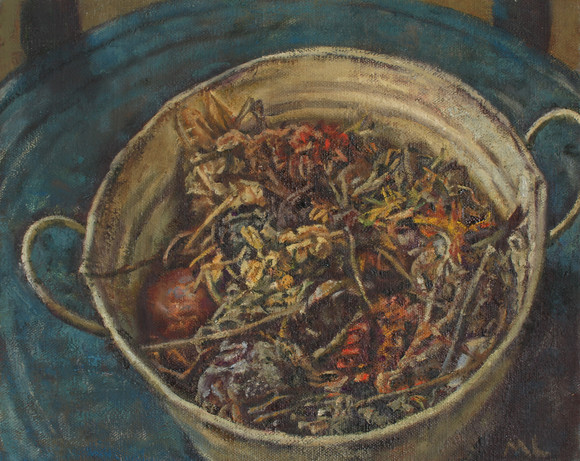 Kompost, olje på lerret, 28 x 35 cm, 2017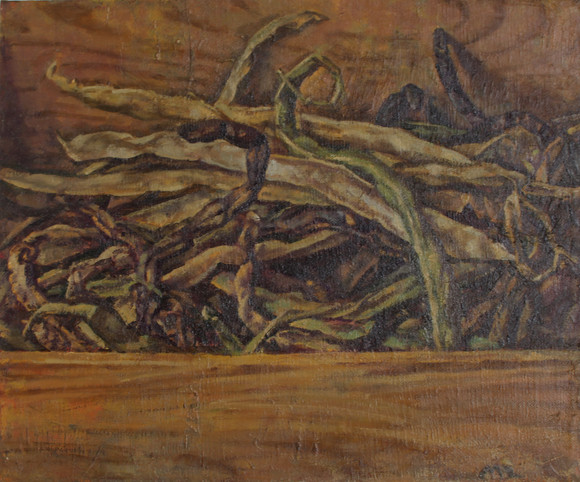 Bønner i trengsel, olje på lerret, 35 x 42 cm, 2017
Planned projects and exhibitions
Painting Refugium, Galleri Heer, februar 2018
CV
Utdannelse
Statens Kunstakademi, Oslo 1990-95
Det Russiske Kunstakademi oppkalt etter I.E. Repin, St.Petersburg 1992-95
Kunstskolen i Kabelvåg 1988-90
Vallekilde højskole, kunstfag, Danmark 1985-86
Separatutstillinger
Galleri Heer, Oslo 2018
Hå gamle prestegard, Varhaug 2000
Galleri Bouhlou, Bergen 1999
Bodø Kunstforening 1998
Oslo Kunstforening 1998
Gruppe- og kollektivutstillinger
Oslo Open 2017
Statens Kunstutstilling «Høstutstillingen 2012», Kunstnernes Hus
"Femina Moderna", Bærum Kunstforening, 2005
New Potatoes, Rovaniemi Finland og Nordnorsk Kunstnersentrum, Svolvær 2001
"Tendenser", Galleri JMS, Oslo 2000
Statens Kunstutstilling, Kunstnernes Hus, Oslo 1995, -96, -99
Den Nordnorske Kunstutstilling 1994
Årlig vårutstilling, Repin Instituttet, St.Petersburg 1993, -94
Stipendier
Billedkunstnernes Vederlagsfonds Stipend 2016
Statens Kunstnerstipend 2013 – Diversestipend
Statens Kunstnerstipend 2004 – Materialstipend
Ingrid Lindbäck Langaards Stipend 2001
Billedkunstnernes Vederlagsfonds stipend 2001, 2000
Statens arbeidsstipend for yngre/nyetablerte kunstnere – 1 år, 1999
Hans og Helga Reusch Legat 1997, 1998
Per Smith Kiellands Legat 1997
Hans Ødegaards Legat 1995
Innkjøp
Johan Strays Stiftelse, 2012
Norsk Kulturråd, 1998
Meløy Kommune, 1998
Nordnorsk Kunstmuseum, 1995