Lidal, Karen Kviltu
Textile - Drawing - Installation - Video
My work investigate the physical structures we inhabit, the relationship between private and public life, and how architecture influence the social. I work with textile, drawing, installation and video. The work often begin with architectural theory, texts, drawings, layouts or maps. I am interested in the interplay between logic and bodily experience, turning representations of space into full scale, or by moving a space from one site to another.
Member of NBK, NTK, UKS, NK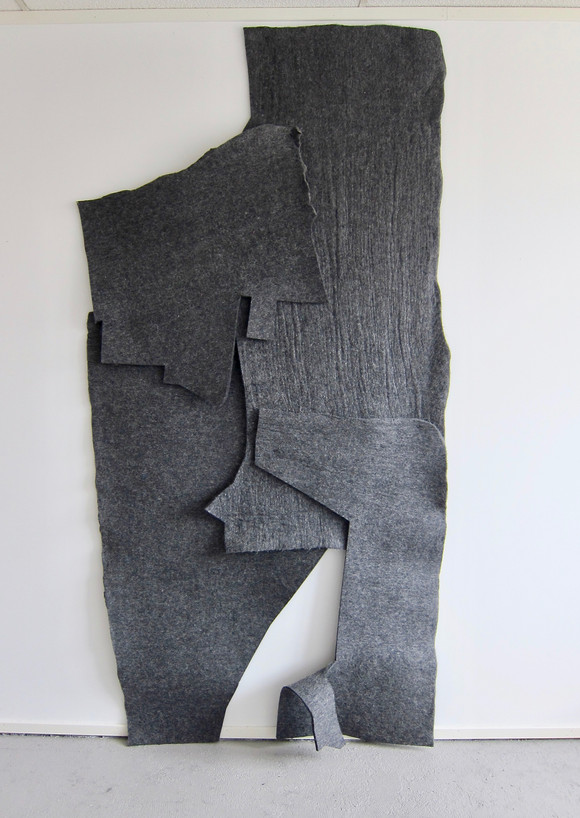 Karen Kviltu Lidal, New Map, 2017. Mongolsk ullfilt.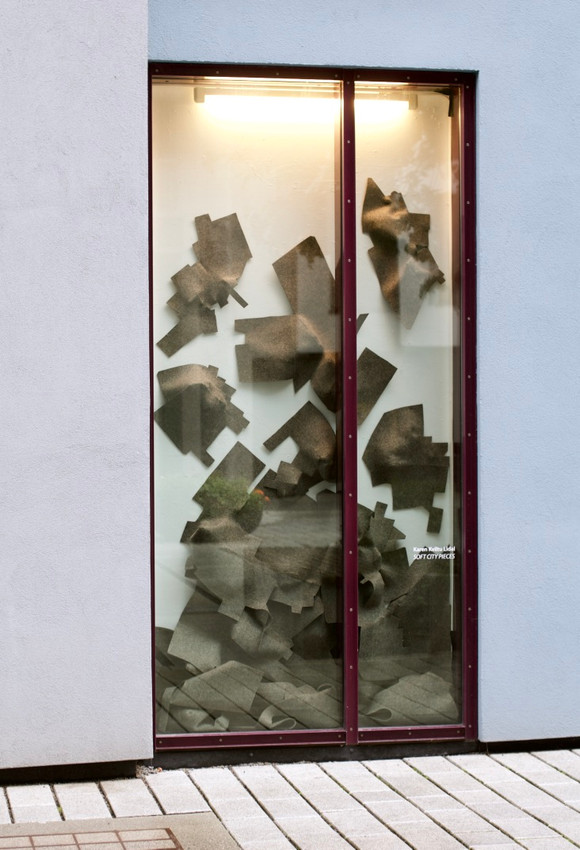 Karen Kviltu Lidal, "Soft City Pieces, Part 1", 2017. Ullfilt. Fra utstilling i Window Box /Galleri Pushwagner.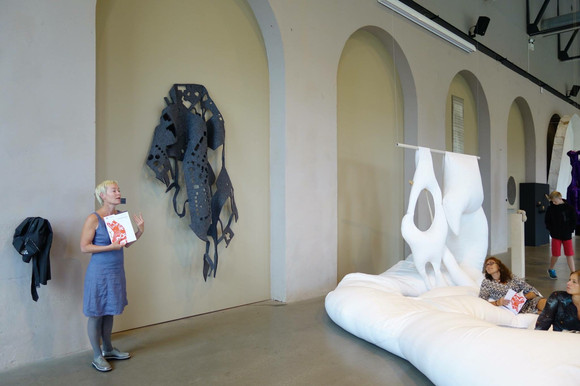 Karen Kviltu Lidal, "Body/City (Fredrikstad)", 2016. Fra Kunsthåndverk 2016 i Hydrogenhallen, Fredrikstad. Katalogens forside er basert på samme arbeid.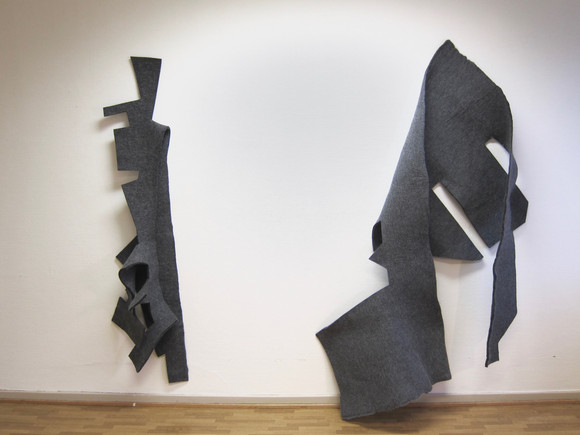 Karen Kviltu Lidal, "Sense and Sensibility IV og V", 2017. Mongolsk ullfilt.
CV
KAREN KVILTU LIDAL
Born 1979
Lives and works in Oslo
karenlidal@me.com
www.karenlidal.net
Solo Exhibitions and Projects
2017 Soft City Pieces, Window Box, Galleri Pushwagner, Oslo
2017 Body/City, Rønningen folkehøgskole, Oslo, utsmykking
2016 Improvisert plan, Sofienberg skole, Oslo, utsmykking
2015 Kroppen og kartet, Moss kunstforening
2014 Kyriakon II, SÅ2014 festival, Gran. With Camilla Chmiel
2012 Kyriakon (Relocated Holy Space), SÅ2012 festival, Gran
2010 BAUEN WOHNEN DENKEN, Tegnerforbundet, Oslo. With Ingrid Lønningdal
2008 Verksted: Publication release, Sound of Mu, Oslo. With Runa Carlsen*
2006 Protect Your Property, Galleri Seilduken, Oslo. With Runa Carlsen
Group Exhibitions and Projects
2017 Sense and Sensibility, Studio Exhibit, Oslo Open
2017 Det store mjuke øyeblikk på Finnskogen, Jubileumsutstilling for Norske tekstilkunstnere. Juried*
2016 En kollektiv psykogeografisk guide til Oslo. Curated by Ida Følling, Ottar Karlsen and Eirik Senje, Tegnebiennalen 2016, Oslo
2016 Kunsthåndverk 2016, Hydrogenfabrikken, Fredrikstad. Juried*
2016 Østlandsutstillingen 2016, (16 chosen works), Oppland kunstsenter, Lillehammer. Juried*
2016 Open House: Studio Exhibit, Oslo Open
2016 Østlandsutstillingen 2016, Akershus kunstnersenter, Lillestrøm. Juried*
2014 Present(ation): Studio Exhibit, Oslo Open
2010 Gentle Actions, Kunstnernes hus, Oslo. Curated by A. K. Jortveit/ Eva Bakkeslett
2010 Portage: Textiles, Extremes of Scale, Bonhoga Gallery, Shetland*
2010 Kunsthåndverk 2010, Nasjonalmuseet, Oslo. Juried*
2010 2000 Lillestrøm, Akershus kunstsenter. Curated by Geir Haraldseth*
2010 Tendenser, Galleri F15, Moss. Curated by Knut Astrup Bull
2010 Salong 2010, ROD BIANCOs apartment, Oslo
2010 Squatters Like Us, Podium, Oslo. Curated by Anita Hillestad
2009 Utstillingen09, Nasjonalmuseet, Oslo. Juried*
2008 9 rom, Akershus kunstsenter, Lillestrøm. With Runa Carlsen*
2008 Hovefestivalen, Arendal
2008 Masterminds, GAD, Oslo. Curated by Anne Szefer Carlsen*
2008 Rykk tilbake til start #5, 0047, Oslo. Curated by Jan Christensen/ Anne S. Karlsen
2007 CrossTalking, Christiansand kunstforening. With Manifest 2007. Curated by Aage Langhelle *
2007 Paradise City, Soft, Oslo
2007 Manifest 2007, By the Way, Bergen
2007 Kappeland, Oslo Open 2007. With Runa Carlsen*
2007 Manifest 2007, The White Tube, Oslo
2006 Anafylaksi, Galleri Brenneriet, Oslo
2005 Einbahnstrasse, Galerie Neugerriemschneider, Berlin
*catalogue available
Grants
Statens arbeidsstipend, 3 year grant, 2016 -
Statens utstillingsstipend, 2015
Billedkunstnernes vederlagsfond, 1 year grant, 2011, 2015
Diverse utstillingsstøtte/ prosjektstøtte: Norsk kulturråd, Billedkunstnernes vederlagsfond, Skedsmo kommune
Public Collections
National Museum of Decorative Arts, Nordenfjeldske kunstindustrimuseum, Trondheim
Publications:
Layouts, Artist book, 2003 – ongoing
Verksted, Project publication, 2008
UKS Forum 1/2007 Evas arkiv, Manifest 2007
Oslo Open 2007 Catalogue contribution, Manifest 2007