Grytbakk Wold, Erlend
Painting and sculpture
Erlend Grytbakk Wolds work deals with the legacy of modernism through painting and sculpture, exploring its aesthetic language and questioning the ideas of the pure and the whole inherent in modernist thought. His paintings consist of simple geometric compositions that fade into view, creating a pale, melancholic and dystopian answer to the white utopia of modernity. In the same manner Grytbakk Wolds sculptures, that in size and shape are similar to furniture, appear as abstracted and perverted versions of design classics.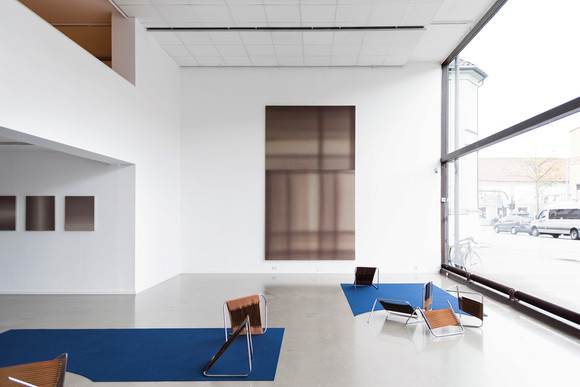 Till The Last Light Fades, 2017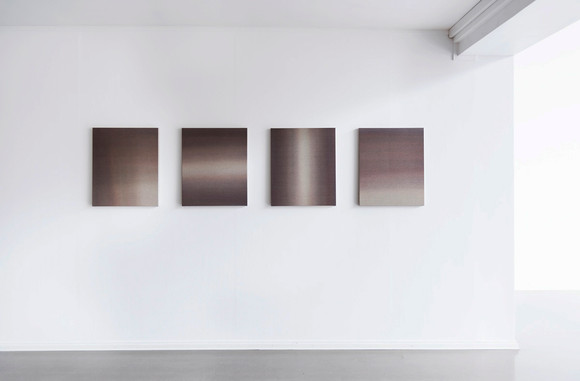 Lux (Visions) I-IV, 2017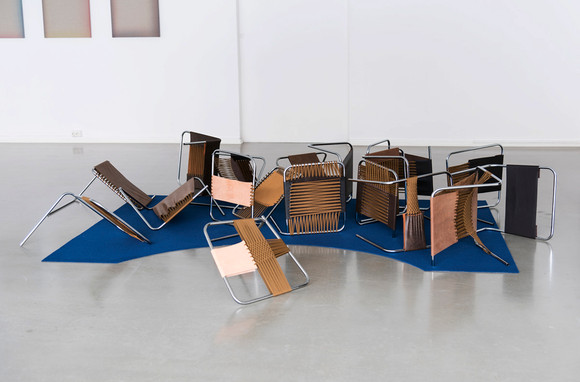 For These Last Few Days, 2017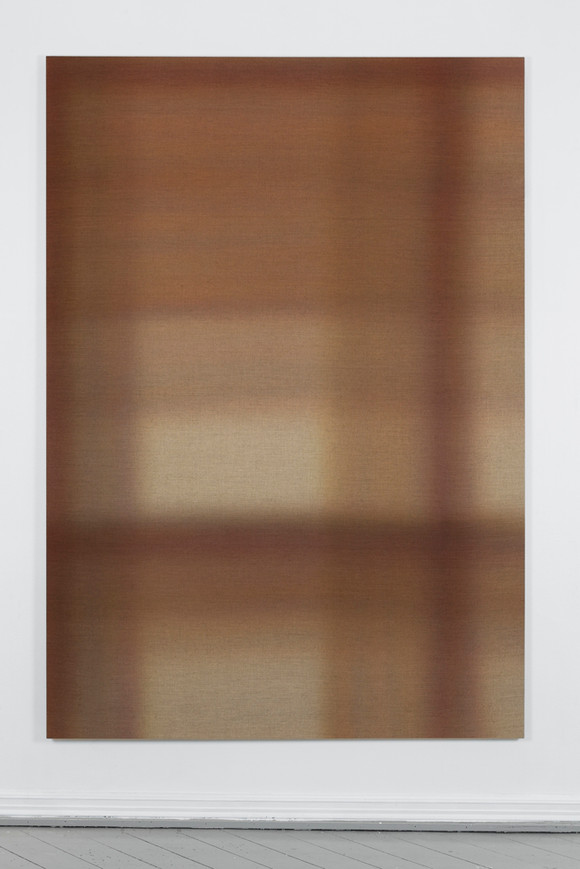 Lux (Light With No Heat) I, 2016
Planned projects and exhibitions
Solo presentation, Kunstnerforbundet, Oslo in August 2018.
CV
CV
Erlend Grytbakk Wold

Born 1986, Trondheim, Norway

Lives and works in Oslo, Norway
EDUCATION 

2012 – 2014 Master of Fine Art, Malmö Art Academy

2008 – 2011 Bachelor of Fine Art, Oslo Academy of the Arts

2006 – 2008 Nordland Art- and Film school, Department of Art

2005 – 2006 NTNU, Trondheim, Norway, one-year study of Art History
SOLO AND DUO EXHIBITIONS

2018 Solo exhibition, Kunstnerforbundet, Oslo (August)

2017 Till the Last Light Fades, Trønderlag Center of Contemporary Art, Trondheim

2016 Remain in Light, LNM, Oslo

2015 Secondhand Daylight, BLOKK, Bergen

2014 The Daylight Between Us, Graduation show, KHM Gallery, Malmö

2011 Bordet og Bildet, One Night Only Gallery, UKS, Oslo

2011 When Looking for Horizons, Collaboration with Siri Leira, Hovefestivalen, Tromøya, Norway

2010 New Works, Studio show, Open Academy, Oslo, Norway

2010 UNTITLED (RGB 0,0,0), Gallery 21:25, Oslo, Norway

2009 After Exposure, Collaboration with Halvor Rønning, Pavilion, Oslo

2009 "IT'S ALIVE!", Collaboration with Siri Leira, Pavilion, Oslo
SELECTED GROUP EXHIBITIONS

2017 Annual Christmas Exhibition, Kunstnerforbundet, Oslo

2017 UKS #4 Minibar: One Night Only, UKS, Oslo 

2017 Mellom Linjene, Oslo Kunsthandel, Oslo

2015 Jóhan Martin Christiansen, Jesper Veileby, Erlend Grytbakk Wold, group show, Galleri Arnstedt, Båstad
2014 Edstrandska Stipendium utställning, Malmö

2014 SEART, No Picnic, Stockholm

2013 Statens 126. Kunstutstilling Høstutstillingen 2013, Kunstnernes Hus, Oslo 
2013 Annual Exhibition, Malmö Art Academy, Malmö

2012 Introducing Barflyfriends, Barflyfriends, Berlin

2012 New Students Exhibition, KHM Galleri, Malmö

2012 Planka 2 i Tromsø, Galleri Planka, Tromsø

2011 Eyes On Your Instruments, Group show, One Night Only Gallery, UKS, Oslo, Norway 

2011The Strange Fête (End), Graduation show, MFAPS, Oslo, Norway 
2011 The Educational Art Show, Group show, MFAPS, Oslo, Norway

2010 The Cluster Show, Group show, Semikolon, Oslo, Norway

2010 ONO vs. UKS, Group show, One Night Only Gallery, UKS, Oslo, Norway

2010 PODIUM LIVE!, Group show, Podium, Oslo, Norway

2010 Men Paint Women Faint, Group show, One Night Only gallery, Oslo, Norway

2009 Multiple Stress, Group show, Kunstakademiet kommer til museet #3, former library at the National Museum of Contemporary Art, Oslo, Norway

2009 Langt inni skauen er det bare mere skau, Group show, Hønefoss, Norway

2009 Initiation, Group show, Gallery 21-24, Oslo, Norway

2008 ICEBREAKER, Group show, NKFS Gallery, Kabelvåg, Norway

2008 Mama Didn't Raise No Fool, Graduation show, Galleri Lille Kabelvåg, Kabelvåg, Norway
PUBLICATIONS 

2012 bright! TYPOGRAPHY BETWEEN ILLUSTRATION AND ART, Slanted / Magma, DAAB media

2011 The Strange Fête (End) Le Grand Maulnes, Collective Artist Book, published on the occasion of Oslo National Academy of the Arts' BFA Degree show

2009 FAR, Fanzine, collaboration with Siri Leira

2009 TURN THE PAGE, 150 pages edition of 7+1, Oslo Stress Press

2009 EXCUSE ME I NEED TO USE THE RESTROOM, Fanzine, project organized by Annika Ström
CURATORIAL PROJECTS 

2010 – 2012 One Night Only Gallery, Curating and running the space together with Mohammed Fadlabi, Tito Frey and Jon Benjamin Tallerås, Oslo, Norway

2012 Nein Teen #1, Co-curated by Halvor Rønning, Group show, One Night Only Gallery, UKS, Oslo 

2011 Eyes On Your Instruments, Group show, One Night Only Gallery, UKS, Oslo, Norway 

2009 PAVILION, Curating together with Siri Leira, Oslo, Norway

2008 ICEBREAKER FESTIVAL, Curator and Co-ordinator, Kabelvåg, Norway
GRANTS
2017 Project support, solo show, Kunstnerforbundet, Norwegian Art Council

2017 BKV Project grant exhibition Kunstnerforbundet

2017 BKH Production grant, Trøndelag Center of Contemporary Art

2017 Project support, Kunstmuseet Nord-Trønderlag

2016 Project support, solo show, Trønderlag Center of Contemporary Art, Norwegian Art Council
2016 2-year working grant, Statens Kunstnerstipend for young Artists
2015 Project support, solo show LNM, Norwegian Art Council
2014 Project support, solo show BLOKK Bergen, Norwegian Art Council

2014 Edstrandskas Stipendium

2010 Oslo Art Academy Open Academy Grant
ARTIST IN RESIDENCE

2017 Cité Internationale des Arts Paris
NOMINATIONS

2015 Fredrik Roos Stipendium
MEMBERSHIPS

UKS (Unge Kunstneres Samfund)

LNM (Landsorganisasjonen Norske Malere)

NBK (Norske Billedkunstnere)