Haugland, Elin Glærum
Painting - Experimental Film
Elin Glærum Haugland creates paintings and experimental video works of human prescence in nature.
The past three years she has traveled to islands in Polynesia and the Amazon jungle of Peru and Brazil to paint using natural color pigments. The paintings are designed to fit in her backpack and the colors are linked to the places she visits and the cultures she meets. She is learning about different ways of being in the world, and viewing life, from people living close to nature. She studies the use of natural color pigments in body painting, tattoo and decoration of everyday objects.
Using her sensitivity, Elin translates the impressions she receives into a painted language. For her, the painting is alive and through the encounter with other cultures, she is looking for soul and power to give to her paintings.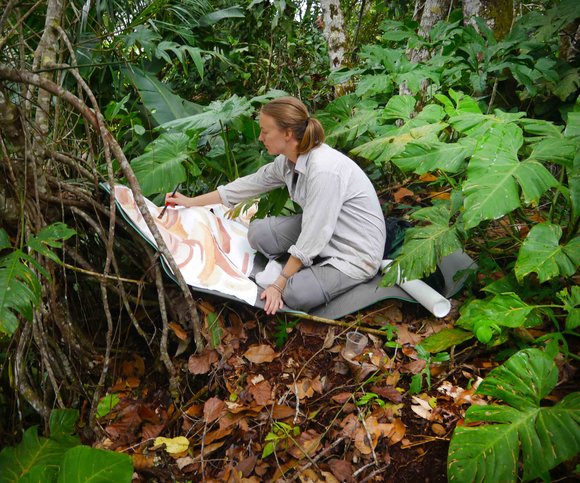 Painting process in the Brazilian Amazon jungle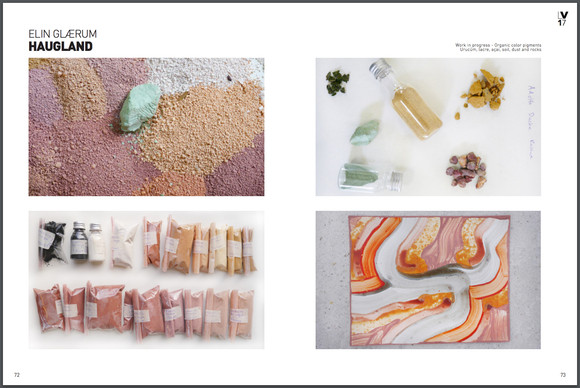 Natural color pigments, from the Brazilian Amazon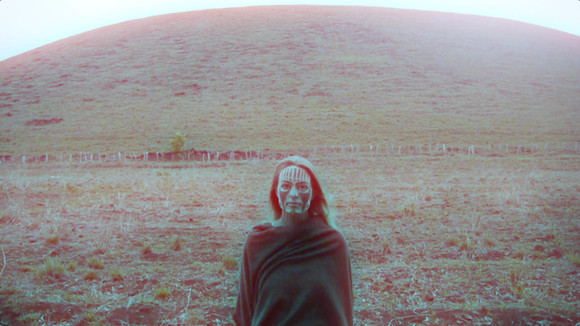 Still from videowork 'and their faces will be painted', produced in Easter Island, 2016-17. by Elin Glærum Haugland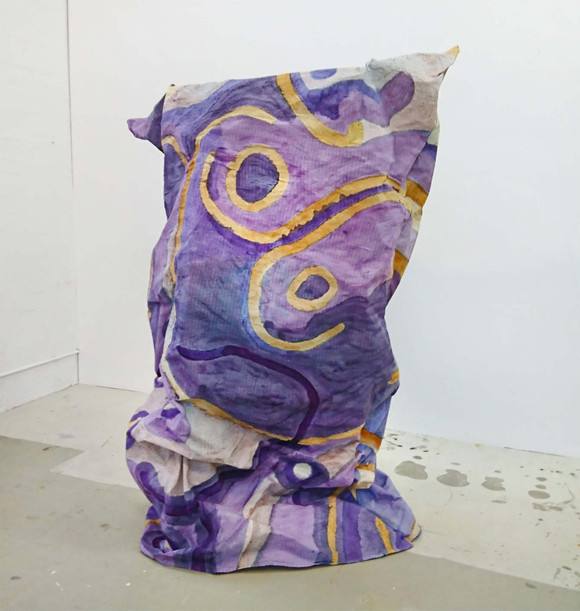 Painting installation, 2017, by Elin Glærum Haugland
Planned projects and exhibitions
2018 – Unge Bærumskunstnere, Bærum Kunstforening, Norway
2018 – Østlandsutstillingen, Vestfossen Kunstlaboratorium, Norway
2018-19 – Will continue my painting field work in Easter Island
CV
Exhibitions
Solo
2017
Mind Maps from the Peruviuan Amazon – La Monzana, San Roque de Cumbaza, Peru
2016
i Amazonas – Fire Årstider, Bærum
2016
Post Journey pop-up Exhibition, Arena Vestfossen
2013
Journeys to Galapagos and The South Pacific – An Exploration Through Painting – Galleri KIT, Trondheim
Group
2018 Unge Bærumskunstnere, Bærum Kunstforening
2018 Østlandsutstillingen, Vestfossen Kunstlaboratorium
2018 Påskeutstillingen, Kunsthall Stavern
2018 Between the Lines, The Reception Gallery, Oslo National Academy of the Arts
2017 Confession of Tongues – Winter Solstice Night Exhibition, Oslo
2017 Trøndelagsutstillingen,Trøndelag senter for samtidskunst, Trondheim
2017 Hildelund Kunstfestival, Sverige
2017 Immigration Museum, Ellis Island/New York/USA
2017 Mose (med gjester) ved havet, Hovedøya/Oslo
2016 DISAMBIGUATION, Winter Solstice Night Exhibition, Oslo
2016 Mose (med venner) i skogen, Sognsvann/Oslo
2016 Colours of Samoa, Tiapapata Art Gallery, Samoa
2015 Inter-Cultura, Aucaloma/Peru
2015 NBK´s Stipendutstilling 2015
2014 International Film Festival Signes de Nuit, Paris
2014 Eksamensutstilling, Kunstakademiet i Trondheim
2014 performance, Art, Anarchy and Apostacy, TKM Gråmølna, Trondheim
2013 CUBE OFF #1 – Galleri KIT, Trondheim
2013 Art Week, Ålesund
2013 Gender Now, Trondheim
2012 November visningsrom, Trondheim
2012 KIT short films, Nova kino/Trondheim
2011 Avgangsutstilling, Kunstskolen i Bergen
2010 Ab Ovo – Kunsthøyskolen i Bergen
2009 What is Art Practice? – Kunsthøyskolen i Bergen
Residencies
2017 LabVerde Art Immersion Program, Brazil
2016 Arena Vestfossen, guest studio, Norway
2016 Tiapapata Art Centre, Samoa
2015-16 Sachaqa Centro de Arte, Peru
Fieldwork trips
2017 Brazilian Amazon (40 days)
2017 Easter Island/Peruvian Amazon (3 months)
2015 – 16 Peruvian Amazon, Easter Island, Tahiti, Samoa, New Zealand (5 months)
2014 The Eden Project, England
2013 Galapagos, Ecuador & Peru
Grants
2018 Diversestipend, Norwegian Arts Council
2017 Project Funding, Billedkunstnernes vederlagsfond
2015 Etableringsstipend, Statens Kunstnerstipend