Adalsteinsdottir, Málfridur
Textile, drawings and video
Malfridur Adalsteinsdottir is born in Iceland, but works and lives in Norway.
For the time being there are mostly to starting points in her art; one is natur, and the other is cultural heritage and craft tradition.
Her works often circel around nature in the north. The harsh nature of Iceland, and north of Norway and Spitsbergen. The clair and strong light that makes pattern when shining on water, ice, snow. The beuty and the stillness, but also the (storslåtthet) and the changes in the climat and nature.
And then there are her interests in cultural heritage and craft tradition. She uses old craft tradition in contemporary art. The old craft tradition demanded closeness between the product and the person making it, people relied on natural resources, and the way of making things was a time consuming.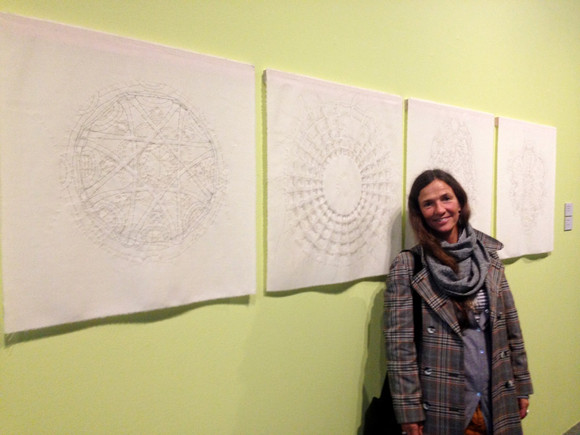 Malfridur Adalsteinsdottir, Nålens øye, Koda Bergen, 4x Kupler, Broderte tegninger 2015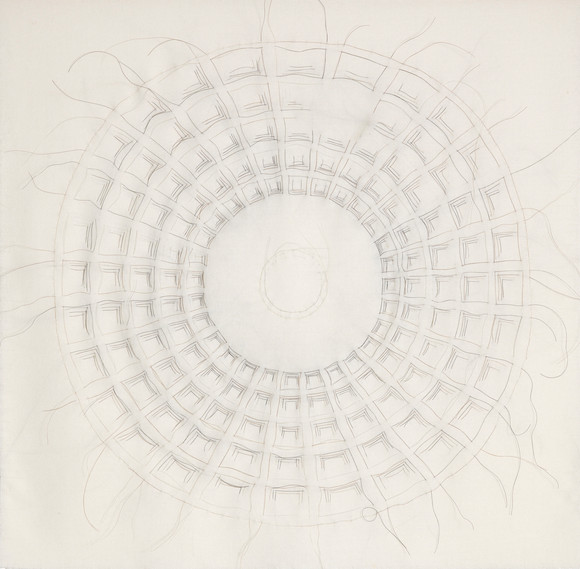 Malfridur Adalsteinsdottir, Panthon, Kupler, Broderte tegninger 2015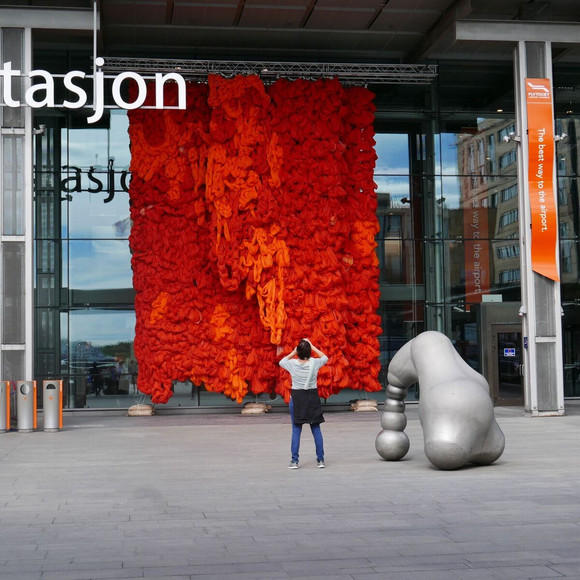 Malfridur Adalsteinsdottir, samarbeidsprosjekt Soft Spot, Fasaden Oslo S. 2017, Flettet, vevd og knyttet stillasduk pvc. samarbeid m Sidsel Palmstrøm, Hanne Øverland, Johanne Nesset Lund
Isbree 2017, Broderte tegninger m farget og eget spunnet ull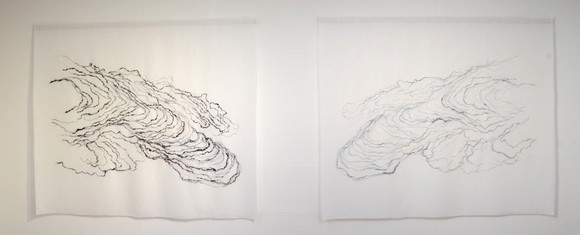 Isbree og Lava 2017, Broderte tegninger m farget og eget spunnet ull
Planned projects and exhibitions
Exhibition to come
2017-18 Behinde the North vind, Bonhoga galleri, Shetland
2017 Bonhoga, Shetland, GB
2018 Safnasafnið, Iceland
2018 Tøysentralen Tolga, Røros museum, Norway
CV
MÁLFRIÐUR AÐALSTEINSDÓTTIR
Born in Iceland, lives and works in Norway and Iceland. www.malfridur.no
Education
1983 – 1987 The National school of Art and Design, Oslo,Norway
1999 – 2001 The University of Oslo,
Solo exhibitions
2016-17 Hallgrímskirkja, Reykjavík, Island
2016 Ramsmoen, Museene i Nord-Østerdalen, Noregur
2016 Surtsey Eldheimar, Vestmannaeyjar, Island
2008 Akershus Kunstnersenter Norway
2007 Bonhoga galleri , Shetland
2006 Hå gamle prestegård, Jæren Norway
2005 Format – Oslo Norway
1997 RAM galleri, Oslo Norway
1997 Listasafn Kópavogs, Iceland
1997 Hå gamle prestegård, Jæren, Norway
1990 Galleri Sævar Karl, Reykjavik, Iceland
Exhibition in Vesterveg ( curator and artist) I Vesterveg, Nord-Atlanderprosjekt.
2008-2011 Vestlandske Kunstindustrimuseum, Norway – New Shetland Museum, Shetland – North Atlantic House, Danmark – Nordens Hus, Færøyene – Nordens Hus, Iceland
Selected group exhibition
2017 Soft Spot, Oslo Central trainstation, Norway
2015 Waterproof, Hamar Kulturhus
2015, 14 Nålens øye, Kunstindustrimuseet Oslo, KODA, Bergen
2014 Beholder, Spriten Kunsthall, Skien
2014 20×20 Bonhoga galleri, Shetland
2013 7SAGAS, The art foundation, METAMATIC:TAF Athen
2013,94,90 Norsk kunsthåndverk, Oslo
2013 Undir berum himni, Reykjavik,
2012-13 Triennial of textil-without border, Slovakia, Czech rep, Poland, Hungary
2011 Sailing Husavik, Iceland
2001 10 × 10″ Jubileumsutstilling, Format, performance at Oslo City Hall, Norway
2000 Milleniums exhibition" Galleri Sævar Karl, Reykjavik, Iceland
2000 Land – Art" Reykjavik European Culturcity 2000, Iceland
1999 Gardin", RAM galleri, Oslo Norway
1995 Junction Norge-Belgia objekter & smykker" Belgia
1994 Olympic Festival" Lillehammer, Norway
1993–1994 From Dream to Reality", National Touring exhibition Baltikum og The Nordic countries
1992–1993 Form Island" vandreutstilling, The Nordic countrys
1990 Nord Form" Malmø Culture Festival in Sweden– representing Iceland
1988 Jugend Gestaltet" München, Germany
1994. 1990 Norwegen Craft" Oslo, Norway
Exhibition to come
2017-18 Behinde the North vind, Bonhoga galleri, Shetland 2017 – Safnasafnið, Iceland 2018
2017 Tøysentralen Tolga, Røros museum, Norway
Grants
2017,16 Norwegen Craft org. Travel Grant
2015-2025 10 years work grant, Government scholarship, Norway
2010-2013 3 years work grant, Government scholarship, Norway
2009,07,05 Norwegian Visual Artists Remuneration Fund
2007,05 Muggur Travel Grant,Iceland
2006,1998 Norwegian Visual Artists Commission Fund
1997 Norwegen Craft org. Travel Grant
1997 The Norwegen Ministry of Culture, Exhibition Grant
1997 Art Concil, Norway, exhibition Grant
1993, 92 The National Establish Grant for young Artists
Collections and Commissions National and abroad