Dessen, Liv
Drawing, by crbon/pastel/gouache on paper. Oil on linen
Drawing,by/carbon/pastel/gouache on paper
I am working without any theme in advance.
The finished work will be an documentation of the workingprocess.
The details, but also the space between them, give the finished work
what I am looking out for.
Member of NBK, TF, LNM, BOA
Member of NBK, TF, LNM, BOA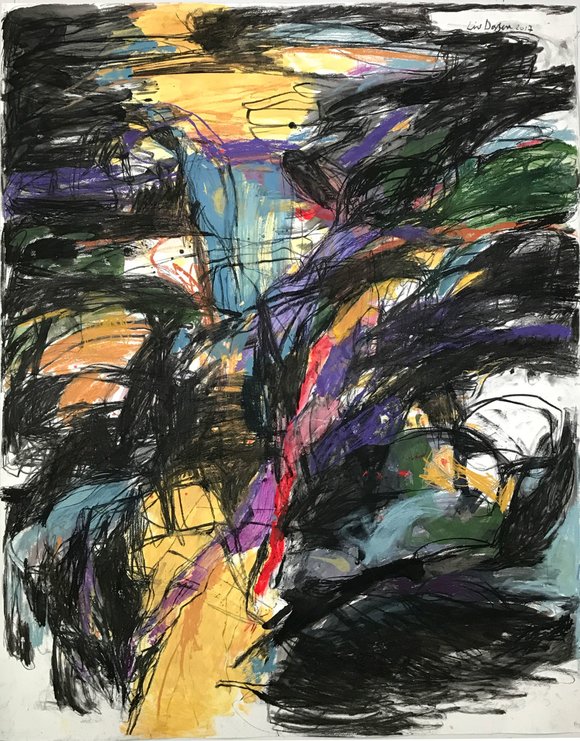 Liv Dessen. Rødt postulat, gouache/pastel/kull på papir. 152x 120 cm. 2017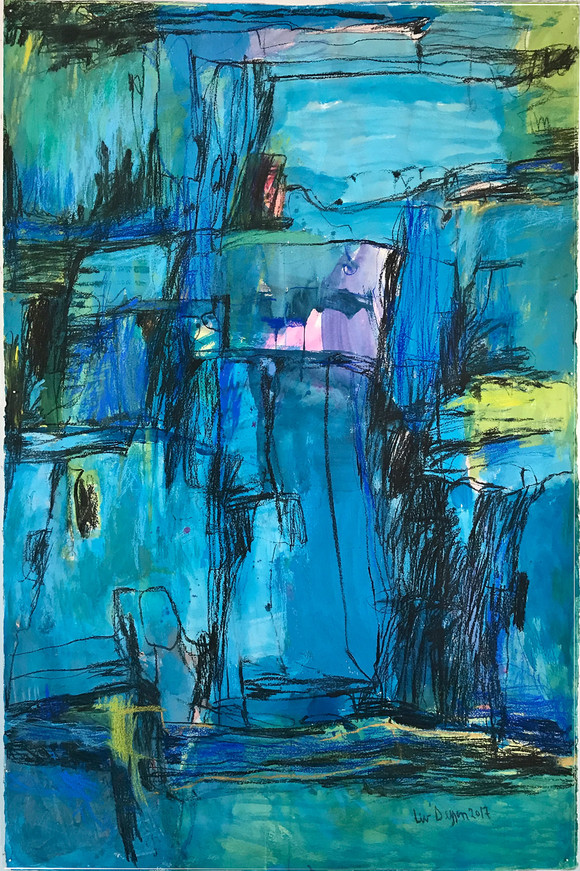 Liv Dessen. Kaskade blå, gouache/pastell/kull på papir. 154x103cm , 20 17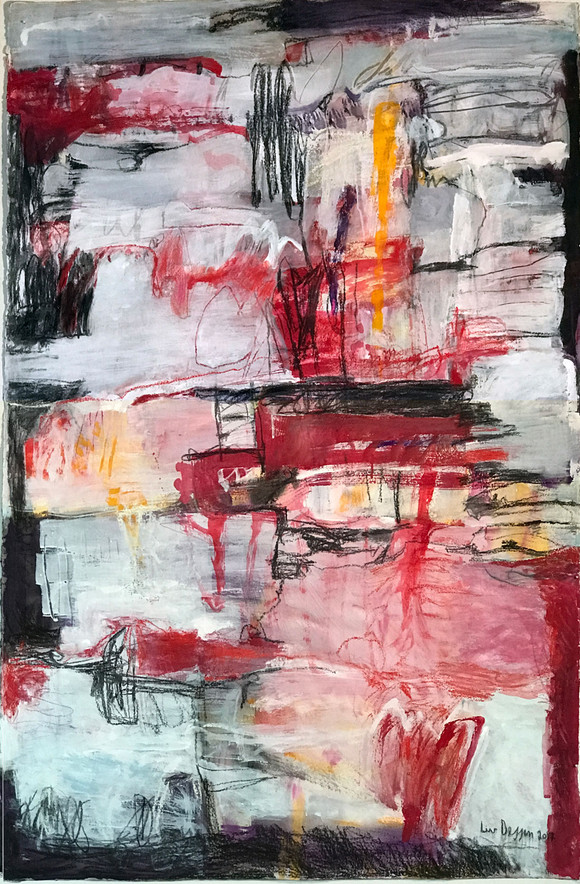 Liv Dessen, Rød melodi, gouache/pastell/kull på papir, 154x103cm,2017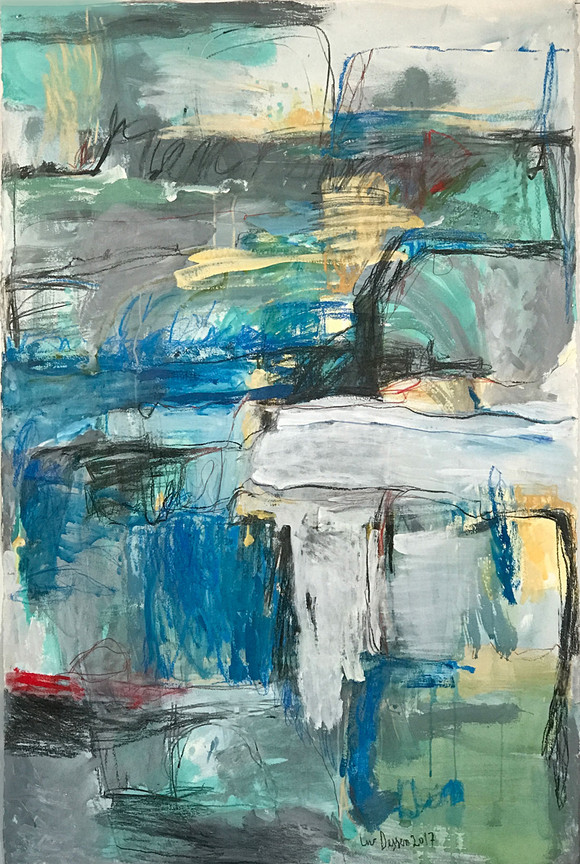 Liv Dessen, Kavalkade, gouache/pastell/kull på papir, 154x103cm, 2017
Planned projects and exhibitions
I am working towards exhibitions.
I am going to have an exposition at Nordnorsk kunstnersenter, Svolvær
between 2.11. 2018 – 13.01.2019
CV
CV
Liv Dessen was born 1935 in Løten
Elisenbergveien 35 A, 0265 Oslo, mobil: + 47 92240008.
Education
1971-72. School of the Museum of Fine Arts, Boston, U.S.A.
1970-1980. Severelal courses at Voss with wellknown English artists ,for exsample Michael Rothenstein. Asker paintingschool. Apprenticed to experienced artists.
Exhibitions separate from 1980 ( selection)
Gallery Natthagen, Løten. 2014
Trafo Kunsthall, Asker. 2013
Tegnerforbundet Gallery, Oslo. 1994-99- 2016
Gallery Vikerødegården, Jessnes. 1997
Gallery OBK. Oslo Bildende Kunstnere. 1980
Gallery Kampen, Oslo. 1984
Gallery Landsforeningen Norske Malere , Oslo. 1980
Kunstforeningene i Oslo, Hamar, Skien, Porsgrunn,
Sandefjord, Holmestrand, Bærum, Aske, Hol og Gol.
The National Autumn exhibition and the region exhibitions
Participated several times at Statens Kunstutstilling (The National Autumn exhibition)
Sørlandsutstillingen, Østlandsutstillingen og Nasjonal tegneutstilling.
Collective and group exhibitions (selection)
Kunstnerforeningens exhibitions in Rådhusgalleiet, Oslo, 2009 – 11-2016
Nasjonalgalleriet jubileumsutstilling "Nyere norsk tegnekunst" 2002
"Artistes del Mundo" en Tlaxcala-Mexico 1996
Krapplakk (4 artists) Skien, Molde. 1995
XI International Exhibition of Original Drawings i Rijka, Jugoslovia 1988
LNM´s Jubileumsutstilling i Oslo Kunstforening 1988
Ultima Thule (cooperation of 6 artists ) : Skien, Molde,
Kristiansund, Kirkenes, Tromsø, Stockholm, Lahti, Kouvola og
Cagnes-Sur-Mer. , 1987 -1988
Tegnerforbundets Jubileumsutstilling i Gallery F 15. + Platons Huskestue 1986 -2016 "Between Generations" London and other cities in Great Britain 1985-86
Salon D´Automn, Grand Palais, Paris, 1983
Het Slot Zeist, Nederland. 1982 Several exhibitions arranget by Tegnerforbundet (TF), and Landsforeningen
Norske Malere (LNM).
Bought by
Løten kommune 1985 – 2009-2014
Nasjonalgalleriet 1994- 1999
Telemark og Hedmark fylkeskommuner, Skiens faste samling og
kommunene: Gol, Sandefjord og Bergen.
Scholarships
Billedkunstnernes Vederlagsfond 2009-14-15-17
Trættebergstipendet , Løten kommune 2013
BKH kunstnerstipend for eldre billedkunstnere 2006-07-08-10-11-12 -16
State aid travel-scholarship 1988 State aid material-scholarship 2005
Tegnerforbundets Plakatkonkurranse 1991
State aid guaranteed income 1989 – 2002
Artbook
" Visuelle dikt " Liv Dessen og Esben Østbye . Trykk: Zoom Grafisk. 2013
Member of
Norske Billedkunstnere
Tegnerforbundet
Landsforeningen Norske Malere
Kunstnerforeningen
Tasks
Guest-lecturer on compositjon Statens håndverks- og kunstindustriskole 1996
Censor Statens håndverks- og kunstindustriskole 1994
Selected member of the committee for new students 1992
Selected member of the committee for project support 1992-93
Member of the nasjonale jury 1990-91
Member of Tegnerforbundets jury 1989-90