Jansson Lothe, Linda
ceramics/Glass
work in the space between "High"- and "Low"-culture. Between Kitsch, Camp and Art, between modernity and nostalgia.
The electricity created between contrasts such as "beauty/attraction" and "ugly/repulsive" have always fascinated me.
My Objects can be purely sculptural or for everyday use, and sometimes a bit of both.
I have always collected esoteric odds and ends. From these objects I make casts or copies that I combine into new and surprising objects. To be open to what might occur during the process is paramount.
By fusing the old and the new I make new stories. Stories for me and you.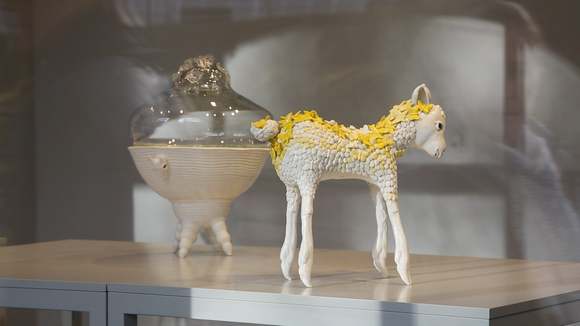 In real Life 2015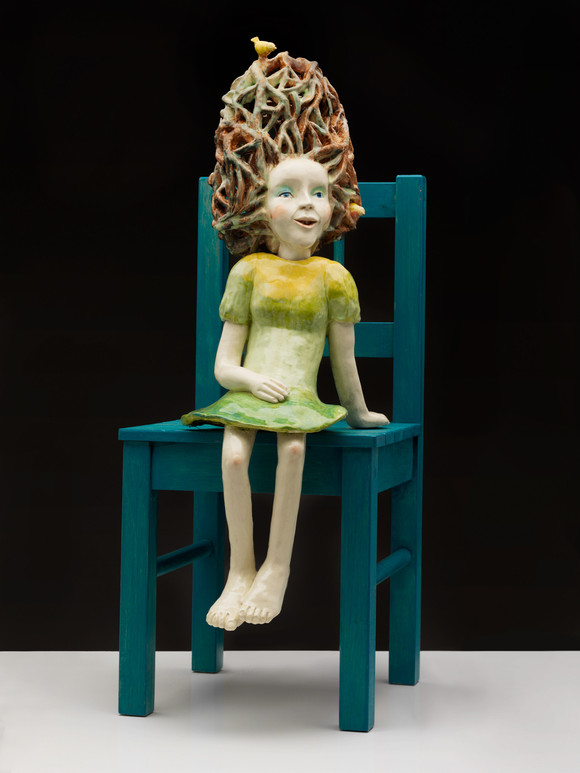 Garden girl, 2015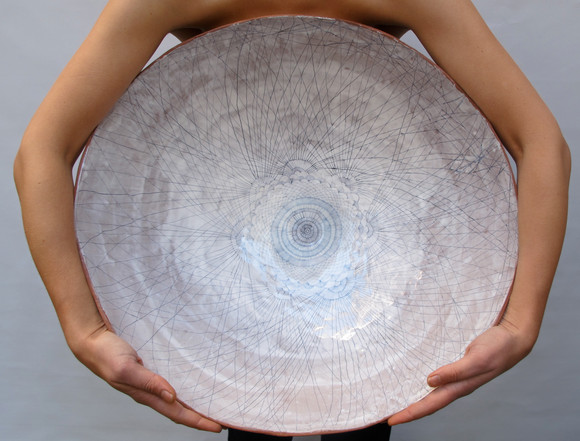 Udd och Stad, 2017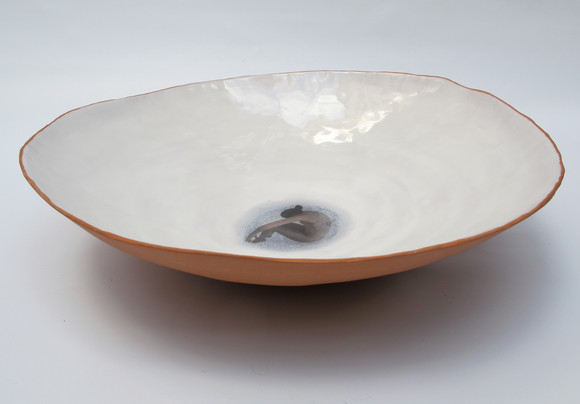 Resan,2017
Planned projects and exhibitions
Me and my collegues will have an exhibition at Buskerud Artcenter in april 2018, about the Robotisation in society: Blue collar,White Collar. Filmmaker Mona J Hoel has made a film about the process towards the exhibition and the process at the workshop.
I have a collaboration with a dancer, that is my daughter. WE are having an exhibition, and perfomance at Tøysentralen galleri and Galleri Ramsmoen in Tynset , spring 2019.
I also work on a public comission at a Childrens school in Gothenburg, to be ready spring 2018.
CV
Linda Jansson Lothe
Ceramic Artist
Born in Gothenburg
Strandallèen 1
1368 Stabekk, Norway
Web-site: www.lindalothe.no
E-mail: linda@lindalothe.no
Mobile:+47 95 14 82 67
Studio:
AvArt Verksted
Haxthausens gate 7
0263 Oslo,Norway
Phone:+47 22 55 95 06
Education
1988-1993 – Master of ceramics, Oslo National Academy of the arts, Norway
1988-1989 – University College of Arts, Crafts and Design, Glass and Ceramics,Stockholm,Sweden
1986-1988 – Capellagården, Crafts Foundation, Ceramics, Öland, Sweden
Stipendium/Grants
2014-2016 Governmental Work stipendium, 2 years
2010-2012 – Governmental Work stipendium, 2 years
2008 – Oslo Art stipendium
2004-2007 – Governmental work stipendium,3 years
1997, 2000, 2002, 2010 – Exhibition stipendium
2000 – Governmental material stipendium
1998 – Governmental Travel stipendium
1997 – Debutantsupport, Norwegian Arts Council
1996 – Education grants for Artists
1996 – Establishing stipendium, Norwegian Arts Council
1993 – Equipment support, Norwegian cultural fund
1988-1990 – Manufacturer J.L. Eklunds stipendium
Financial support and Prices
2012 Haystack Scholarship, American-Scandinavian Foundation
2010 Villvinprisen
Soloexhibitions
2016- Gallery Blås& KNåda, Stockholm Sweden
2015-Konstepidimin, Gothenburg, Sweden
2014- Hå gamle prestegård, Hå, Norway
2012- Nääs Konsthantverk, Nääs, Sweden
2010 – Akershus Kunstsenter
2007 – Galleri FORMAT, Bergen
2006 – Natthagen galleri, Løten
2002 – RAM Galleri, Oslo
1999 – Bærums kunsthåndverk
1999 – Lillehammer kunstforening
1997 – Hordaland kunstnersenter, Bergen
Group exhibitions (in selection)
2018- Buskerud kunstsenter
2017- Ålesund Kunsthall
2017-Nääs konsthantverk, Gothenburg, Sweden
2016- galleri Osebro, Porsgrunn
2015-"Mellomrom",Perfomance med dans/Keramikk, Trinity Laban Conservatoire of music and dance, London
2015-Galleri Semmingsen, Oslo, Norway
2012- Finnskogutstillingen
2011 – Vevringutstillingen
2010 – «Essens», Kunstbanken, Hamar
2009 – Norvegian Ceramics and glass, Lasalle College of arts, Singapore
2007 – «Still Life», jubileumsutstilling AvArt, Kunstristen galleri
2006 – «Jubileumsutställning på AKS, 20 år»
2005 – «Nordiskt konsthantverk», Varberg museum, Sverige
2005 – «Typisk Norsk», Vigelandsmuseet, Oslo och Museum fur Kunst und Gewerbe, Hamburg, Germany
2004 – «Milli fiore», Hå gamle prestegaard
2004 – Keramische museum, Düsseldorff
2003 – «Figurer i norsk keramikk», vandreutst. UD
2003 – 19 keramikere, Galleri Format
2001 – «Baroque», Christiansands kunstforening
2001 – «Se norsk kunsthåndverk» prosjektutstilling i Bergen
2000 – «Vanitas», Kunstnerforbundet, Oslo,
2000 – «Kaffe, te og sjokolade» Kunstindustrimuseet, Oslo
1999 – «Lyspunkt», Galleri Akershus Kunstnersenter
1998 – «Nordisk keramikktriennal», vandreutstilling, Historisk museum, Stockholm,Sweden
1998 – «Tendenser», galleri F15, Jeløya
1998 – «EXPO-Lera», Västerås konstmuseum
1998 – International crafts fair, Munchen, Germany
1997 – «In loco rytme», Sørlandets kunstmuseum, Risør kunstforening
1996 – «Talente 96», Munchen, Germany
Annual exhibitions
2009 – Utstillingen 09, Kunsthåndverk, Nasjonalmuséet, Oslo
2004 – Triennalen for smykker, tre og metall
2003 – Keramikktriennalen, Vigelandsmuseet
1993, 1995, 1997, 1998 – Norsk Kunsthåndverk
Collections and Museums
2012-Konstenheten/Västfastigheter, Västra Götalandsregionen
2012- Finnskogens Kunstsamling
2010- Agder energi, Kristiansand
2007 – UD, Norwegian Embassy, Copenhagen
2006 – St. Olav hospital, Trondheim
1996, 1999, 2002 – Museum of Applied arts, Oslo
2001 – Øystre Slidre childrens school, Valdres
2007, 1999 – Museum of applied arts, mid Norway
2007, 2001, 1999 – Museum of Applied arts, Western Norway
1998 – Fund for commissioned Art Works
1997 – Norwegian Arts Council
1996 – Akershus kunstnersenter, Pilotgalleriet
Public Comissions
2017-18-Frejaskolan Gøteborg, Sweden
2011 – Lillestrøm Dental Clinic
2004 – Hotell SAS Radisson, Gardermoen Airport Hotel
2003 – Serenade of the seas, Royal Caribean Cruise Line
2002 – Gullhella Residential care
2002 – Brilliance of the seas, Royal Caribean Cruise Line
2001 – Radiance of the seas, Adventurer of the seas, Royal Caribean Cruise Line
2000 – Explorer of the seas, Royal Caribean Cruise Line
2000 – District Office in Trøndelag
Travel and studies
2010 – Dhaka, Bangladesh
2008 – Tsjekkia
2005 – New York
1996, 1998 – Spain
1995 – Crete
1990 – Tyrkie
Member ship
Norwegian Association of Arts and Crafts from 1993
Professional Activities
2010-2012 Chairman in jury for Exhibition Stipend
2010 – Lecturer at Bengal gallery of fine arts «Contemporary norwegian Ceramics and Glass», Dhaka, Bangladesh
2010 – Workshop and workshops at faculty of fine arts, university of Dhaka and Chittagong, Bangladesh
2007- Teacher in Visual arts at Cultural School
2006 – Supervisor at the Department of Product Design, College of Oslo
2006 – «Barns avtrykk», Art Project i Kindergarten
2006 – Art Intermediary, Oslo Museum of applied arts
2004 – Member of the board at Akershus Art center
2002-2003 – Art Consultant, Runni ungdomskole, Årnes
2001-2003 – Art Consultant, Sørumsand videregående skole
1999-2001 – Project Manager for the norwegian arts Association, galleri F-15, Jeløya
1998-2000 – Akershus Art center, Trainer in Ceramics
1998-2009 – Akershus Art Center, Art Intermediary, DKS
1996-1998 – Decorative Painter, Norwegian Broadcasting NRK, freelance
Courses
2012- Sculptural ideas, Haystack Mountain school of arts and Crafts
2009 -Concrete for Art Works; Gerlesborgskolan, Sweden
2004 – Photoshop for artists
2003 – Silkscreen for Ceramic artists
Publikationer, artiklar och omtaler (i utvalg)
2007 – Kunsthåndverk 2/07, «Keramiska Vaser», artikel
2005 – «Månedens kunstner» på Norske Kunsthåndverkeres hemsida
1999, 2003 – Norsk Kunstårbok
2002 – «Stereo» Kulturprogram, NRK2 TV
1999, 2007 – Kunst og håndverk 4, Lærebøker
2003 – Kunsthåndverk 1/03, anmeldelse, «Janssons Fristelse»
2002 – VG, anmeldelse, «Alice i Underlandet», november
1998, 2005 – «Kunst for alle», artikkel
1999 – Henne interør, artikkel
Diverse artikler og bilder i interiør / livstilsblad
Comissioners
Nasjonalmuseet for kunst, arkitektur og design, Oslo
Brudd, Markveien 42, Oslo
Galleri Format, Rådhusgaten 23, Oslo
Galler Format , Vågsallmenningen 12, Bergen
Galleri Kvingedal, Strandgaten 18, Bergen
Nordenfjeldske Kunstindustrimuséet, Munkegt 3-7, Trondheim
Galleri Krane, Strandgata 30, Tromsø
Galleri Osebro, Storgata 174, Porsgrunn
Villvin galleri, Krags gate 3, Risør