Aasvang, Kristine Marie
sound and drawings
Min kunstneriske produksjon spenner seg fra lydkunst og musikk til billedkunst.
Jeg har viet mye av mitt driv til utforskning av sangkunst, og da utforskning av kunstperspektivet heller enn en tradisjonell klassisk/rytmisk tilnærming. Bildene jeg lager er ofte en forlengelse av lyden -og musikken.
Member of NBK, UKS, Tono,Bono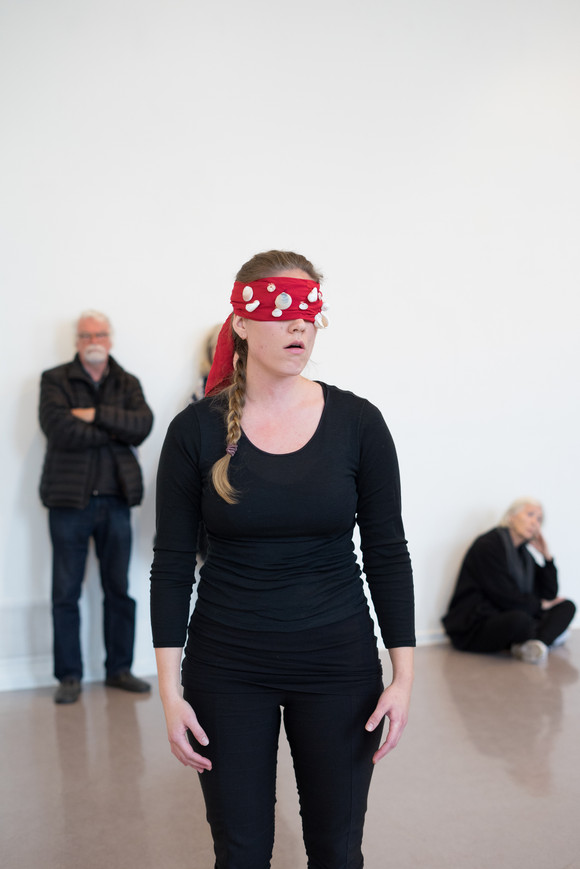 Røde Portaler (Kunstbanken Hamar, Performancefestivalen 2017)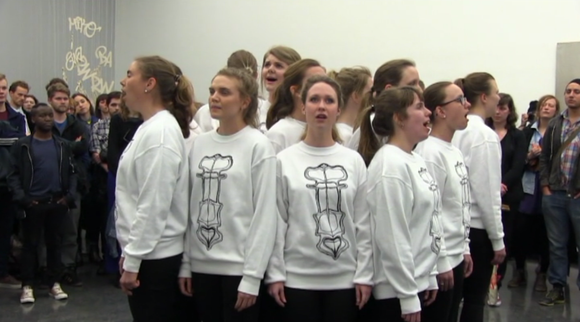 The Secret Choir, Ora-ro-ra (Kunsthallen, Bergen 2015)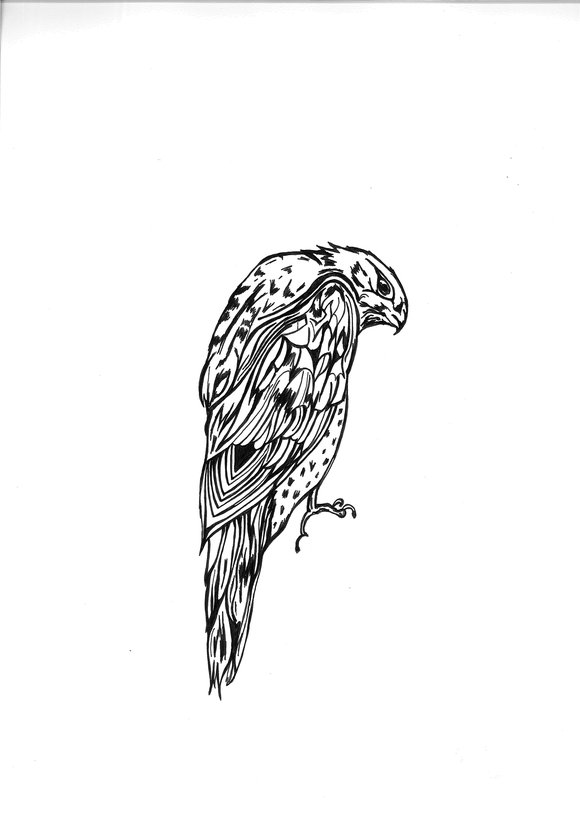 Falk (Tegning, tusj 2016)
Planned projects and exhibitions
Arbeider med en lydkunstutgivelse under navnet The Secret Sound (LP, digitalt)
CV
Krrstine Marie Aasvang
1987
Oslo, Norway
www.kristinemarie.no
Education:
2013 – 2015 Kunst -og designhøgskolen i Bergen
2010 – 2013 Kunstakademiet i Trondheim, NTNU
2009 – 2010 Strykejernet kunstskole
2007 – 2008 Prosjektskolen kunstskole
Solo Exhibitions:
2013 Dealing with National Feelings, Heim & Land Arkitekter, Trondheim
2013 Lydene i det andre rommet, Galleri Lilje Trondheim
2012 True Story from my head, Galleri Blunk, Trondheim
2011 Maybe your dreams was disturbed because of the symbols under you'r bed, Galleri 4235, Tromsø.
Music & Sound:
2016- Torgeir Waldemar, vocal, harmonium, guitar, flute
2016- Unnveig Aas, vocal
2016- Aden Prey, vocal, flute
2016- Frode Granum Stang, vocal, flute
2015- The Secret Sound of Dreamwalkers, text, composition, vocal, guitar, flute
2014- the Harvey Steel show, vocal, flute, text, art
10-15 V.A.D, Hiphop-performance group, vocal, text
07-10 Electric Teepee, text, composition, guitar, vocal, flute
2007- The Secret Sound, solo project,, sound art & performance
2007- Kristine Marie Aasvang (solo)
Music & Sound Releases:
2016 Highschool drop out, the Harvey Steel show, digital singel
2016 Beautiful Blue, The Secret Sound of Dreamwalkers, digital singel
2016 O'l drakes travelling medicine show,, the Harvey Steel show, digital & cassette
2015 My War, The Secret Sound of Dreamwalkers, digital singel
2015 Full double rainbow, the harvey Steel show, digital, cassette og LP
2014 My love, The Secret Sound, digital EP,
2013 Dealing with National Feelings, The Secret Sound, digital singel
2013 Electric Teepee, digital EP
2012 Zero and Out, The Secret Sound, usb-key
Appears also on:
2017 No Offending Borders, Torgeir Waldemar
2017 Old Soul, Unnveig Aas
Concerts:
The Secret Sound of Dreamwalkers:
2018 Bastard (Tromsø), Antikkstore (Lakselv), Mono (Oslo), John Dee (Die With Your Boots On)
2017 Mono(Oslo)
2016 Øyanatt, John Dee (Oslo), Audunbakkenfestivalen, Sørveiv (Kristiansand)
2015 Mono (Oslo)
the Harvey Steel show:
2018 ByLarm (Oslo)
2017 Blå (Oslo), Gråmølna (Trondheim)
2016 Working Class Hero Festivalen (Drammen), Fjellparkfestivalen (Flekkefjord), Blå (musikkfest, Oslo)
Fællestivalen (Danmark)
2015 Audunbakkenfestivalen, Kongsberg jazzfestival
Torgeir Waldemar:
2017 Rockefeller (Oslo), Garage (Bergen), Håndverkeren (Kristiansand), Martinique (Stavanger),
Energimølla (Kongsberg), Moskus (Trondheim), Bergenhus Festning (support for Hellbillies),
Steinkjærfestivalen (Trondheim), Klubbøya (Oslo), Hjørnet live (Nesbyen), Byscenen (Trondheim), Gregers
(Hamar), Wrightegaarden (Langesund), Lindmo Nrk (Oslo), Blå (Oslo)
Auden Prey:
2016 Apotekergaarden (Grimstad)
Kristine Marie Aasvang (solo):
2017 Bonanza, Musikkfest (Mono, Oslo), Hjørnet live (support for Torgeir Waldemar, Nesbyen)
Mono (support for Nadia Reid, Oslo), Byscenen (support for Torgeir Waldemar, Trondheim)
Gregers (support for Torgeir Waldemar, Hamar), Wrightegaarden (support for Torgeir Waldemar,
Langesund)
2011 Trollrock (Beitostølen), Nystuafestivalen (Eidsvold), Røyafestivalen (Oslo), Trondheim Calling, By-larm (Oslo)
2007 Organfestivalen (Oslo)
Group Exhibitions:
2017 Røde Portaler, vokal-performance, Kunstbanken i Hamar
2017 Oslo Open
2017 the Harvey Steel show, event, perfrormance & concert, TKM Gråmølna, Trondheim
2016 secret/sacred, concert/performance, Kunstplass 10, Oslo
2016 Tegnebienalen, EKPGO 2016
2016 Sommerøya, live drawing, street art
2015 The plants made me do it, performance together with Monica Winther, Galleri LNM, Oslo
2015 Ora-ro-ra, The Secret Choir, choir-performance, Master exhibition, Kunsthallen, Bergen
2015 Secret / Sacred, sound art, Spikersuppa Lydgalleri, Oslo.
2014 Flytaxi, sound art, Drive-in for lydkunst, Galleri Ruth, Fylkesvei 116.
2014 Everything stays, sound installation,. HBF Cuba, Münster, Tyskland.
2014 You and I share different rhythms, together with Jiska Haizing, Open Studios, Bergen Kunst-og designhøgskole
2013 V.A.D , performance & concert, Krakow, Polen
2013 The Secret Sound, concert-performance, Galleri Kit, Trondheim
2013 The Secret Sound, concert-performance, SUPAS session, Brukbar, Trondheim.
2013 Bachelor exhibition, Galleri Kit, Trondheim
2013 The Secret Sound, concert, Maksitarsi, label night for Marsmelons, Oslo
2013 The Secret Sound, sound art, Lydgalleriet i Spikersuppa, Oslo
2012 The Secret Sound, concert-performance, Galleri 50m2, Trondheim, Hazel Barstow's solo exhibition.
2012 V.A.D, performance, Art Academy, Münster, Germany
2012 V.A.D, perfromance, Kit, Trondheim
2012 The Secret Sound, concert-performance, Sound of Mu. Oslo
2011 KKKMDMHALASL, Galleri KIT, Trondheim.
2010 The Secret Sound, concert-performance, Murer festival, Ingensteds, Oslo.
2009 Elvis was an abstract dreamer, together with: Thomas Bergsten/Anne Cecilie Brunborg Lie, Galleri Brenneriet, Oslo
Curated:
2013 Prosjekt LØK, seminar og gruppeutstilling på Galleri KIT, Trondheim
Seminar for studenter ved NTNU: Lisa Dillan, Bjørn Kruse, Vibeke Tandberg, Kjell Moberg, Ida Lorenzen
Other Projects:
2015 Composer of «Whale» for the perfromance «Mellom det Faktiske og Fantastiske» by Anne Cecilie Brunborg Lie & Joakim Toreg, Art Hotel, Trondheim
2014 Poetry reading, Poesidigg, Cafe Opera, Bergen, curated by Henning Bergsvåg
2014 Composition and text of the song «Ikke Sant», art movie «Ikke Sant» by Mari Sanden
Grants:
2018 Tekstforfatterfondet: skriveopphold i Firenze
2014 Frifond : 4000,-
2013 Frifond : 4000,-
2013 Strakstiltak kunst og kultur : 4000,-
2012 Strakstiltak kunst og kultur, Trondheim : 5000,-
2012 Lise og Arnfinn Hejes fond : 8000,-
2012 Tekstforfatterfondet : 8000,-
2011 Tekstforfatterfondet : 8000