Hauge, Kari Adora
Installation and graphic printing
Hauge, Kari Adora
Installation and graphics
"Eventyrrom"
The idea behind the figure installation is from the book "Villette" by Charlotte Brontë. The installation is about Lucy Snowe's life. A story about an inner fantasy life as a necessary survival strategy. The installation is a tribute to imagination as a resource and survival strategy. This is an installation of illuminated paper figures that shed shadows on a backdrop, a kind of shadow theater. A tale of adventure and magic.
I use animals as symbols, as expressions of what I want to tell. See "Save the planet", where I use birds as a symbol of conservation of the earth. The birds and animals are something we must preserve, otherwise people are the next who can not live on our planet.
I work with lithography, drawing and paper figures.
Member of NBK, NG, BOA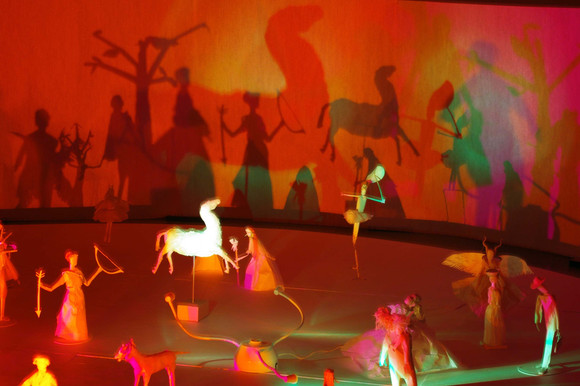 Kari Adora Hauge, "Lucy Snowe", installasjon, skyggeteater med lys og lyd, 5x5x1,2 m, vil bli vis på Sagene Kunstsmie. Vist i Lørenskog Kunstforening 2016.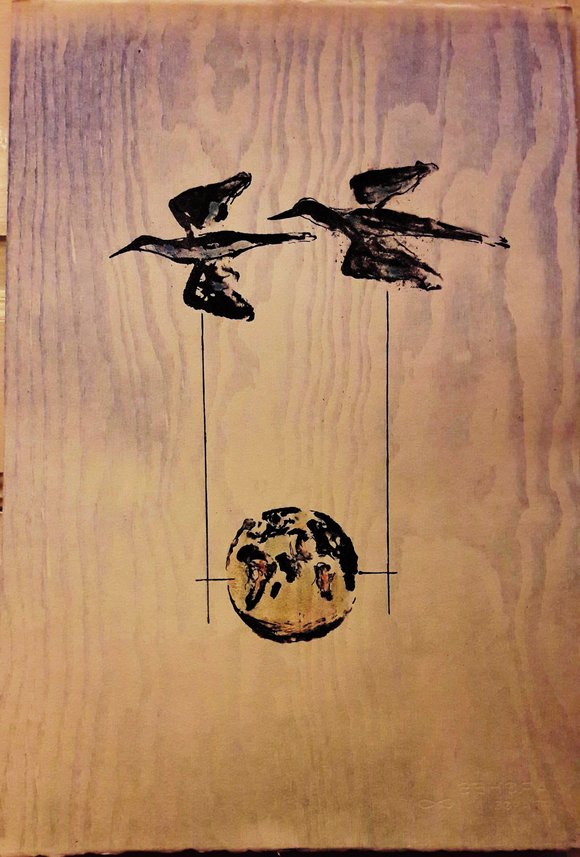 Kari Adora Hauge "Save the planet", litografi, tresnitt,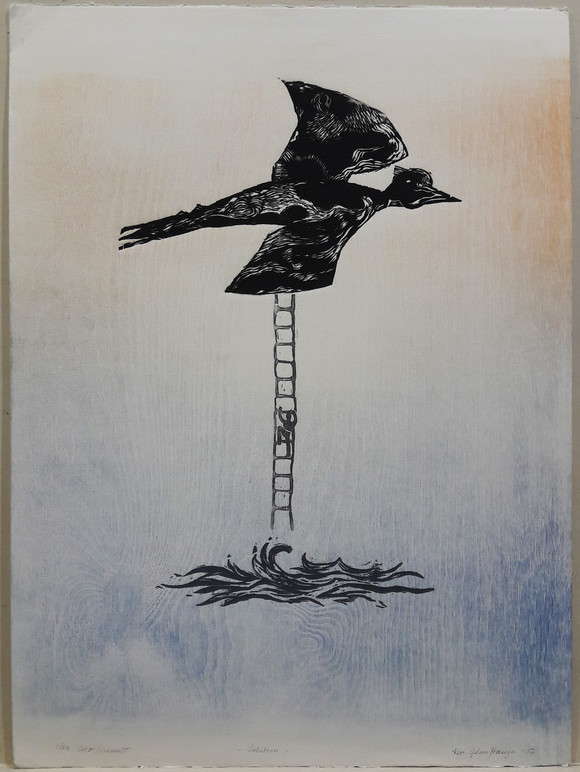 Kari Adora Hauge "Redningen", linosnitt, tresnitt, 2017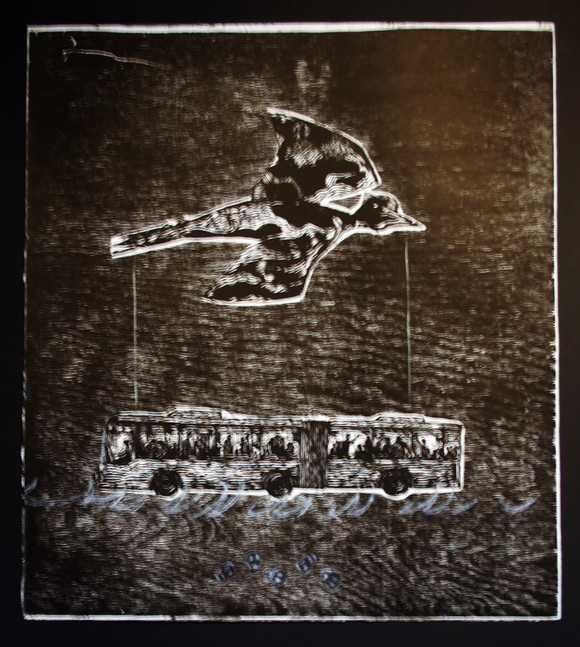 Kari Adora Hauge "Solution", linosnitt, tresnitt, 2017
Planned projects and exhibitions
I'm working on expanding the installation with more shapes.
CV
CV 08.06.16
Kari Adora Hauge
Private adress: Per Kvibergsgt. 16, 0478 Oslo.
Studioadress: Sagene Kulturverksted, Drøbakgt.1, 0463 Oslo
Member of Norwegian Printmaking Studio, Kalbakkveien 46, 0953 Oslo
www.kariadorahauge.blogspot.com
Tel: 938.58.239 E-mail: ka-haug3@online.no
Professional membership
Norwegian Fine Art Association, Norwegian Printmaking Association, B.O.A, Visual Artists Oslo Akershus.
Education
La Llotja, School of Fine Art, Barcelona, (1992-1994). The Stately School of Art and Crafts, Oslo, Diploma (1970-1974).
Awards
3. prize in the decoration competition for noise barrios in concrete and glass, Borge Community (1990).
2. prize in the Norwegian Design Contest (1973)
Grants
Norwegian Cultural Committee, outfit support (2000). Stately Material-stipend (1978).
Individual Exhibitions (in selection)
2016, Gallery Kunstsalen Lørenskog, "The world of thought, Lucy Snowe"
2013, Gallery Dalype, "A room to live in."
Gallery Rom For Idé, Oslo, "ENTER-INTRO-EXIT" (2006). Gallery B O A, "Cross Point", Oslo (2005). Albin Art Gallery, "Me and my men", Oslo (2002). Galeria Art Zero, Barcelona (2000). Art Society of Troegstad (1999). Galeria Palau Maricel, Sitges, Barcelona "Abstract Tango" (1998). Gallery 1814 Unique, Eidsvoll (1997). The Scandinavian Club Barcelona (1994). Hordaland Art Center, Bergen, video/installation "COMMUNICARE" (1988). Gallery F-15 Alby, art video "COMMUNICARE" (1987). Art Association Gallery, Oslo (1982, 1987). Dahlsveen Jewellery Gallery, Trondheim (1981).
Collective and group exhibitions (in selection)
2015, partpicipate internasjonal exhibition shown in several countries and opened in mars 2015, theme: «Wondering Mind» (60×60) Shown in: Slovakia, Nepal, China, New Zealand, Pakistan, Belgia, Bulgaria, Oslo.
2013. Group exhibition, Galleri Schæffersgt. 5, "My vote", the theme is women´s right to vote, the jubilee.
2013, Group exhibition, Galleriverkstedet, Oslo
2012, Participate a group exhibition, Galleri Kunstsalen Lørenskog Hus
2010, Amateras Annual Paper Art Exhibition
2010, Group exhibition "Behind the seven blues". Gallery Blakstad, Norway
2009-2010, Bratislava, exhibition "The Bridges"
2009, 1st International Print Biennial, China Gallery BOA, Oslo, participated with a video called "Anonymous Artist", 2009.
2008, Lessedra, Bulgaria, Graphic Print International
Art society of Baerum, "Graphic dialogues" (2007). Gallery B O A, "Norge I Verden, Verden I Norge" (2007). Pierstany, Slovakia "Bridges" 2005. Print International, Cadaques (2004, 2003). Jämsä, Finland,"Up to Kivipanki" (2000). Art Society of Baerum (2001). International Triennial of Graphic Art, Bitola, Macedonia (2000), Gallery Brocland, Tokyo, "World Art in Tokyo" (1999), Galeria D´art Zero, "Small is big", Barcelona (1999) and "Erotismo" (1998). Gallery 1814 Unique, Eidsvoll, "Eroticism -97" (1997). Galeria Catalonia, Barcelona (1997). Gallery Haa Old Rectory, "Vanity and joy", Jaeren (1995). Gallery Arts Mielan, Barcelona (1997). Gallery Henie-Onstad, Oslo (1991). "The long journey", Gallery Charlottenborg, Copenhagen, Denmark. "Sport/Non-sport, travelling exhibition around in Norway (1989). Regional travelling exhibition "Smykker med nykker (1989). "Homo Decorans" The Gallery of Lousianna, Copenhagen, Denmark (1985) The Art Center of Hordaland, "Dragons" (1985). The Museum of Tromsoe, Norway (1978). The National Museum of Maihaugen.
Participation
The Norwegian Official Art and Crafts Exhibition (1984, -83, -82, -81, -80, -78, -77)
Regional Exhibition (1998). Vestfold Art Center, Larvik "In Air", installation outside in painted glass and iron (1986).
Purchases
The Norwegian Cultural Purchasing Committee (1987, -84). The Nordenfjeldske Art and Crafts Collection Museum, Norway (1985, -82, -76). The Arts and Crafts Museum of Oslo (1983). The National Regional Gallery of Norway (1982).
Project Support
Art Video: COMMUNICARE, Norwegian Cultural Committee.
Building Decorations
Fredrikstad, (2006). Fresco painting, private house, Norway (1996). Bjoernegard School, Baerum (1995). Solli School, in the County of Oestfold (1985).
Travel and study-tours
Marokko (2007, -04). Spain (several times from 1991). New York (1985). London (1986, -82), Crete (1981), Turkey (1978, -77), Italy (1973).
Work-shop
Participated in printmaking work-shop in Bosnia, Visegrad, the theme "The Bridge over Drina". (2009)
Participated in an Arabic/Norwegian printmaking work-shop at Norwegian Printmaking Studio, Oslo. (2001)