Finne, Henriette
Painter
In recent years my theme has been migration. As a painter, I see myself as a maximalist,
My project as an artist, is to get many different picturesque contradictions to meet in one and the same picture, it brings in many interesting formal questions about building up a painting, such as composition, colours, texture and so on. There are layers on layers of paint, thick and thin coats and surfaces. Something painted with brushes, something emptied in large ponds, splashes, washed and drawn with coal directly into the pictures.
Through hints, I approach my topics. The titles also play an important role.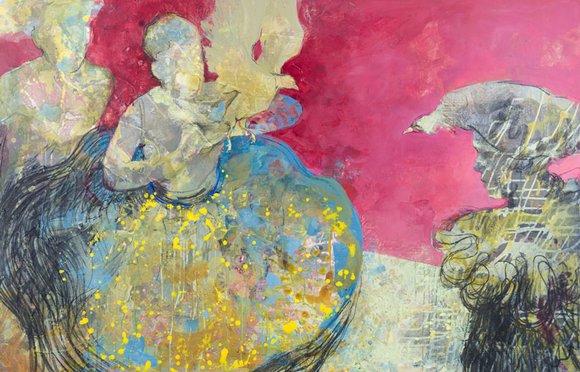 Henriette Emilie Finne: A performance 110x170 cm. acryllic paint. 2016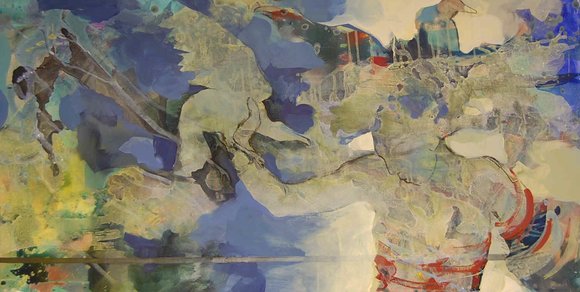 Henriette Emilie Finne: Fugleviskeren 75x150 cm acrylic paint 2013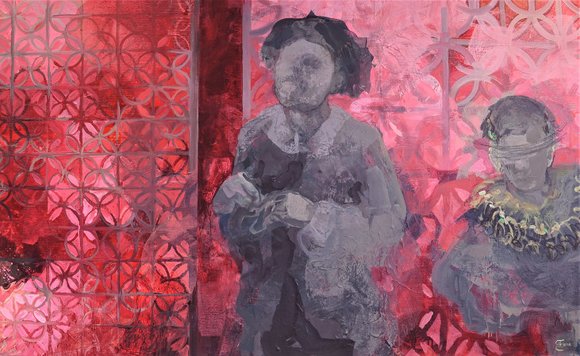 Henriette Emilie Finne: The unknown 10x180 cm acrylic paint 2017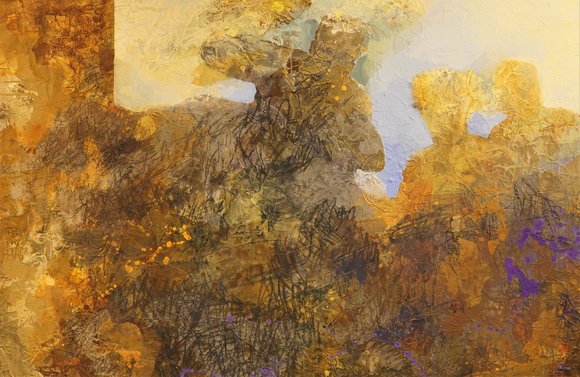 Henriette Emilie Finne: Insomnia 110x170 cm. acrylic paint 2016
Planned projects and exhibitions
Big separate exhibition, opening 14.april 2018, i Gulden Kunstverk. 10 minutes from Drammen. https://www.guldenkunstverk.no/henriette-finne
CV
Norwegian painter and sculptor, born in 1966. Had her debut in 2000. Education from Statens Håndverks- og Kunstidustriskole (SHKS) in Oslo. Has been present at several galleries the last years and has been purchased by well known companies. Grown up and lives in Oslo.
Education:
1997 – 1998: 1 year. PPU – Practical pedagogy. HiOA – College, Oslo og Akershus. Norway.
1989 – 1994: 4 1/2 year. Master degree.The National College of Art and Design, Oslo. Norway
Member of :
LNM – National Federation of Norwegian Painters
NBK – Norwegian Visual Artists' Association
Separate exhibitions:
2016: Galleri EKG. Hamar
2015: Galleri Allmenningen. Bergen
2015: Hole Artcenter. Tyrifjorden. Ringeriket
2014: Gulden Kunstverk. Hokksund
2013: Rådhusgalleriet. Oslo
2013: Engø Gårdhotell. Arr. Galleri Semmingsen. Tjøme
2012: Galleri Allmenningen. Bergen
2010: Galleri Henrik Gerner. Moss
2010: Galleri Allmenningen. Bergen
2008: Galleri Allmenningen. Bergen
2007: Galleri Skårer. Lørenskog
2006: Galleri Semmingsen. Oslo
2004: Rådhusgalleriet. Oslo
2004: Rygge kunstforening. Moss
2003: Åsane kunstforening. Bergen
2000: Galleri Pommes de Terre. Moss
Book launch
2016 : Artist book – Maleren Henriette Emilie Finne
Group exhibitions, a selection shown here:
2014: LNM – Landsforeningen Norske Malere. Oslo
2014: Hole Artcenter. v/Tyrifjorden
2013: Gulden Kunstverk. Hokksund
2008: Hotell Wassiliof, Galleri Winther. Stavern. Arr. Galleri Semmingsen
2007: Galleri Nevlunghavn. Arr. Galleri Semmingsen
2007: Vinjeutstillingen. Vinje
2006: LNM. Oslo
2006: Galleri Hervold. Hamar
2005: Galleri Semmingsen. Oslo
2002: Galleri Hervold. Hamar
2001: Galleri Hervold. Hamar
1999: Galleri Hartvig. Oslo
1999: 'Autumn exhibition' – The Norwegian National Artist Exhibition. Oslo
Purchased by:
2008: Alliance Boots apotek. Oslo
2008: Haraldsplass Diakonale sykehus. Bergen
2007: Fred Olsen Cruise Line, Cruise ship MS. Balmoral
2006: Kunstforeningen Norsk Tipping. Hamar
2004: Norsk forbund for utviklingshemmede. Oslo
2004: Storebrand Kunstforening. Oslo
2003: Gaia Trafikk A/S. Bergen
2003: SAAS-Eiendom. Oslo
2001: Candy Design A/S. Oslo
2001: Norsk Tipping. Hamar
1999: Norrønt Gudemuseum. Gol
1994: Mercuti International. Oslo
1994: Esso. Oslo