Marstein, Grete
Printmaking/ drawing/installation/painting
I work project based and in series. The themes I explore, I develop into diversified series in different artistic techniques. The last years I have primary worked with Carbon12 as a main theme and have researched this as large scale painting, as prints, and lately as installations in Jaipur, India. Our Art Group, Norwegian Worldwide Artists are now creating an exhibition project called "Polluting Purity", with works that discuss and visualize how our strive towards purity results in quantities of environmental hostile materials.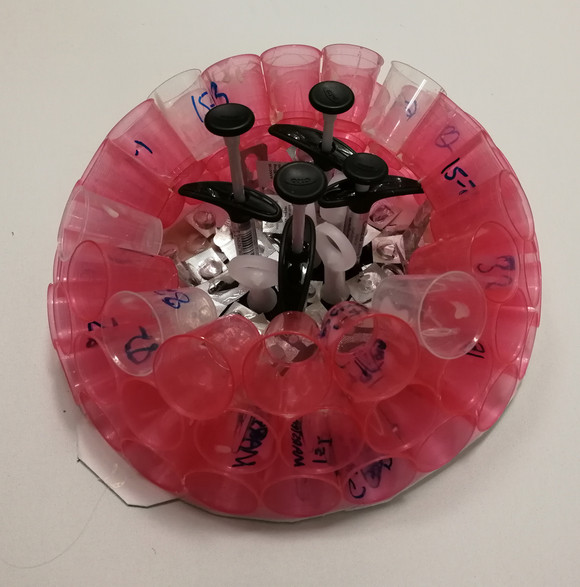 Sykehusblomst1, engangsplast fra et sykehusopphold, sykehus og bedrifter i Oslo er ikke pålagt kildesortering så ingenting resirkuleres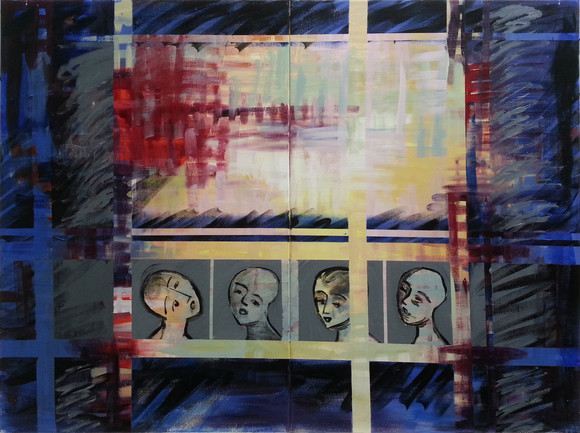 Grete Marstein Transition IV 120x180, akrylmaleri fra en større serie om livet i byen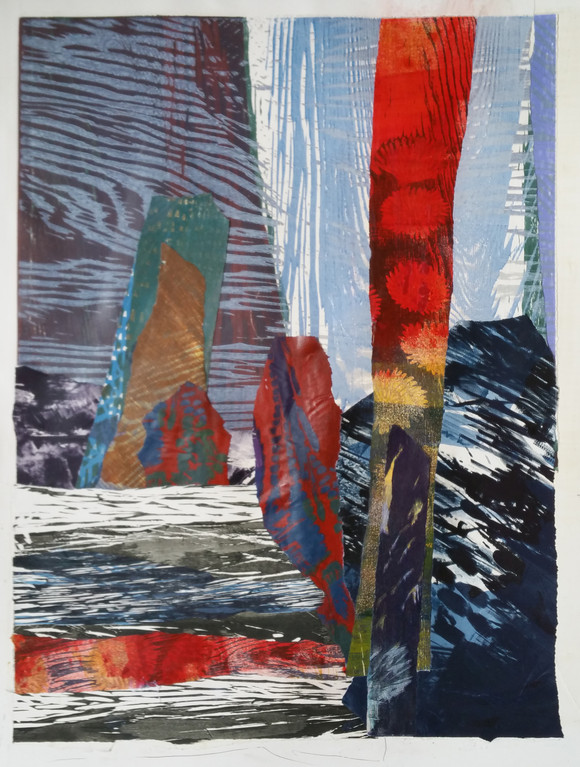 gjenbruk av grafikkarkiv 1, collage av fragmenter av grafikk fra mitt arkiv av egen produksjon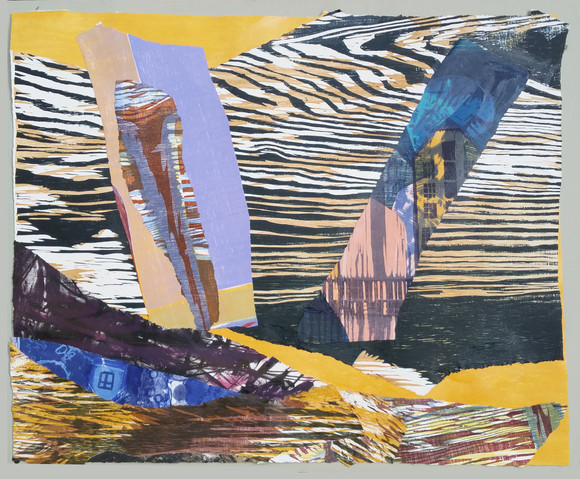 Gjenbruk av grafikkarkiv 2
Planned projects and exhibitions
Utstillingen AntiWar i Seoul, Sør Korea, desember 2017, Utstilling i GalleriBanken, Brandbu, juni 2018, Asian Art Biennale, Daccha, Bangla Desh 2018, "Meadows" vandreutstilling i Italia 2018, Galleri Mela, gruppeutstilling mars 2018
CV
G r e t e M a r s t e i n
Eikelundveien 4, 0588 Oslo. N – Norge, tel +47 22 15 53 90 / +47 99 444 762
(born in Oslo, 1952) epost: post@gretemarstein.no www.gretemarstein.no
Member of Norwegian Visual Artists Association NBK
SHKS Oslo, State College of Arts and Crafts
diplom printmaking/illustration 1972 – 1976
SHKS – Raderklassen, master class printmaking 1976 – 1977
Vysokej Skoly Vytvarnych Umeni (State Academy) Bratislava,
Tsjeckoslovakia, dept. for experimental printmaking 1977 – 1981
University of Oslo UiO
Master in Art History and Russian-Eastern Europe history 1999
Certified as Consultant for art in public spaces,
State Art Academy, Oslo 2004
Recidencies
Atelier Lacouriere et Frelaut, Paris, France 1981/82/84
Centrum voor Grafiek – Frans Masareel, Kasterlee, Belgium 1979
Kunstenaarcentrum – de Olefant, Nijmegen, Netherland 1980
Kiyoharu Art Colony, Yamanashi-ken, Japan 1983
USA:, Kala Institute, Berkeley, California, USA 1988
Rutgers Experimental Workshop, New Jersey State University, USA1989
Rugg Road Paper & Prints, Boston, Massachusetts, USA 1989
Workshop on Mauritius 2006
Mojmirovce, Slovakia 2006
Ny Ålesund, Art residency, Svalbard (Spitsbergen) 2007
Campeche, Mexico 2009
Jakarta, Indonesia 2011
Palanga, Lithuania 2015
Appointed by the Minister of Culture to the Norwegian State Commission for UNESCO 1997 – 2000, 2001 – 2004,
President of the Norwegian Artists Copyright Association BONO 1990 – 1994
Member of the international executive Committee of IAA/AIAP International Association of Art (NGO tied up with UNESCO) , 1986-1989, 1992-2002, 2005-2011, International Vice President 2011-2015.
Numerous elected and appointed positions in Norwegian artist associations and institutions as. NBK, IAA, NG, NGV, BOA, BONO og KEM
Active in National and regional organisations (NGOs) concerning environmental and nature protection.
Curatorial work
2016 Migrating identities, NWA, Loreskog, Norway
2013 My Voice, Galleri Schaeffers gate 5, Oslo Norway
2012 On the right track, Oslo and New York
2011 Norwegian World Artists, Chengdu, China
2008 Internasjonale cross roads, Galleri Skårer, Lørenskog
2008 Contakt-Kontakt, Norwegian- Slovakian exhibition,Bratislava, Slovakia, and Oslo, Norge
2007 Mosty-bridges-broer,,Oslo, Norge, og Piestany, Slovakia
Jury appointments (selection)
Romeriksutstillingen 2017
International crossroads 2010-2011
Romeriksutstillingen 2007
Chair of the jury in Lørenskog Art Society 2008 -2015
53.Landesschau 2006 Germany
Grants / prizes (selected)
2015 Project support VF
2006 Project support VF
2004 Arild Wahlstrøms Picassofond
2003 VF work grant
2002 Oslo City's Culture grant
2001 The Visual Artists Honorary Grant
1995 Namdalsgrant
1992 Price of honour, Paperworks III, Dundee, Scotland, UK
1991 Rolf Nesch grant
1987 Price of honour, SPACE Print biennale, South-Korea
One woman shows (selected list)
2017 Galleri Skårer, N
2016 Galleri Schaeffersgt 5, Oslo
2016 Galleri Odonata, Fornebo, N
2011 Galleri Schaeffersgt 5, Oslo, N
2010 Shãffergården, Copenhagen, Denmark
2010 Riksrevisjonen, Oslo, N
2010 Galleri Helnæs ,Svendborg DK
2008 Galleri Akademika, Oslo N
2007 Galleri Mamen, Moss, N
2005 Galleri SG, Trondheim, N
2005 Galleri Norske Grafikere, Oslo
2004 Linderud estate, Oslo, N
2004 Melhus Art Society, N
2002 Galleri Tyra, Sundvollen N
1999 Galleri Tyra, Sundvollen, N
1998 Gallerij E.A., Antwerpen, B ,
1998 Galleri Amare, Stavanger, N
Group exhibitions (S.L.)
2017 Polluting purity, Galleri Sørumsand, N
2017 Migrating identities, Galleri 69, Oslo n
2016 Light in the darksness, Epreuve d'Artiste, Antwerpen B
2016 Det undrende sinn, Galleri Sch5, Oslo
2016 Carbon 12,The Egg Galleri, New Dehli, India
2016 Migrating Identities, Lørenskog kf, N
2016 Green Earth, Guwahati, Assam, India
2015 Light in Spaces, Salle Miro, UNESCO, Paris,F
2015 Light in Spaces, Vilnius, Lihuania
2013 My Voice, Galleri Schaeffersgate 5, Oslo N
2013 100 year female voting rights, Galleri-sg, Trondheim, N
2013 Galleri Orangerie, Schloss Glücksburg, BRD
2013 Climate change, Mauritius
2013 On the right track, Trygve Lie Gallery, NY, USA
2013 Nordic art, Helnæs, Fyn DK
2013 Nordic art, Flå, N
2012 Nordic art, Uddevalla, S
2012 Når alt går på skinner/On the right track, Oslo, N
2012 Cultural dialogue, Beirut, Libanon
2012 Nordisk art ,Oxeviks Varv, S
2011 NWA, Chengdu, China
2011 Traveling Art, Valencia, ES
2011 Reconsidering Earth, North art Space, Jakarta, Indonesia
2011 Rolling up, Xian, China
2009 Int.Portrait exhibition, Mauritius
2009 To malere og to fotografer, Galleri Svaij, Oslo
2009 Galleri Dalype, Fyn, DK
2009 Exchange rates Global money
East Chelsea Studio Nrth, Oslo 2008 Invited artists, Seoul, Sør-Korea
2008 Internasjonale krysninger, Galleri R5, Oslo,
2008 FIAP, Mahares, Tunisia
Collective exhibitions (s.l.)
2017 Beijing International Art Biennale, Beijing, China
2017 Personal structures, Coll. Event Venice Biennale, Italy
2016 17, Asian Art Biennale, Daccha, Bangladesh
2016 Art Junction, Mexico city, M
2015 Beijing International Art Biennale, Beijing, Kina
2014 Malacca Int.Contemporary, Malaysia
2014 Art al Vent, Gata de Gorgos, ES
2014 Ynglingen, Stavanger, Norway
2013 Centro Lebanese, Mecico City
2013 Art al Vent, Gata de Gorgos, ES
2012 International Triennale of Graphic, Bitola, Macedonia
2012 Art al Vent, Gata de Gorgos, ES
2011 Int.Graphic art Biennale Dry point Uzice, Serbia
2011 VII small engraving exhibition, Cremona, Italia
2011 Art al Vent, Gata de Gorgos, ES
2009 VI Exp.Europamericana, Campeche, Mexico
2009 International Triennale of Graphic, Bitola, Macedonia
2009 Int.Graphic art Biennale Dry point Uzice, Serbia
2008 Beijing International Art Biennale, Beijing, Kina
2007 Grafix-biennalen, Breclav, Tsjekkia
2006 Lessedra print annual, Bulgaria
2005 Lessedra print annual,
2003 Beijing International Art Biennale
2001 Østlandsutstillingen (Regional
Public Art Consultant (KORO)
Mailand Videregående skole, Lørenskog, 2008 ( 1,3 mill NOK )
Kragerø Barne- og Ungdomsskole, 2009 ( 1,5 mill NOK)
Sandaker barne- og ungdomsskole, Oslo kommune. 2011 ( 500 000 NOK)
Nord-Østerdal vgs, Tynset/Hedmark 2012-2013 (3,4 mill NOK)
Hegg skole, Lierbyen, Lier kommune, 2013/2014 (2,4 mill NOK)
Aust-Lofoten vgs, Vågan 2014 (1,7 mill NOK)
Elverum County, health department ( 2,3 mill NOK)
Other relevant work experiences (selected)
Norwegian Broadcasting NRK
Graphic designer and Illustrator, 1981 – 1984
Freelance book designer and llustrator 1979 – 1998
Professor at Rogaland Art College, Stavanger, Norway, 1983 – 1988
Guest lecturer at the State Academy in Trondheim, Norway 1984,1986
Artist in Residence TELENOR, Oslo og Kjeller connected to their research program on telecommunications1984 – 1990, 1991 – 1995
Freelance (own company) computer based (digital) design and media 1986 – 1998
Engaged by IBM at the Lillehammer Olympic Games 1994, designer of digital inter active public ations 1992 – 1994
Lecturer at Kulturringen , Akershus county 2007 – 2011
Lecturer at the Regional Universities in Telemark and Oppland 2005 – 2006
Initiator and administrative responsable for bilateral cultural exchange programs
1989, 1991, 1995, 1998, 2001, 2005, 2006
Koordinator for UNESCOs internatonal print workshop and exhibition
"Dialogue between Arabic and Norwegian artists" 2001