Amundsen, Hedda Roterud
Mixed media
Autobiographical accounts set the framework for my practice, emphasizing that the personal is always political. The ramifications of living in the technological era informs my practice. I gather inspiration from popular culture and I'm fascinated by how the pop language manages (or may not manage) to give meaningful (or perhaps meaningful) images of emotional life.
I write, collect, dance, sing karaoke and fantasize a lot. My interests includes love, cartography, sexuality, feminism, clichés, geology and mental health.
One thing leads to the other. It's a bit like collecting.
Rock – rock hard – rock hard for you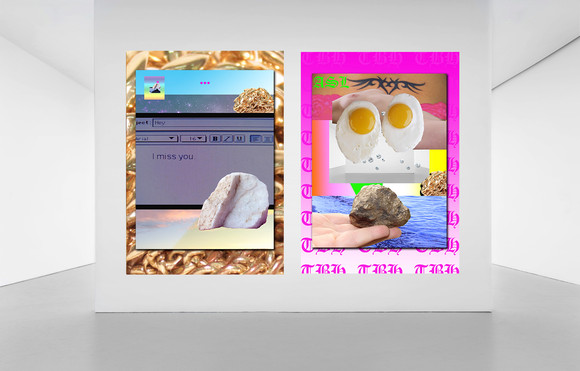 subjecttochange_THASSOSmarble_$ketch_$unset_$acsc.bling_blackletterLIME=growinguponline_archives1-492_fried.tbt.JPG"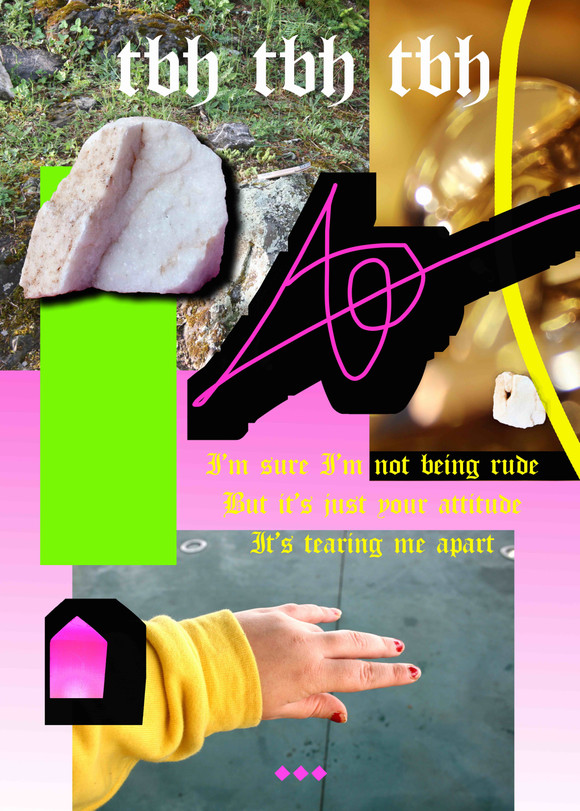 smartphone_essentials4CONNECTING=swipeleft?.JPG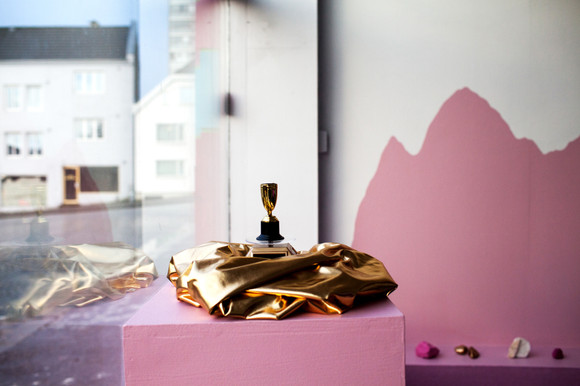 Netflix & Chill: pink mountain squad (Installation view, Studio 17, 2016)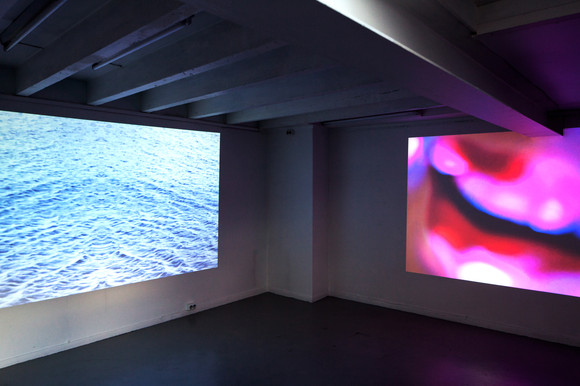 Netflix & Chill: kunne skrevet bok om det (Installation view, Studio 17, 2016)
Planned projects and exhibitions
2016 – 2018 Mjøsa – an art project // solo exhibition @ Kunstbanken Hedmark Kunstsenter + publication, workshop and seminar. Curator Per Bjarne Boym // Oppland and Hedmark county municipality // NO
2018 PNEK Files (No. 5, publication) // NO
2018 The Finnskogen exhibition // Røgden Bruk//Svullrya//NO
2018 Never just a cool picture // DKS production // Hedmark // NO
2019 Mjøsa State of Mind // DKS production // Oppland // NO
CV
EDUCATION
2012 – 2014 Oslo National Academy of the Arts//Academy of Fine Arts//Master of Fine Arts//Norway
2009 – 2012 LASALLE College of the Arts // Bachelor (Hons) of Fine Arts//Singapore
EXHIBITIONS 
2018 Between the lines//Oslo National Academy of the Arts//Group exhibition//NO
2017 Living in Tabs//Winter Solstice//Økern Cable Tower//Oslo//NO
2017 You are too young to write your memoirs (part 1)//Sommerøya//SALT//Oslo//NO
2017 Netflix & Chill Vol 2//Solo exhibition//Gallery Blunk//Trondheim//NO
2016 Netflix & Chill//Solo exhibition//Studio 17//Stavanger//NO
2016 Juvenarte no 19//TM51//Group exhibition//Oslo//NO
2016 Exhibition Vol. 2 //Oslo National Academy of the Arts//Oslo//NO
2016 # kjendisiegetliv // Sommerøya Festival//Oslo//NO
2016 Book launch of "Romantic Coordinates and Other Mental Courses"
& performance//Volumefestivalen//Elvarheim//Elverum//NO
2016 All FriendsInvited//Gallery Bokboden//Bergen//NO
2015 Karaoke Machine//Futsetsu Gallery//Kofu//JP
2015 You're always longing for somewhere else//Volumfestivalen//Old Elverum Art Gallery//Elverum//NO
2014 All friends are invited//Podium//Oslo//NO
2014 Karaoke Nights//Demons Mouth//Oslo//NO
2014 MA Graduation Exhibition//Kunstnernes Hus//Oslo//NO
2014 No, but it's not // Gallery Steenstrupsgate//Oslo//NO
2013 Winter Solstice // Norsk Billedhogger Forening//Oslo//NO
2013 ' Christmas Calendar//UKS//ONO//Oslo//NO
2013 No Man's Land – Part 1 // Stolper + Friends//Oslo//NO
2013 Karaoke Machine // Gallery Ryesgade // Copenhagen//DK
2013 Education Reversed // Fotogalleriet//Oslo//NO
2013 Why is it that women's art is so often about relationships and the body, and so on. // Søylegalleriet//Oslo National Academy of the Arts//Oslo//NO
2012 Oslo Academy of Fine Arts' Christmas Calendar//Oslo Central Station//Oslo//NO
2012 LAND: Fragments of Experience//Gallery Seilduken//Oslo National Academy of the Arts//Oslo//NO
2012 Pameran Poskad//Viridian Art House//SG
2012 Winston Oh Travel Research Award Exhibition//Project Space//Institute of
Contemporary Art Singapore//SG
2011 That's Another Story//Praxis Space//Institute of Contemporary Art Singapore//SG
2010 Takeways // Sabanci University//Fass Art Gallery//Istanbul//TR
GRANTS/AWARDS
2017 Project grant; Billedkunstnernes Vederlagsfond//NO
2016 Juvenarte Award//ANSA//TM51//Oslo//NO
2016 Exhibition grant for artists in the establishment phase//Norway National Arts Council
2015 Miscellaneous grant for newly educated artists//Norway National Arts Council
2015 Volume Award//Volumfestivalen//Elvarheim//NO
2014 Sparebanken Hedmark Talent grant//Hamar//NO
2012 The Winston Oh Travel Research Award//Research trip to Nepal//SG
PRINTED (SELECTION)
2017 "Rosarevolusjonen" interview in NRK Culture//NO
2017 The project "Mjøsa – an art project" presented in the publication "Over Alle Hauger – place of art and places of art ", ed. Eivind Slettemeås, published by Oppland Kunstsenter//NO
2016 Review of the exhibition "Netflix and Chill" in the magazine Billedkunst No. 7
2016 Writer for AFV Press' New Literature Magazine 'FAV'
2016 The book "Romantic Coordinates and Other Mentale Holdepunkter", independent publishing. Distributed through libraries and bookstores: Tronsmo, Torpedo Press and in various exhibitions // NO
OTHER (SELECTION)
2017 Romantic Coordinates and Other Mental Courses (live)//Performative reading//Across Oslo II///Deichmanske Library, Deputy Grünerløkka//Oslo//NO
2017 Artist books included in the book fair "China Meets Norway in a Bookshelf"; by Bergen Zines + Northing, Beijing & Shanghai
2017 Model Making in the Digital Age; Atelier La Juntana, Santander//ES
2016-2017 Curator for Festival Art Program//Volumfestivalen//Elverum//NO
2015, 2016, 2017 Open studio//Oslo Open//Oslo//NO
2016 Open studio//Røgden Bruk//Finnskogen//NO
2016 Artist in residence// with Miriam Hansen // Røgden Bruk//Finnskogen//NO
2014 Artist book "The Distance Between You and Me", represented by Jessica + Friends // NY Art Book Fair // MoMA PS1 // New York // USA