Borring, Arne
Painting
I work hard and methodically to find a precise expression for a sensual experience, using an old language to describe a contemporary state. The urge to understand reality by recreating it is fundamental for my work. My eyes and time are my main tools. The time I use amidst and in direct dialogue with a landscape, or facing a model in the studio, changes my experience and cognizance of what I am painting.
To me artistic innovation takes place through a deepening of craftsmanship, while trying to master what's not yet mastered.
Member of NBK, TF, LNM, BOA, PSA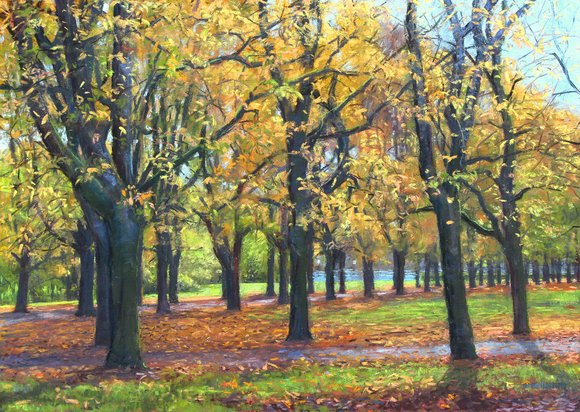 Vigelands trær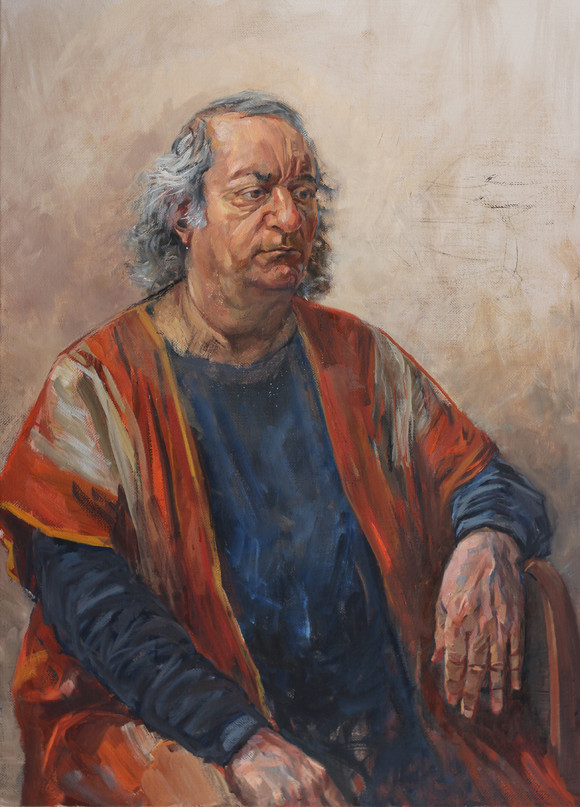 Maurice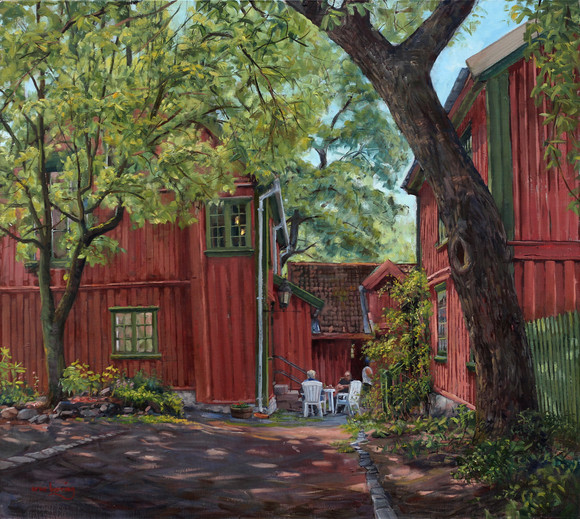 Bernerløkken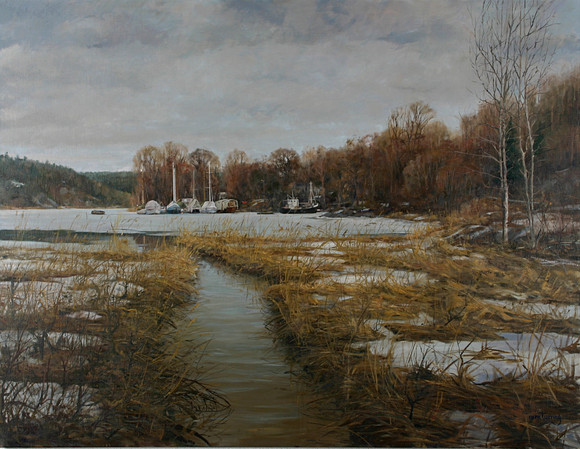 Senvinter, Bånn i Bunnefjorden
Planned projects and exhibitions
A Landscape Project: A classic project where the unedited landscape is the pretext for the painting. To me representational painting contains the utmost abstraction, and in landscape painting this is especially apparent: Dots and layers of paint appear as trees, water, light and atmosphere!
A Portrait Project: Born in the middle of last century, I notice that people of "the age of individuality" look more and more alike. The ones who stand out from the crowd are mostly outcasts, people who toil in one way or another. I plan to get them into my studio, beggars, addicts, disabled, children and elders – those who have faces that tell me something. It can be almost unbearable to look at those who have fallen so far outside the norm. When one bears it, though, it can lead to new understanding, often based on recognition.
CV
Education:
Oslo Husflidskole 1973-75
Statens Kunstakademi 1975-79
Grants:
Gunnar S-stipendiet 1996
Namdalsstipendiet 1996
Beiarstipendiet 1997
Harriet Backers minnefond 1998
Jomfrulandstipendiet 1998
Ryvardenstipendiet 1999
Oslo Bys Kulturstipend 2006
Ingrid Lindbäck Langaards Stiftelse 2009, 2011 og 2016
Statens diversestipend 2012
Solo Exhibitions:
Høyanger Kunstlag 1996
Namsos Kunstforening 1996
Vikna Kunstforening 1996
Gullbakke, Lillehammer 1997
Beiarn Kommune 1997
Kragerø Kunstforening 1999
Austevoll Kommune 1999
Galleri Ryvarden 2000
Galleri Haganes 2000
Ås Kunstforening 2002
Galleri Vanntårnet 2003
Galleri Tonne 2004
Galleri Havstad 2006
Galleri Borg 2006
Galleri Tonne 2006
Galleri Virtu-Cardinali, Berlin 2008
Galleri Tonne 2009
Galleri Havstad 2009
Hankø Fjordhotell 2010
Galleri Tosmur 2010
Bærum Kunstforening 2011
Galleri A 2014
Represented at:
Statens Kunstakademis samlinger
Høyanger Kunstlag 1996
Høyanger Kommune 1996
Høyanger Energiverk 1996
Namsos Kunstforening 1996
Namdal Sykehus 1996
Beiarn Kommune 1997
Beiarn Bygdeutvikling 1997
Kragerø Kommune 1999
Austevoll Kommune 1999
Sveio Kommune 2000
Kragerø Kommune 2000
Nesodden Kommune 2003
Kirkelig Fellesråd i Oslo 2009
Several private collections, mainly in Norway.