Berg, Åslaug Krokann
Drawing, video, objects
In my work I deal with the loneliness of human beings in relation to oneself,others and the outside world. Apparantly absurd scenes and actions show us characters who are carrying the knowledge of impermanence through life, on their way towards death as the inevitable end.
Being impermanent, there is also the longing, or missing of what have been, could have been, or can become. The sorrow of life, the sorrow of loosing.
Nevertheless there is a presence of humanity og recognizability ,there is a urge of showing respect and solidarity towards eachother and give space to the different and outsiders.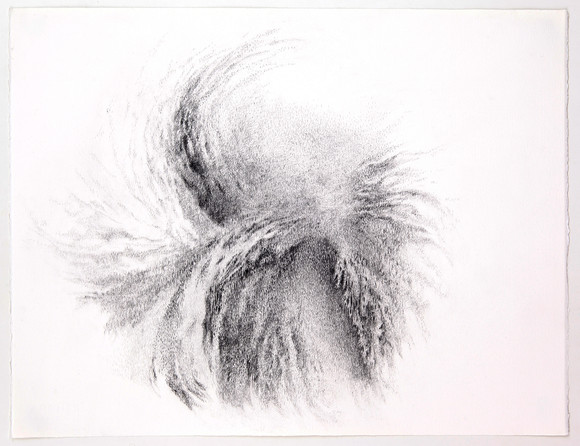 "gammelt V" blyant på papir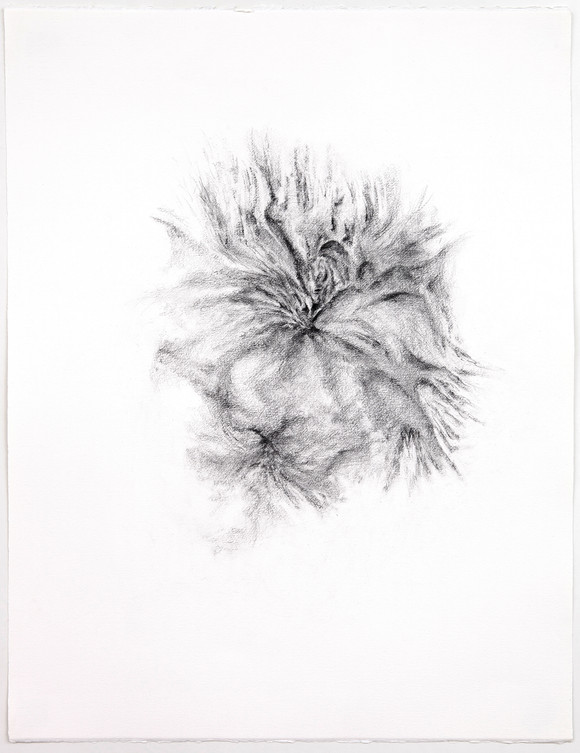 "gammelt VI" blyant på papir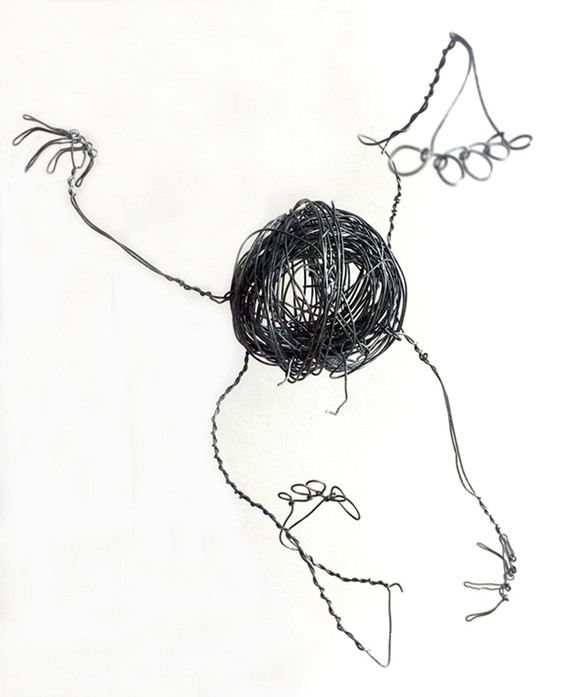 figur #6 - ståltråd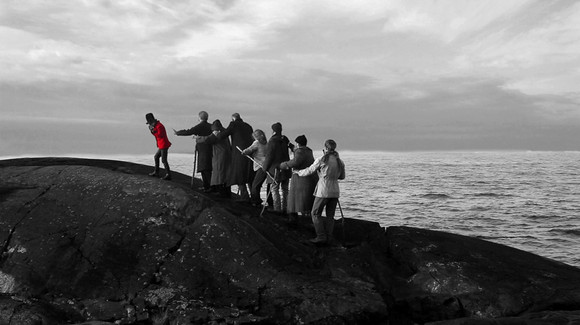 Blindefangeren videostill
CV
Curriculum Vitae – Åslaug Krokann Berg f.04.02.68
krokann.berg@gmail.com /www.krokannberg.no
Education/background:
1993-95 Atelier Nord
1992-93 Norwegian Printmakers Studio
1989-91 Strykejernet School of Art
1988 Ex.phil., Blindern, University of Oslo
Solo shows:
2019 Galleri Heer, Oslo
2017 Zink Gallery, Lillehammer
2015 Gallery 69, Oslo
2012 Oppdal Kulturhus
2011 Rauland Fine Art Society
2010 North Norwegian Art Center, Svolvær
2008 Gjøvik Fine Art Society
2007 Arendal Fine Art Society
2006 Sound of Mu gallery, Oslo
2004 Rogaland Art Center, Stavanger
Oslo Fine Art Society
Oppland Art Center, Lillehammer
Groupshows / screenings:
2018 Tenthaus SpringDepot, Tenthaus, Oslo
2017 "Retrospective. Film- and Video Art – Norway, 1990-2000" – Minimalen,
Trondheim
2016 Songs of Sorrow,part II – Scenetext-festival, Tromsø
NOVE SED NON NOVA, Winter Solstice night exhibition, Oslo
Kunsten å sykle, Zink Gallery , Lillehammer
Sommerøya artprogram, Kontraskjæret, Oslo
Songs of Sorrow,part II – Deichman Library, dep. Grünerløkka, Oslo
2015
''Are we still here?'' Sami Center for Contemporary Art,Karasjok, Storvik, Johansen, Boine, Krokann Berg
Heidal Festival, Heidal
''Are we still here?'' Sør-Troms Museum, Harstad, by Storvik, Johansen,
Boine, Krokann Berg
2014 Norwegian short: Saami short, screening Cinemateket, Norwegian
Filminstitute, Oslo
2014 ''Songs of Sorrow'', Kunstnernes Hus, Oslo, in collaboration with writer Kari
Saanum an violinist Kari Rønnekleiv
2014 ''Are we still here?'' Museum Nord, Sortland, by Storvik, Johansen, Boine,
Krokann Berg
2013 ''Are we still here?'' Bodø Fine Art Society, by Storvik, Johansen, Boine,
Krokann Berg
''Are we still here?'' Intercultural Museum, Oslo, by Storvik, Johansen,
Boine,Krokann Berg
2012 ''Are we still here?'' Nordnorsk Kunstnersenter, by Storvik, Johansen,
Boine, Krokann Berg
2011 September-exhibition, Lillehammer
Water – connecting people, Kviteseid Fine Art Society
Mjøskunst, Galleri Svae
2009 Herre i eget hus? Galleri BOA, Oslo
Brød for Kunsten, Galleri BOA, Oslo
2008 PAM Nordic, Nordic videoart, Utsikten Art Center, Kvinesdal
ArtVideoExchange: Deej Faby'c Elastic Residence, London
2007 Art Video Exchange-2007-Norway:
Contemporary art in traditional museum, Pro Arte Institute, St.Petersburg
Elisabeth Foundation, New York
Camera Obscura-Electrofringe Festival, Newcastle, Australia
Landmark Bergen Kunsthall
Västerås, Sweden
Facing differences, Cinemateket, Oslo
2006 Norwydeo II, Laznia Center of Contemporary Art, Gdansk, Poland
2005 Østlandsutstillingen, the anual art exchibition in the Eastern county of
Norway
2001 Uppsala International Shortfilmfestival, Sweden
2001 Ad Lib, Transart, Trondheim
Videopuls 2001, Haugesund
Poetic Video Festival, Riga
2000 Point Break, Bergen Fine Art Society
Opening exhibition of Telenor, Trondheim
8 days in june – curated by Kraft & Kurdøl, Lillehammer
Tales from the expected-true stories – Alta Museum / Bodø fine Art Society /
Mo i Rana
1999/2000 :
Magnetic North Norwegian and British videoart,The National Film Theatre,
London / The Lairy Gallery, Newcastle / Cambridge / Norwich / Trondheim
Kunstmuseum
1999 Portraits in different technics, Galleri Stadskleiv, Bø
International Eclectic, Walden Gallery, New York
The Annual National Art Exchibition, Kunstnernes Hus, Oslo
1998 Fellessentralen, Kunstnernes Hus, Oslo
LoveBytes, Sheffield, England
Valdres Kunstforening
The Annual National Art Exchibition, Kunstnernes Hus, Oslo
Castor Fiber, UKS
Østlandsutstillingen, the annual art exchibition in the Eastern county of
Norway
Metro Peep Night, Jazid
1997 Galleri Nyvold, Bødal
Lovetch light – mørketidsutstilling, Tromsø Kunstsenter
Lovetch – Screens, Trondheim
The Annual National Art Exchibition, Kunstnernes Hus, Oslo
Østlandsutstillingen, the annual art exchibition in the Eastern county of
Norway
Opplandsutstillingen, annual art exchibition in Oppland county
Peer Plexis Alternativ, Bergen
Lightbulbdelight, Gallery G.U.N Oslo
Videokunstfestival, Soros Center for Contemporary Art, Sarajevo
LoveBytes, Sheffield – Oslo
Kristiansand Fine Art Society
The Annual National Art Exchibition, Kunstnernes Hus, Oslo
1996 Locarno Videoart festival, Switzerland
Electra, Videoart festival, Henie-Onstad Art Center
1995 Wozownia, Panstowa Galeria sztuki, Torun, Polen
Ålesund Fine Art Society
Sande Fine Art Society
Videoartfestival, Henie-Onstad Art Center
1994 Seljord Fine Art Society
Other projects:
2017 TD : Transporteringsdans with Martin Slaatto, Deichmanske library,
Grünerløkka
2015 Distribution of the film ''Are we still here?'' by Å.Krokann Berg & H.Storvik,
Norwegian Filminstitute
2014 Jeg – en tedeist, – wire/shadow-installation, in collaboration with Martin
Slaatto, performances in Kongensgt.9, Oslo
2009 Training Space: Installation- with Kings Works/Tone Gellein, Parkteatret
Scene, Oslo
2001 Aniara: Videoscenography- with Lise Eger & Bugge Wesseltoft, Black Box
Scene Oslo (also on tour)
1998 The man and the seagull- videoprojection/performance, Zoolounge, Oslo
1997 01 kunstrom: CD-rom project, Zoolounge and Kunstnernes Hus, Oslo
1996 Zoo Story : Videoscenography – Statens Teaterhøyskole
Boards:
2010-16 Member of the videoart-archive steering-group , Arts Council Norway
2011 Jurymember in Brygger J.C. Jacobsens Portrait award 2011, Nordic travelling
excibition
2009 Jurymember i Brygger J.C. Jacobsens Portrait award 2009, Nordic travelling
excibition
2006 Member in National videoarchive working-group, Arts Council Norway
2003-05 Board member, Atelier Nord
Commission:
2016 Innkjøp av bilde til bok-omslag, Gyldendal Norsk Forlag
2015 Distribution of the film ''Are we still here?'' – filmportalen, The Norwegian
Filminstitute
2006 Oppland county, Vinstra comprehensive school
2004 Gausdal secondary school
Grants and support:
2016 Exchibition Grant, Arts Council Norway
2013 Project support, Norwegian Artists Society
2012 The Norwegian State Guaranteed Income for Artists, GI
2011 Grant – Norwegian Artists Society (1year)
2010 Exchibition Grant, Arts Council Norway
Project support, ArtsCouncil Norway
2008 Project support, Art and new technology, Artists Council Norway
2007 Exchibition Grant, Arts Council Norway
2006 Project support, Norwegian Artists Society
Grant – Norwegian Artists Society (1 year)
2005 Norwegian Artists Society (1 year)
2004 Debutante support, Arts Council Norway
2003 Project grant, Arts Council Norway
2002 Exchibition Grant, Arts Council Norway
1999 The Norwegian State Working Grant for Younger Artists (1 year)
1998 The Norwegian State Travelling and Study Grant for Visual Artists
Project support, Art and new technology, Arts Council Norway
Residency:
2011 Lásságámmi, artist's house in Skibotn, with Helle Storvik
2002 Circolo Scandinavo, Rome
2000 Circolo Scandinavo, Rome
Adequate artistic work– a selection:
2017 External examiner in masters if arts, University of Agder
2016 External examiner in masters if arts, University of Agder
2012 Den Kulturelle Skolesekken, Nordnorsk Kunstnersenter
2011 Guest teacher, Oslo Fotokunstskole
2011 Catalogue text to ''Portræt Nu!'' – Nordic travelling exhibition,produced by
Frederiksborg Nationalhistorical Museum, Denmark
2008 Kursholder ''Fra idé til ferdig film'' for dansere med Tone Gellein, i regi av
Dans i Skolen og KhiO+
2007 – Author of ''Documentation of performanceart'' and '''Payments of
performanceart'' Forum for Nordic Performance Art
– Co-writer of ''Å bevare det flyktige'' -an exposition of national videoarchive
for Arts Council Norway in collaboration with Mie Berg Simonsen and Marit Paasche
2006 Lecture at Oslo Fotokunstskole
2003-05 Project leader: videoarchive and seminar, Atelier Nord
1995-2003 Video editor for artists, Atelier Nord
2002/04 Examiner in masterclass art, video v/HiT
2001-02 Supervisor in video for masterclass student v/ HiT
1999 Lecture at Norwegian National Academy of Craft and Art Industry
1998 Guest teacher video, Norwegian National Academy of Craft and Art Industry