Mellbye, Øyvind
Audiovisual performance projects and sculptures, machines and ghettoblaster made from wood, metal, concrete and electronics.
I, Øyvind Mellbye primarily works with sculptures that involve sound, light and motion utlizing materials such as electronics, concrete, metal and wood.
In the course of the yesteryears me and Einar Goksøyr Åsen has established Samvær Under Tilsün (Socializing ünder Supervision) and Det Elektriske Korps (The Electrical Band).
Samvær Under Tilsün perform using 4093 megasynth and eurorack modular synth.
Det Elektriske Korps currently consist of ten portable drum machines which are developed to be so user-friendly that anyone may pick up a drum machine to partake in a performative and musical fellowship.
Member of NBK, UKS, NBF, NAF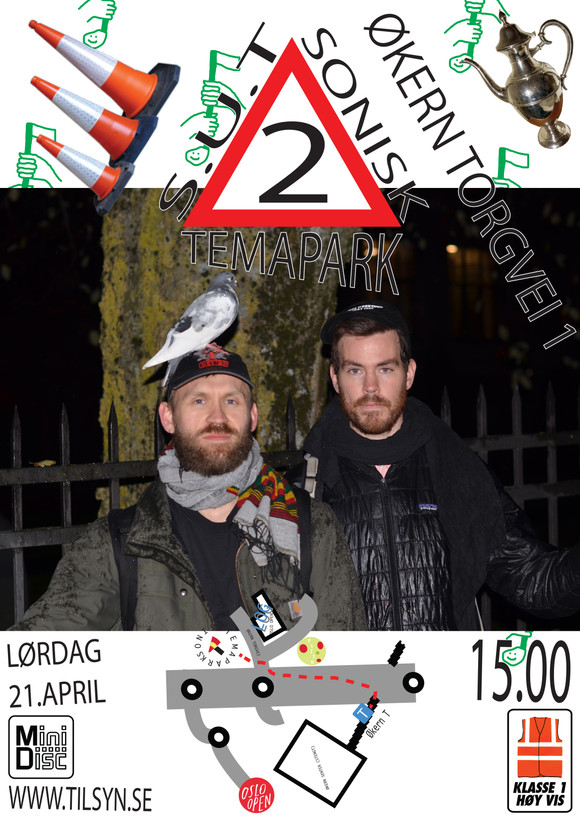 Samvær Under Tilsün - Hardware Friform Tekno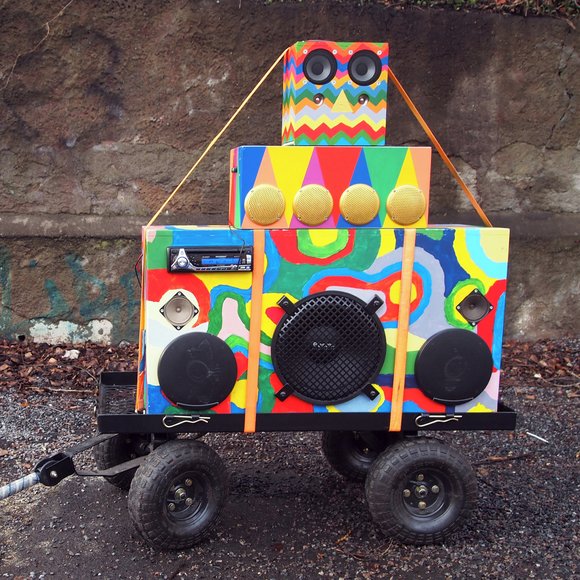 Pyramide Sound System (2014-2017) Akryl på mdf, akryl på tre, høyttalere, elektronikk, bilbatteri, tralle, bluetooth interface, lastestropper 70 cm x 26 cm x 88 cm / Variable dimensjoner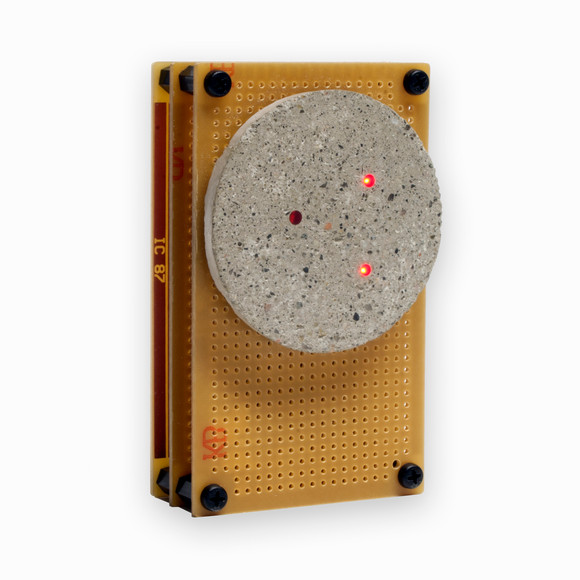 Matrise #2 (2017) betong, kretskort, elektronikk, avstandsstykker i akryl, batteri / 9,5 x 5,5 x 3cm / Diameter betongsirkel = 5,4 cm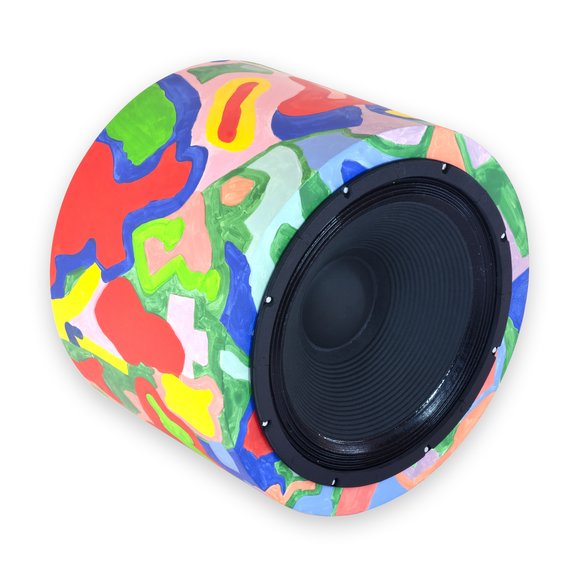 Basstromme fra Det Elektriske Korps(2017) Akryl på finér, høyttalerelement / 57cm x 37cm
Planned projects and exhibitions
Samvær Under Tilsün Sonic Theme Park 2:
Hardware-freeform-tekno-performance by Samvær Under Tilsün* on the lawn outside LOG HUSET in Økern at 15.00 Saturday 21st of april! More acts TBA – Check out WWW.TILSYN.SE for further information!
*Socializing Under Süpervision
CV
Education:
2007/10: Bachelor in fine art – Bergen National Academy of the Arts
2006/07: Fine Art – New media – Prosjektskolen in Oslo
2004/06: Fine Art – Agder folkehøgskole
2001/04: Upper Secondary School – Allmenfag ,Forsøksgymnaset i Oslo
Scholarships, grants and awards
2016/17: State stipend for younger newly established artists
2015: From Dusk Till Dawn Art Prize award by Vandaler Forening and PNEK
2011/2014: Norwegian Artists Associations (NBK) remuneration fund
2009: Jacob Weidemanns scholarship for young artists
Acquisitions:
Slepebrøler – mkII (2017) Municipality of Ski
HUX D (2015) Private collection
Selected Exhibitions:
2018:
Det Elektriske Korps – performance/sculpture, Akershus University Hospital
Samvær Under Tilsün ON ICE – performance, Spikersuppa sound gallery, Oslo
Sonic Vision Nordland – S.U.T. screening hosted by NyMusikk Nordland, Sortland City Hall, Vesterålen
2017:
Samvær Under Tilsün – performance, Winter Solstice 2017, Oslo
Det Elektriske Korps – performance/sculpture, Norwegian Museum of Science and Technology, Oslo
Høstutstillingen i Inkognitogata – groupshow, Oslo
Rural Movements – groupshow – Dalsland, Sweden
Det Elektriske Korps – performance/sculpture, Oppsal Gatefest, Oslo
Det Elektriske Korps – performance/sculpture and medalworkshop, Akershus Kunstsenter, Lillestrøm
Det Elektriske Korps – performance/sculpture, Human Scarecrows 2.0, Losæter, Oslo
The Commonument – contribution to common monument, Bergen
Samvær Under Tilsün sonic theme park – performance/sculpture, Økern, Oslo
2016:
Samvær Under Tilsyn, Winter Solstice 2016, Oslo
Dj Livsfart performance – PODIUM
Trafo 15 years – PODIUM
Samvær Under Tilsyn feat. Stein "Lasermannen" Vråle – The Balustrade at Deichmanske Library, Oslo Skaperfestival
Samvær Under Tilsyn – Emmanuel Vigelands Mausoleum, Kunstforum Releaseparty
Samvær Under Tilsyn – Revolver, Ultima Decompression Night
Samvær Under Tilsyn – Skur 40, ILAF mulitkunstfestival
Fall Apartment – groupshow, Bergen
Zodiac – groupshow, Lynx, Oslo
2015:
Ill – Winter Solstice 2015, Oslo
Anarchistic x-mas exhibition – groupshow, Akershus Art Centre
From one place to another – groupshow, Current Art Space Basztowa 4/1, Krakow, Poland
Høstutstillingen 2015 – groupshow, Kunstnernes Hus
Ill – Emmanuel Vigelands Mausoleum, Oslo
One Night Only: HUX D – soloshow, Kunstnernes Hus
2014:
Illd – Winter Solstice 2014, Oslo
Piksel 2014: be\O/art – groupshow, Lydgalleriet/Bergen Kjøtt
Soft City – Grünerhagen ballplass, Oslo
Purgatorio – groupshow, Norsk Billedhoggerforening, Oslo
2013:
Potsyd – groupshow during Bergen Assembly
Wuthering Heights II – groupshow at Norsk Billedhoggerforening (NBF), Oslo
Mal Alt! – soloshow during HFT2013 national art festival, Hammerfest