Gilje, HC
installation, light/projection/sound/motion, video
For many years I have been working with an over-arching concept I call Conversations with Spaces, where I look at different ways of transforming and activating spaces using light, projection, sound and motion: ephemeral media that creates temporary transformations of physical spaces which again influences how we experience these spaces.
Motion:I am interested in how motion passes through spaces, objects, bodies and landscapes.
Light:I am not particularly interested in the light source itself but in how light interacts with physical structures. Light is only visible as manifestations in materials through reflection, refraction and shadows.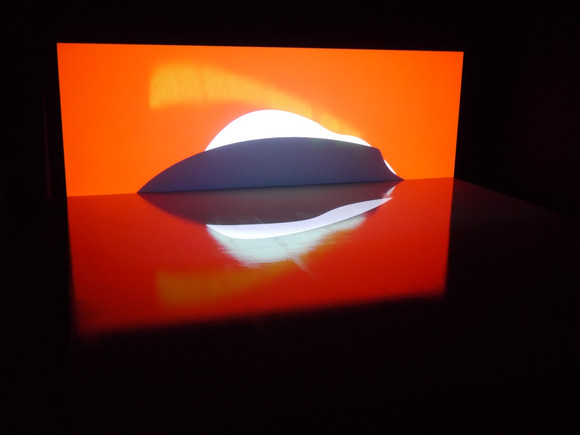 speiling- projection space- part of group exhibition Mitt Landskap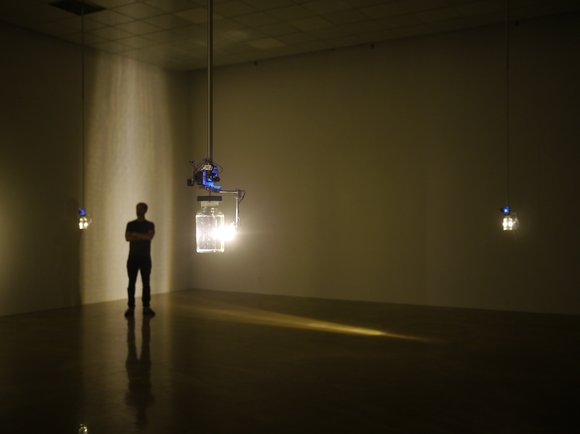 Beacon 2016 light installation Kristiansand Kunsthall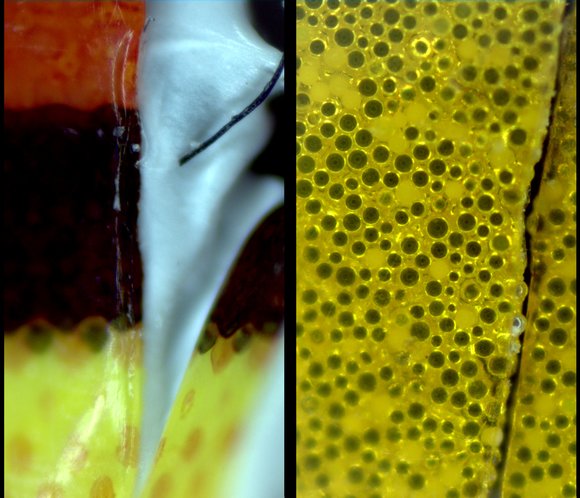 rift - microscope textures of plastic wrappings of consumables, presented as 35mm cinemascope film turned sideways for a vertical projection commissioned for Vertical Cinema. Premiere at Sonic Acts, Amsterdam feb 2017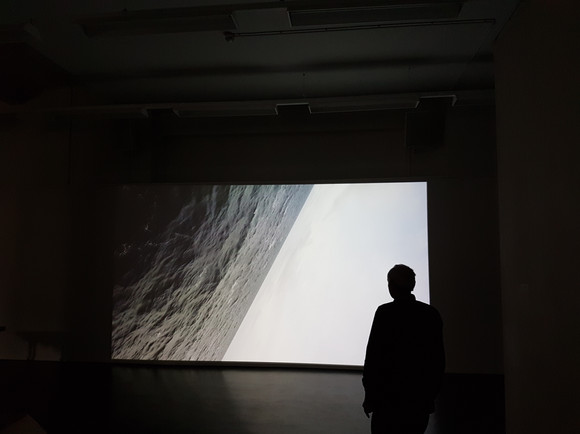 Barents, video installation. Commissioned for Dark Ecology 2015, here shown at Stuttgarter Filmwinter in january 2017 where it won the expanded media award
Planned projects and exhibitions
video projection, Klimafestivalen Oslo jan 2017
the installation Barents is presented at Stuttgarter Filmwinter, jan 2017
the installation in transit X is presented in Marseille, jan 2017
the installation speiling is shown as part of "Mitt landskap" at NNKS i Svolvær jan 2017
premiere new film in the Vertical Cinema program at Sonic Acts, Amsterdam feb 2017
publishing of the book "Conversations with spaces" on "uten tittel" in March 2017
CV
hc gilje
hc@nervousvision.com
http://hcgilje.com
HC Gilje has moved between installation, experimental video, live performance and set design since he graduated from the intermedia department of the Academy of Fine Arts in Trondheim in 1999.
He got a kickstart to his career with a one year residency at Künstlerhaus Bethanien in Berlin 2000-2001. Being a key figure in the live cinema scene from around 2000 (with 242.pilots and various other constellations) Gilje toured extensively throughout the world, while at the same time creating experimental videos presented at various film, art and festival venues. Some of the videos were also released on DVD (242.pilots live in Bruxelles on NYC label Carpark and HC Gilje Cityscapes released on Paris label lowave).
Gilje was also quite active in theater and dance, mainly through his many-year collaboration with choreographer Eva Cecilie Richardsen. Together they established Kreutzerkompani with a yearly production from 2000 to 2006.
In 2006 Gilje changed direction, taking elements from his earlier practice (exploration of physical spaces in his videos, creation of spaces in his stage work and improvisation from his live work) into a longer term project he has called Conversations with Spaces. This project explores, mainly through large-scale installations, perception of change and transformation in the meeting between the ephemeral media of light, projection, sound and motion with physical structures.
This has resulted in a series of installations labeled Projected Light Spaces and Projected Light Objects, as well as outdoor sound installations and more recently light-motion installations like in transit, revolver and trace. These projects have been shown in traditional gallery spaces, outdoors and in more unconventional settings.
Gilje still occasionally performs live, mainly in his collaboration with Maja Ratjkje, and still creates projection and set design for theatre and dance.
selected EXHIBITION
Rake Visningsrom, Trondheim nov 2016
Mitt Landskap, group show Bodø Kunstforening sep 2016
Kristiansand Kunsthall, solo exhibition aug-oct 2016
Øyafestivalen, light installation spin aug 2016
RAMGalleri, with A. Rishaug: revolver meets vibra_tone jan 2016
EYE filmmuseum Amsterdam, video installation "Barents" dec 2015
Dark Ecology, Nikel+Zapolyarny, video installation "Barents"+ light installation "the crossing", nov 2015
soloshow Kunstbanken, Hamar nov-dec 2015
soloshow Prosjektrommet Carl Berner, Oslo, "off-the-grid", oct-nov 2015
Signal Festival, Prague, "in transit X", oct 2015
Skulpturbiennalen, Galleri Lynx, Oslo, "flip flop", oct 2015
SALT project, Sandhornøy, "glimt", aug→ 2015
soloshow Woodstreet Galleries, Pittsburgh, "flimmer", "revolver", "spin",april-jun 2015
Adelaide Arts Festival, "junction", feb-mar 2015
Solund Lyskunst festival "revolver 2", "spin", "kile" nov 2014
LKV, group exhibition, Babel, Trondheim, oct 2014
Kulturkirken Jakob, Oslo, group show (Gilje, Kongevold, Nedreaas), "in transit X" oct 2014
Todays Art, den Haag, festival and group exhibition, installation "trace" sep-oct 2014
Klangrum, Møn (DK), group exhibition, installation "7 cirkler", aug-sep 2014
Listening Landscapes, group exhibition, Kunstverein Springhornhof, installation "wind-up birds" jun-jul 2014
Lightspan Forest Flares, Oslo, light installation in forest mar 2014
Atopia, Oslo, group exhibition "Painting with time" (Dolven, Bjørgeengen, Welsh, Gilje) feb-mar 2014
LIAF (Lofoten International Art Festival), Lofoten, biennale, installation "trace" sep 2013
Birds/Drones: Princes of ubiquity, Brussels, group exhibition, installation "wind-up birds" apr 2013
Sonic Acts, Amsterdam, group exhibition, installation "revolver" jan-feb 2013
Almost Cinema, Ghent, group exhibition, installation "in transit" oct 2012
Total City, Institut Valencià d'Art Modern: group exhibition, video "hkmark1" may-jul 2012
ZKM, Karlsruhe: group exhibition, installation "7 cirkler" mar 2012-jan 2013
Woodstreet Galleries, Pittsburgh: solo exhibition jan 2012
Kontraste festival, Krems Austria: Projection environment for Acousmonium concerts, oct 2011
Sensxperiment, Lucena Spain, group exhibition, installation "circle #3",oct 2011
Almost Cinema, Ghent oct 2011, group exhibition
Wellington Lux, NZ jun 2011, group exhibition
IMAL, Brussels apr 2011 solo exhibition
Oslo Lux jan 2011: white on light, snow projection
Museet for Samtidskunst, Roskilde, nov 2010-feb 2011: Reframing Reality, group exhibition
Galleri 21, Malmö, nov-dec 2010 solo exhibition
Dortmund U, ISEA2010, july-august 2010: group exhibition "Trust"
Festspillene i Bergen, may-jun 2010: Wind-up birds
NIMK / Sonic Acts, Amsterdam feb-apr 2010: blink
CTM, Berlin jan-feb 2010, Group exhibition curated by TAG: blink
HKS, Bergen oct – nov 09: blink, solo exhibition
Brussels Biennale (Appartement 22, Rabat, Morocco) oct – nov 08: Wind-up Birds
Museet for Samtidskunst, Roskilde, Denmark oct-dec 08: Group exhibition "Total aktion ", shift v2
UT21, Lillehammer, Norway aug – sep 08: Wind-up Birds
Palazzo Pubblico, Siena feb-mar 2008: hkmark1
IMAL, Brussels oct 2007, opening exhibition of new space.
Urban Interface, Oslo sep-oct 2007: soundpockets 1 & 2
ctrl_alt_del sound art festival sep 07: maxwell city radio edit
Lydgalleriet, Norway 12.06: julesoiré, nodio composer
11, Amsterdam dec 2006: nearuki, 12 channel video projection
iball: outdoor video installation in Oranienburger Strasse, Berlin oct 2006
Rom for Kunst+Arkitektur, oslo 04.06: drifter: solo exhibition
TSSK, Trondheim, 03.06: drifter: solo exhibition
BlackBox Teater, Oslo, 01.06: dense solo exhibition
Muffathalle, Munich 07-9.05 facade projection, part of Overtures am Wasser.
Museet for Samtidskunst, roskilde 04.05: get real, group show
Akershus Kunstnersenter, Norway 01.05 soloshow
Kiasma, Helsinki, 11.04: get real: group show
Galleri 21, Malmö, Sweden, 09.04 solo show
Chromosome Gallery, Berlin 04-05.03, solo exhibition,
Künstlerhaus, Wien 08-09.03: abstraction-now, crossings
FlashArt Biennale, Prague National Gallery 06-08.03 (w ralske and lysakowski)
Corviale, Rome. 10.02 sakrofag
Nordic Video art 1.0, Gothenburg, Sweden. 02.02, split
Künstlerhaus Bethanien, Berlin 08-09.01: Shadow Grounds
commissions
puls, commissioned light installation for Bybanen in the Fantoft tunnel in Bergen, from jun 2010
selected SCREENINGS
Image de Ville, Aix en Provence, nov 09, Night for Day
Experimental 3 in Osaka, Japan oct 09
HARDfilms series at Kino Arsenal, Berlin june-july 07, Crossings and Stackings..
Colourfield remix, Washington DC, spring 07, shiva
Paradiso, Amsterdam, feb 07, Night for Day
Centre Pompidou, Paris may 06, HKmark1
Cinemateque Française, Paris april 06, Cityscapes
Rencontres Visuelles, Lille april 06, Cityscapes ++
Febiofest, Prague march 06, Cityscapes
11-art.com, Beijing nov 05, Cityscapes
Videozone, Tel Aviv, nov 04
Rencontres paris-berlin, paris, oct-nov 04
Gwangju Biennale, Korea, sep-nov 04
Seoul Fringe festival, South-Korea aug 04
Momentum, Norway jun 04, night for day
Transmediale04, Berlin feb 04
Biennale of new media and video, Santiago, Chile nov-dec 03
KViKT, Reykjavik, Iceland oct 03
Warsawa electronic festival oct 03
sonar, Barcelona jun 03
ITAU Culturel, Sao Paolo, may 03, stacking of different natures
A selection of performances with 242.pilots (gilje, lysakowski, ralske):
Guggenheim, Bilbao march 04
mutek, Montreal, may 03
The American Museum of Moving Image, New York City may 03
Transmediale, HKW, Berlin, feb 03
Ultima Festival, Oslo, oct 02
Museum of Contemporary Art, Montreal, oct 01
Impakt Festival. Utrecht, oct 01
Live collaboration with composer Yannis Kyriakides
Sonica Festival, Glascow: Bufferzone, oct 2013
Radial System, Berlin: The Queen is the supreme power in the Realm jan 12
Moers festival: Bufferzone, may 2008
Huddersfield Contemporary Music Festival: Bufferzone + The Queen.., nov 07
ZKM and Musiktriennale: The Queen is the supreme power in the Realm, may 07
Transmediale, HKW, Berlin: Labfly Dreams, feb 05
Queen Elisabeth Hall, London premiere of the Labfly Dreams tour, nov 03
Live collaboration with Maja Ratkje
Kongsberg Jazzfestival, Kongsberg, jul 2015
Sonica Festival, Glascow, oct 2013
Sonic Acts festival, Amsterdam, feb 2013
Kontraste festival, Krems, Austria oct 2012
Bozar Electronic Arts Festival, Bozar, Brussels sep 2012
Festspillene i Bergen, Johanneskirken, may 2012
Interferenze, Italy aug 05
Zagreb Biennnale, w maja ratkje + john hegre, Zagreb april 05
Club Transmediale: w maja ratkje, Berlin feb 05
New Music Festival, with Maja Ratkje, Vancouver, oct 04
Ars Electronica 2003, Linz with maja ratkje and jazzkammer sep 03
Mikro – a live collaboration with Justin Bennett
Dark Ecology, performance Kirkenes jun 2016
mikrotour: Laznia, Gdansk; Bergen Kunsthall Landmark; DNK Amsterdam; TAG den Haag; IMAL Brussels oct-nov 07
mikro-performance at Paradiso, Amsterdam, feb 07
Blind – a live collaboration with Kelly Davis
Generator.X, Oslo sep 05
Dans for Voksne #10, Oslo 04
Club Transmediale 04, Berlin: last performance of of Blind tour, jan 04
FlashArt biennale, at the roxy and NoD gallery, Prague jun 03
ISEA2002 Nagoya
Collaboration with Jazzkammer
2000 Dutch Tour
2001 Performances and recordings in Tokyo
2004 Performance and Premiere of Night for Day at Parkteateret, Oslo, commissioned by Random System Festival.
Collaboration with composer Knut Vaage
Festspillene i Bergen: Multimorf 2 may 2014
Baroniet, Rosendal: Premiere Multimorf 3 aug 2011
Oslo Opera House roof, Oslo: Multimorf 2, apr 2009
Oslo Konserthus: Multimorf 2,sep 2008
Selection of other live performances:
Touch label night, Trafo, Budapest, with Sidsel Endresen + Punkt, feb 2009
Project 101, Paris march 06: solo performance
Febiofest, Prague march 06, solo performance
Borealis, Bergen: with Golden Serenades march 06
Cela, Buenos Aires: with Golden Serenades, dec 05
Habitus, Hong Kong: with moneme, nov 05
Avanto festival, with Verhaverbeke, Helsinki, nov 04
Sydney Opera House, sound summit, with Greg Davies, Australia oct 04
Electrofringe, Newcastle, Australia oct 04
Selected theatre and dance productions
Ballet Dortmund:No Constancy, set and projection design, mar 2013
Det Norske Teater: Antichrist, projection design, jan-mar 2013
Trøndelag Teater: Fuglane, set design and projection, oct-dec 2010
Black Box, Oslo: Kreutzerkompani: Irre, 01.06
Bergen Kunstall: Kreutzerkompani: Elevator, 09.05
Kanonhallen, Copenhagen: Kreutzerkonpani: Synk, 04.05
Kiasma, Helsinki: Kreutzerkompani: synk, 11.04
Ultima festival, Oslo: Kreutzerkompani: Synk premiere, 2002
Black Box, Oslo: Hollow Creature: Tigerhagen (video/set design), 2000-1
RELEASES/PUBLICATIONS:
shadowgrounds: catalogue published during residency at Künstlerhaus Bethanien, 2001.
242.pilots live in Bruxelles: dvd released on carpark records (new york) in 2002.
blind: live recordings, dvd-r released on audioframes (cologne) in 2004.
cityscapes: hkmark1,shiva,crossings and night for day, dvd released on lowave (paris) in 2005.
get real book and dvd: article on realtime video in book, and excerpts from several works on dvd, released in Europe april 2005 on Informations Forlag (Copenhagen) and in US on George Braziller (New York) in sep 2005.
TRUST catalogue from exhibition at Dortmund U released on Verlag Kehrer (Heidelberg-Berlin) 2010.
VPT: VideoProjectionTools (2008 first version). Free projection software developed and released by Gilje.
AWARDS
Stacking of Different Natures: clip_award for best experimental musicvideo in Germany 2002
242.pilots: the image award at transmediale_03 in Berlin, for the dvd "live in bruxelles"
Tigerhagen received the Hedda award for best set design in Norway, 2001
RESIDENCIES
2000: Sveaborg, Finland (NIFCA)
2000-2001: Künstlerhaus Bethanien, Berlin
2002: Podewil, Berlin
2002: Steim, Amsterdam
2003: Beeoff, Stockholm
2005: Tesla, Berlin
2010: PointB, New York
2015: Dark Ecology, Nikel+Vardø