Grude, Kalle
Instalation, drawing, photo etc.
I have been working with installations in different technics since late 80´s. With drawings since early 80´s. The installations often use drawings as a mechanical process. They address concepts like randomness and borders. It can be how white mice generate logical statements (AbA-Logic), how mechanical dogs can penetrate a protected building, just as natural as the highway penetrate the landscape on the way to that building (No Problem), how a rotating object with video cameras interpret a gallery room (In Camera). Or how an object for living can discuss contemporary building practice (Shelter for One Stone, One Tree, Two People and Four Birds).
If the installations use any technic or media useful for the idea, I have constantly produced small handmade drawings. They are done without any plan. Without any concept except that they all are made in a condition of distraction. That means: I have been drawing, not thinking; trying to see new thoughts. This stream of drawings is hardly shown. To find ways of show them, as a counterpart to the conceptual- mechanical production, is what I work with at the time.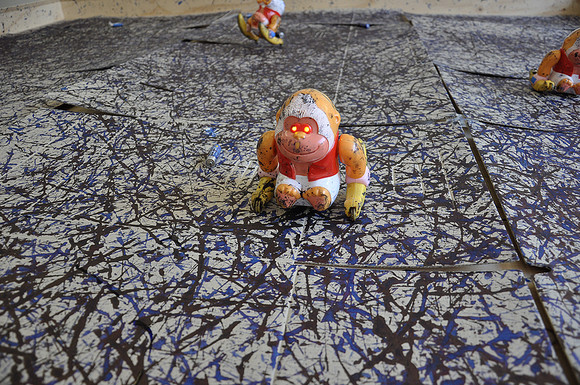 Blue.Blue.Black #1. Kalle Grude. Mekanisk tegneperformance. Blekk på papp. 200x200cm. 2013. Gallery Oqbo Berlin. detalj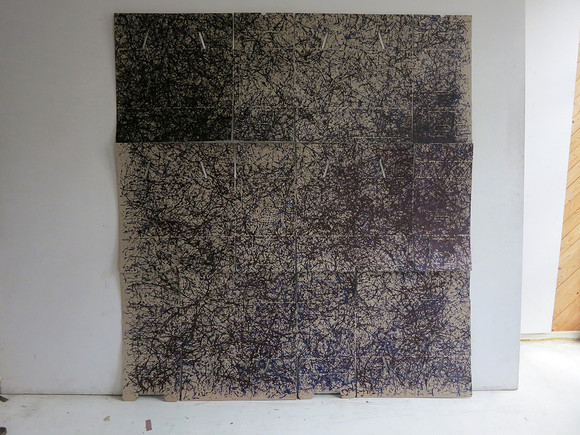 Blue.Blue.Blue #2. Blekk på utbrettete pappkasser. 200x148cm.
Blue.Blue.Black #3. Kalle Grude. Blekk på papp. Kalle Grude. 200x148cm. Plakater A3 . Vist i Tegnerforbundets 100 års jubileumsutstilling. Detalj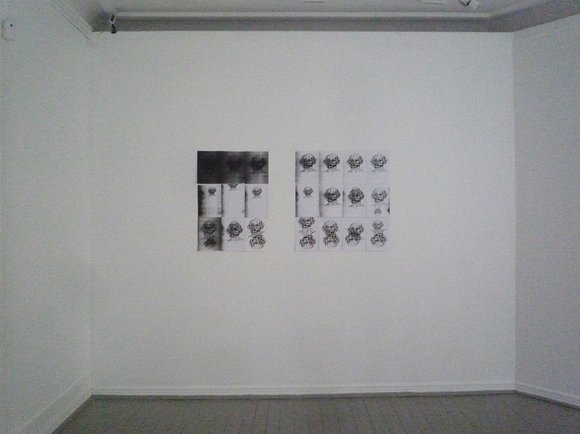 Skisser til et portrett #1 og #2. Kalle Grude. Serigrafi på papir. 9x4 formater A4. 90x63cm. og 90x84cm. 2016. Vist på TegnerBiennalen 2016.
Planned projects and exhibitions
Next year I will quit my professorship in art at Bergen School of Architecture and join the battlefield of the art scene 100%. My two exhibitions this year ("The National Drawing Association 100 year Exhibition" and "The Drawing Biennale 2016") was an attempt to focus both on my installation production and my more "hidden" intuitive drawings. To find ways to show these two opposites together will be my project next year. I will start working on a documentation (artist book) of my drawings. Hopefully also establish my collapsed website. Then go for exhibitions.
CV
Kalle Grude
Education
Oslo School of Architecture, 1967-74 / Oslo National Academy of the Arts, 1980-86
Selected one man shows
2013 "Blue, Blue, Black #1" / Mechanical drawing performance / Gallery Oqbo, Berlin 2010 "AbA Logic III" / installation / AbA-project / Kunstnerforbundet, Oslo
2005 "In Camera" / kinetic object, building intervention / Drawing Center of Norway, Oslo
"Zeitgeist III" / photo, video, installation / AbA-projekt / Vigeland museum, Oslo 2004 "Zeitgeist II" / photo, installation / AbA-projekt / Vigeland museum, Oslo
1997 "No Problem.." / Digitalized toys, intervention / Momentum, Gallery F15, Moss
"Recirculated Works" / hybride works / Bomuldsfabriken Kunsthall, Arendal
1996 "Taiwan Universe" / wall drawing / Gallery Povazie, Zilina, Slovakia
1995 "Bukhule Bilder" (Gastric Pictures) / video projection, installation /           Kunstnerforbundet,Oslo
1994 "Tidsbilder" (Images of Time) / photo, video / Hordaland Art Centre, Bergen
         "Things I" / powderizing / Trondheim Art Museum,
         "Things II" / powderizing / Gallery Wang, Oslo
         "Secret Exhibition I" / National Museum of Contemporary Art, Oslo
1996 "Time-Out" / with Oddvar IN / Nordic Year of the Arts 95-96, Trondheim            Kunstmuseum
1992 "April 1992" / drawing machines, mirrors, text / Drawing Center of Norway, Oslo
          "Spill I" ("Game I") / concept machine / UKS, Oslo
1991 "Samtidsbilder" (Contemporary Pictures) / camera obscura, construction, text / UKS,           Oslo
1990 "Prenna III" (3 of -) / liquid photo emulsion / Markovic Laboratorium, Berlin, Germany 1989 "Tegninger & projeksjoner" (Drawings & Projections) / drawing, objects/ Gallery           Heer, Oslo
Selected project
2007- "Shelter for One Stone, One Tree, Two People and Four Birds" / site specific installation / 2012 Vågøy, Bamble / Published in "Condition", 01-09 and "Design interiør", 03-12 /Arkitektur
N, 05-14 / Performed at Bergen School of Architecture, Bergen; Academy of Arts and Design, Bergen; Oslo School of Architecture; Norwegian University of Science and Technology,Trondheim; Norwegian Univ. of Life Science; Univ. of Minho, Architectural Dept., Portugal.
Selected group shows (from 1989)
2016 "Blue. Blue. Black #2" / mech. drawing, posters / 100 Year Exh. / Drawing Centre of           Norway, Oslo
         "Sketch for a Portrait #1-2" / blow up drawings / Drawing Biennale 2016 / LNM. Oslo
2012 "Prisme" (Prism) / National Museum of Contemporary Art, Oslo
2008 "Installasjoner" (Installations) / National Museum of Contemporary Art, Oslo
2006 "AbA logic II" / installation / AbA-projekt / prod. by Atelier Nord / Henie Onstad           Art Center, Oslo
2004 "Spor av strek" (Traces of Lines) / drawing machine, touring North of Norway / prod.           by SKINN
2003 "Choice by Heart" / video, photo, object / Up River Loft Gallery, Kunming, China
"Zeitgeist I" / object, photo / AbA-project / Norwegian Sculpture Biennal /           Vigeland Museum, Oslo
2002 "Collectors Item / Privat eie" / text, object / AbA-project / Gallery F15, Moss, Norway
2001 "Münsterland Sculpture Biennal" / Emsdetten, Germany
"Norwegian Drawings" / Reykjavik Art Museum, The Harbour House / Iceland
"Mine" / german-norwegian symposium and exhibition / performance, video, sound          / Folldal, Norway
2000 "Box Project" / text / Angel Row Gallery, Nottingham / Turnpike Gallery,            Manchester / Museum of Installation, London.
" Less Esthetic. More Ethic" / powder-archive / Arch. Biennal of Venice /                        Arsenale, Italy ( with arch.office 3RW)
"Status Oslo: 1000-2000" / obj., photo, sound / Oslo Kunstforening "Drawing 2000"           Haugar, Vestfold Art Museum, Tønsberg
1999 "Esker / boxes" / Text, photo / Rogaland Contemporary Art Center, Stavanger/           Haugesund Museum of Fine Art / Gallery III, Oslo
"The National Annual Exhibition of the Visual Arts" / text, installation, artist            book / Kunstnernes Hus, Oslo
"Commissioned Art for National Theater Railway Station" / objects, sound /           Gallery RAM, Oslo
1998 "Norwegian Art Production in the 90 ́s" / kinetik tree, sound / Kunstnernes hus, Oslo
1997 "0-1" / inter-active CD-rom / prod. by Atelier Nord, Oslo
"The National Annual Exhibition of the Visual Arts" / inter-active CD-rom /            Kunstnernes Hus, Oslo
1996 "Norwegian Cultural Festival in Sarajevo" / machine drawing, obj. / Gallery           MAK, Bosnia Hercegovina
1995 "Secret Exhibition II" / Ministry of Cultural Affairs, Oslo
1994 "PIG" (project in old part of town) / first aid showcase for visual Gamlebyen           skole, Oslo "Oktett" / light, sound, electric fans / Buskerud Art Center, Drammen
"Enkeltrom" (Singel Room) / political machine, text, sound / Buskerud Art           Center, Drammen
"Einzelzimmer" (Singel Room) / political machine, text, sound / Kunstamt           Kreutzberg, Bethanien, Berlin
1992 "The National Annual Autumn Exhibition of the Visual Arts" / Photo, obj. /           Kunstnernes hus, Oslo
1991 "Norwegian Miniatures" / Tromsø Kunstforening
"Anniversary Exhibition of The Drawing Center of Norway" / drawing / The Art           Museum of Northern Norway
1990 "Come on" / sound sculpture for Contemporary Music Association. / National           Museum of Contemporary Art, Oslo
1989 "Prenna II" (3 of-) / photo emulsion on wall, photo / Henie Onstad Art Center,           Høvikodden, Oslo "Nordic Drawing Triennal" / drawing, text / Skellefteå, Sweden
Works acquired by
National Museum of Contemporary Art / Trondheim Art Museum / Art Museum of Northern Norway / Oslo University Collage of Applied Science / Aalesund University Collage of Technology / Trondheim University Hospital / Museum of Installation, London / Norwegian Fishing Industry Museum, Melbu
Scholarships
The National Scholarship for Visual Artists / 2013, 2001, 2000, 1996, 1992, 1991, 1989, 1987 Arts Council Norway / 2005, 1998, 1996, 1989, 1987
The National Scholarship for Visual Art Projects / 2006, 2005, 1992, 1987
The National 3 year Scholarship for Visual Artists / 1994-96
The National Permanent Scholarship for Visual Artists / 1997-2013
Ingrid Lindbæck Langgaard Scholarship / 1992
DAAD, German Scholarship for Cultural Exchange, Berlin / 1990
OCA, Organisation for Contemporary Art, Foreign Support / 2003
Dept. of Foreign Affairs, The Royal Norwegian Ambassy of Beijing / 2003
Study trips of importance
China: 1997, 2003, 2012 / Iceland: 1988, 2001 / Brazil: 1993 / New York: 1990 / Berlin: 1984, 1989 / Greece: 1986
Some related experience and activities
Commitioned art / Design of roof, Oslo Opera House, with Kristian Blystad and Jorunn Sannes, 2002-2008 / St. Olavs Hospital, Trondheim, 2005 / Ålesund University Collage of Technology, 1999 / Oslo University Collage of Technology, 1999 / Art adviser / "Infrastructure Fornebu" 2003-5 / "Snøhetta ", Oslo Opera House, 2001-2 / Folkets Hus, Oslo, 1987 / Curator of commisioned art / University of Oslo, Department of Psychology, , 2002- 06 / Science Building, Norwegian University of Science and Technology, 1995-2000 / Ringerike Prison, 1994- 1998 / Teaching / Bergen School of Architecture, 1997- , Professor DAV, 2004 – / Umeå Academy of Fine Arts, Sweden, 1993-1996 (Stand-in Professor, Graphic Dept., 1996) / Institutt for Romkunst, Oslo, 1994 / Oslo National Academy of the Arts, Oslo, 1992 / Oslo and Akershus University Collage of Applied Science, 1989-91 / Juryes / Vice Chairman of Council of Fine Art, Arts Council Norway, 2001-2004 / National Scholarship Committee, Visual Arts, 1999 / Gallery F-15, Moss, Art Council,1996-98 / Purchasing Committee, National Museum of Contemperary Art, Oslo, 1994-95 / Chairman of Jury, UKS, Oslo, 1987 /