Flø, Asbjørn Blokkum
Sound art
Asbjørn Blokkum Flø has through a number of installations worked out an artistic practice where timbral and ontological topics are examined in parallel. The works treat sound as both communication and abstract material at the same time, and in previous works both objects from music history as well as social spaces have been examined. In the installation Ragnarok (2011), Wagner's 15-hour opera Der Ring des Nibelungen was compressed into a one second long elementary particle of music history, while the installation Doppelgänger (2014) mirrored communicational structures in metal objects. These works operates within a critical sound art tradition, but Flø's works are more often sensuous and immediate, than controlled and theoretical.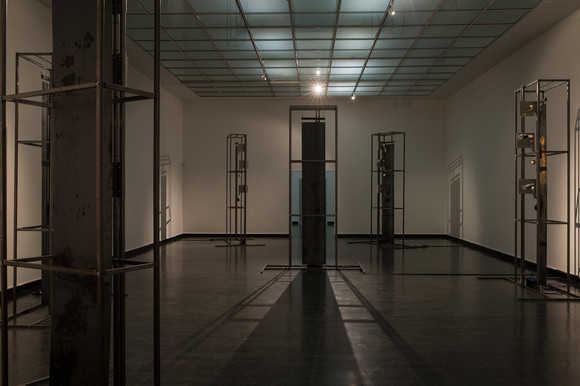 Doppelgänger, Bergen Kunsthall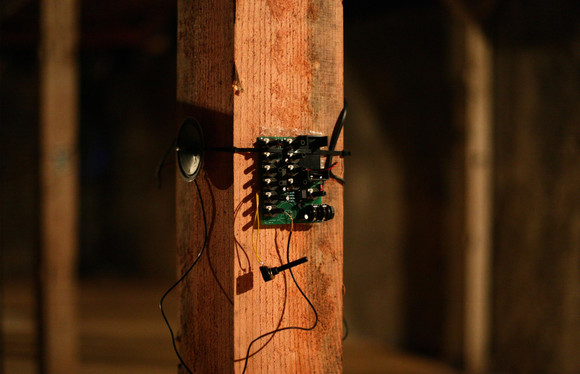 Ragnarok, National Centre for Contemporary Arts, Kaliningrad, Russland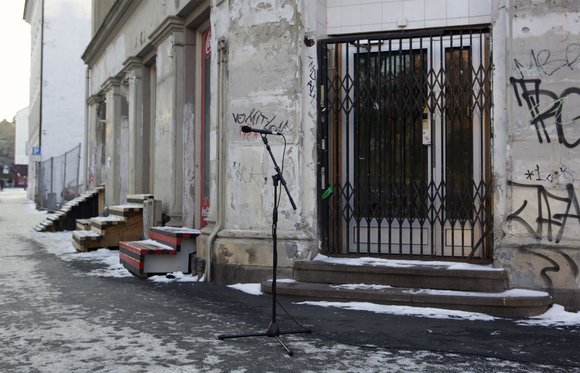 Everyday Filter, Grønland kammermusikkfestival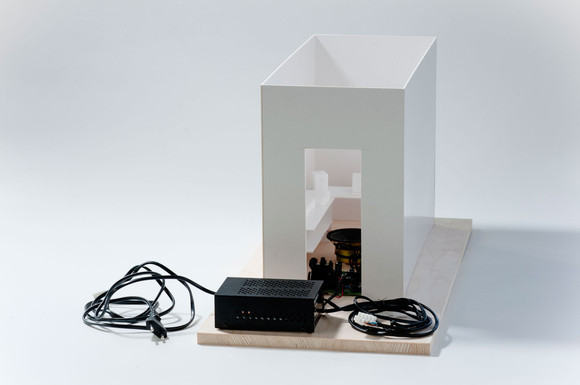 Workspace, The National Museum of Art - Architecture
Planned projects and exhibitions
2016: Release of the album Putridum Latrina.
2016: New sound sculpture.
2016: "Harry Bertoias sound art" (publication).
2016: "Compositional structures in Doppelgänger" (publication).
CV
Asbjørn Blokkum Flø (1973) is born in Volda and lives in Oslo.
Education:
2004-2006 Diploma in composition, The Norwegian Academy of Music
2001-2002 Stay at the Technische Universität Berlin, Kommunikationswissenschaft, Elektronisches Studio
1992-1999 Bachelor in composition and organ, The Norwegian Academy of Music
Selected exhibitions and projects:
2015 Presentation of Doppelgänger at ICMC (International Computer Music Conference), Center for Experimental Music and Intermedia, University of North Texas, Denton, USA
2015 Presentation of Doppelgänger at NIME (New Interfaces for Musical Expression), Louisiana State University, Baton Rouge, USA.
2014 Doppelgänger, Bergen Kunsthall, Bergen
2011 Ragnarok, NCCA (National Centre For Contemporary Art), Kaliningrad, Russia
2011 Ragnarok, Oslo National Academy of the Arts, Ultima, Oslo contemporary music festival
2010 Everyday filter, Grønland kammermusikkfestival
2004 Soundtracks, Norsk Form, Ultima, Oslo contemporary music festival
2002 Norway Remixed, Oslo central station, Rom for kunst, Ultima, Oslo contemporary music festival
2004 Erotogod, DEAF, (Dutch Electronic Arts festival) Rotterdam, Nederland
2004 Erotogod, Atelier Nord, Oslo
2001 Erotogod, Henie-Onstad Art Centre, Ultima, Oslo contemporary music festival
2000 Spranget, The National Theatre, The Ibsen festival, Oslo
1999 Spranget, Kunstnernes hus, Oslo
Other selected projects:
2015 Research trip to Harry Bertoia studio, Bally, Pennsylvania, USA.
2014 Analogique, world premiere, Ekko, Bergen
2012 Stay at the Centre for Research in New Music, University of Huddersfield, UK
2012 Daily performances of Arne Nordheims work Vevnad, during the first week of documenta XIII, Kassel, Tyskland
2012 Reunion, new work with group Skrr, Ultima, Oslo contemporary music festival
2011 Materiaal og Textuur, elektronic compositions
2007 Ciaccona, electronic miniature, commissioned by Ny Musikk
2005 Istanbul, radiophonic work, Prix Italia, commissioned by NRK
2003 trees which from dropped, leaf. World premiere by Trondheim Sinfonietta
2003 Norway remixed II, Ars Acustica, commissioned by NRK
2003-2007 Earbitten I-III, electronic work, Ultima 2003, BEK 2006, The Norwegian Academy of Music 2007
2002 Ritratto di Cittá, electronic work, commissioned by Ny Musikk's composers group
2000/2011 I Guess I'll Have To Dream The Rest, piano solo
2000 The fall for saxophone, double bass and accordion. Commissioned by trio Poing
2000 Skutt i hagestolen, theatre music
Selected publications:
2016 Harry Bertoias sound art.
2015 Doppelgänger: A solenoid-based large scale sound installation, NIME, Baton Rouge, USA
2015 The Intrinsic Value of Timbre in Doppelgänger, ICMC, Denton, USA
2014 Når klang tas fra hverandre. Lydskrift nr. 1 2014
2014 30 år i elektronisk kunst. www.ballade.no 2014
2013 Minnebobler – en introduksjon til Arne Nordheims elektroniske musikk, book chapter, Henie-Onstad Art Centre
2012 Memorabler – Arne Nordheim's electronic music. Lydskrift nr. 1 2012
2008 A higher order. Three articles on the electronic music of Karlheinz Stockhausen. NOTAM