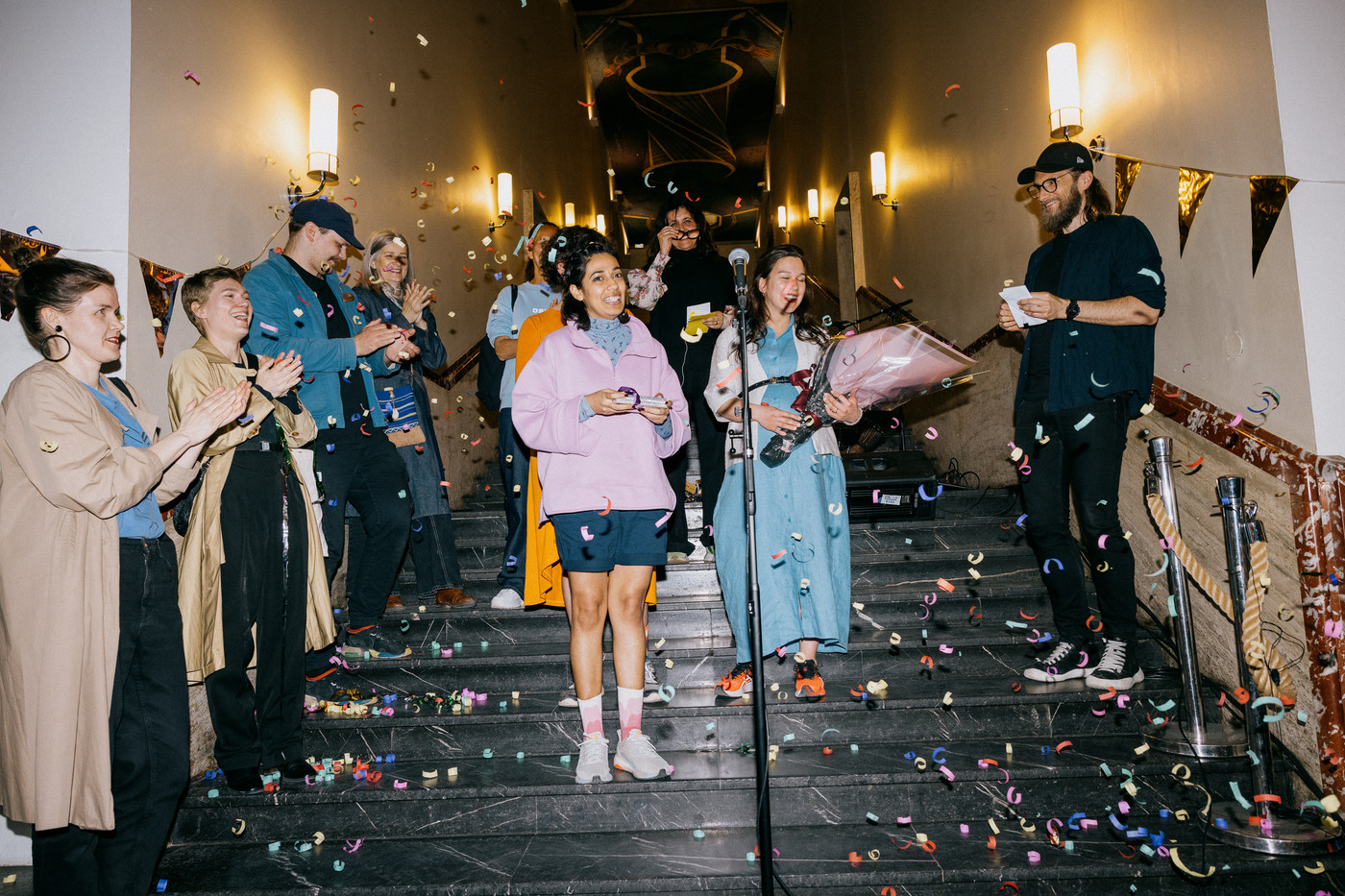 The award ceremony took place during Oslo Open's opening party at Kunstnernes Hus on 21 April 2023.
The boards rationale
With this award the board of Oslo Open wishes to honor, recognize and draw attention to the important work that the volunteer network Verdensrommet does to make it possible for artists from all over the world to work in Norway.
The universe is incredibly old, at least 13.7 billion years, and we have been here on this plant for close to 2 million years, but still we manage to create boundaries between us.
Verdensrommet is significantly younger, started in 2020, and is a network that aims to break down these boundaries by strengthening collaboration and information between artists with citizenship outside the EU/EEA, based in Norway.
Everyday life in the studio can be both lonely and difficult. It is not necessarily easy to be an artist in Norway, but it is significantly easier than in several other countries. After all, freedom of expression is firmly rooted in Norwegian society and thanks to the struggle and smart strategic and political work of individual artists and professional organizations over several decades. We have good opportunities for financial support, several strong exhibition spaces and free art education.
If you want to study or work as an artist in Norway and come from a country outside the EU/EEA, everything becomes considerably more complicated and unclear. Verdensrommet tackles and illuminates these challenges in relation to the art field, through its work to help each other with the challenges they face in Norway. This is unifying, awareness raising and so damn important!
The board congratulates Verdensrommet on the award!
Trond Hugo Haugen (chairman of the board)
Katinka Maraz
Olaf Tønnesland Hodne
Ida Lykken Ghosh
Tord Karstein Rønning Krogtoft
Board member Hanna Roloff did not participate in the selection of the award winner.
About Verdensrommet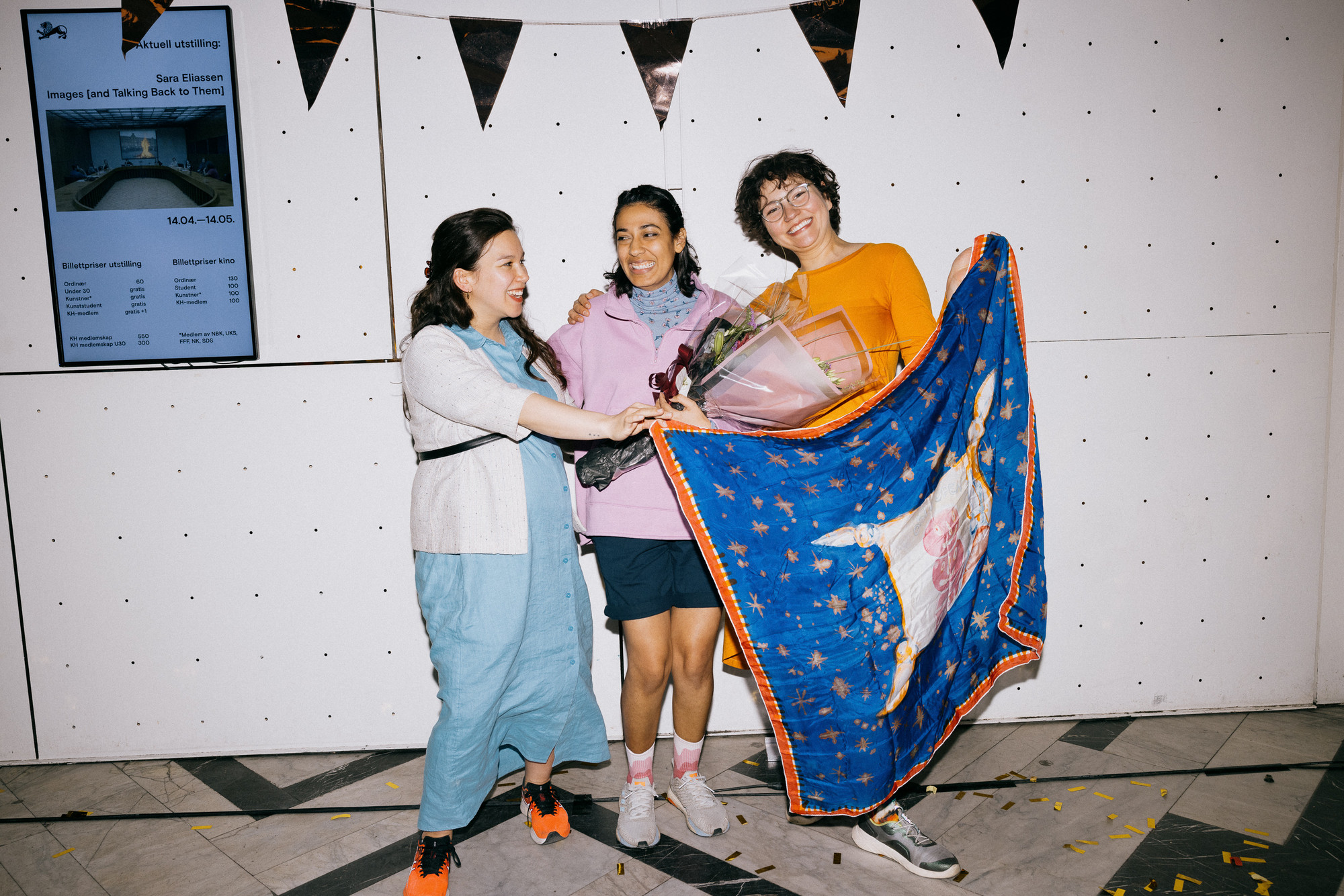 Verdensrommet is an artist-driven support network by and for creative professionals outside the EU/EEA. The network is a grassroots and volunteer-led group of over 200 professionals across Norway, that was established in 2020 when the pandemic made clear the precarious conditions of international artists living in Norway.
Artists who come from outside the EU/EEA can fall between the immigration and welfare systems. Verdensrommet is a support network that provides information and help navigating the public granting system and working residence for self-employed artists. Such a solidarity network will remain important in the future with the government's proposal on tuition fees for students coming from outside the EU/EEA.
During the award ceremony artists Sarah Kazmi, Gabrielle Parè and Patricia Carolina from Verdensrommet were present to say that their motivation has become greater since the network was initiated in 2020: "We are more than ever committed to bettering the livelihood and working conditions of immigrant artists despite the Government's increasingly hostile actions against immigrants".
– Our work is grounded in the ethics of mutual care, larger corporations, economic self-determination and exchange of value. We want to enhance economic justice by tackling the roots of precarious labor for artists. We do so through practices of financial inclusion and the redefinition of artistic labor (and its value) through monetary and (non) monetary explorations, said Kazmi in a speech on behalf of Verdensrommet.
This year's prize has been created by Magdalena Kotkowska, one of the artists in Atelier Kunstforbundet who was last year's winner.