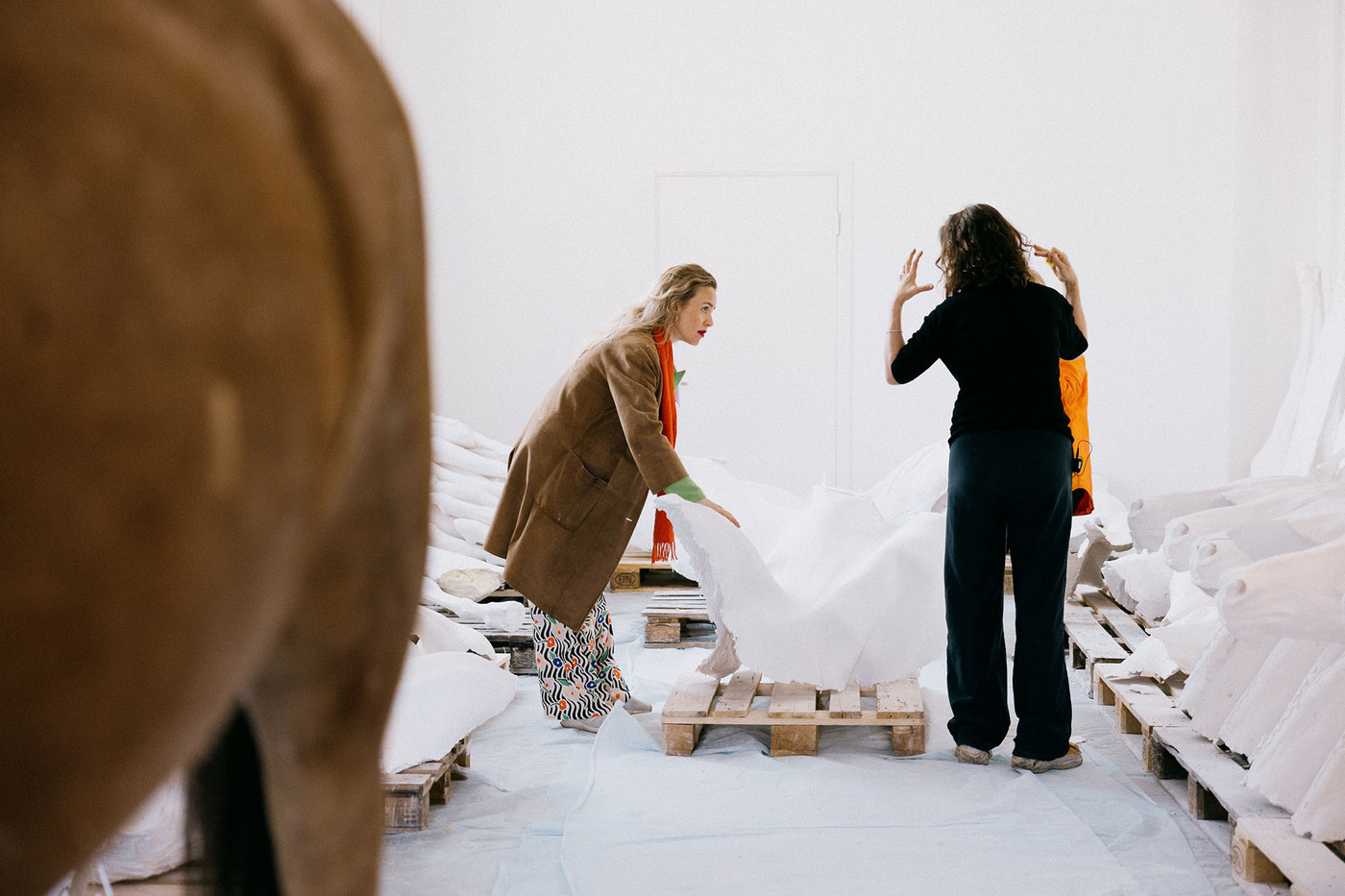 Vibeke Tandberg
Join us for a visit to the artist Vibeke Tandberg at Tøyen Trafo and see her life-size sculptures of horses (in Norwegian). The reporter is Ragnhild Brochmann and behind the camera we find artist Marthe Elise Stramrud.

Jens Hamran
Brochmann and Stramrud visits abstract painter Jens Hamran in the studio collective in Ole Deviks vei 30 (in Norwegian).

Gabrielle Paré
Artist Gabrielle Paré is more about the concept then fine tuning a tecnique, and works trough different expressions in her studio in Grenseveien. She talks with Ragnhild Brochmann about working with with language, typography, Mama Sita's powder and more (in English).

Anne-Lise Stenseth
Join us for a visit to artist Anne-Lise Stenseth who works by the seaside in scenic Hvervenbukta (in Norwegian). She talks about her work in video art, and how to tell a story. Reporter is Ragnhild Brochmann and behind the camera we find artist Marthe Elise Stramrud.

About live streamed studio visits
In 2021, Oslo Open took place digitally due to the pandemic, with live visits streaming on Instagram. In 2022 we could finally meet in person again, but we were also excited to continue digital studio visits, so that more people can join us! Morgenbladet columnist Ragnhild Brochmann, artist Marthe Elise Stramrud, and Marie Saxeide and Christian von Hanno from Atelie.art invited our audience to take part in studio visits with eight different artists this year. The visits were streamed live from our Instagram account.
On Saturday you could follow Ragnhild Brochmann and Marthe Elise Stramrud around the city. They started the day visiting Vibeke Tandberg in her large atelier at Tøyen Trafo, where she has been casting a taxidermied horse. They continued to artists Gabrielle Paré in Grenseveien and Jens Hamran in Ole Devik vei, and finished their tour at the idyllic Hvervenbukta, where Anne-Lise Stenseth has her atelier right by the sea. Brochmann is an art and fashion historian, who is well known for her advice column "Estetikeren" in the Morgenbladet newspaper, where she answers questions regarding style and aesthetics. Stramrud is not only an artist, but also the former director of Oslo Open, and led the digital studio weekend in 2021.
On Sunday you could join Marie Saxeide and Atelie when they travelled to Mette Lorentzen in the Sogn allotment garden, to visit one of the most charming ateliers in Oslo. They then visited Yachi Shian-Yuan Yang to have a look at her impressive brush collection, which she uses for her calligraphic ink paintings, before ending their day at Montebello, visiting artists Anne Ingeborg Biringvad and aeaeaeae 43434343. Marie Saxeide and Christian von Hanno from Atelie also participated in last year's live-streamed visits. Atelie.art is a digital platform for buying artworks directly from artists.
The studio visits were streamed live on Oslo Opens profile on Instagram. Through our digital program, anyone could join us for personal and informal meetings in the artist studio, no matter where in the world they are based. All visits will be released here.